Advertorial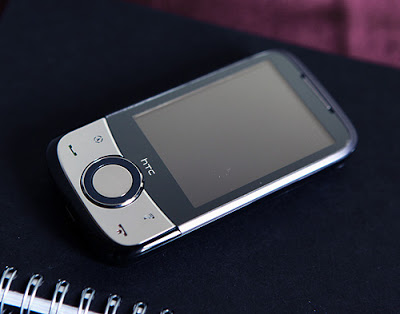 HTC Touch Cruise 09
You know those guys who own all the latest tech gadgets and everytime you see them they will tell you about their new handphone? Well, I am not one of them. Neither am I the type of person who are still holding on to a handphone with a black and white LCD or what they might call a Techo Laggard. I would like to think of myself as someone sort of in the middle who would wait until the technology is suitably matured before adopting it.

When it comes to Smartphones or PDA phones, I must admit that I haven't felt the need to actually own one. I spend a lot of my time in the clinic, so my desktop is always there to do the things that I need to do. So I was a little apprehensive when they asked me to do a review on the HTC Touch Cruise 2009. The last thing I want was to carry a big bulky device around with functions which I never use.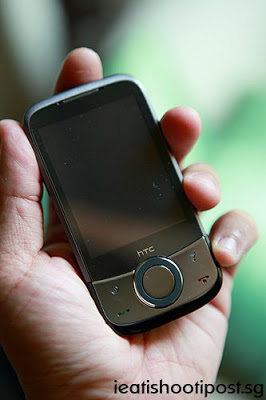 Nice and compact size
I was pleasantly surprised when I first held the HTC Touch Cruise in my hand. It was only slightly bigger than my handphone, slim, solid and fits into my pocket comfortably. I was amazed at how light it was, weighing only 103g. The interface was quite intuitive and with the new 528 MHz processor with 512 MB of inbuilt memory and 256 MB RAM, the phone was comfortably responsive. I found the basic phone and SMS functions easy to use and with the touchscreen qwerty keyboard, I can easily send more elaborate SMS messages. So basic phone functions was definitely an improvement over my ordinary mobile phone.
This phone has two main distinctive features which is new to me. It has a built in GPS antannae and Papago software and includes the Singapore map free of charge. It also features "Footprints" which is a new software exclusive to HTC Touch Cruise 09 which allows you to keep track of all the places you have been to.
The phone comes with the Car Kit and a car charger, so I set it up to my car and the first time I used it to navigate my way to my tailor in Ang Mo Kio. It actually proved to be quite useful since I always had to stop the car by the side of the road to look up the street directory every time as I can never remember the way there. This time round I just needed to follow the female voice and it got me to my destination. This function would come in handy when I go around looking for food stalls which I am trying to blog.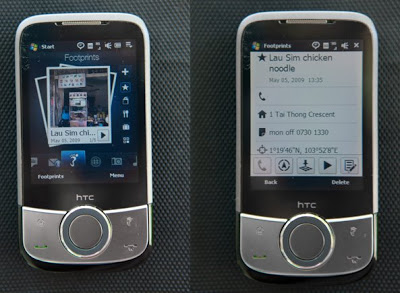 Footprints allows you to tag GPS, voice, notes, maps function to photos – a digital postcard if you like
I found the Footprints function to be quite useful for my blogging. By clicking on the footprints key, you are brought to the screen where you can take a photo of the food stall. The GPS will automatically locate you and you can then click the map key to pinpoint exactly where you are on Google Maps. Next you can input the address of the stall and opening times. But I found that it was more convenient to use the voice recording feature to quickly record down the details I needed quickly.
The phone can be used to surf the internet, but I find the screen a little small for editing posts. However, it is useful to be able to access my blog to read the comments and get the addresses and opening times. The email function is great as I can track comments as soon as they get posted as they are linked to my email account.
The standby time is quite good, but once you use the GPS function or play games with the device, the battery drains really quickly. When I first got the phone, I allowed my son to play with some games and ended up having to turn off the phone. So it isn't a phone which you can just continue to surf the internet for hours on the train unless you have your charger handy all the time.

Conclusion
I guess you can't have everything. What would have been nice is a real Qwerty Keyboard but that would mean that the phone would have to be much bigger. In a nutshell, it is certainly an improvement over my old mobile phone in terms of phone and SMS function with only a negligible increase in size. The GPS and footprints function are also useful for logging details of the stalls I visit.

What I like:
Small size, very light, portable and solidly built
GPS is useful when trying to find new food stalls
Footprints offers image capture and voice recording to log in stall details quickly
SMS and phone functions are intuitive and easy to use
What I don't like:
Touchscreen Qwerty Keyboard can only be used with a stylus
Battery life not very long when using the programs
GPS doesn't always take you through the shortest route and you can't program it.