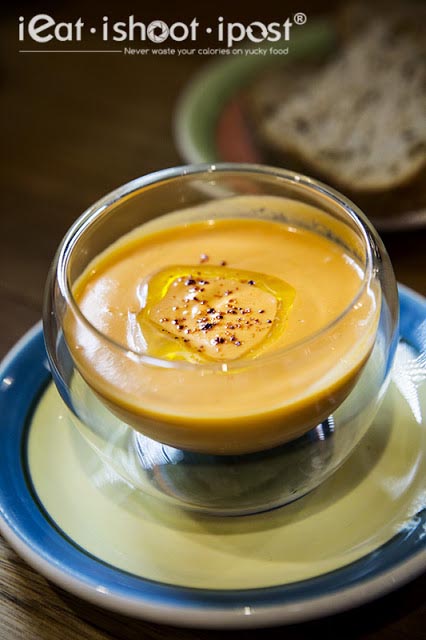 Like most people nowadays, I do most of my research on the internet. So when I was looking for the best tapas bars in Singapore, I came across Jaime Ee's article on Ola Cocina Del Mar. She got me with her first sentence, "Finally, a Spanish restaurant that is spot on in its authenticity has opened in Singapore." It helps also when I found out that the Chefs running the restaurant, viz, Daniel Chavez and Pepe Moncayo were formerly working at the now defunct Santi at Marina Bay Sands. I had one of my most memorable meals ever at Santi and so I was keen to find out what the two chefs have done with Ola Cocina Del Mar.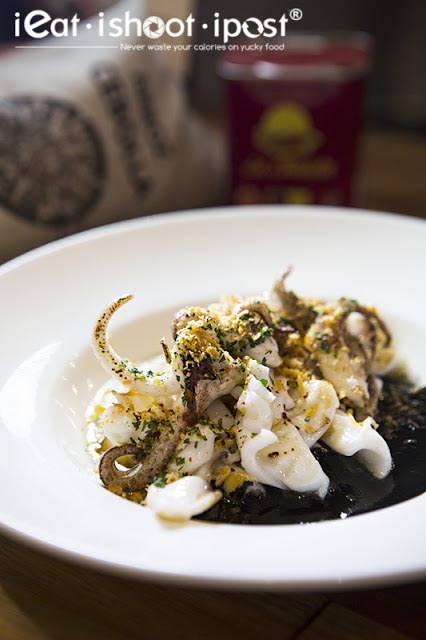 I was fortunate that Chef Daniel was behind the open kitchen counter the day I visited and realized that I have actually met him when I visited Santi. Chef Daniel was born in Peru but had worked with Santi for many years in Spain before coming to Singapore to work at Santi's restaurant here. So he was very familiar with Spanish cuisine. As can be expected, the disciples of Santi had very much kept to his philosophy of presenting authentic and traditional Spanish cuisine using fresh local produce.
One great example of this is the Calamares which uses fresh locally sourced squids which are quickly grilled on the hotplate and then served with a puree of sauteed white onions and black squid ink which gives the dish a nice sweet and briny flavour.
Local squid is excellent especially the ones from Malaysia. I know because I often go up to Rompin to catch them and we would bring it to the Cze Char immediately to have them cooked. The flavour of freshly caught squid is simply amazing!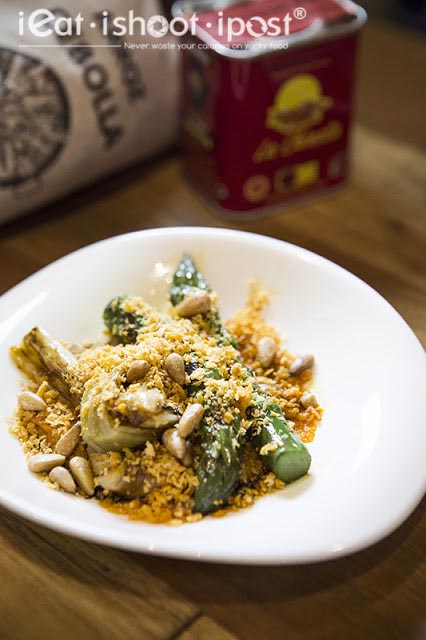 In the town of Valls in the Catalan region of Spain, they have a big onion eating festival called the cal?otadas. During the festival, they would lay cal?ots in big bundles over vine embers until they are charred black and then wrap them in newspapers. Then they would dip the cal?ots in romesco sauce and eat them much like how a baby bird would swallow a worm!
In homage to the cal?otadas, Chef Daniel presented us a dish of grilled leeks and asparagus with romesco sauce, topped with pine nuts and bread crumbs. This is the first time I am having burnt leeks and I thought that the combination of the sweet leeks with the romesco sauce was excellent! No wonder they can hold a festival every year just to eat this!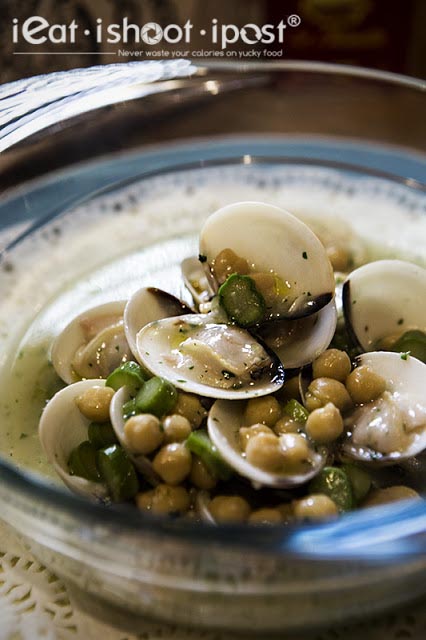 Chickpeas or garbanzo beans, as they are known in Spain are a staple in Spanish cuisine and features in a lot of soup and stewed dishes. Chef Daniel presented some local clams cooked in a seafood stock with garbanzo beans and asparagus which was excellent. The combination the beans and his excellent mashed potatoes was very tasty and accentuated the sweetness of the clams. I could eat a whole bowl of these myself.
All the Spanish restaurants that I have reviewed so far has this octopus dish from the Galicia region of Spain. However, I find that most chefs like to give it a bit of a twist. The traditional way of serving pulpo ala gallega look much like the one I had at Los Promos. However, I have to admit that I actually like the versions where the Chef gives the octopus a bit of a sear on the hotplate as this really gives the octopus a wonderful aroma when the dish is served. The other aspect of the octopus that people will debate about is how tender the octopus is supposed to be and how to actually tenderize it.
Much of the flesh of the octopus consist of connective tissue which can be very chewy if it is not cooked properly. Most Chefs tell me that one of the ways you can tenderize the octopus is to freeze it. So I have found that most places actually serve frozen octopus which are imported from Spain. I have actually come across a program on TV before where someone said the octopus had to be pummeled by hand till the flesh is tender!
You can debate about how tender the octopus needs to be as much as you can debate about how to define pasta that is cooked till its al dente. But the best way to know how tender the octopus has to be is to actually eat one that is cooked perfectly. That, I guess is where the skills of the chef comes into play. Anyone can simply put the octopus into simmering water for 45 mins but if you don't cook it long enough, the octopus is going to be too rubbery. Cook it too long and it loses its bite. When it is cooked just right, octopus has a wonderfully meaty and satisfying bite that is not overly bouncy like calamari. That is how the pulpo is at Ola Cucina del Mar.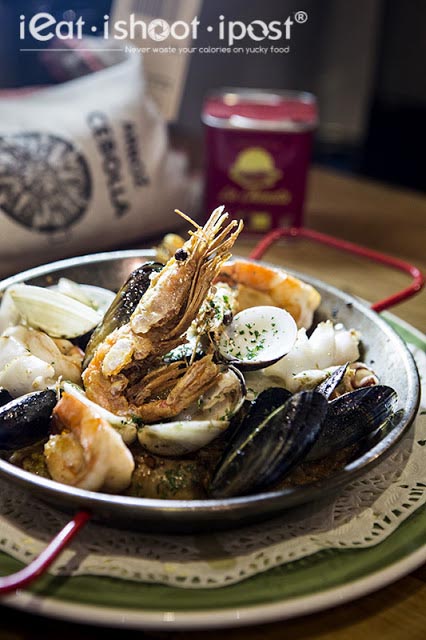 Ola Cocina serves their paella in single portions so they had to make a few modifications to the recipe in order to ensure that the seafood doesn't try out. The rice is still cooked to order but they will cook it together with the chicken first and then top it with seafood which is sauteed in a pan just before serving the dish. This ensures that the seafood doesn't get overcooked when the rice is being finished in the oven. I guess its a good compromise if you are dining alone, but I feel paella should be a dish best shared with friends.
Conclusion
I have been asking around for the best and most authentic Spanish Tapas Bar in town and name Ola keeps popping up! I had a great meal there although I must comment that the prices tend to be a little more pricey for the portions that they serve. I really need to visit Spain soon to get some first hand experience with Spanish food. Until then, will the Spanish food aficionados please let me know what you think?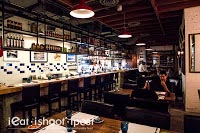 Many thanks to Chef Daniel Chavez for hosting our lunch