This restaurant is closed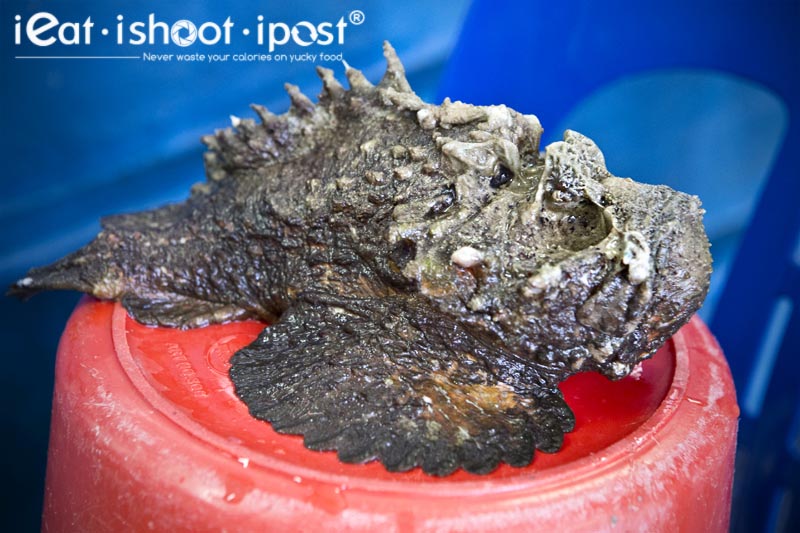 *Closed* Ocean Kingdom Seafood review – ieatishootipost
Humans have an innate fascination for novelty.
I think I speak on behalf of most foodies here that one of the really exciting things about being a foodie is being able to taste something new. Actually, a foodie is like a collector of sorts. Some people collect stamps (I don't know how many people do nowadays!), some collect cars (matchbox ones), some people just sit around and collect dust. But we foodies, we collect food memories and every makan session is an opportunity to brag about the latest tastiest thing to tingle our tongue. It is even better now with social media as we can share our conquests with the world while we are still eating! It wouldn't be too much of a stretch to say that "foodiesm" must be one of the fastest growing hobbies in the last decade!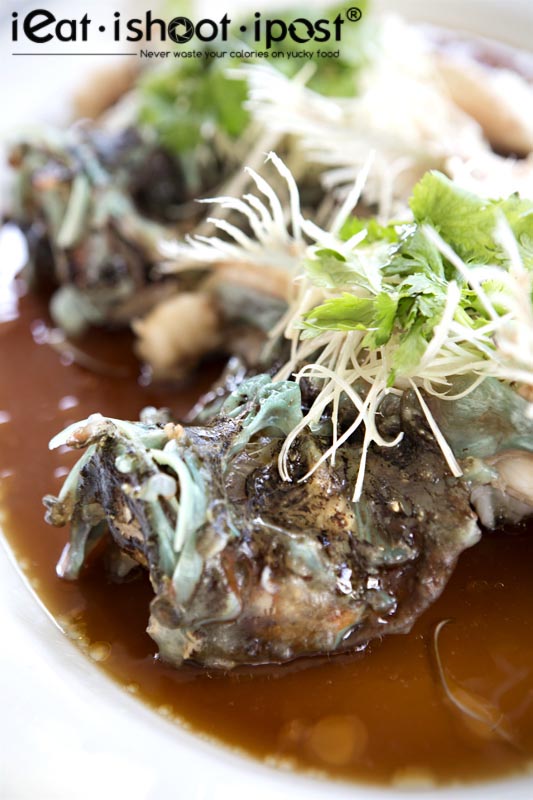 So if you are a foodie, you would no doubt agree that eating Stonefish is one of those unique collector items. It's certainly a trophy you can display on the shelf that comes with bragging rights, right next to the Fugu trophy. The sheer ugliness of the fish alone is enough to make it an interesting story to share with friends, but when you add in the fact that these fish can potentially kill you if not handled properly, then your tasty little food story suddenly takes on a more sinister twist.
I must admit that I have never even thought of eating stonefish before. It's notoriety as one of the most venomous fish in the world is not as well known as Fugu. However, if you just happen to step on one, mistaking it for a rock on the beach, then you would be in for an agonizing ordeal. Even if you don't step on it, the poison can still contaminate the meat if the liver and gallbladder are not handled properly during the preparation of the fish. Fortunately, death from eating stonefish is very rare or non-existent since the poison is concentrated in the dorsal spines (which are first removed) and it is denatured when the fish is cooked.
I can't decide if the fish was more scary when it was alive or when it was cooked. They strip off its skin before steaming and the bones of the fish took on an eerie bluish green hue when the fish arrived at the table. The flesh was delicate and sweet but I won't go so far as to say it was much superior to that of a grouper. However, it is certainly a fish story to post up on Facebook and make all your friends go "Eeewww, what does it taste like?"
The Cantonese style steaming sauce here is excellent and you won't go wrong ordering any of the other live fish here in this style. So that really makes this place a great place for live steamed fish. 4.5/5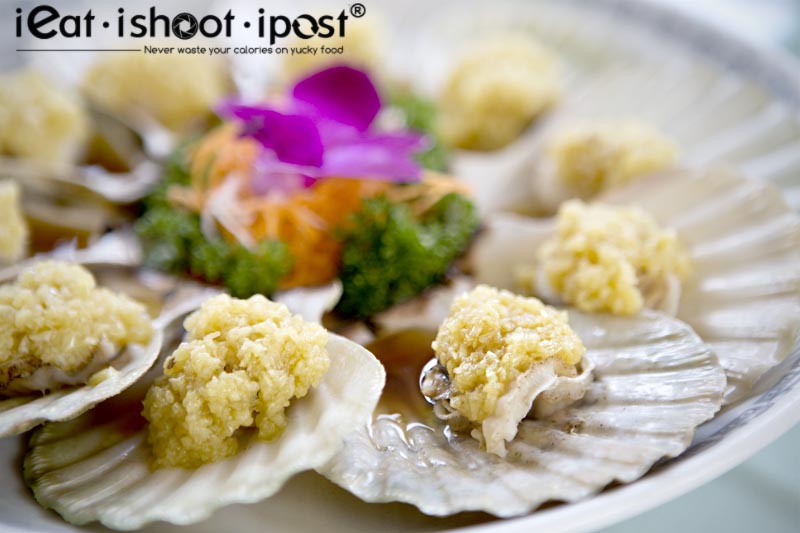 What makes Ocean Kingdom different from other seafood restaurants is that they are a small family run business and they really know their seafood. Owner David Cheo tells me that his family has been in the fishing industry for many generations. His father had been a fisherman for many years before they bought a fish farm off Pulau Ubin where they got into aquaculture. They have since sold the farm to become seafood suppliers. As such, their knowledge of live seafood and quick turnover of their supplies means that their seafood is always top notch.
Ocean Kingdom is also the place to find wild caught rather than farmed fish. David explained that seafood restaurants usually prefer to keep farmed fish as they are easier to handle. However, he still brings in the wild caught fish because he feels that they still taste better. So, he usually has a few species of wild caught fish that he serves at his restaurant.
They also bring in live scallops and I would highly recommend their scallops with garlic and butter sauce. You might cringe at the amount of garlic in the dish but let me assure you that you won't go away with garlic breath as they have already been cooked properly. The combination of the sweet scallops, pungent garlic, butter and soy sauce is quite addictive! 4.5/5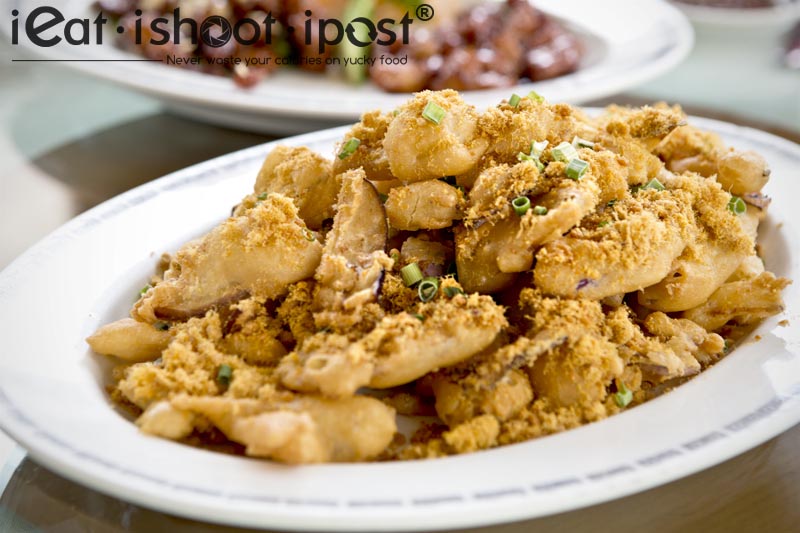 Another dish which I would order is their crispy brinjal with pork floss. Fans of Chef Kang who used to occupy the same premises will know of this dish which he popularized. Ocean Kingdom's version is also very good and I like the aroma of the British curry powder which complements the pork floss so well. All our kakis gave it the thumbs up. 4.25/5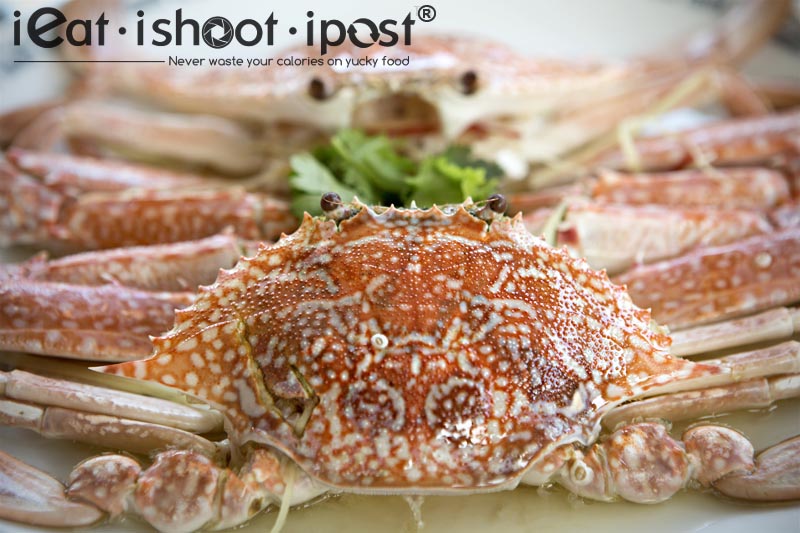 I think we often overlook Blue Swimmer crabs when ordering crab dishes as they are often seen to be the poor cousins of the Sri Lanka Mud Crabs. Certainly, they are not as meaty as Mud Crabs, but the flesh of fresh Blue Swimmer is excellent and they are just as sweet, if not sweeter than those of the Mud Crabs and also happen to be cheaper. I don't think they work particularly well as Chilli Crabs or Black Pepper Crabs, but if you are after the pure un-adulterated glycine sweet flavor of crab meat, then just steaming the Blue Swimmers with some wine and ginger is certainly the way to go. 4/5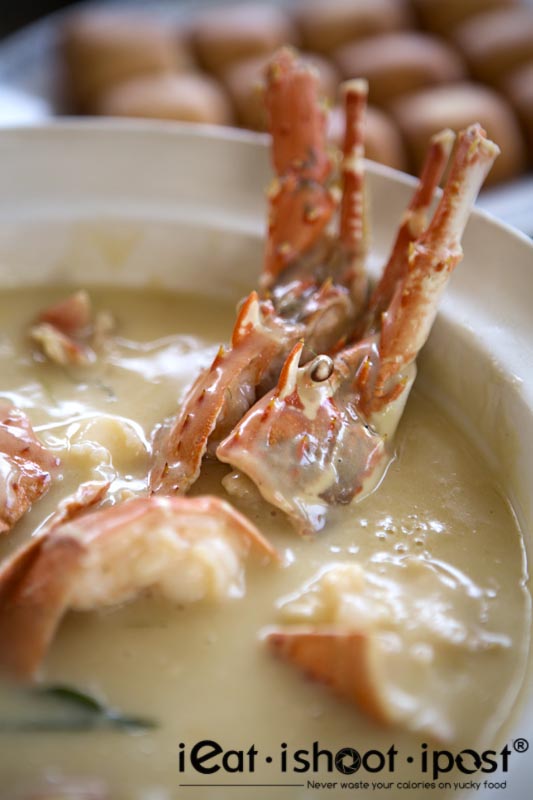 Ocean Kingdom also supplies fresh wild caught local lobsters to other restaurants. They only bring in the local lobster, so you won't find any of the Australian or North American variety here. Their signature dish is the lobster in white sauce which our kakis felt tasted a lot like Campbell's cream of chicken soup and didn't quite bring out the sweet lobster taste. Maybe next time, we will try another style of cooking. 3.5/5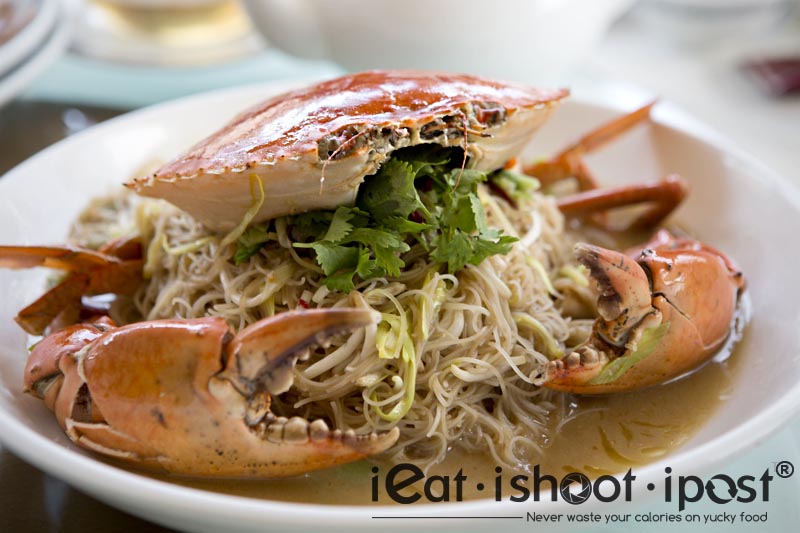 This restaurant is a favourite haunt of my friend Aston of Astons Specialties and one of the dishes he recommended was their Crab Bee Hoon. I have eaten their Crab Bee Hoon on three occasions and I have to admit that it is a little inconsistent. The first time I had it was excellent, while the other two occasions where a little lack lustre. On the first occasion, I felt that the Bee Hoon has been adequately charred before the stock was added, so it had that wonderful smokey aroma. Then the next two times I ate there, they seemed to have added the Bee Hoon directly to the crab stock. Note also that unlike the other seafood, they are not suppliers of Mud Crabs (They supply Blue Swimmers) so they have buy them from other suppliers. However, the Crab is still quite good quality although I cannot vouch for the Crab Bee Hoon at this stage. 3.5/5
Conclusion
Ocean Kingdom is an excellent place to find live, wild caught fish. The quality is excellent as they are suppliers to other seafood restaurants and have a high turnover. Parking is very convenient for lunch as their have their own car park and it is not usually very crowded. Weekend dinners can, however, be quite a challenge, as with any other place in Joo Chiat. Aside from that, the quaint old house and the tanks of fish beside it really bring back memories of a distant past and is a great place to bring the extended family for a seafood feast.
Special for ieatishootipost readers
10% discount off the total bill. Just show them the website on your smartphones or print out this blog post! Valid till 15 July 2012.