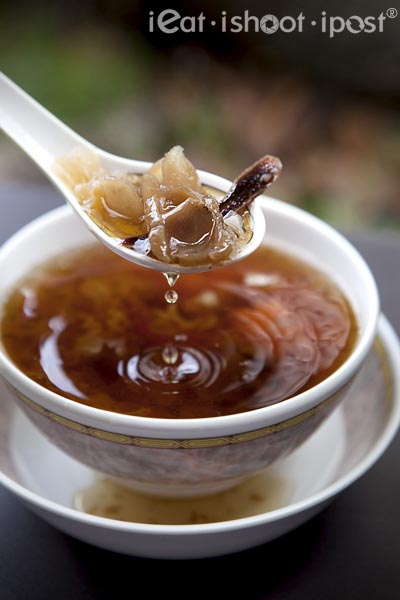 Finding stalls like this is what this blog is all about. Yes, it is great to find all the most well known hawker stalls in Singapore and adding them to the blog, but it is even better to discover ones that are serving great food but are still relatively unknown!
When you talk about Cheng Tng in the Bedok area, the one that most folks would point you to is Ye Lai Xiang at the Bedok Corner Food Centre. But just a stone's throw away, (ok maybe two throws away) there is a stall without even a name that serves a pretty mean bowl of Cheng Tng which could rival the more famous stall at Bedok Corner. I must admit that it has been some time since I ate at Yue Lai Xiang and so it is hard to compare. But when I first ate at Ye Lai Xiang, I went away thinking that their Cheng Tng is a head above the rest. Well, now I feel that I can see two heads above the crowd.

The soup here is excellent. It is "Cheng" (clear) as what Cheng Tng should be and so you won't expect the longan flavour to be as robust as it is. If you have tried making Cheng Tng yourself at home, you would know that it is easy to get a cloudy soup, so getting it clear and still having a longan taste takes quite a bit of skill. The owner tells me that in order to make his soup, he starts with grade A longan from Thailand and then sorts them out one longan at a time to pick out the ones which are "dirty". Usually, that means that only 90% of the initial weight of the longan is left!
The rest of the ingredients are also impressive. The dried persimmon, winter melon, Pong Dua Hai (Malva nut, Sterculia lychnophora, those frilly brown stuff), white fungus, sweet potatoes, glutinous rice balls are all there and those things that shouldn't be there (because they are cheap and easy) like agar agar and chin chao are, like that obnoxious relative that you had to invite to the wedding dinner, happily absent. 4.5/5
Conclusion
This Cheng Tng really gives Yue Lai Xiang a run for the money. It's about time more people get to enjoy the efforts of the stallowner!