This stall is closed.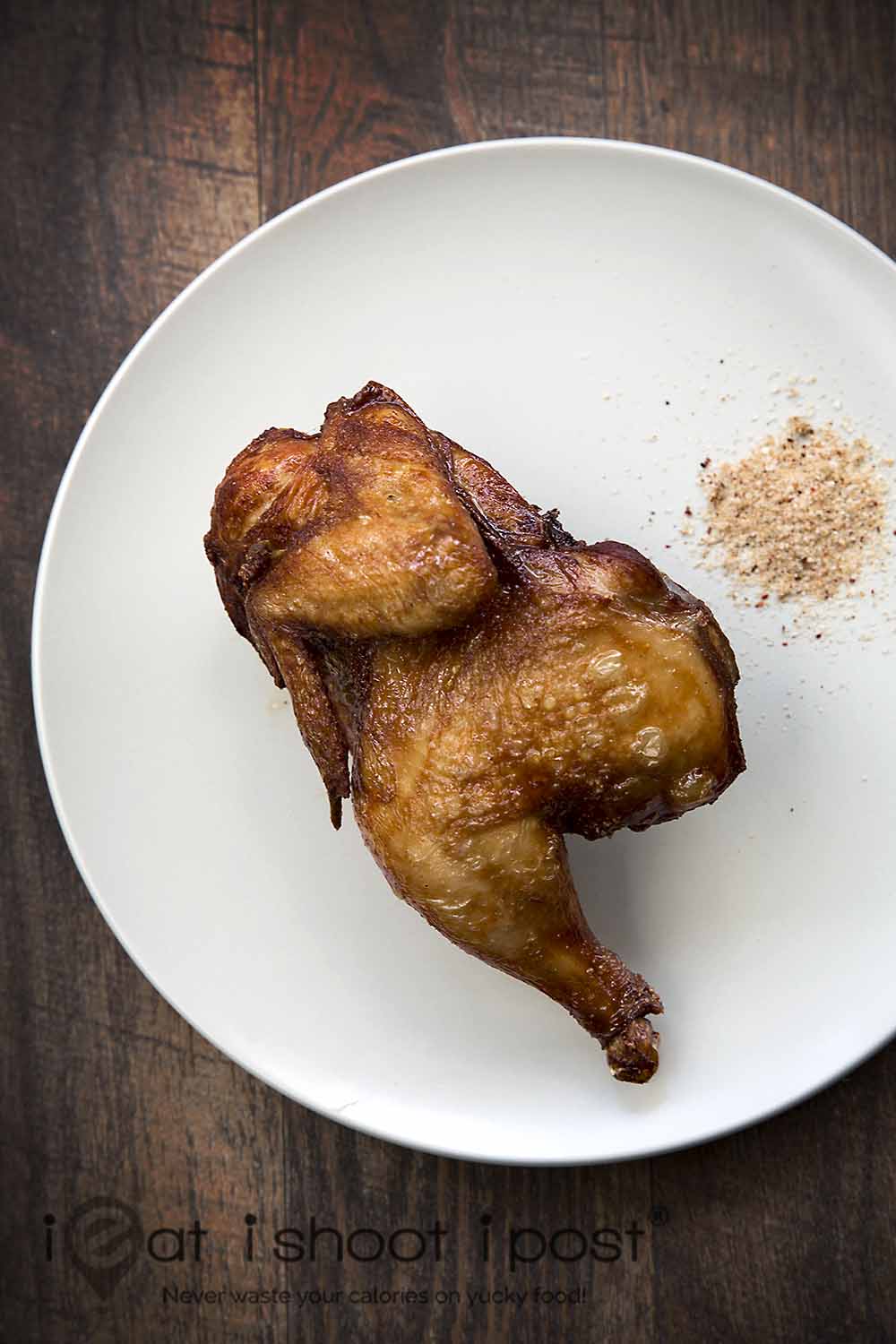 My friend, Ken Loon is an obsessive-compulsive foodie.  I first got to know him in 2013 because we both were crazy about prawns at the time.  I was on a mission to catalog all the prawns available locally and was doing crazy things like taking close-up shots of their private parts. I guess you can say that I was a purveyor of prawnography at the time!  The reason?  Sometimes you can only accurately identify a particular prawn species by their reproductive organs!
I thought I was the only one crazy enough to do this until I met Ken Loon who was also on his personal prawn pilgrimage!  In fact, he was even crazier than I was.   Crazy enough to leave his well-paying IT job in order to open a restaurant to sell prawns!  When I met him in 2013, he had already tasted 18 species of lobsters and 17 species of prawns, just so that he can serve the ones he likes at his newly opened restaurant, Naked Finn!
He has since moved on from prawns to cover other seafood and meats and has recently revamped the menu at Nekkid, the little shack which used to be Naked Finn before Naked Finn relocated to larger premises up the road.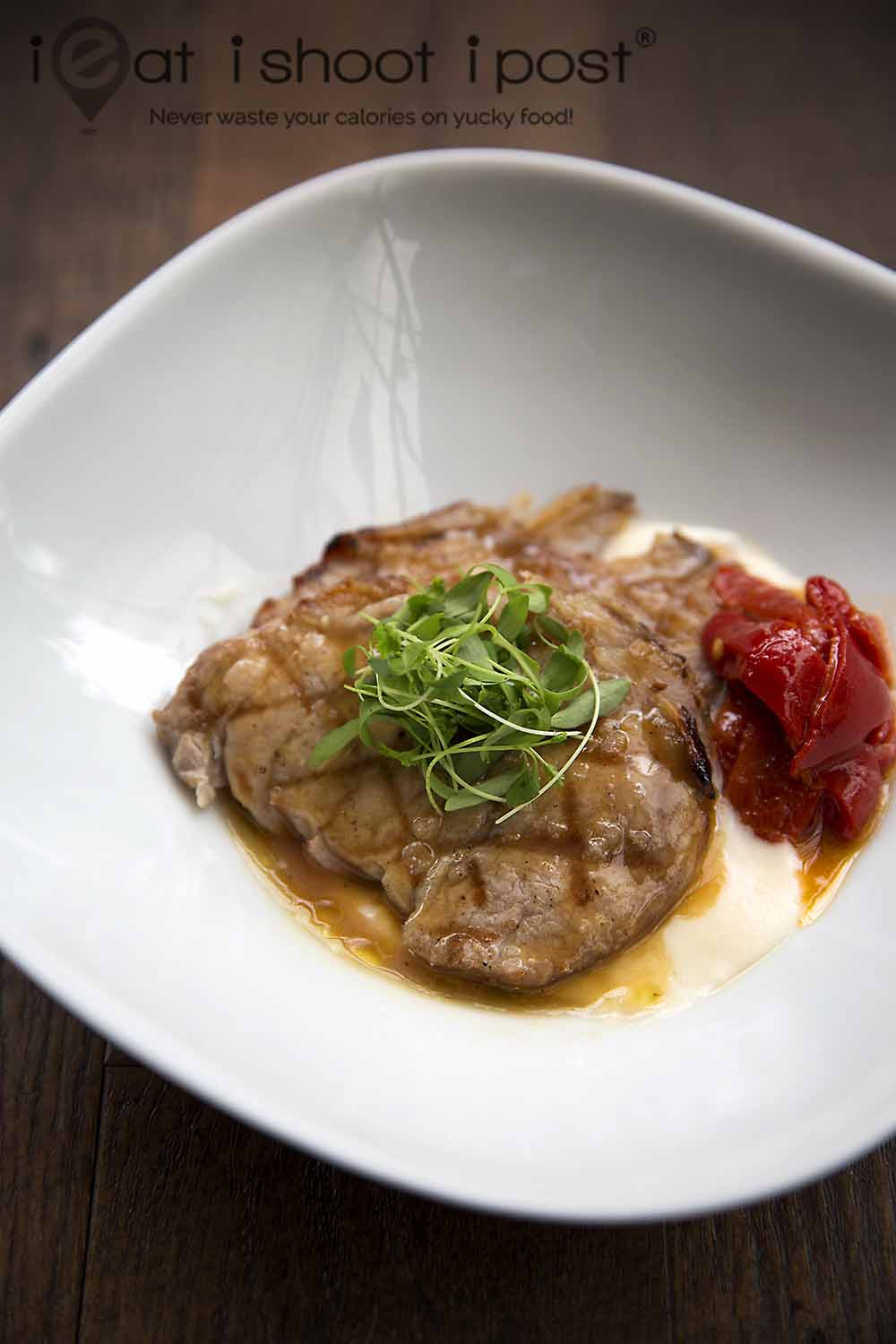 His revamped menu features dishes by well known chefs like Jordi Noguera Pey of FOC restaurant who created a lovely Mangelica pork loin with cauliflower puree and piquello peppers.  Unlike local pork loin, the Mangelica pork loin was well marbled and was tender and juicy after a quick sear and grill over charcoal.  The cauliflower puree went very well for the pork and teh piquello peppers added a nice touch of smoky sweetness! 4.5/5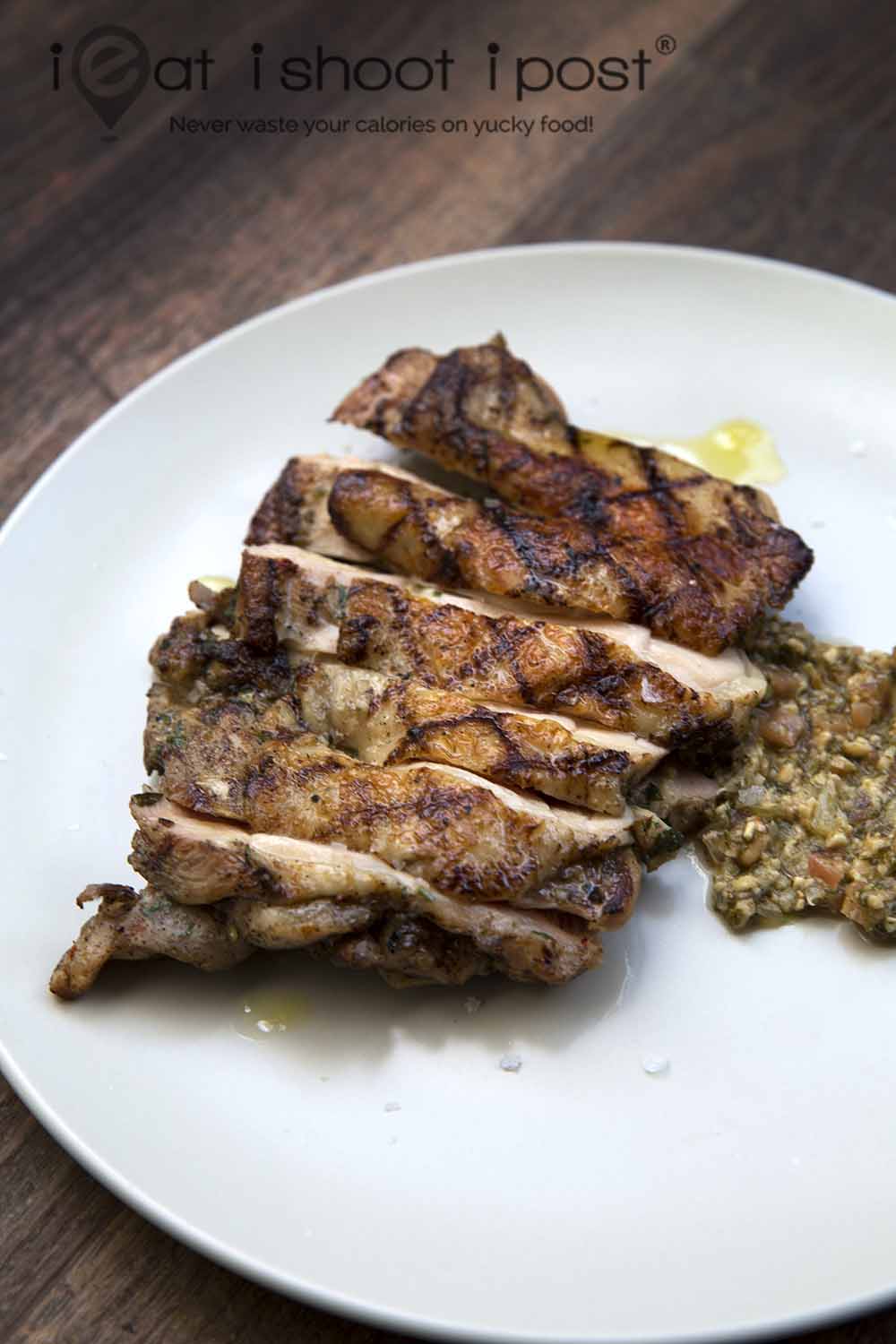 Chef Julien Royer of 2 Michelin Star Odette contributed his "Frenchie" chicken recipe which is inspired by his childhood days growing up at his family farm.  Using hormone-free chicken, the thigh meat was marinated overnight in Greek yogurt, parsley, and other spices.  It was simply char-grilled and served with a dip made with pine nuts, anchovies, and olives.  I found the flavor of the dip a little too tart but the chicken was lovely! 4.25/5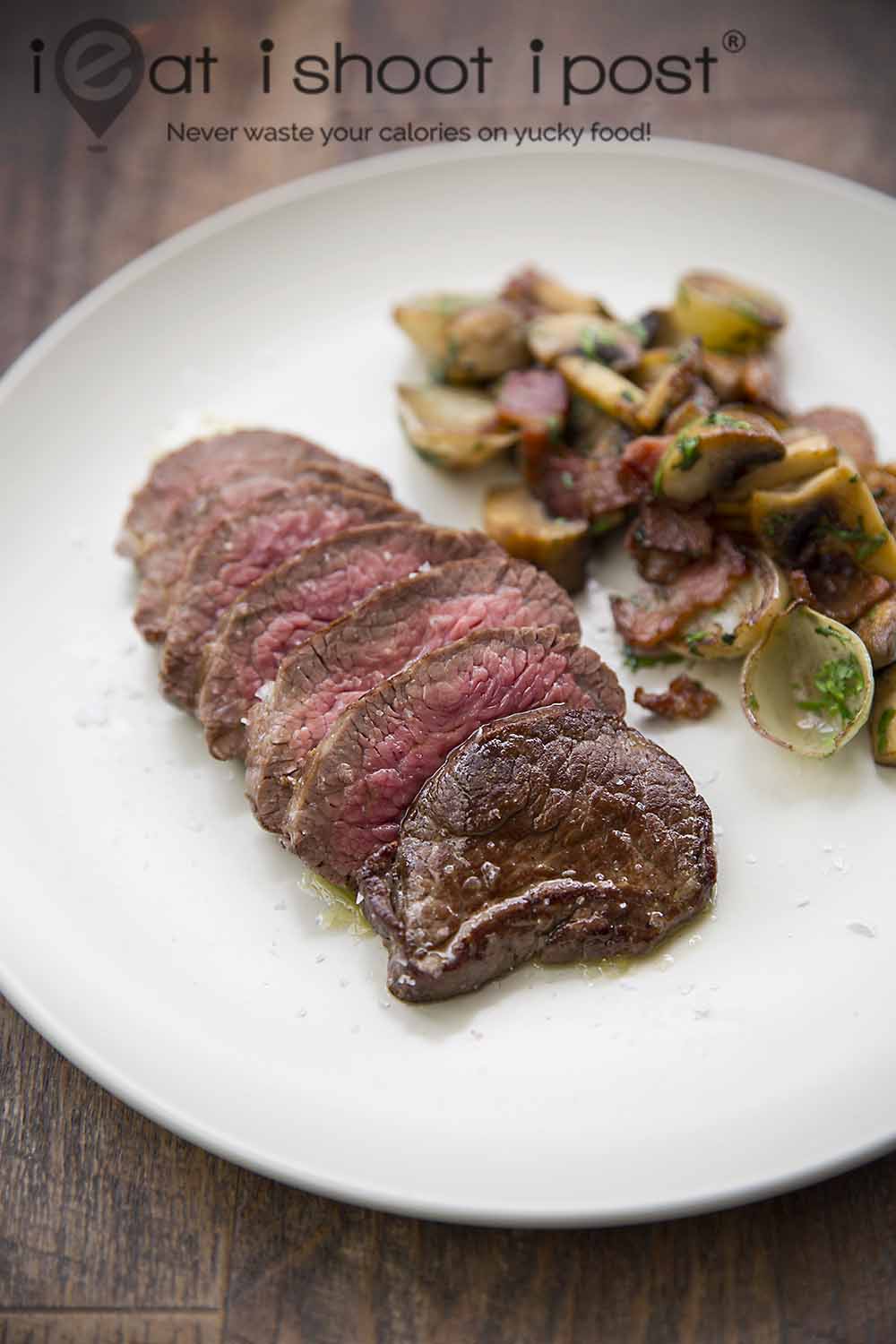 Chef Patrick Heuberger's creation was a Black Onyx Angus shoulder tender with sauteed onions, bacon, and mushroom.  The dish is quite straightforward, but the cut of meat is quite interesting.  It is sourced from Ranger's Valley in Australia and the "shoulder tender" is a fillet-shaped muscle that lies underneath the spine of the shoulder blade (teres major).  The cattle is grass-fed and so the meat is quite lean and has the metallic flavor characteristic of grass-fed beef.  Good for those who are looking for beef with a robust flavour. 4/5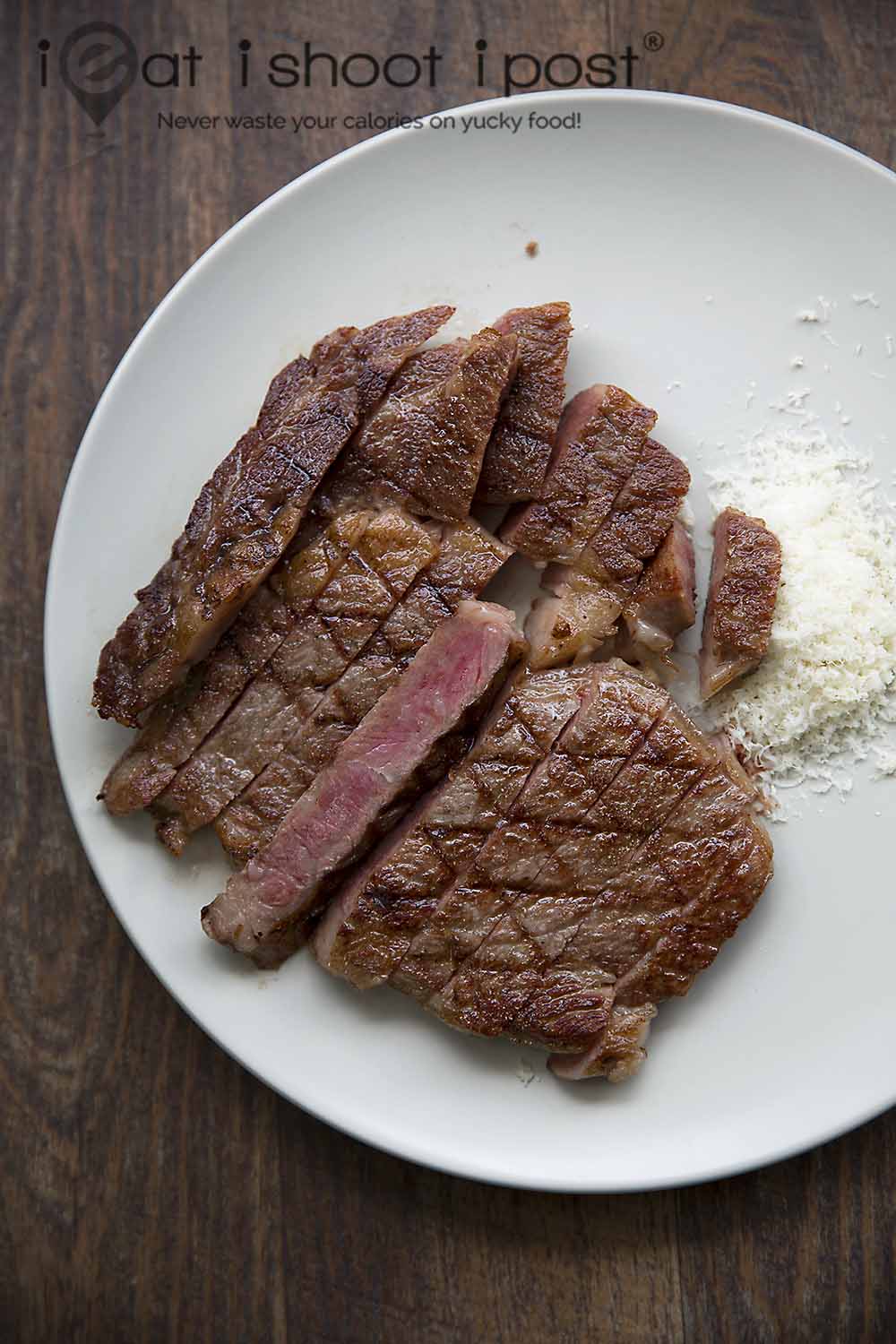 If you are after well marbled beef, then the Toriyama A4 Umami Wagyu is what you should go for. Ken has done extensive wagyu tasting and has picked Toriyama because the cattle is bred to maximize umami instead of marbling.  It is still very well marbled, but the fat is tastier than the usual wagyu, plus, it comes with a more reasonable price tag! The steak is simply seared and served with house-made ponzu sauce and grated mountain yam.  4.5/5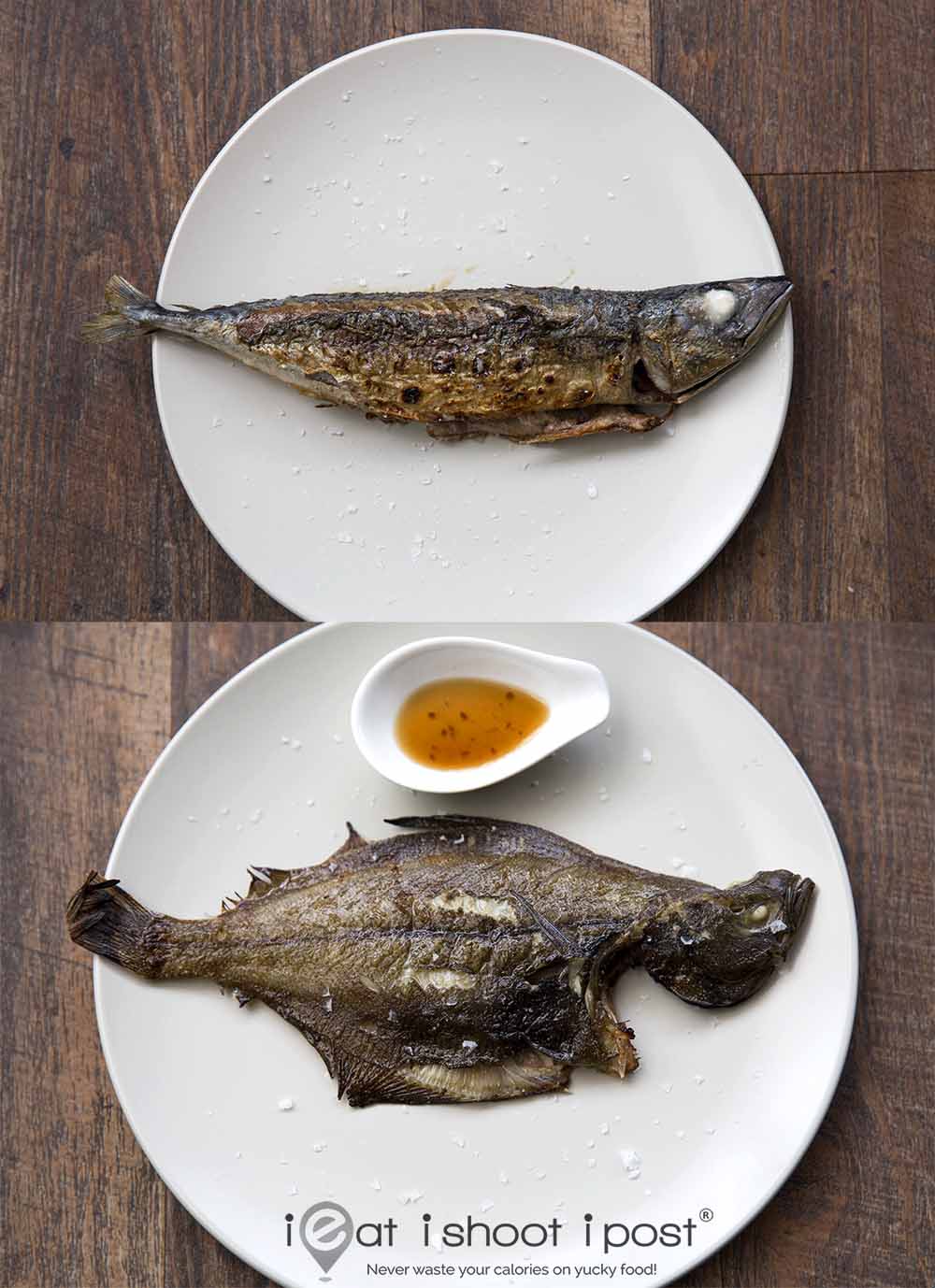 For non-meat eaters, Nekkid has a selection of specially sourced fish from Japan which are simply salted and grilled.  We tried both the Chub Mackeral and sohachi and both were really good.  Ken Loon travels to Japan frequently to meet with suppliers in order to buy the best fish and his Mackeral is one of the best I have come across.  There is hardly any fishiness and the fish was plump and fat!    4.25/5
Conclusion
Nekkid (and Naked Finn)  is the place to go if you are after top notch produce.  Ken Loon really goes all out to source the best ingredients from around the world and makes it available for patrons of the restaurant to try at a reasonable price!  The food is usually cooked simply in order to bring out the natural flavours of the produce.  He has recently renovated the kitchen at Nekkid and has installed a charcoal grill, so you can expect nicely grilled meats as well as food cooked ala plancha.
Disclosure
This was a hosted menu tasting and Ken Loon is my friend.