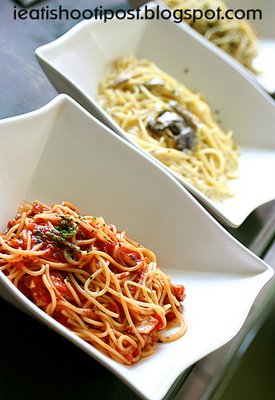 This Stall is Closed!
The Title in Teochew literally means: Want it Cheap, Want it Fresh and still want some Change back!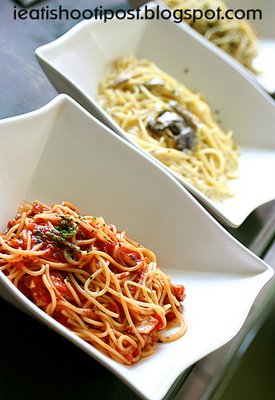 When it comes to Italian food, I am quite skeptical that you can actually get good quality stuff for cheap cheap. Anything Italian is expensive. Italian cars, Italian shoes, Italian sounding coffee……… AND if you want to increase the value of your brand name, one sure way to do it is to give it an Italian sounding name like Lorenzo rather than Tan Kim Hock Furniture.
Good Italian food requires the use of good extra virgin olive oil, real parmesan cheese, quality pasta and fresh herbs at the minimum. All the good stuff has to be imported from overseas, unlike a plate of Hokkien Mee where everything is found here and the sauces don't come from a bottle that uses foreign language and eurodollar signs. So what can you expect from a $3.90 plate of pasta… really?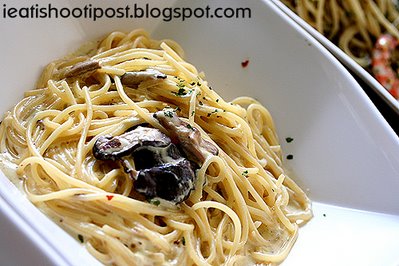 You know I have been setting you up don't you?
The pasta here is amazing for the price you pay! The taste is better than places like Pasta Fresca and Pasta Mania. Unlike most hawker style pastas which have that local taste, this one really tastes like it was prepared by Mario! Ma Ma Mia!
First up was the Mushroom Al Freddo. They only have one choice of pasta and that is Spaghetti. I was told their Spaghetti was imported from a town outside of Pompeii. Now, I don't know how significant that is, all I can say is that it is Al Dente and very good. The cream based sauce was rich enough but not overly thick such that you get real Jia Lard (Indigestion) after the meal. It would have been perfect with a little more Shitake Mushrooms and Parmesan Cheese. 4.25 High marks considering its only $3.90! (Note that the pictures show only a sampling portion, the real portion is twice the amount!)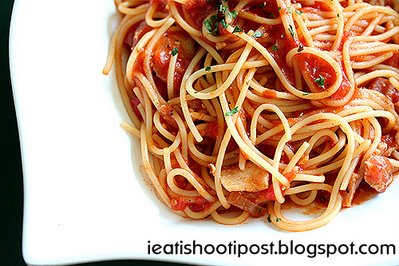 The tomato based sauce was equally impressive. This is the Matriciana, which is tomato based sauce with hickory smoked bacon, herbs and chilli flakes. The sauce has just the right amount of tang and they really know how to use their herbs so that you don't get that kind of typical "spaghetti mixed herb" taste. You know, the type of taste you get when you try to make spagetti bolognaise at home and because you are lazy, you just use the McCormick Spaghetti Mix. And they don't use just any tomatoes, they use canned Roma tomatoes! 4.25/5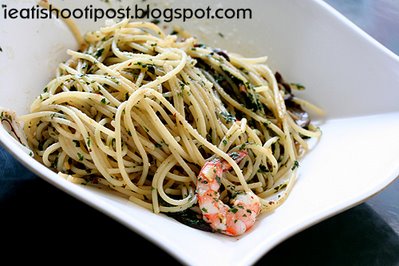 The Pan Fried Spaghetti was a hit with the older folks. (The in-laws) This was invented by Chef James to cater to the folks who prefer a more local taste. It is a hit with the older folks because it tastes more like a stirfried noodle. The Spaghetti is fried in olive oil and garlic with herbs and chilli flakes added for that extra kick. (This is to cater to those who like to put chilli in everything). Not bad, but if I wanted something local, I will go for hokkien mee. 4/5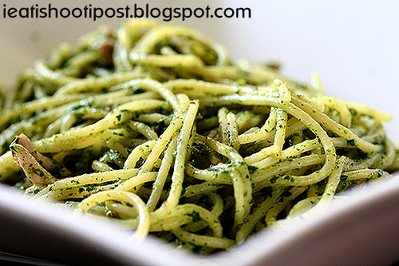 Now I know of some guys who simply love their Al Pesto and would eat nothing else. Sorry guys, the Pesto did not make the grade for me because of the lack of Pine Nuts. I can't really blame them, Pine Nuts are really expensive and at $3.90, I can't really expect them to use lots of Pine Nuts. So I am only giving the Pesto a 3.5/5.
Conclusion
This is good value for money Pasta that actually tastes like Pasta you would find in a good Italian Restaurant. If you want a shioker (even more delicious) Carbonara, just ask James to upgrade it for you by putting extra slices of Bacon and additional Parmesan. It'll be really good and still be less than half the price you pay in a restaurant. Great place to get your pasta fix without having to use your Visa Card, and still get 10 cents change for your 4 dollars!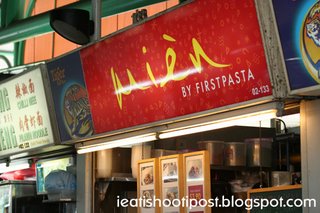 Disclosure: I was reading about this place in the forum and amazed at just how much people were raving about it. See here. I told myself I have got to go down there one day to try it out. 2 hours later, I got this email from Damien inviting me to come take pics of his place!! You can call it fate, you can call it coincidence, but I call it divine intervention. Anyway the four plates of pastas were provide free by Damien (half portions, so he only blanja 2 plates) and I made a new friend who loves to eat!