This restaurant is closed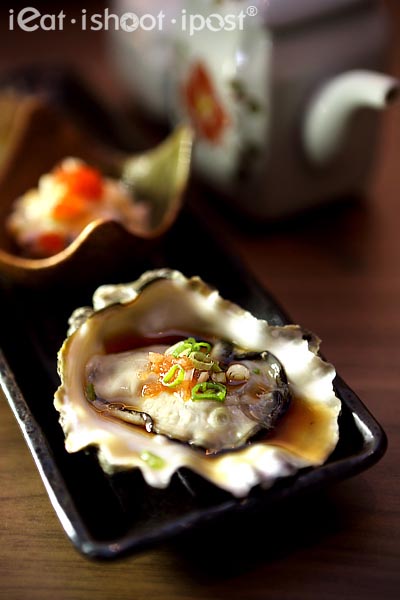 Situated along Joo Chiat Road, you might just mistake this small little Japanese restaurant as a massage parlor if you didn't know any better. Maeda has been around for almost two years and occupies the shophouse where Aston Prime used to be. So it is a location I am most familiar with, having organized a Charity Makan session there in the early days of the blog. The place is still under Aston's name but he has leased it out to Chef Maeda to run his little restaurant that serves up casual Osakan style cuisine. It's not Kaiseki cuisine in the strict sense of the word, but then Kaiseki in Singapore tends to be less formal than what it is in Japan. But by labeling "Casual Kaiseki" (my own labeling), I am trying to convey that sense of a degustation type meal with many different small dishes reflecting the seasonal produce of Japan, but without the strict formality.

The place is run by Chef Maeda and his sister Nami who both hail from Osaka and most of the produce has been sourced from Japan. This and the fact that the restaurant is situated in a nondescript little shophouse really makes it feel very authentic from the start. The other attraction is their non-scary prices. As you are well aware, uttering the phrase "Omakase" at a Japanese restaurant in Singapore mean that you hit your credit card limit at the end of the meal. So my Omakase meal of 8 courses, priced at $120++ per pax was quite reasonable for Singapore standards.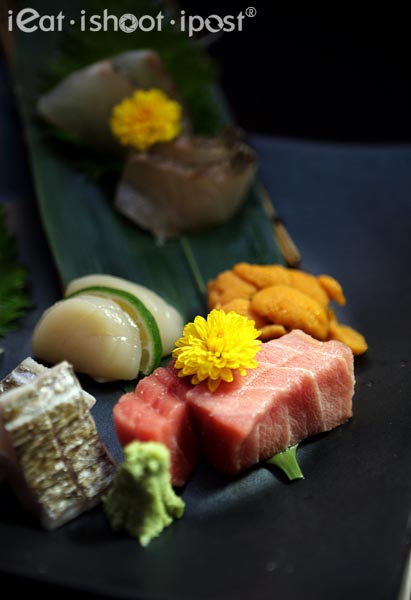 After our starter of Canadian oyster and seafood salad, we were presented with the sashimi platter (Mukozuke in Kaiseki terms). This course of raw fish is often used as an initial gauge for the quality of any Japanese restaurant and the most telling sign is often not the seafood itself but the quality of the wasabi that accompanies the meal. A sharkskin board lying somewhere on the chef's table top indicates that the chef is probably grating his own wasabi which means that he takes his sashimi quite seriously. Even better if he tells you that his wasabi is from Shizuoka prefecture which is where the best wasabi in Japan comes from. The sashimi was beautifully presented and most of the items were excellent, with the exception of the chutoro which I felt could have been better. There were a few more unique fish like the lightly grilled (aburi) Tachuo (scabbard fish) which was excellent as was the madai (Sea bream) presented in matsukawa-zukuri, or pine bark style where the skin was blanched in hot water first. Both these techniques serve to tenderize the skin of the fish so that you can enjoy the fat underneath it together with the raw flesh of the fish. 4.25/5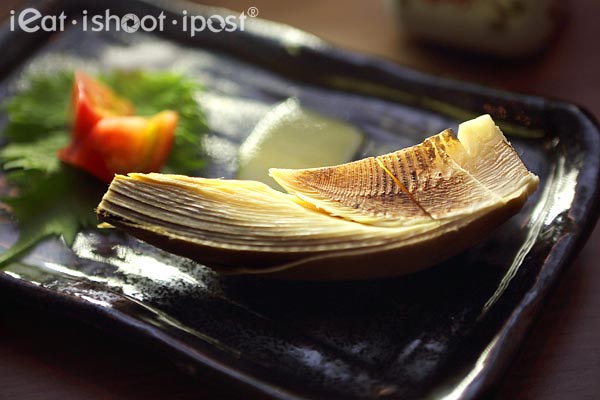 Spring is the season for bamboo shoots and our takenoko (bamboo shoot) was presented very simply by boiling first followed by a light grill before serving with a sumiso sauce made from vinegar, sugar and miso. It might be simple, but it was one of the dishes which I really enjoyed. 4.25/5
When our tempura dish was presented, I immediately assumed it was tempura ebi and was pleasantly surprised when it turned out to be fried crab legs instead. The homemade tempura batter was light, crisp and not too oily. However, I felt that it would have been better if the batter was a little thinner such that there was more crab meat to batter. It was still enjoyable though. 4/5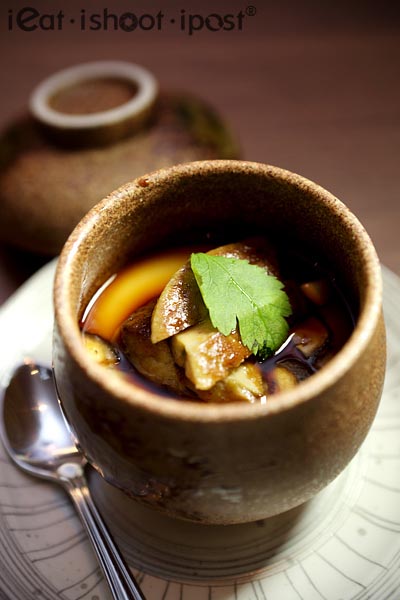 We were told that our Chawanmushi was supposed to be topped with black truffles but the shipment got held up, so chef substituted with with foie gras. The chawanmushi was excellent and was nicely paired with the foie gras. Unfortunately, I felt the texture of the foie was a little too firm as it had been seared first and then steamed. Would have been better if it had retained its creamy texture. 4/5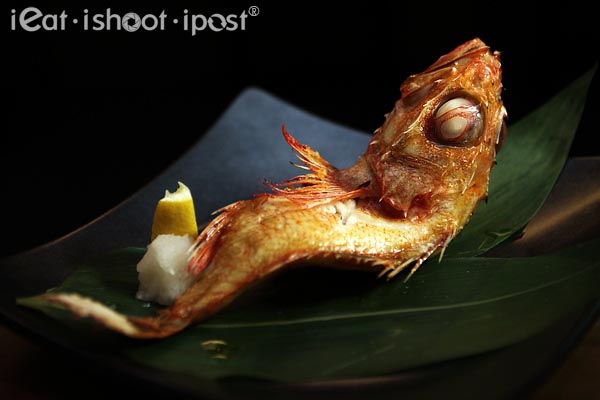 Rockfish is very popular amongst the Japanese and subsequently, they can be quite expensive here in Singapore. I must admit that I haven't eaten enough of this fish to actually be able to tell the difference between it and say, a coral trout. I felt the texture of the flesh is quite similar so I am not sure if I can appreciate the taste enough to specially pay the premium for it. But the fish is impressive when it is presented, especially with its big googly muppet like eyes and bright red colour. Chef simply grilled it with salt to preserve its natural flavours. 4/5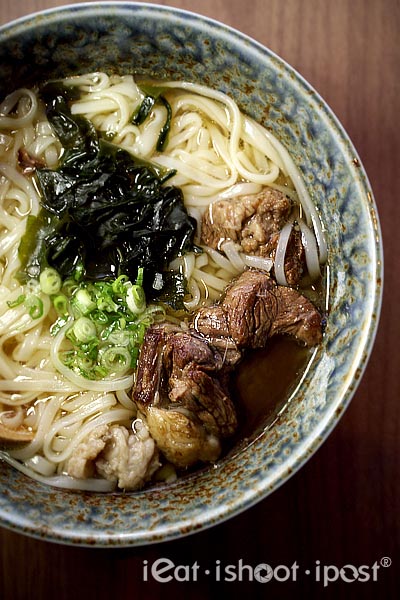 If you love Kway Teow and especially Ipoh Kway Teow, then this bowl of thin udon will put will simply blow you away. Thin udon is a specialty of the Akita prefecture where they grow a lot of rice and this is possibly the best kway teow (udon really) I have ever eaten. The texture was simply perfect and it was so light in the broth. My only complaint is that it was the last dish and I was so full already! The broth and the Wagyu beef stew were excellent accompaniments! This dish felt like a Japanese interpretation of our Beef Kway Teow soup! 4.5/5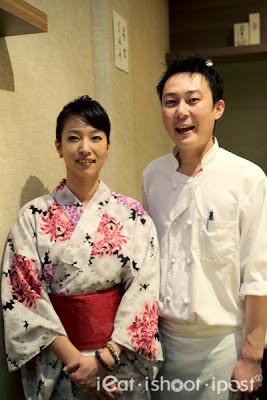 Conclusion
Great place to enjoy a quiet Japanese meal without bursting the pocket. The setting is simple and aside from Chef and his sister, there might be only another one or two persons working in the restaurant, so it is very personal. My only grouse was that it could be a little cosier as the place does seems to come across as a little bare.
Thanks to Aston for hosting the meal!