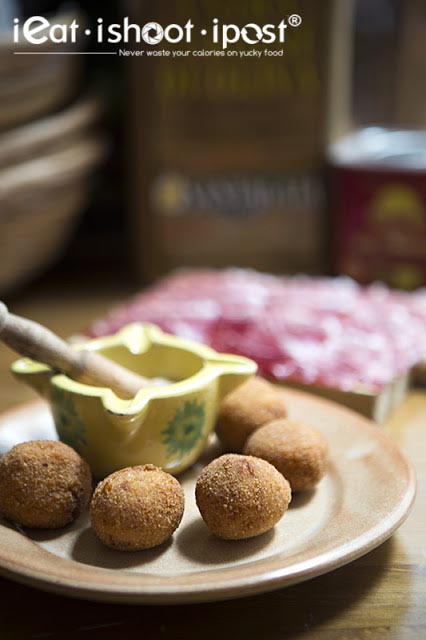 I think the Tapas concept works very well in Singapore. We are used to eating dim sum, so small plates of tasty titbits is a very communal affair that most of us are familiar with. But the problem with such things is that there is always a tendency to deviate from purely Spanish food to introduce tasty morsels from other cuisines. So for example, some tapas bars are serving Italian bread sticks rolled with Jamon Iberico. That in itself is not a big problem, heck they can even serve buffalo wings for that matter. As long as its tasty and your customers like it, anything goes right?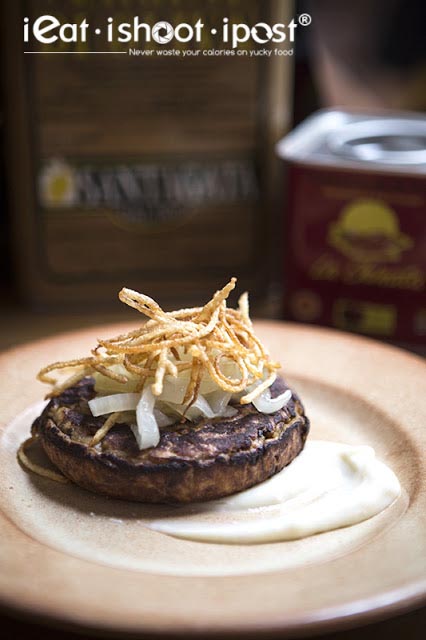 But personally, I prefer not to deviate too much from what is traditional. I just feel that if I go eat Spanish food, I want it to be something genuine rather than having it adulterated with cuisines from other cultures. It's like when I go overseas and order satay at a Singapore/Malaysian restaurant and getting served Thai style satay instead. It just doesn't feel right.
Having said that, I might sound as if I am contradicting myself when I tell you that Los Primos is operated by my friends Gerri and Mauro who happen to be the Italians who own Cugini just two doors away. The reason that I am a great supporter of Cugini is that I always find their food very genuine and cooked with lots of passion. From the guancale which they import from Italy to their pasta which is also imported from a small cottage industry supplier, whenever I eat there, I just feel that there is something very artisanal about their food.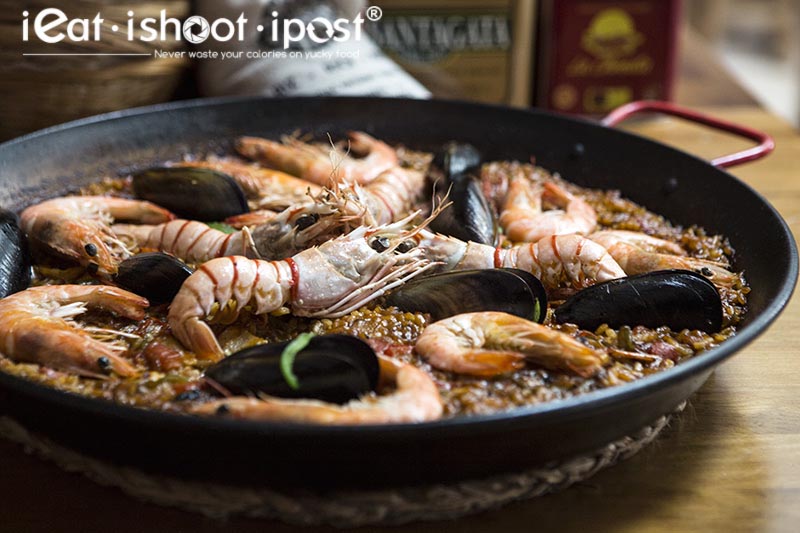 Both Gerri and Mauro had spent four years working in Valencia before coming to Singapore, so they are very familiar with Spanish cuisine. In order to keep to the spirit of Spain, they spent some time last year in Spain to source for the furniture, produce and chefs. Their head chef is a venerable 62 year old Spaniard who has never left Spain before coming to Singapore!
I have always admired Mauro for his passion in the kitchen. He is a chef who takes his job seriously and one of the few I know who still bothers to make his own demiglace instead of buying the ready made ones. I have visited his little laboratory in Cugini where he experiments with making pastas, and gelatos. He really lives and breathes to cook.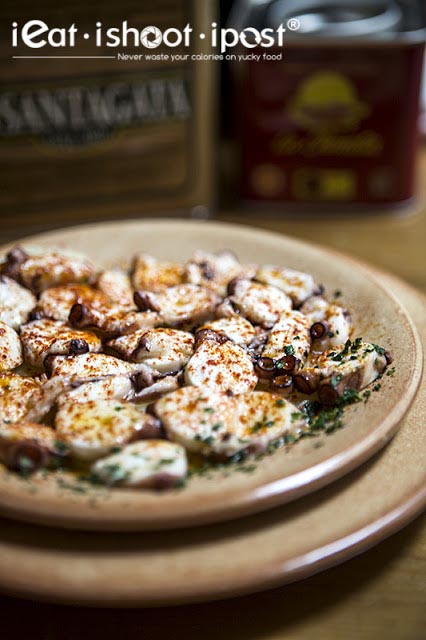 So when I bit into the chicken croqueta, I knew immediately that there was something really special about it. As you all might know, I have been writing a bit about Spanish food lately and croquetas have always been one of those "Why do I have to pay so much for these?" kind of dishes. Having to pay $10 for five pieces of glorified pommes noisettes just feels a little expensive especially when you consider how many bergedils (Malay style potato cutlets) you can buy with $10.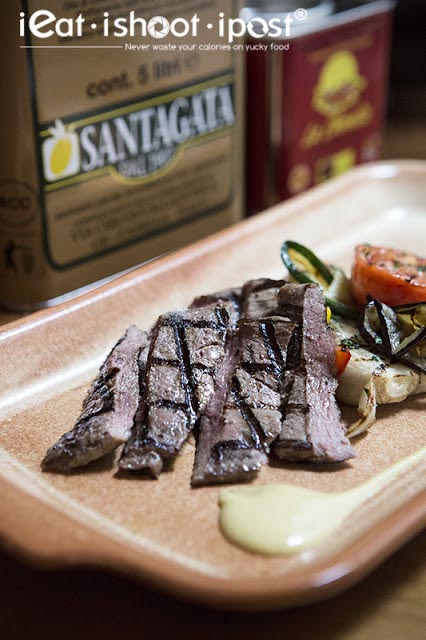 But one must not mistaken a croqueta for a croquette! Croquetas are essentially a deep fried bechemel sauce rather than a potato cutlet. Most place will make a roux with butter and flour, add milk to thicken it, flavour it with say jamon or chicken, let it set in the fridge before covering it with bread crumbs and deep frying it.
However, when you bite into the chicken croquetas at Los Primos, you will realise that it is quite different. The secret lies in Mauro's insistence on doing things the right way. So instead of adding more flour to thicken the bechemel sauce, he uses less flour but simmers the bechemel for 8 hours in order to reduce and thicken the sauce. During that time the chicken is also slow roasted and the meat then added to the resulting bechemel. The resulting croquetas is wonderfully creamy and flowing with the smokey shredded chicken and is something quite different from your usual pommes noisettes!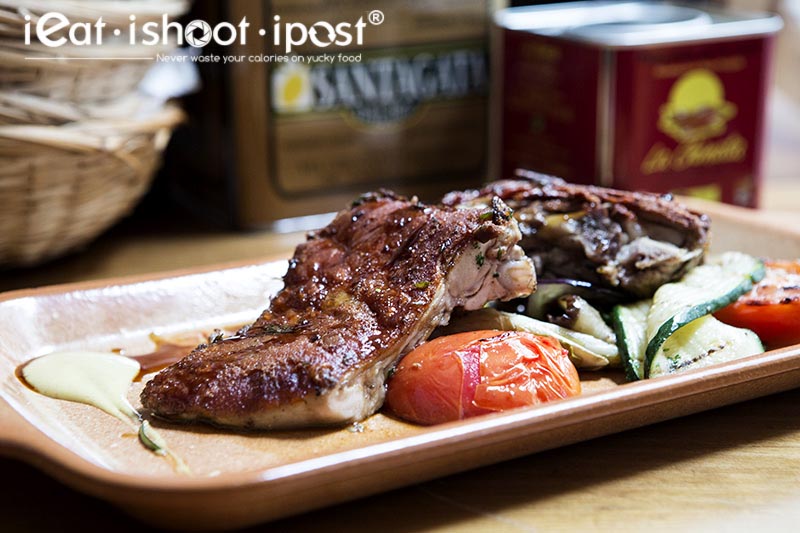 Cugini has been my favourite place for risotto essentially because I like bold flavours. So it comes as no surprise that the paella at Los Primos is also very good. If you order the paella, they will tell you that the minimum waiting time is 40 mins because it is only cooked to order. The big difference between a risotto and a paella is that in a risotto, you stir the rice during the cooking process in order to coax the starch out of the rice. What results is a creamy risotto. With paella, you don't stir the rice but leave it on the paella to absorb all that wonder stock. What results is a moist rice with a nice crust at the bottom called the soccarat. If you are the type who like to scrap off the rice at the bottom of the claypot, then you will really enjoy paella as well!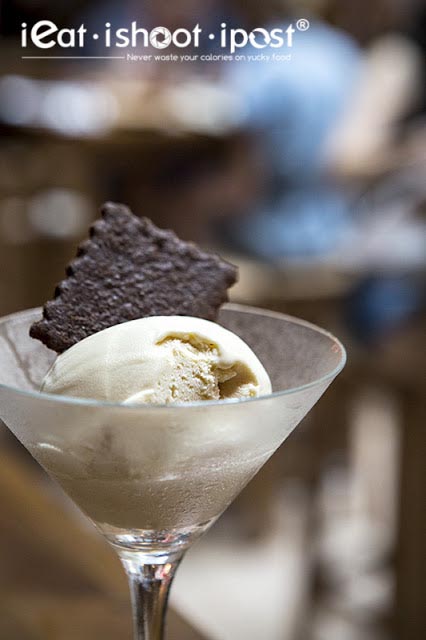 Spanish love pork and essentially they have two type of pigs. Black and White. There are of course many other breeds but the most celebrated is the pata negra or the black Iberian pig. These are the creatures that give us the magnificent jamon Iberico de bellota. The cheaper jamon serrano is essentially cured the same way but is made from the white pig. The difference between the black pig and the white pig is stark. The black Iberian pig has a wonderful ability to turn acorn into delicious streaks of intramuscular fat which is high in monounsaturated oleic acid. So not only is jamon iberico wonderfully tasty, it actually lowers your bad cholesterol levels as well!

Aside from jamon Iberico, the black pig is also used for another very popular dish – the secreto Iberico which is essentially grilled black pig armpit. I know that it doesn't sound particularly appetizing when you say it that way, but that doesn't change the fact that this is probably the most sought after part of the pig after the hind leg has been set apart for jamon Iberico. Simply marinated and grilled, its about as close as you can get to pork heaven!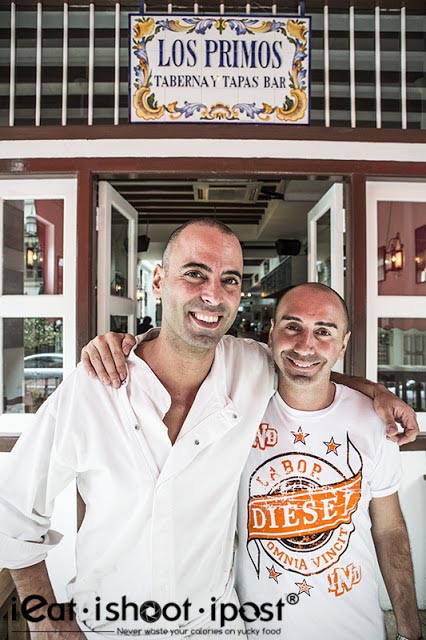 For dessert, I highly recommend the gelato which is the only non-Spanish dish at Los Primos. The gelato is there because, well, Mauro bought a new gelato maker and has been playing around with his new toy over at Cugini. The gelato is simply amazing, super velvety smooth and not overly rich, it is simply the best ice cream I have had, period. You have got to try it!
Conclusion
The cousins have tried to keep the spirit of Los Primos as Mediterranean as possible which is why they insist on turning on the air conditioning with the doors and windows wide open! The food is prepared with lots of passion and is bold and flavourful. Of special mention is the quality of the homemade bread here which uses a 30 year old mother starter from Spain. Just having a slice of the bread with some marinated olives, anchovies and jamon iberico accompanied by a glass of sangria is a marriage made in Spain!
Special for ieatishootipost readers
Let them know that you came after reading this post and get a welcome cocktail! Valid till 20 Dec 2012
This meal was hosted by my friends Gerri and Mauro