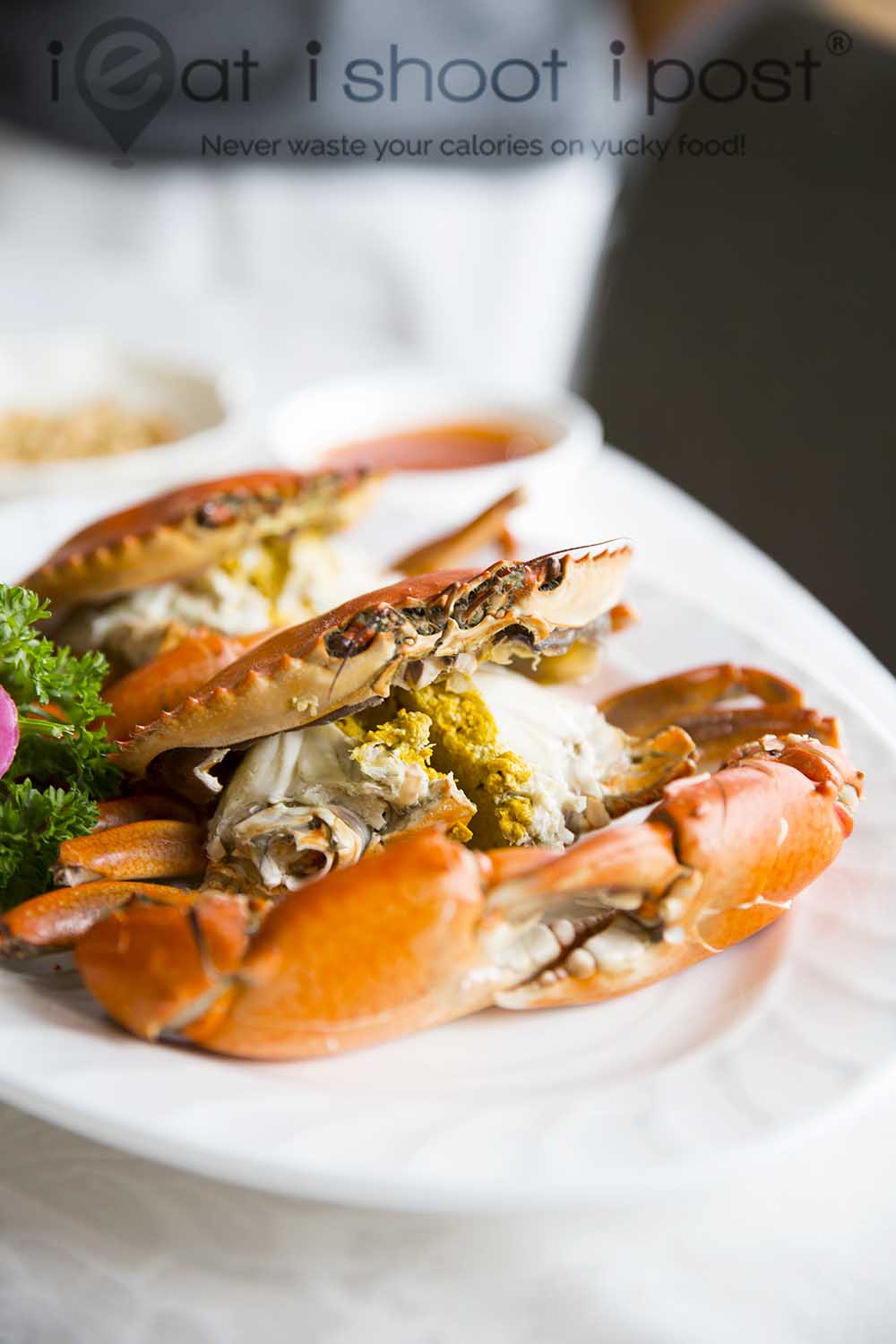 Lee Do Restaurant: Old School Fuzhou Food! – ieatishootipost
I must have walked past Lee Do Restaurant countless of times whenever I visit the Automobile Megamart, but it had never occurred to me that this austere looking eatery is one of the last guardians of Fuzhou cuisine in Singapore!   I was equally intrigued to learn that they were the ones responsible for making cold crabs the popular dish that it is today!
"Hold on.  But I thought cold crabs were a Teochew dish?"
Yeah, I can hear your thoughts streaming through the wifi.  I don't blame you.  I had the same thought too.  So I asked Mr Tang Kwok Tong, the 67 owner/chef of Lee Do restaurant to clarify this point.
Here is his story:
Back in the 80's, Mr Tang's father, the late Mr Tay Chwee Kwang was approached by a friend for help.  He happened to be seafood supplier at Tekka market and  had started importing Sri Lankan crabs.  He had a lot of crabs which remained unsold because in those days, Singaporeans didn't want to eat Sri Lankan crabs as they feared that the crabs grew big by eating human corpses!  Unsold crabs can't last very long and once they are dead, they need to be disposed, so he was making a big loss.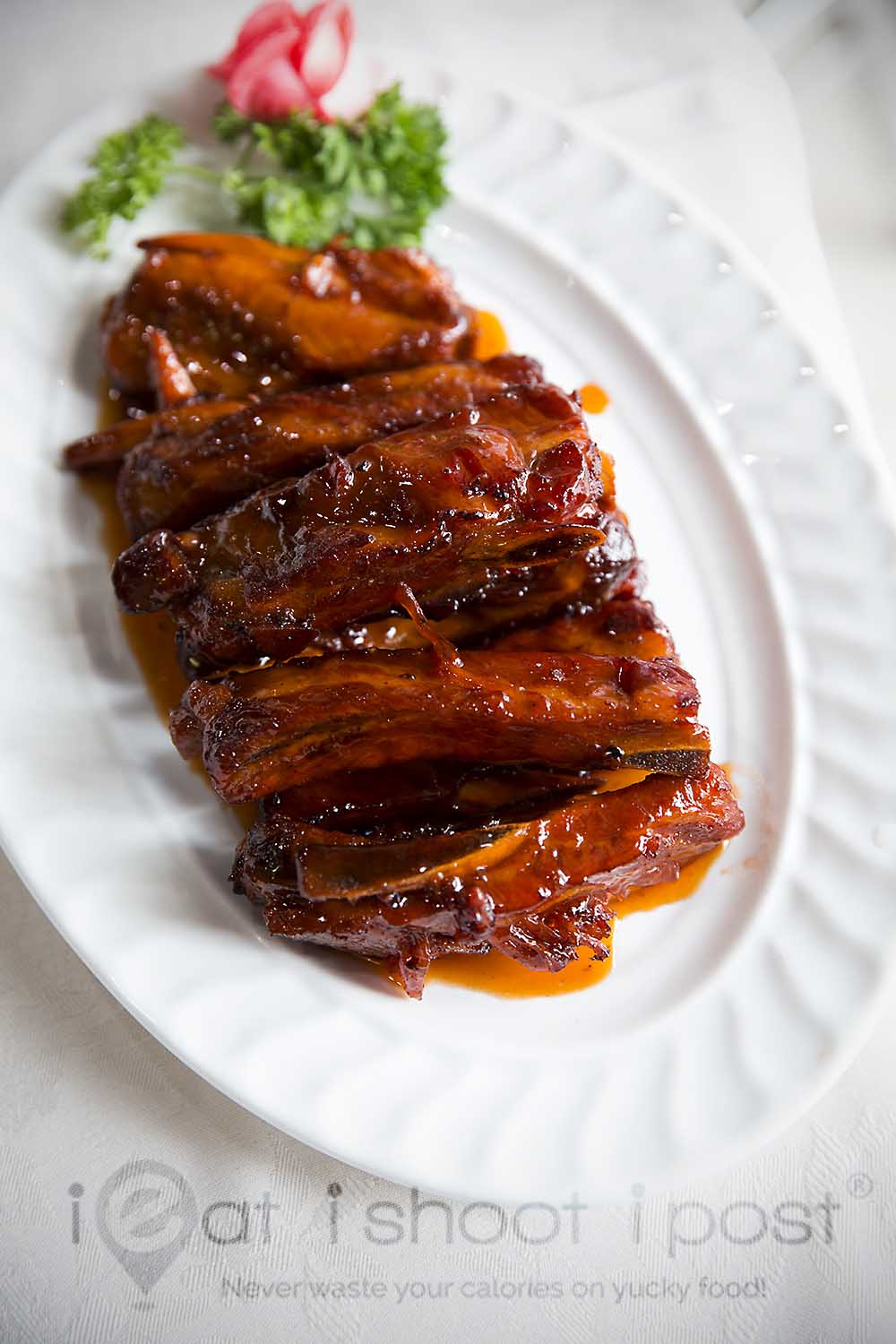 Mr Tay came up with a simple, yet brilliant solution and that is to cook the crabs first and keep them in the fridge to prolong their shelf life.  So, he added "Chill Crabs" to the menu at Lee Do restaurant.
Orders for the new dish was slow at first for various reasons.  Firstly, people are not used to eating crabs cold and also they are not used to eating male crabs.  Traditionally, the Teochews would cook the crabs and serve it at room temperature, not straight out of the fridge, and they always use only female crabs which are full of roe.  So getting customers to eat cold crabs full of crab "butter" (The yellow stuff is actually the liver) was a challenge.  On top of that, customers don't even notice it on the menu since they assume "Chill crabs" meant "Chilli crabs".  That was why Lee Do eventually changed the name to "Cold crabs" instead.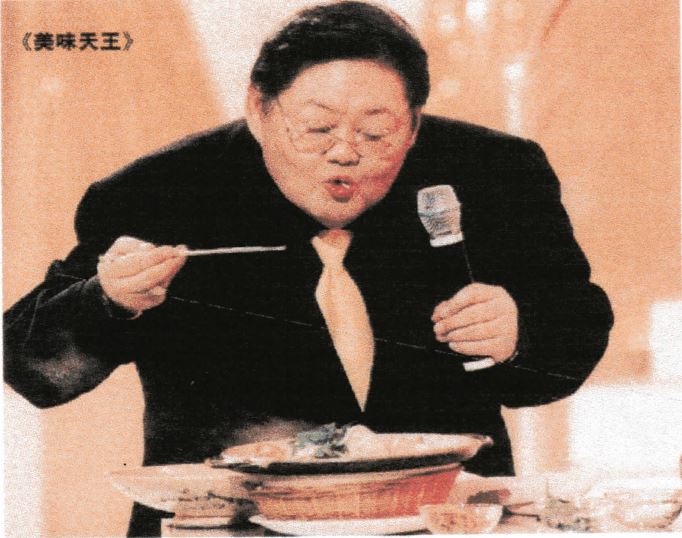 The breakthrough for cold crabs came through the help of Moses Lim who visited the restaurant and was impressed with the new crab dish.  He went on to promote it on his food show in Ch 8 and the rest, as they say is history.
According to Mr Tang,  he introduced the dish in this manner:
"You have heard of chilli crabs, you have heard of black  pepper crabs, but have you heard of cold crabs?"
Since then Lee Do has been famous for their cold crab dish which is served with their own chilli sauce.  They are still using Sri Lankan crabs and they choose smaller crabs which are packed with meat and crab butter.  The meat and crab butter is very good but I didn't really know how to appreciate their chilli and opted for plum sauce instead.  4.5/5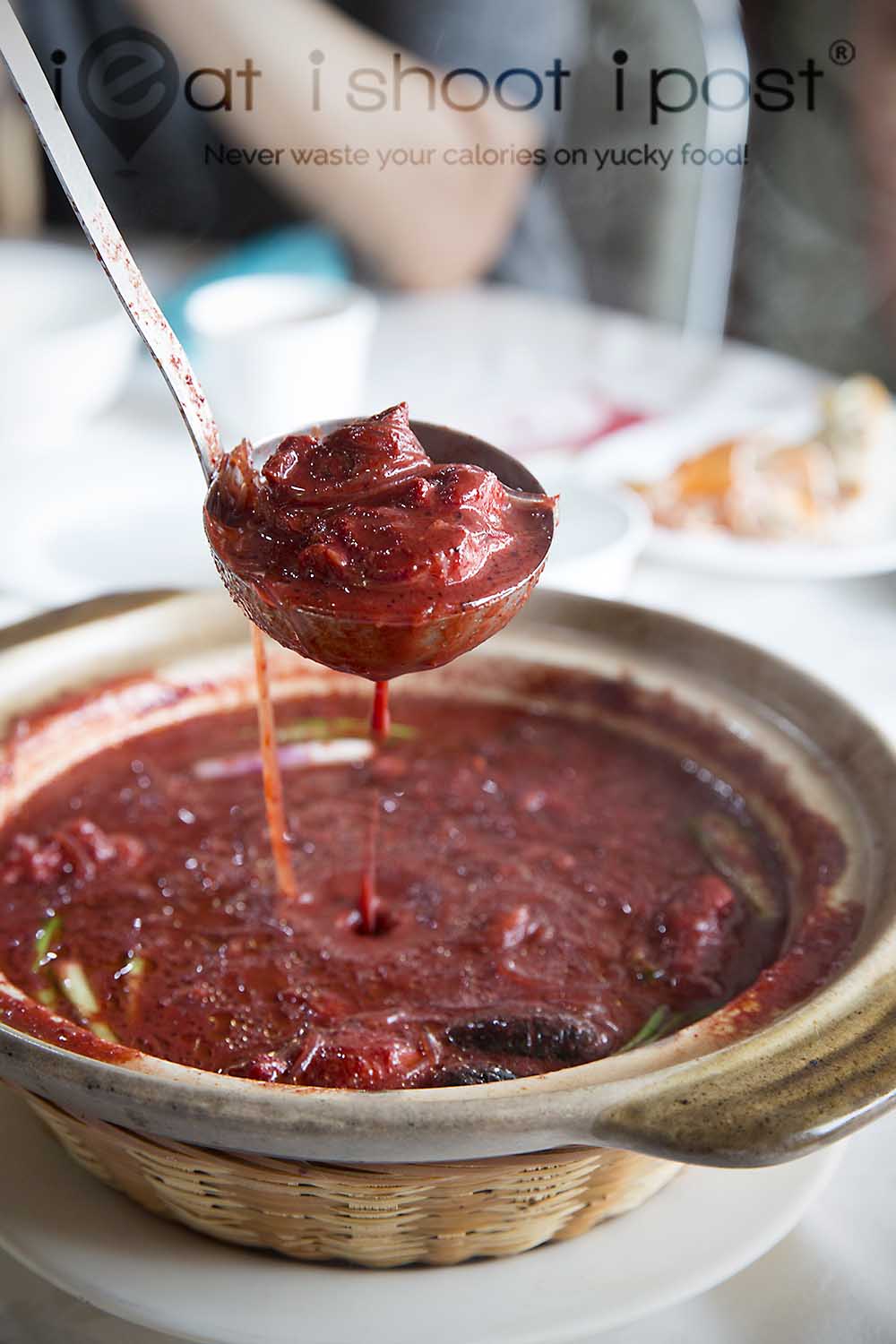 The other dish which they are known for is their red wine chicken. This is perhaps the most iconic Fuzhou dish and is often prescribed for women during their confinement.  The key to the dish is the wine lees leftover from making glutinous rice wine.  This red wine chicken is the best version I have come across so far.  This soup is robust without being overly rich with a very pleasant tang.  4.25/5
Mr Tang tells me that the key to this dish is the quality of the red wine lees.  They actually import their own from Fuzhou to ensure that they get the quality they want.  The other key is a meticulous cooking process where the wine lees is slowly cooked over hours with the other ingredients to give it that complexity of flavour!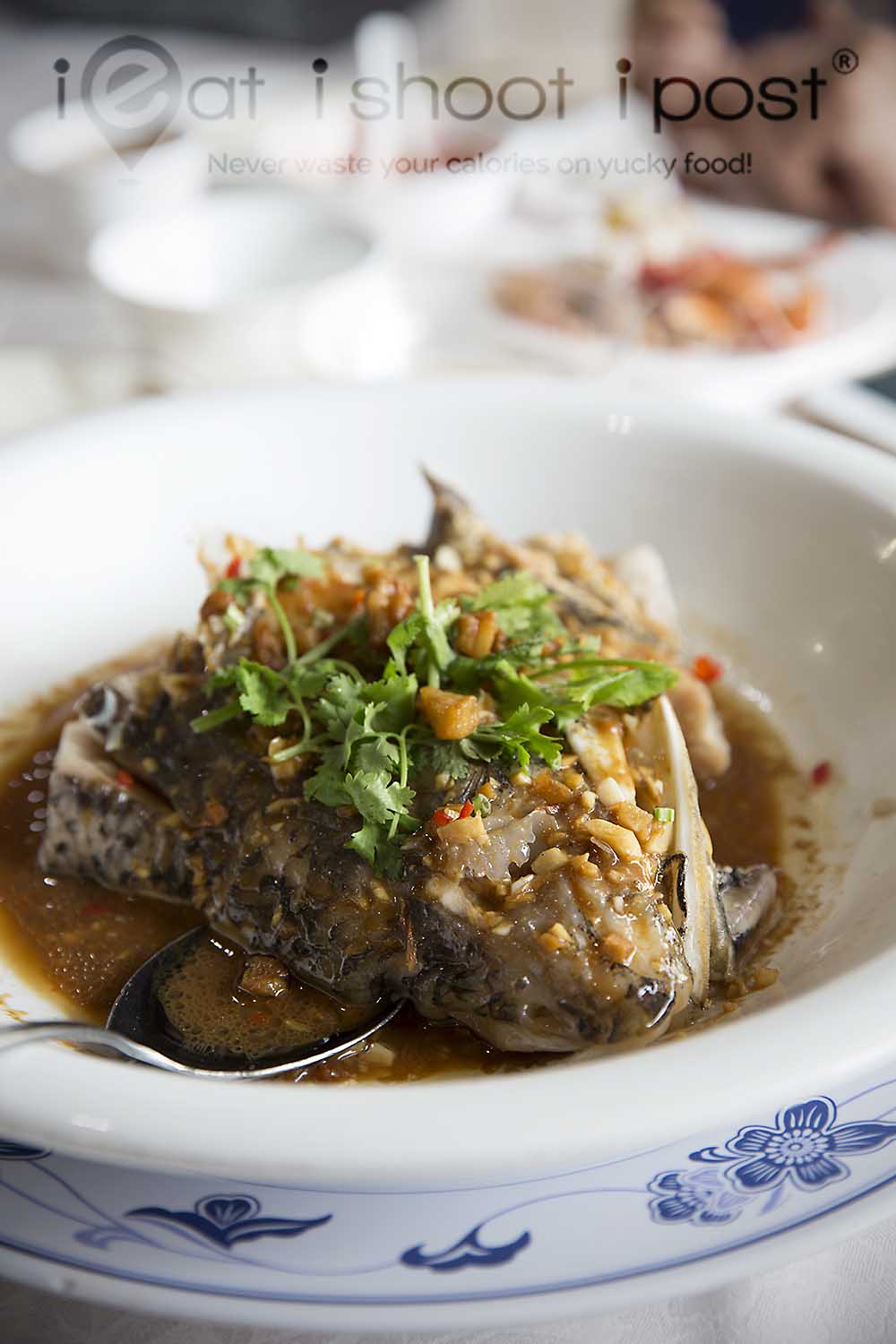 Their steamed threadfin head with soya bean paste is excellent.  Even before I had the dish, I knew that they were really passionate about their ingredients when Mr Tang mentioned they they used "Balai Ngor".  This threadfin which are caught off Tanjung Balai just and hour and a half ferry ride from Singapore is a highly sought after fish.   They steam their fish with their tasty soya bean paste such that the flavours have sufficient time to penetrate into the meat. Little cubes of freshly fried lard accompany the sauce which help to create little explosions of flavours in the mouth!  4.5/5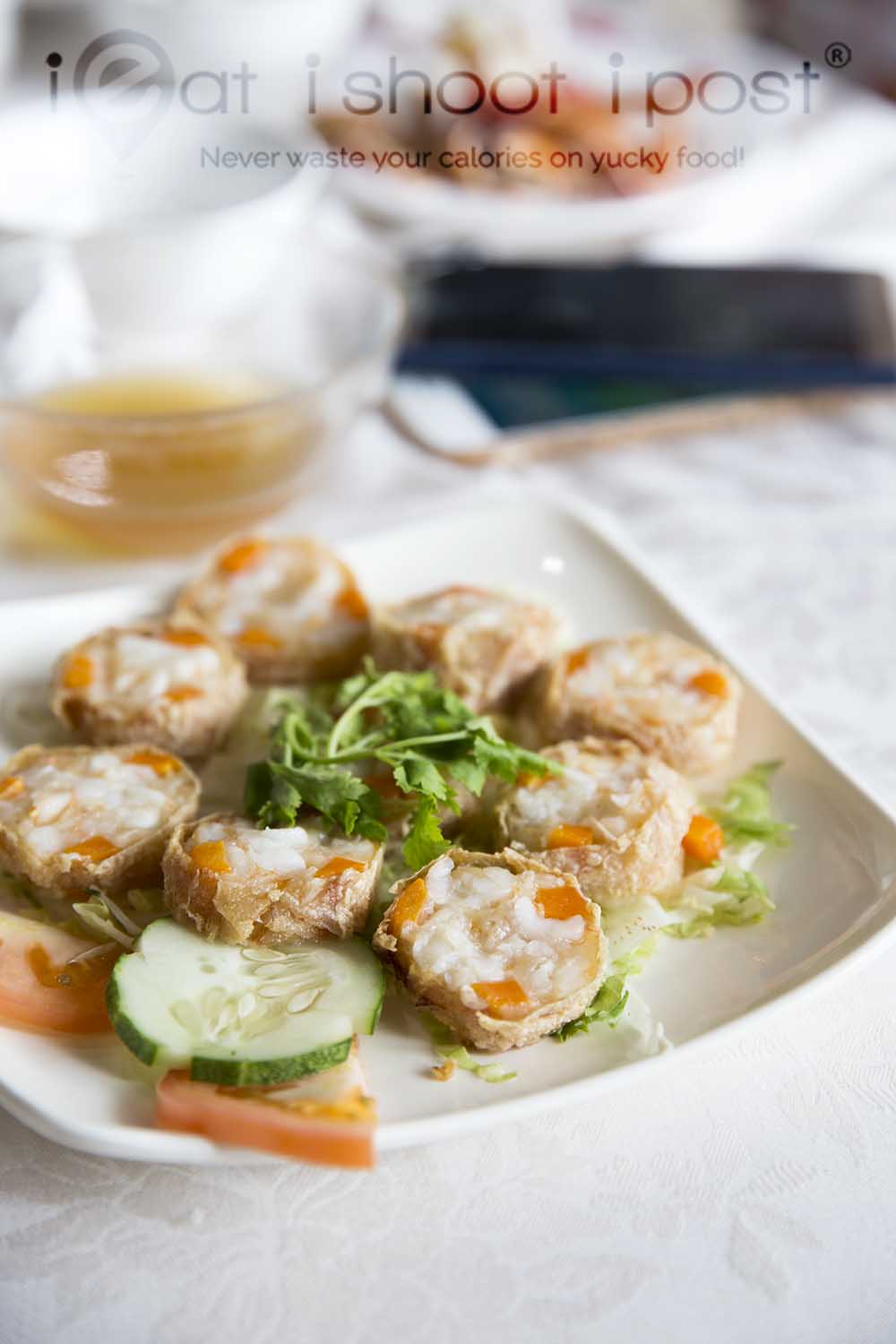 The prawn rolls are very nice but I think that the first thing most people will notice about them is how thinly they are sliced.  The reality, I feel, is that they have been sliced thin so that it appears more substantial.  The fact is that Mr Tang still insists on using only pure sua lor prawns meat and caul fat to make his rolls.  In the past, these ingredients were cheap and widely available.  But nowadays the cost of ingredients have gone up so much that they had to reduce the portion in order to continue selling it at an acceptable price.  That is unfortunate as I felt that in order to fully enjoy the prawn rolls, you need at least two slices for a satisfying chew.  4/5
I was pleasantly surprised with the crispy fragrant duck.  This is a dish which I have come across a few times and I have always felt it was over rated.  That was until I tasted the crispy fragrant duck at Lee Do.  Now I understand how this dish has had the ability to remain a classic on the Chinese menu.
The duck was crispy on the outside but flesh is not overly dried out so that there is still sufficient juices that ooze out of the stringy meat when you chew.  There was a depth of flavour in the meat which is the result of a complex process of marination, followed by steaming and drying before being deep fried.  It was accompanied by a sauce which balances the flavour perfectly.  4.5/5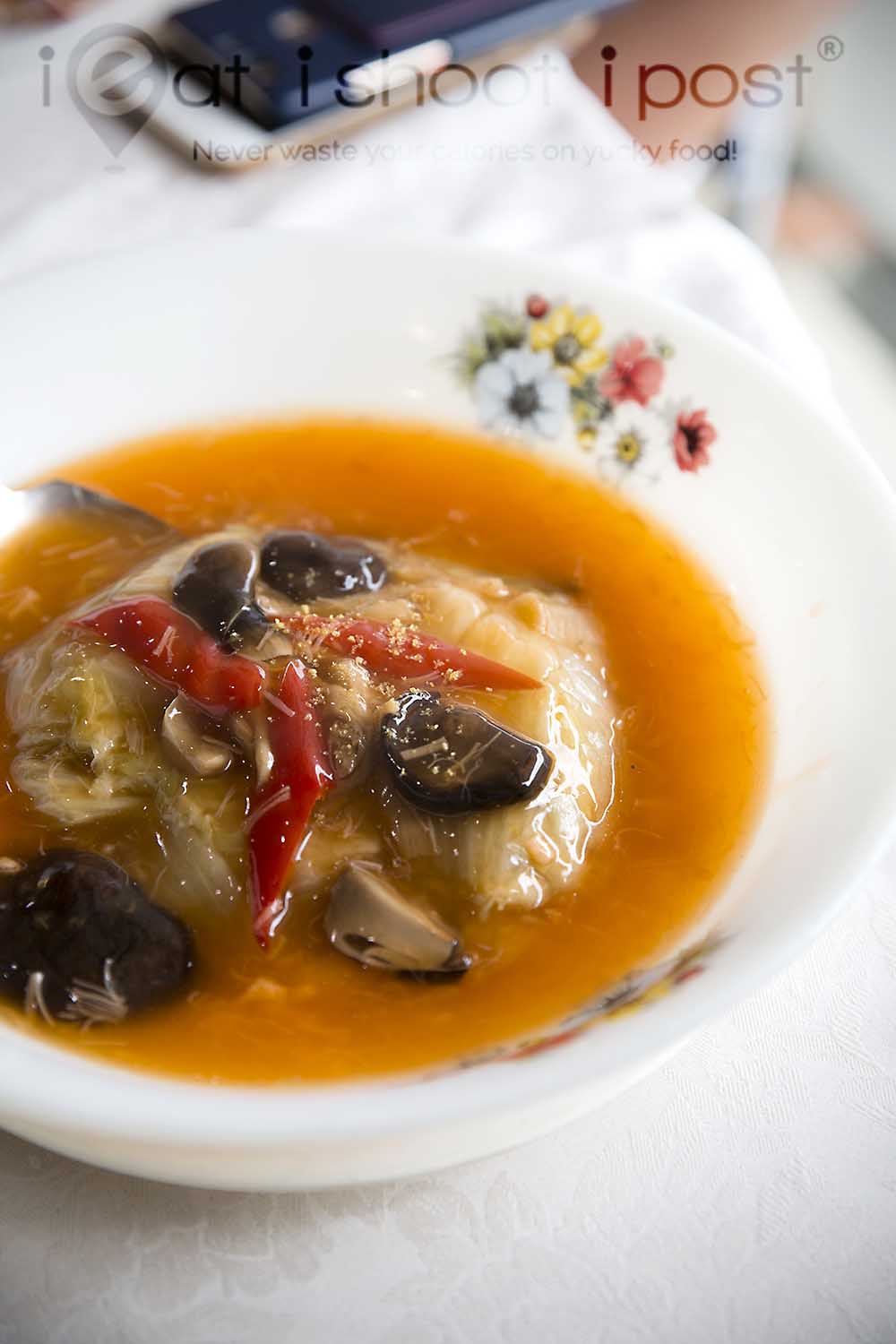 I was quite taken aback by the bright orange hue of the steamed white cabbage.  Mushy stewed cabbage is a dish which is made by the various dialect groups but I have never seen one which is orange in colour!  Mr Tang tells me that a bit of colouring is added to the cabbage because it would have looked too plain and uninteresting otherwise.  The texture is marvellously silky but I would have liked the flavour to have a little more punch.  4/5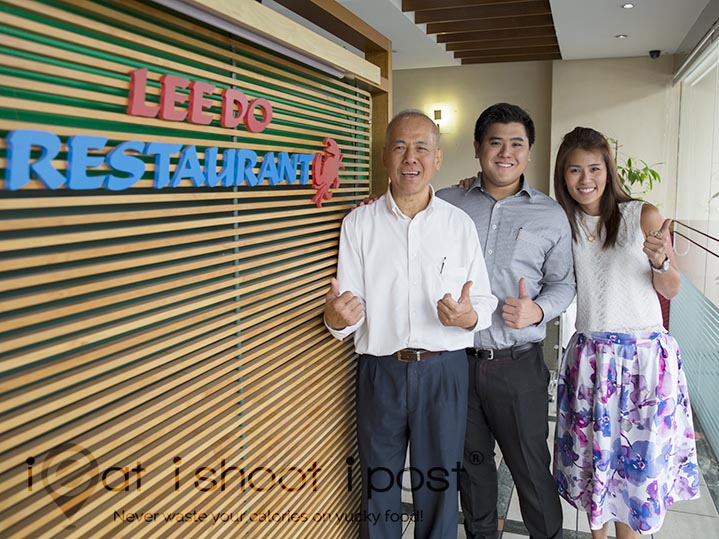 Conclusion
The discovery of Lee Do just goes to show that even after 10 years of blogging, there are still wonderful old school restaurants waiting to be uncovered!  I was very impressed with the quality of ingredients and the passion of the Tang family to keep their food authentic.  If you have never experienced Fuzhou food before, then this is a great opportunity to try some distinctly unique dishes!
Special for ieatishootipost readers
Enjoy a 10% discount when you mention this post!  Valid till 15 Mar 2017 except for the first 15 days of the Chinese New Year (ie 27 Jan to 11 Feb)