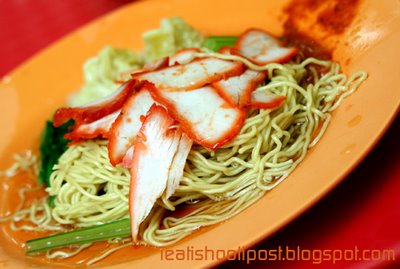 Updated 10 Sep 2015
Lavender Food Centre has been demolished and the stall has moved. The address has been updated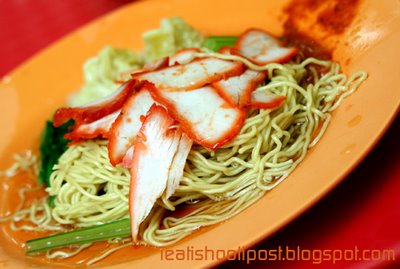 OK, this is one contentious Wonton Mee. Some forummers loved it, some did not think much of it. When I got there, there was this long queue of about 8 people at 2.30pm in the afternoon. What the heck, even if the makanguru eslim told me that it was not that great, I just had to try it for myself. My first impression, looking at the char siew, was not it was not impressive at all. Nothing like the Rowell Road Wonton Mee that everybody raves about with black sauce and all. Even the Char Siew was the "Boil in a Pot with with Red Dye" type.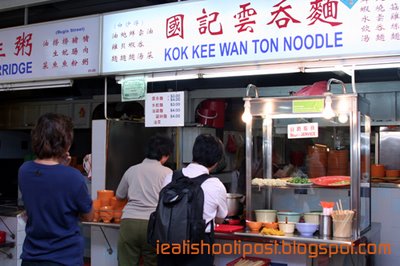 See the guy with the backpack? He's from Taiwan. He told me that he came all the way from Taiwan to eat this Wonton Mee. Phwa, I am getting more curious. I asked the lady if they make their own noodles to which she replied "No, we buy from supplier". After a few questions, I am beginning to feel like George from the Seinfeld episode about the Food Nazi. These people take no nonsense, they are busy. I better behave or else I might have to disguise myself as a woman to buy a plate. Luckily the Der Fuhrur (Boss) was not around and I managed to get my Wanton Mee after 10mins.
I have to admit, that I quite like the noodles. It's not the char siew or the wonton, which are pretty lousy, but the sauce which was the winner. Mixed with the noodles, the sauce really combines well with the noodles.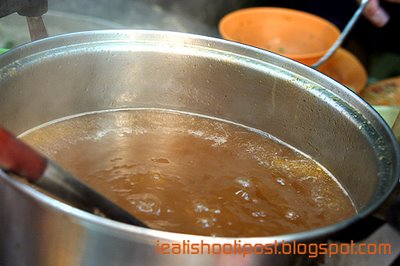 This boiling cauldron of secret elixir has some sort of Gong Tau (addictive substance) which keeps its customers coming back again and again (Even from as far as Taiwan). Of course, the ladies did not know what was inside this addictive concoction. It's not even thick, its like a thin soup but it tastes great with the noodles. A welcomed departure from the wonton mee that uses tomato ketchup.
3.75/5 Some will like it, some will not. I like the taste of it, but at $3 for a small plate, I don't like the price and I certainly don't like it enough to queue behind 8 persons.
Kok Kee Wanton Mee 国记云吞面
Lavender Food Hub @ Zhuge Liang, Hoa Nam Building
27 Foch Road, Singapore 209264
Opening Hours: 1pm till sold out (May take breaks on certain days)
There is a newer post on this stall here.  Posted Jan 2016