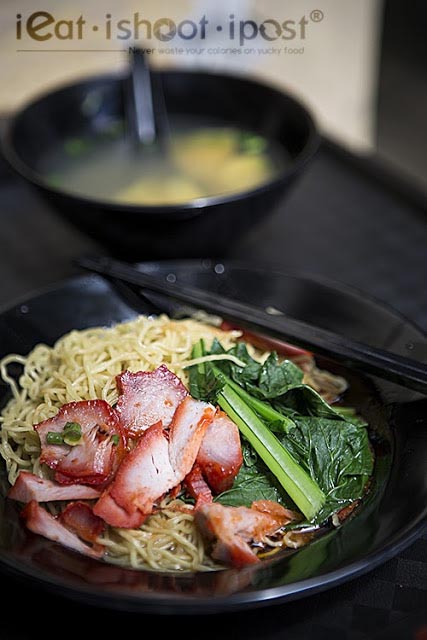 Ang Moh Wanton mee might not be the best Wanton Mee around in my books, BUT, it earns first place as the Wanton Mee with the most die hard fans.
It is incredible the number of people who have written to me ever since they reopened their doors in June this year. Most of them have been mourning the loss of their favourite wanton mee ever since they decided to call it quits last July citing the deteriorating health of lady who cooks the noodles. There was a brief consolation when the stall was bought over by some die hard fans in order to keep it going but soon the complaints started streaming in that Ang Moh ain't the same no more.
When they decided to re-open again at the basement of Dunman food centre, the internet was abuzz with the news of their opening. I know of a few fans who went to Dunman Food Centre right after I posted news of their resurrection on my facebook fan page. They came back screaming "It's true! It's true! I have tasted it and it's the same old taste!"
When I was there, I met one of their long time patrons who had been eating their wanton mee since the original Ang Moh was selling it from a pushcart at Joo Chiat place (where Kim's is now). He told me that he had eaten it for breakfast, now he's having a second plate for lunch. It's really amazing what a cult following they have!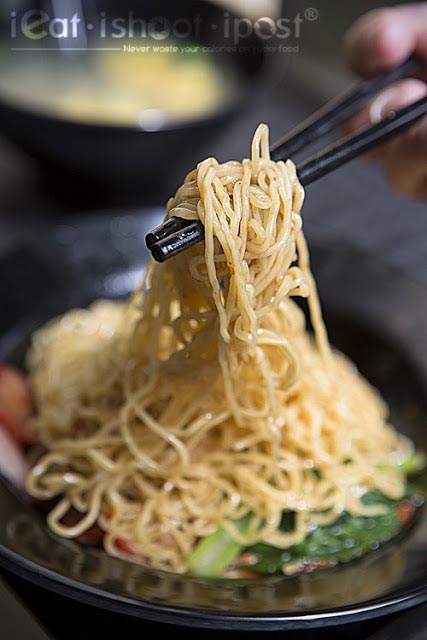 My feeling about the Wanton Mee is about the same as when I first wrote about them when they were still at Tembeling street — it was good but I was incredulous as to why their fans are so crazy over it. I guess that shows that they are still consistent! It was Aston of Aston's specialties who brought me there years ago. This was his all time favourite Wanton Mee. At the time, he couldn't really tell me why. Was it the noodles? The wanton? The chilli? He couldn't put his finger on it. For him, the wanton mee was just right.
It was the same when I interviewed some of their long time customers at the stall. Most of them tell me that they just like it, but can't really say why except to give me their Goldilocks response: "It's just right!".
So, I have come to the conclusion that this particular Wanton Mee is popular because it is comfort food for a lot of people and they have been in business for so long that they have a lot of fans who need to be comforted every now and then.
Objectively, I can say that the texture and flavour of the noodles are very good and when mixed with the lard, chilli and soy sauce, the flavours and texture is very well balanced. Compared to other wanton mee which might add some sweetness in the form of tomato ketchup, this Wanton Mee is predominantly salty and savoury. The Wantons are nice and are cooked fresh rather than pre-cooked and left to congeal in a dish. The Char Siew is procured from a supplier and is the typical generic, reddish, sweetish, boiled charsiew which lacks char, ie the type of char siew which we are all familiar with that comes with Wanton Mee. The soup was a little bland for me but it does still have the flavour of ikan bilis. This plate of wanton mee just wasn't distinctive enough to be something that I would crave for, but I can understand that there would be some who consider it their ultimate comfort food which they can eat every day. 4.25/5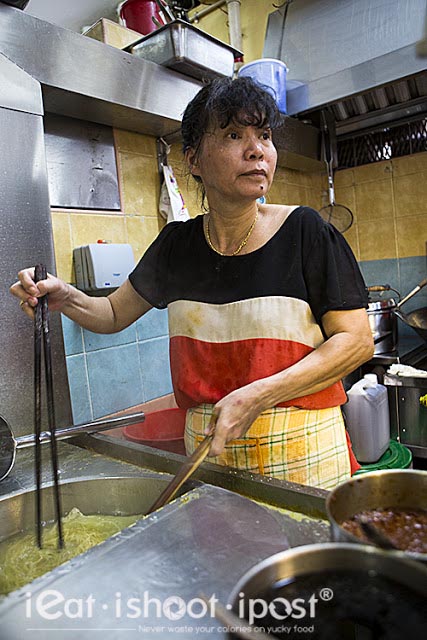 Now, I guess the question on everybody's mind is why they chose to sell off the "Ang Moh" brand only to make a comeback the following year? Well, I am afraid I don't have the answer for you. They were quite mum about the whole thing. All I know is that Ah Huat is the name of the man who has been helping the lady at the Wanton Mee stall. Is he the husband or just a partner? Why the comeback? I will leave it up the fans to fill us on the details.
Conclusion
This is undoubtedly very good news for all fans of Ang Moh Wanton Mee! For me, it is a good Wanton Mee to satisfy the craving if I happen to be in the vicinity. However, if you consider yourself a Wanton Mee aficionado, then it behooves you to pay this heritage stall at least a visit to see what the hoo-ha is all about.