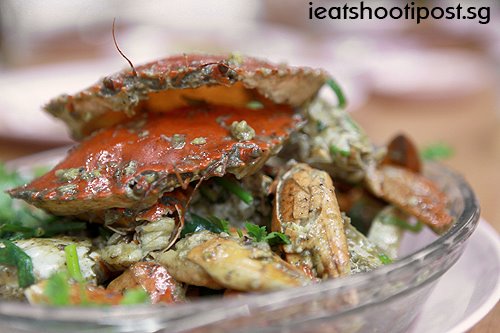 White Pepper Crabs. $20 for 3 small crabs.
Ever heard people say that the food in JB is really great? Yeah, I believe it too. But everytime I think about going into JB, the traffic jam at the causeway and the potential of losing your car and a few bucks is always a big deterrant. So what is the next best thing? Well, the next best thing is to have a JB restaurant right here in Singapore, I guess.

Now, even though there is a Restaurant called Ah Meng in JB, this is not a branch of that restaurant. Neither is the owner from JB. So how can a restaurant in Geylang, run by Singaporeans give themselves a name like JB Ah Meng? Marketing gimmick perhaps?
Well, according to the owners, the chefs are all from JB, but then again many Cze Char cooks are now from across the causeway anyway. The second reason cited is the fact that the dishes are all JB inspired dishes. Mind you, they even admit that they were past favourites of JB, not even the current ones.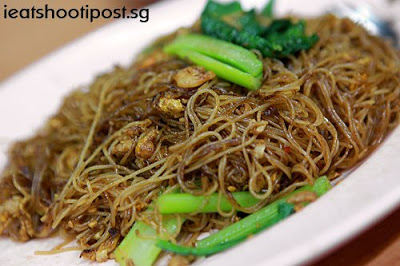 JB Sanlou Fried Bee Hoon
Perhaps the most signature dish they have here is the fried Bee Hoon. This outstandingly austere dish is served with the veggies hidden at the bottom so that unsuspecting carnivores would not baulk at the greens. So all you are going to see is this flat bed of crispy black bee hoon. I had to toss it a bit to make it look nicer for the camera. Even then, it still looks pretty boring.
But never judge a dish by the way it looks. Perhaps the unattractiveness of the dish is meant to fool you into lowering your expectations to rock bottom. But when you actually taste it, it is quite different. Very much like the Susan Boyle phenomenon eh?
One reader remarked that fried Bee Hoon is one dish which I have not blogged about yet. So here it is at last. A fried Bee Hoon that I will highly recommend for anyone who likes it. Actually Bee Hoon is an excellent medium for soaking up flavours. So after this I am on the look out for more Bee Hoon dishes to try! 4.25/5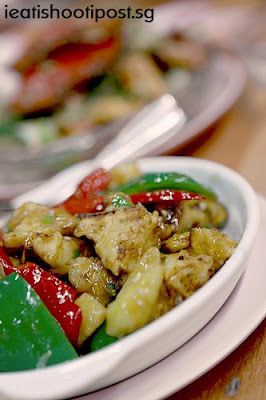 Deep Fried Eggplant
If you like white pepper crabs, it is quite good here. The only problem is that they don't have those huge Sri Lankan Crabs but instead have the small ones, so you will be getting a claw the size of a teaspoon as opposed to one that is as big as a Ping Pong bat. But the sauce is very tasty and the meat is sweet and quite solid. For $20 for 3 crabs, it is quite a good feed. 4.25/5
The last dish which I would recommend is the Fried Eggplant. The Eggplant is first fried in a Tempura like batter and then stir fried in a yummy oyster sauce based gravy. Somehow I just like the contrast of the crispy batter to the smooth and creamy eggplant inside. At first Amagada thought it was some deep fried fish fat! Can't really tell you what went into the sauce, but I was just picking away at the dish till it was all finished. (It doesn't help when the kids don't like eggplant) 4.25/5

Conclusion
If you are looking for a Cze Char with a difference which is opened till the wee hours of the morning and is not too expensive, then this is it! Of course, I still think that the food across the causeway is better, but hey Geylang is much less hassle!
Congrats to JB Ah Meng for being awarded the Bib Gourmand 2016!