Do you all remember "The Count?" from Sesame Street? They call him "The Count" because he loves to count things.
Now, guess why Taukwa is called Taukwa? Well, it is not a trick question. He is called Taukwa because he loves to eat Taukwa. And so this stall which sells fried Taukwa (the only one of its kind as far as we know) literally has got his name on it.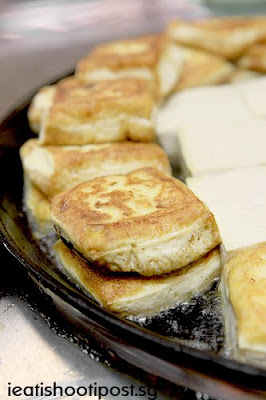 How anyone can be so enamoured with a block of Beancurd simply fried till it is crisp on the outside and eaten with a simple chilli sauce is something of a conandrum. If this was Tauhu Goreng (The Malay version which is served with a spicy sweet peanut sauce), at least I can understand. But this stall simply pan fries Taukwa and sells it. It seems like something any person can do right? And the Taukwa is not any special handmade from organic soy beans type Taukwa. It is simply Taukwa which you can buy at a fraction of the price at the wet market next door. But then again, people do buy Milo from the Kopi Tiam too when they can simply do it themselves at home.
Anyway, the Taukwa is very nice. I guess if you are a Taukwa lover, this has got to be one of those places which you will need to do a pilgrimage to. I like Taukwa but not so much as to drive all the way to Redhill simply to eat it. But it is good enough to order if I were eating something else there. 4/5

Conclusion
Taukwa is nice and healthy. It has got no cholesterol and it's full of protein. Eat more Taukwa, it is good for you.