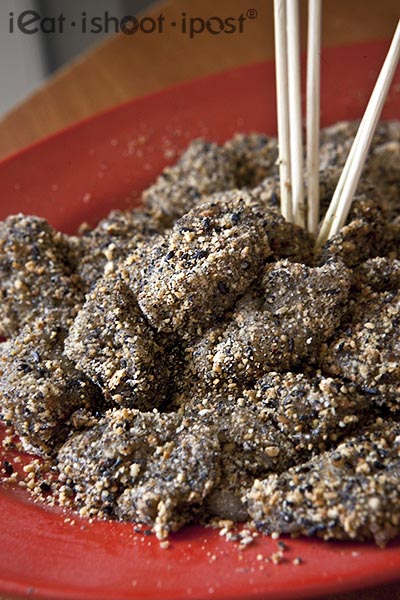 Ever seen black Muah Chee before? Well, I don't blame you if you haven't cos this is one of the fast disappearing foods in Singapore made by the last artisanal Muah Chee man in town!
The Muah Chee man told me that the Black Muah Chee is only served during the Chinese New Year period because it is used as a dish to entice the god of fortune ( 财神) to come to your house.
"Why black?" I asked the Muah Chee man.
"No idea!" says he.

"But I tell you something interesting about Muah Chee!" he smiles whimsically. "You are Doctor right? You know last time they used to use Muah Chee as a remedy for fish bones? If you accidentally swallow small fish bones, then you swallow a piece of Muah Chee without chewing and the fish bone will stick to the Muah Chee! But you can only use good Muah Chee like mine, or else you might get choked if it does not have the right amount of elasticity!" He smiled.
Then he continued. "Muah Chee can also be used as a plaster to suck out the poison when you accidentally step on a rusty nail!"
I actually started thinking about stocking the product in my clinic!
OK, the first one sounds plausible, but if you ever stepped on a rusty nail, please see your Doctor. In fact, if you swallow a fish bone, please see your Doctor because there are many Doctors around, but only one Muah Chee man who makes Muah Chee that can be used to remove fish bones!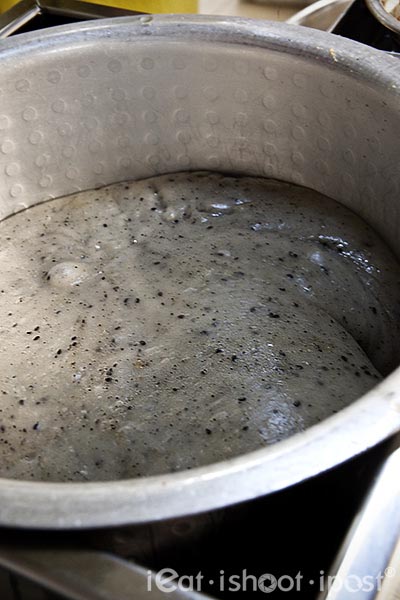 Anyway, as I have already said in my last post, Muah Chee is a very auspicious dish especially for Chinese New Year as it means "Full of Wealth" in Teochew and the stickiness of the Muah Chee is supposed to act like a wealth glue. And that's the white version! The black version is supposed to be even more powderful (sic) as the god of fortune apparently has a penchant for black sesame!
This is the first time I am eating Black Muah Chee. It isn't just the addition of black sesame seeds to the peanuts, but even the Muah Chee itself has got crushed black sesame in it to give it an extra nutty fragrance. The texture is still sublime but I personally still prefer the white peanut version as I like the intense fragrance of the peanuts. However, this is something you just have to try, right? 4.5/5
Conclusion
Artisanal Black Muah Chee! I am not sure if I will still be able to eat this in 20 years' time when the man decides to retire. By then it would only be a faint memory in people's mind accompanied by perhaps the photo on this blog if blogspot is still around!
Postscript:
Although Mr Teo's father used to be a street hawker, he didn't take up the government's offer of a hawker stall as he didn't want his son to sell Muah Chee. As a result, Mr Teo has difficulty getting a permanent place to sell his handmade Muah Chee. Muah Chee itself is not lucrative, so rental has to be low. These are the kinds of Heritage Hawkers who I hope the NEA will help re-settle in their plans for the new Hawker Centres. So if you know anyone in the NEA who can help this man get a hawker stall, please help! His lease will run out after Chinese New Year, so if anyone has any lobang for a stall for Mr Teo, please call him at 97305513. It is a crying shame that the Muah Chee man who has represented Singapore overseas for his craft can't even find a stall to make his Muah Chee back home!
Update 6 May 2013
They will be relocating to 480 Toa Payoh Lor 6, HDB HUB B1-01 (Stall 21), Singapore 310480 wef 11 May 2013