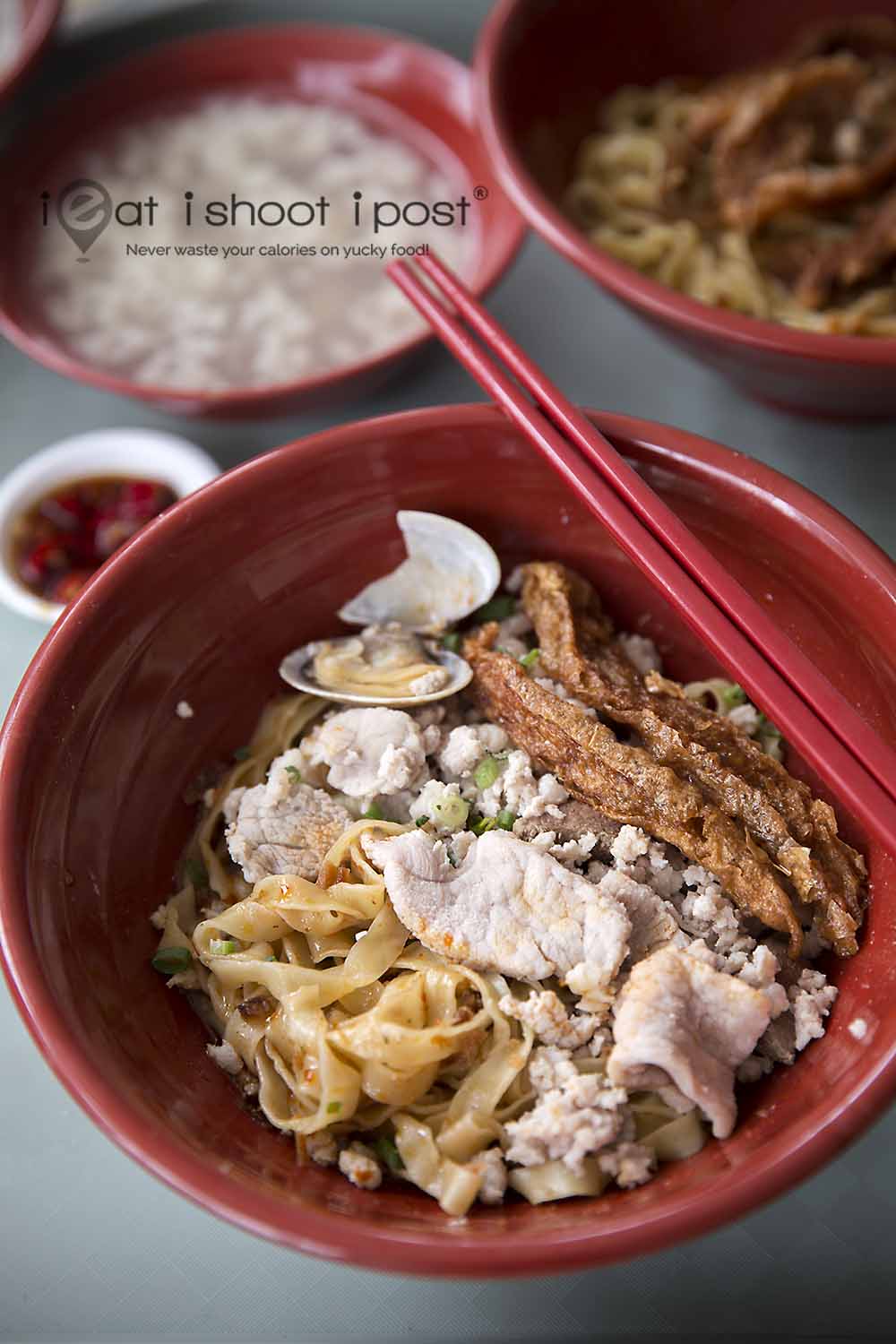 A bowl of mee pok tar is the quintessential Singaporean staple which you can eat for breakfast, lunch, dinner and supper!  Unlike some of our other dishes like char kway teow or satay beehoon, mee pok tar is still very much alive and thriving.
Mee pok tar is not as dependent on the cook as char kway teow which means it is easier to expand.  With good basic ingredients done in a central kitchen and proper SOPs which are strictly enforced,  you can potentially get a very good bowl of mee pok even with different cooks.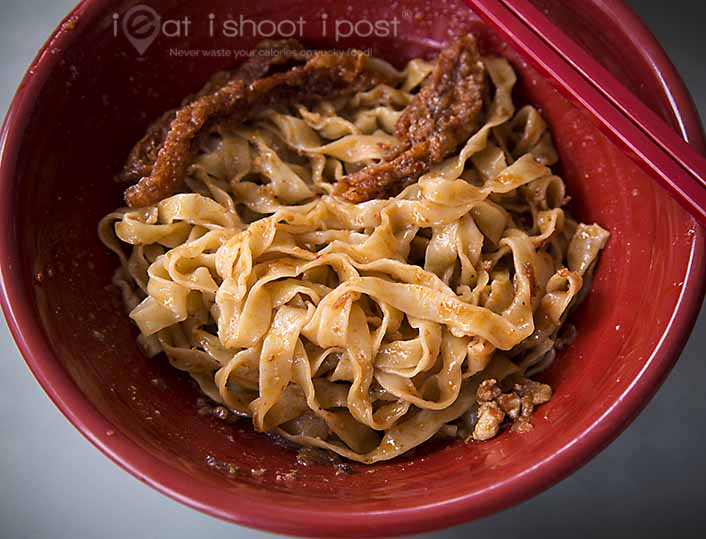 Rave reviews from a few of my kakis who ate at Hosay's first stall in Cantonment was the reason I made a trip to their newly opened branch Bedok interchange.
My first impression was very good.  For $4, you get a bowl of mee pok chock full of ingredients with two strips of fried thingies that looked very promising.  The fried thingy turned out to be some sort of fried fish cake skin which was rather delicious.  It was a good substitute for the more expensive fried solefish and I could do with a few more strips of it.  The mee pok itself was slightly thicker than usual and rather toothy.  Not quite as al dente as with the normal slightly transparent type which I still prefer .  The chilli was very good and flavourful without being too spicy.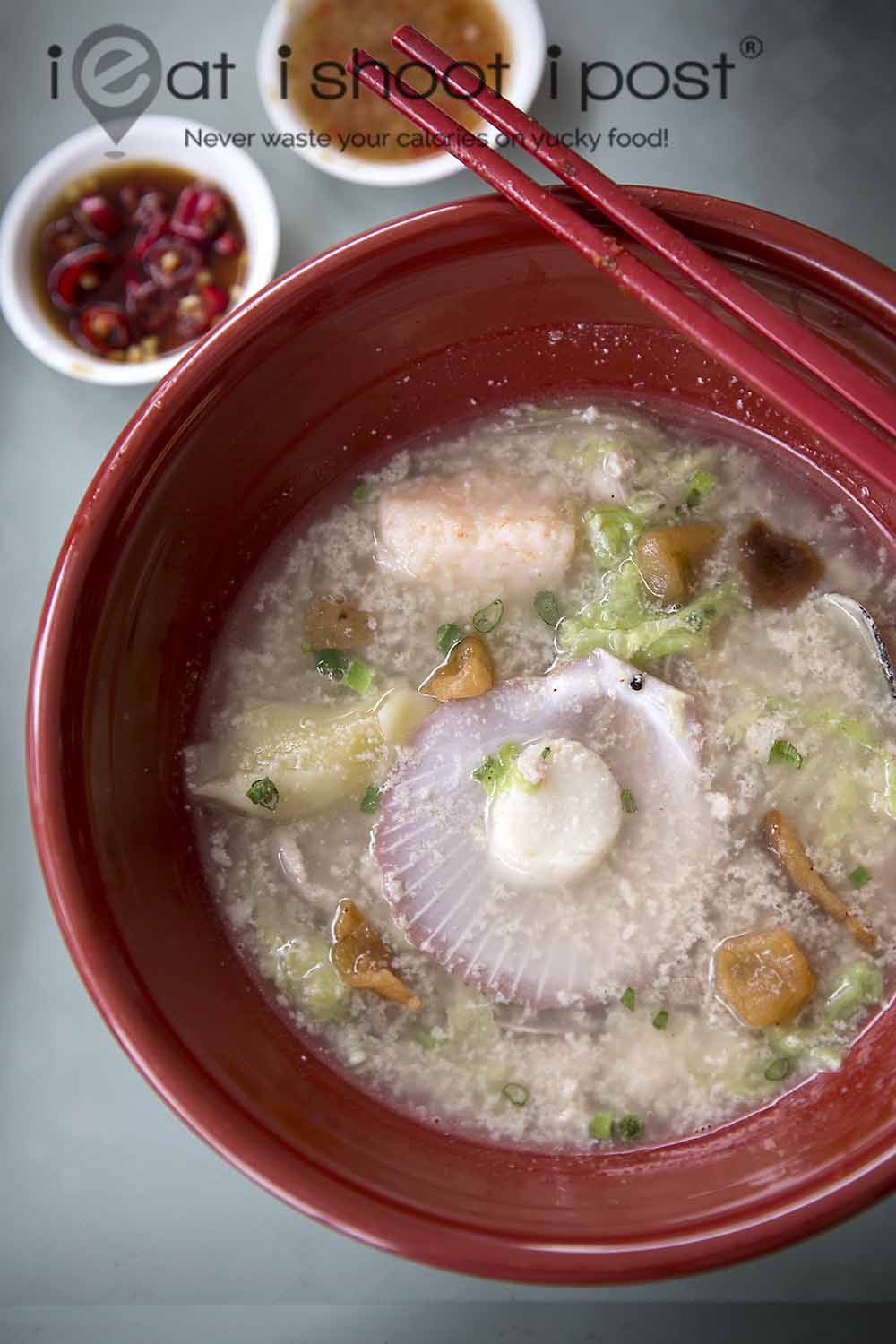 But there was a problem.
When I ate the first bowl after taking pictures, it was really good.  Then I ordered another bowl to see how it tastes when freshly made and it turned out to be a little more watery.
So, where is the problem?
The problem lies in the human factor which can either be accidental or deliberate.
There is a big difference between a Japanese cook and a local Chinese cook.  A Japanese cook will tend to follow protocol strictly, but our local cooks are just a bit too smart, or at least they think they are.  So even though there is a SOP, they would skip steps because they feel they can do the same task quicker by taking short cuts.  So, the real trick lies in how to make sure that the person cooking the noodles follows the SOP!
The soup was very rich but had certain flavour to it which I later found to be pork liver. Not being a liver person, I found it a little off and would have preferred a straightforward pork bone broth.  They do have some special items in the soup which is worth mentioning, like the scallop and the prawn paste ball both of which make their bowl stand out from the rest. 4.25/5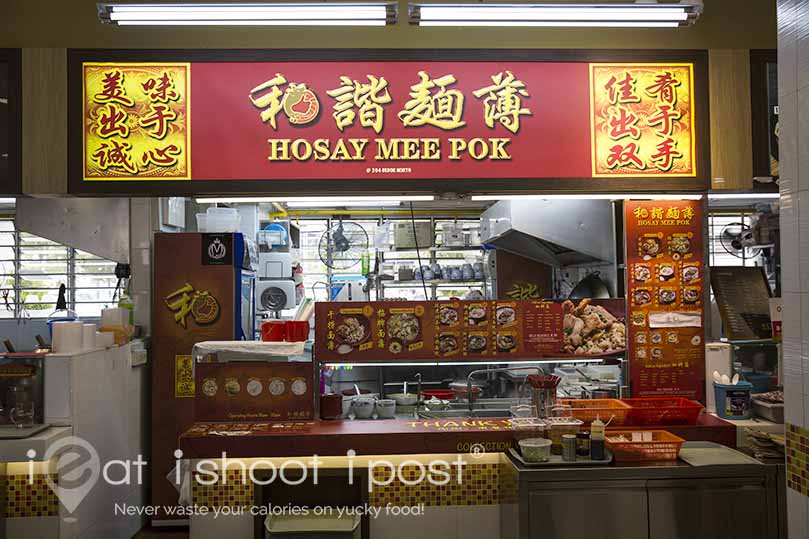 Having said all that, I still feel Hosay Mee Pok has got a lot of potential.  It is evident that the owners have a great vision for their mee pok as evidenced by the quality of the ingredients.  However, I feel that they might be expanding too quickly without being able to keep the quality consistent.  Their bowl of mee pok would be something I'd look forward to eat, as long as it was like the first bowl I tried.
Conclusion
A new brand of mee pok in the market which is expanding quickly.  The components of the mee pok are very good, but as with many such stalls, the final product lies in the hands of the cook and the challenge is to ensure that the quality is consistent.
Postscript
In case you are wondering, the owner of the place is Michael Ho, which is why the stall is called "Hosay."