With ieatFamily, skinnyfoodie and chinchyeguy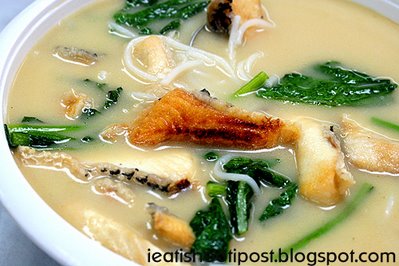 Everytime I eat this type of fish soup, I have 2 questions. The first is, "How come the soup is white?" The second is, "Why are there so many restaurants named Hong Kong Street, which one is the original one and how come the government allow so many restaurants to have the same name? Isn't there a law against such things?" (Ok, that was 4 questions)
So this is one of those serendipidous blogs which I hope will elicit a "Orrrr! Like THAT one!" (Eureka!)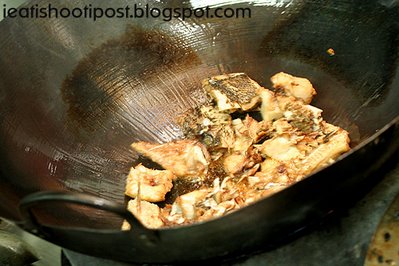 Would it surprise you if I told you that you don't need milk to make the fish soup white? It certainly surprised me! For many years, "people" have told me that milk was added to the fish soup to make it white, and I always assumed that this was so. Imagine my surprise when the Uncle explained to me that they don't put milk in the fish soup!
The first step in the fish soup receipe is to deep fry the sliced Toman fish. Once it is browned and the oil has absorbed the fishy flavour, most of the oil is decanted, leaving just enough to mix with the soup stock.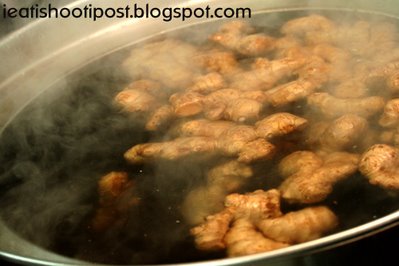 I thought it was supposed to be some really thick fish stock but was very surprised that it was a simple ginger stock! (At this point I was in a state of disbelief)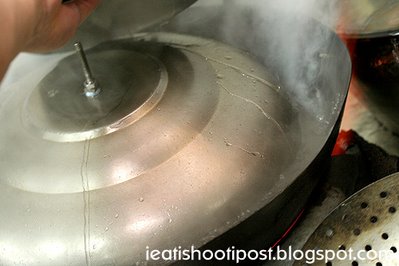 Next, the lid is put on the wok and high heat is applied until white smoke start streaming from the edges. The ginger stock is then poured over the lid slowly. The combination of the high heat, stock and oil enables the oil and water to combined together into an emulsion! It takes almost 5 to 10 minutes to make one bowl of fish soup! And because every bowl is made separately, you can't really ask for more soup without having to wait.
After the soup has turned into a milky white colour, some condiments are added. The last step is the addition of Chinese rice wine just before serving. As you know, some other stalls have substituted Chinese rice wine with XO.
The soup was good and certainly better then the fish soups that you get at the normal hawker centres, but I remembered it to be more shiok in the past. (Might be a case of having high expectations) That day it only scored 4/5.
Now that you know how it is made, you would realise that this type of fish soup is cannot be considered "healthy"! $10 per bowl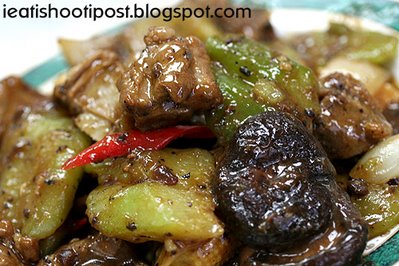 The bittergourd pork ribs was another of the signature dish of the restaurant. According to the Uncle, they were the first stall to introduce this dish which has become quite popular in many Cze Char stalls. It was tasty, but I found the pork ribs to be really small and emaciated. $8 4/5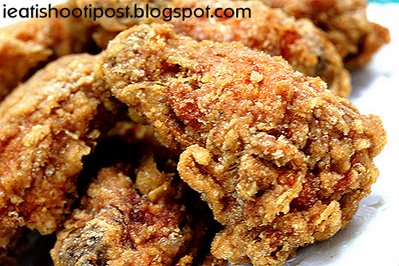 If this had been just called Deep Fried Chicken Wings, I would have given it a high mark! It was really crispy and the chicken was tasty. However, being Prawn Paste Chicken, I have to say that the prawn paste taste did not really come through. The chicken flesh also lacked the red colouring which would indicate that the meat was marinated long enough. Dissppointed that day because it used to be soooo shiok! $10 3.5/5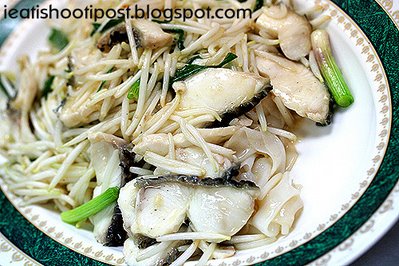 The Sliced Fish Hor Fun was still good. Both Kway Teow and Sliced Fish were very fresh! $8 4/5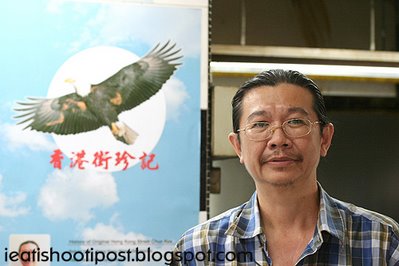 According to this uncle, his mother was the one who originally ran the stall at Hong Kong Street. They then moved to Commonwealth Ave and in 1997, following a newspaper article on their Fish Soup, the business started to boom. This then gave rise to many of his chefs leaving to start their own "Hong Kong Street" restaurants. Now you see them everywhere and "Hong Kong Street" has become synonymous with the milky fish soup.
Conclusion
This restaurant used to be really good. I have eaten there quite a few times and the Fish Soup and Prawn Paste Chicken never failed to satisfy. Though they were still good that day (still better then a lot of other fish soups), it was nowhere near what I remembered. May be a case of a new Chef that day!