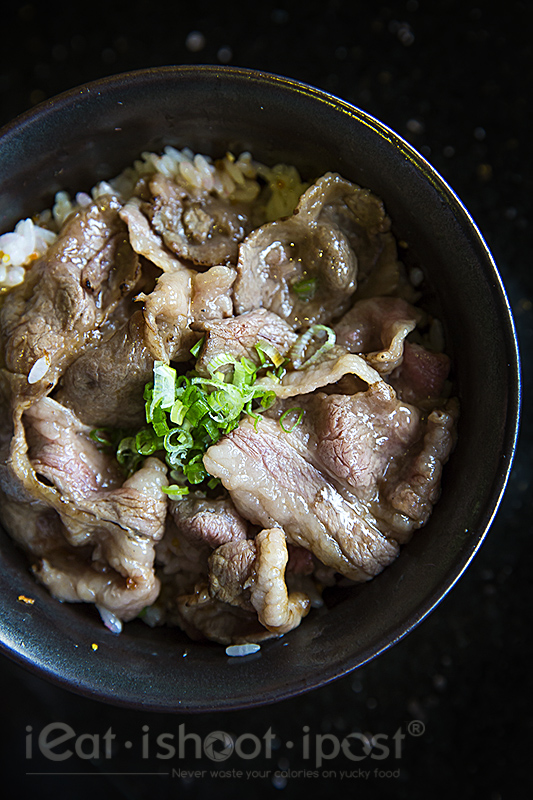 US Wagyu Karubi Donburi set $33
I often get asked what my last meal would be. The first time I had to answer this question was when Teo Pau Lin interviewed me for the very first "Foodie Confidential" column in the Sunday Times way back in 2007. I couldn't just give a simple answer, so I came up with something a little more "beat around the bushy":
"Who cares about the last meal? There is a heavenly banquet prepared for me on the other side which will make all the Matsuzaka beef on earth taste like bad vegetarian bee hoon" (Sunday Times, 13 May 2007)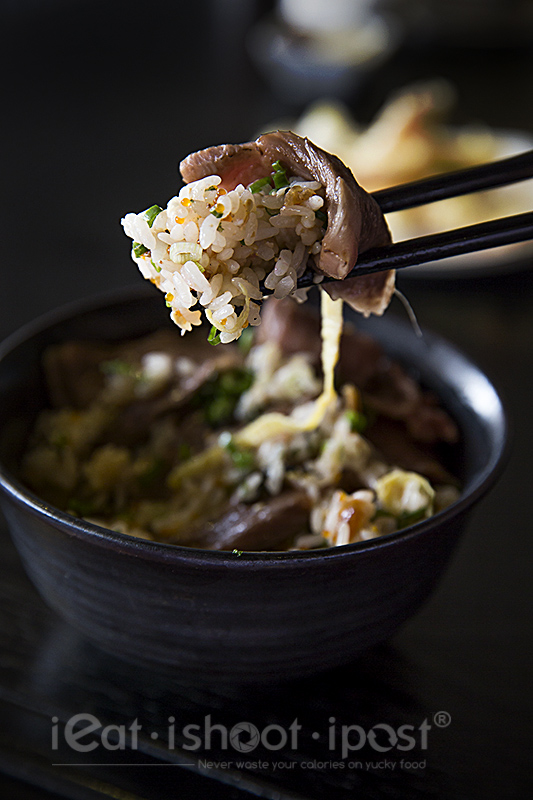 If you read between the lines, you would know that what I was trying to say was that my favourite food of all time are slivers of lightly grilled Matsuzaka A5 Wagyu atop of a mouthful of perfectly steamed Koshihikari rice that has been mixed with mentaiko furikake.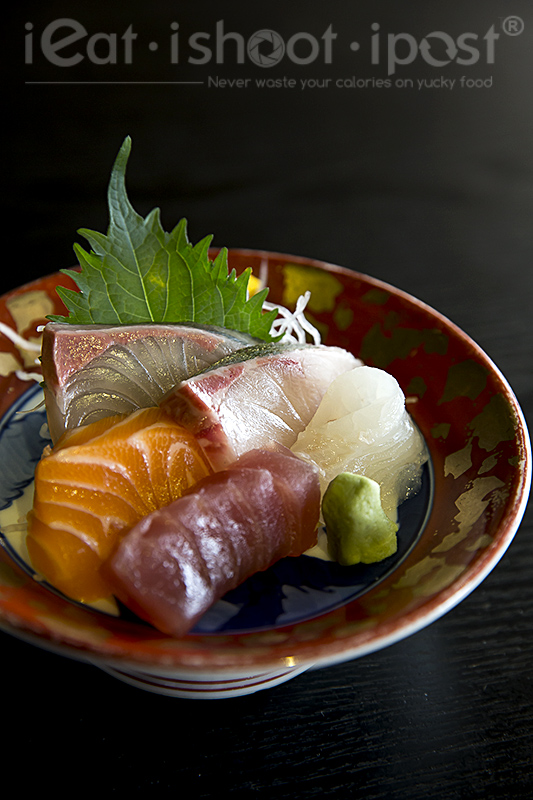 Five Piece Sashimi – Part of the Beef Donburi Set
The first mouthful is always a sublime moment for me. I would close my eyes and spend the next minute in meditative introspection. It is not just about taste, but also about sensual textures and seductive sounds. The release of the sweet bovine juices gradually mixing into a mouthful of pillowy warm rice punctuated by the popping sound of the tiny mentaiko bursting between the teeth fills me with insane gratification. For some of us, this may be that one moment of the day when one gets to experience pure unadulterated pleasure! Savour that moment, because soon you would be back in front of the computer to find 50 new emails screaming for your attention!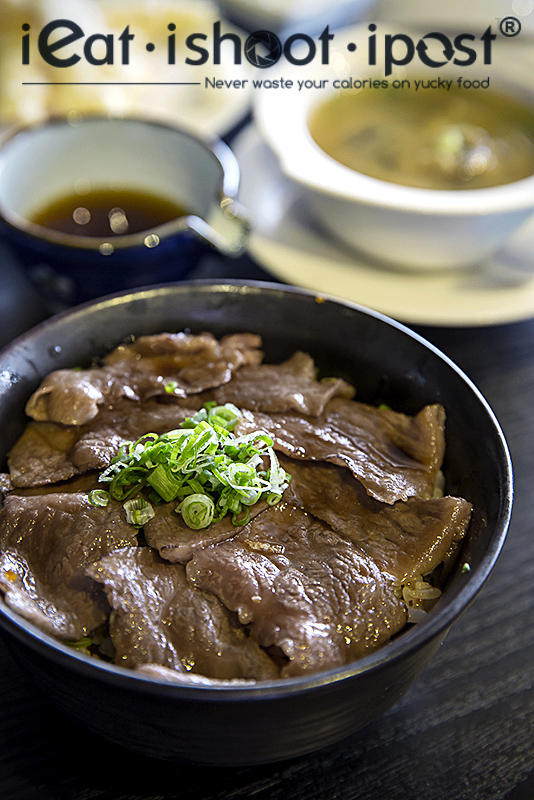 Japanese Ohmi Wagyu Donburi Kaiseki set $59
I have been going around trying to find good Beef Donburi sets. Amazingly, there really isn't a place in Singapore that does this as a specialty dish. Ok, we do have Yoshinoya but that's a fast food joint. So I asked some of my friends in the restaurant industry for help.
Last week, I introduced Aji Ichi's value for money, sub $10 Beef Donburi set. This week we move a bit up market. Chef Thomas of Hokkaido sushi agreed to do two Beef Donburi sets for me.
The first set is $33 set which features US Wagyu Karubi with Hokkaido yumepirika rice that has been mixed with mentaiko furikake. The set comes with a 5 piece sashimi dish and miso soup.
The 2nd set is for those who really enjoy Japanese Wagyu. Hokkaido uses Ohmi Wagyu which is considered one of the top three Wagyu brands in Japan. The other two being Kobe and Matsuzaka. The Ohmi Wagyu Beef kaiseki set costs $59 and comes with the 5 piece sashimi as the first course, then followed by Ohmi Beef Donburi as well as tempura (another of my favourite Japanese dishes) and fish head soup.
The Japanese Ohmi is, of course, more luscious than the US Wagyu, but the US Wagyu uses the shortrib cut which has a wonderful beefy flavour which I really enjoy! 4.5/5
Conclusion
I love Beef Donburi and if you do too, then I hope these special sets would help satisfy that craving!
Special for Ieatishootipost readers
10% off when you mention ieatishootipost donburi set when you order. Valid till end of Dec 2013.
Disclaimer
I know Chef Thomas quite well and I have designed these sets to include my favourite dishes using quality ingredients while keeping the prices reasonable. I didn't pay for my meals nor am I being paid for my work as food consultant.