With SCS Butter, Happi Mummi, Amagada and the kids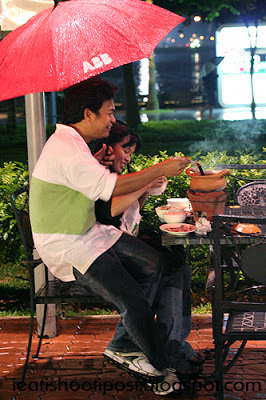 Can't stand it. This scene just makes me want to sing this famous Hokkien Song:
Wa neng lang, (Both of us)
Jit ta qio tio jit kee shio hor sua (Both grabbed the one little umbrella)
Hor jing tua (In the heavy rain)
Wa lai jiao gor lee, (I lookie after you,)
Lee lai jiao gor wa. (You lookie after me)
Best sung with a Chee-Koh (Sleezy, Frankie Fu) look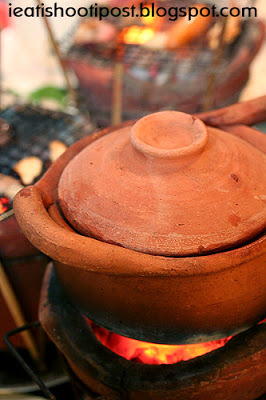 Anyway, this stall at Gluttons Bay offers a very novel steamboat experience and is especially good for couples and small family gatherings. The thing that I always complain about with steamboats is the bland and unexciting chicken soup stock. Which is why I was very happy to find that they offer three interesting soup bases here (Tom Yum, Bak Kut Teh and Herbal Chicken) with which you can create your very own "Super Soup".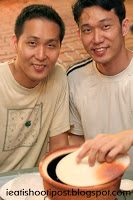 Augustine and Raphael, the two brothers who own this stall tell me that this concept was inspired by their travels in Bangkok's Chinatown (Yaowarat) and it is their vision to offer something that is unique for Singaporean's to enjoy. There is a lot of passion and enthusiasm that went into the stall's concept. For one, they have a on-going competition for the best soup recipe. Anyone who eats at the stall has the opportunity to win $50 if they can share a really good soup recipe with them. The recipe can then be used by other patrons of the stall who might want try it out.
Now these are what I call a new breed of Gen Y hawkers! Well, actually they can't really be described as hawkers since one is a property agent and the other is an expert in bioinformatics. This stall is more like a hobby with which they can explore new eating concepts.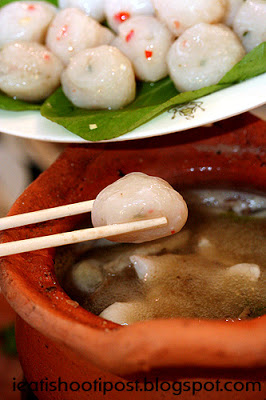 Aside from the three interesting soup bases, they have also injected a lot of personality in the ingredients that they provide. The handmade fishballs for instance were specially sourced from a well known fishball maker who still produces everything by hand. They even went through around 30 different types of instant noodles before finally choosing one that best reminds them of the noodles they had in Thailand! I was very impressed with their chilli sauce which tastes exactly like the chilli sauce that I had at MK restaurant (one of our regular haunts while living in Thailand). According to my Thai friends, it is this sweet and tangy chilli sauce is what makes MK the favourite "suki" restaurant in Thailand.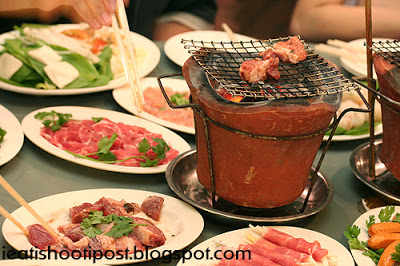 For those who prefer to grill their food, you can also opt to get another charcoal stove with a wire mesh over it and start grilling your meats. They have a very interesting "Bak Kut Teh" flavoured pork ribs which are quite novel. It might be a tad frivolous to say this, but the pork ribs really tastes like Bak Kut Teh!
Conclusion
Overall, we had an enjoyable experience. I like the idea of getting a small bowl of soup and creating your very own "masterpiece" with it. I did my killer "Tom Yum Mamak" (Tom Yum soup with instant noodles) for Amagada who loves this particular Thai street dish. I think it is a great place for couples because of the small portions. And if it rains, there is always the possibility of snuggling under a small umbrella…..wink wink. 4.25/5
Post Script:
I suggested to the brothers that they should look into some Korean Style thin sliced Belly Pork which is one of my favourite BBQ meats. I am happy to report that they are now serving it at the stall. So give it a go and let us know how it is! It should be pretty darn shiok!
I was invited to review this stall by the brothers who are readers of the blog.