Review by Holydrummer, Photos by ieat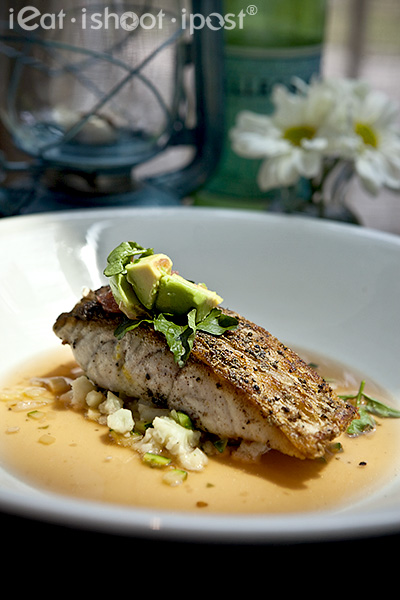 Ever tried to pin-point what exactly comes to mind when you try to identify Australian Cuisine? Notwithstanding the fact that half of Singapore (I might be exaggerating) have – at one point of their lives – studied/stayed/are still residing in Australia, I tend to think we Singaporeans are still warming up to the idea of Modern Australian cuisine, no?
Enter Graze at Martin No.38 and award-winning Executive Chef Chris Donnellan (Young Chef of the Year 2009, The Age Good Food Guide) to define it all.
Number one, absolute freshness. The use of native ingredients is essential since Australia is renowned for their quality produce. So if one had to specially import their fish from Australia to uphold that standard, it is done. The Barramundi is perfectly pan-seared and deftly finished with a crispy skin, while the fillet is still just right; firm yet flakes on the slightest pressure of the fork.
4.25/5
Their other seafood dishes, especially the "
4 Jumbo tiger prawns, skinny frites, house sea urchin butter, chopped parsley, ruby red grapefruit" ($34)
easily stand out and shine on freshness alone with the sea urchin butter underscoring the umami factor.
4/5
Next, 100% pure and unpretentious cooking, just like the pork chop. Rich-tasting flavours in-your-face, simply executed. This Victorian Berkshire pig certainly did not die in vain! The dish is divine – no doubt, yes, you could get to Heaven much earlier. Not recommended for those who always complain about "FAT" and "CHOLESTEROL" (bad taboo words in my dining dictionary) at the dinner table. 4.5/5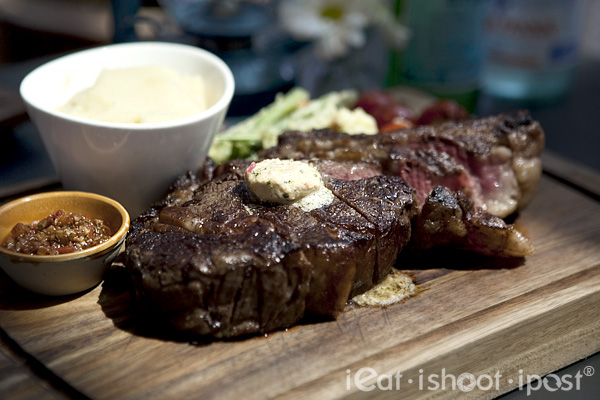 Why "Graze", I hear you ask? Surely, it is for this pièce de résistance! This huge steak showcases another hallmark of Australian cuisine – their serving size and humongous portions! Save for the slightly different doneness (it's a big piece to handle; tends to get more rare toward the bone), this is how beef should be like – grilled till charred on the surface and medium-rare to medium within. Unless you are more than capable to challenge for 1kg of cow (Australians need not apply), this Aussie cut is ideal to share for two or more. 4.25/5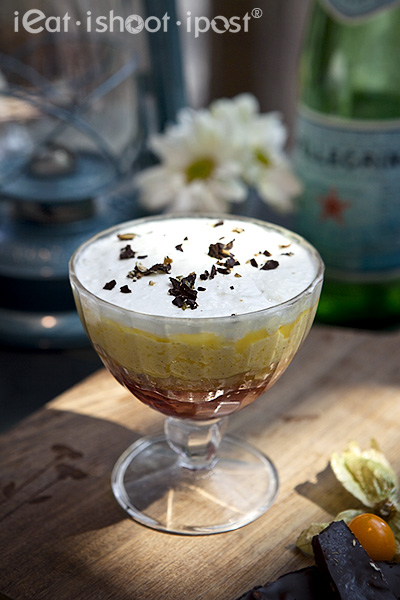 Ieat enjoyed the trifle very much as it triggered his memories of tasting them while living in Sydney. However, all I vaguely remembered while trying it was the very well soaked spongecake doused in rum to deliver the desired alcoholic punch. The really delightful accompaniment were the surprising sides of crunchy chocolate-coated pumpkin seeds, providing great contrast for this dessert.
4/5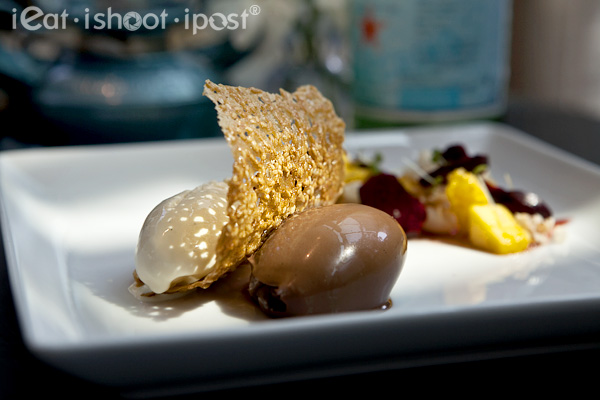 Where simplicity is, sophistication must be, too. Remember the ultimate question of "Chocolate VS Vanilla"? Once upon a time when there were only these two ubiquitous flavours at the ice-cream parlour… Well, while you discern and draft your dessert dissertation, you can detect a myriad of textures at play here to tingle the taste buds with the duo of fresh and freeze-dried fruits.
4/5
.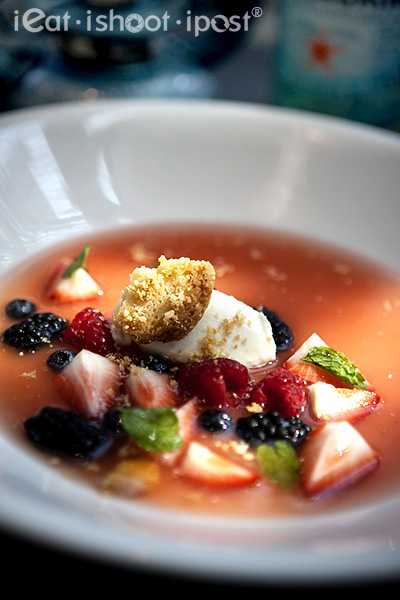 This soup might sound strange to some but the hints of mint rendered it refreshing and light on the palate (read: not too sweet). It also helps that the colours lend a very visually pleasing effect on the eyes too. You can detect hidden accents of spice that surprisingly sits well with, well…water-melon. 4.25/5
Conclusion
I reckon Modern Australian cuisine, in forming its own unique identity, can be likened to a pot-pourri of culinary cultures coming together as it is increasingly influenced by the influx of immigrants over time, just like Singapore. At Graze, this is evident in the liberal use of spices and the brilliant combination of ingredients, coupled with both simple and sophisticated cooking techniques with the aim to highlight the fresh quality produce.