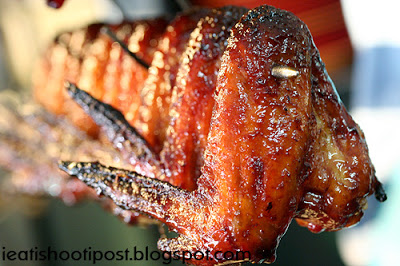 I don't know about you, but I don't really think much of the typical BBQ chicken wings. I generally feel that most of them are too conservative. What I look for in a good BBQ chicken wings is that sticky sweet and spicy caramelized glaze that gives you that eye opening oooomph when you bite into it. A few years back, there was this particular stall along Zion Road which sells the most shiokalicious wings and Char Siew. But sadly, they moved out and last I heard, they have retired. I have since been searching high and low for beloved BBQ chicken wings.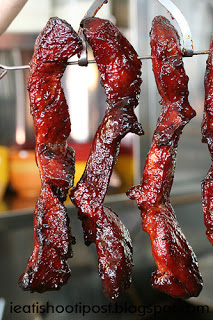 That is why I am so excited to have found this "undecorated" stall while searching for something to eat at Bukit Merah View Food Centre. They don't seem to have a lot of wings or Char Siew on display but the wings looked so good, I just had to give one a try. Phwa! Phwa phwa phwa! I found it, I found it! These spicy sweet chicken wings will sure hit the spot if you have just spent the last week preparing for your cholesterol test and have just gotten a good result. The glaze is sticky and sweet and has just the right amount of spiciness to give you that zing when you bite into the juicy and succulent meat. Of course I had the fortune of eating it when it was just taken out of the oven! I could easily down half a dozen of these before going for the Char Siew! 4.5/5
Now, this little shop is what I would call a boutique Roast Meat stall. By "boutique" I mean that they only make a small amount everyday and the owner lovingly glazes each item till it is cooked till perfection. It was just a thrill to see how much effort went into glazing the few strips of Char Siew and then putting it back into the oven, then pulling out the wings, glazing them, putting them back in the oven, then taking out the Char Siew again………..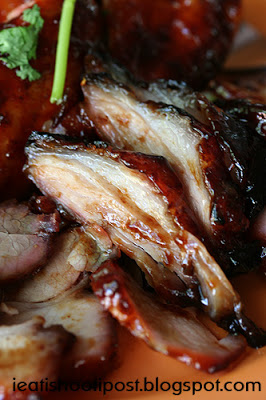 The Char Siew is unsurprisingly, also very very shiok. Apart from the sticky glaze, the texture of the meat is also very different. By using pork collar meat and controlling the roasting process to perfection, they managed to get the texture of the meat to almost a "fishball" like consistency. The meat is really chewy and tender at the same time! Excellent Char Siew! 4.5/5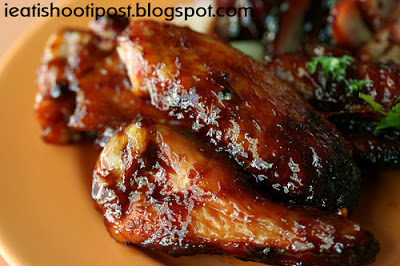 Conclusion
Totally and unexpectedly delighted. This stall has been around for over 20 years, but there is hardly any write-ups displayed on their stall front. Just looking at the one white chicken, 2 roast chicken, 4 charsiew and one rack of chicken wings, one can be forgiven to just pass on by. But boy was I sure glad I took the chance and tried one of their chicken wings. It's a real gem of a find!