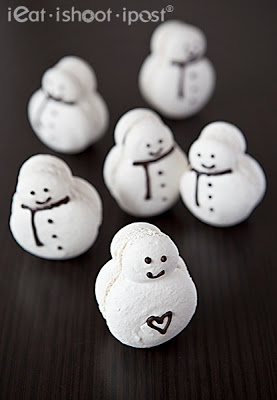 Macaroon Snowman
Can't believe how time flies. I first wrote about Gobi Dessert back in 2007, since then, they have opened a store at Central where they were for 3 years and now they are back in the Katong area in a shophouse in Joo Chiat! I have been looking at Gobi Desserts again because someone wanted my photo of "Between the Sheets" and when I had a look at the original shot again, it was not quite up to scratch. Its no wonder, back then I was using a Canon EOS 350D and I have since upgraded my camera twice. My current Canon EOS 5D MK II takes photos which are 25mb in size, whilest back then, my photos were only 3mb. It is amazing how much digital cameras have advanced in just a few years. Even the latest Canon EOS 550D is a vast improvement over the EOS 350D. The white balance and picture quality have improved tremendously. As I said, so much can happen in four years!
Anyway I made my way to the new cafe that Gobi had just opened. It is located at the junction of Marshall and Joo Chiat road, just opposite the open air car park and a stone's throw away from D'bun. I got there just when the Madeleines were coming out of the oven and of course I had to have some. For those of you who have not come across these, they are the French equivalent of our Kueh Bulu, although I suspect that it was the French who probably invented it first. Essentially, it is a sponge cake baked in the shape of a shell. Why a shell? No idea but the cakes are made in a tray that is so specific that they care called Madeleine trays. They are a little richer than the Kueh Bulu and the crust is oh so nicely browned. Excellent with a pot of afternoon tea! 4.25/5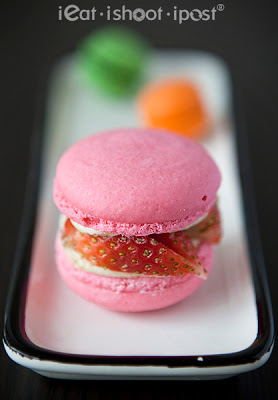 Macarons $15.80 for box of 6
I have never been big on Macarons. These colourful chewy desserts that are essentially meringue with almond paste and can be filled and flavoured with many exotic ingredients. Their best seller is the Strawberries and Cream Macaron which is quite pretty but other flavours include the Masala Chai and Malibu and Dark Chocolate flavours. I have not eaten enough Macarons to tell you how they compare and I am not big on sweets. To me, they are a great gift item for friends (especially of the fairer sex) as they are sure elicit that "Wah Sooooo Cute!!!!" type response. 4/5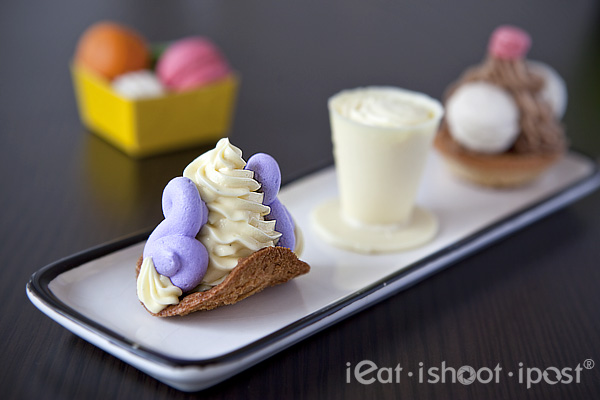 Various petit creations: $13.80 for box of 6
I just realised that Gobi Desserts have started to serve lunch as well as full sized desserts which you can have with a pot of Tea, so this is a nice quiet cafe which you can step in for a meal around Joo Chiat. I did not manage to eat there as the Chef was on MC that day. But $9.90 for a set lunch is something worth considering the next time I am around the area.
Conclusion
Not a big fan of desserts especially since I am trying to cut down on the amount of refined sugars in my diet. But these petit desserts are a joy to photograph. For me the petit creations are something quite unique and so you get quite a lot of mileage from just the appearance itself. As I mentioned before, they are a great gift idea.
Any big fans of Macarons here? What do you enjoy about these desserts?