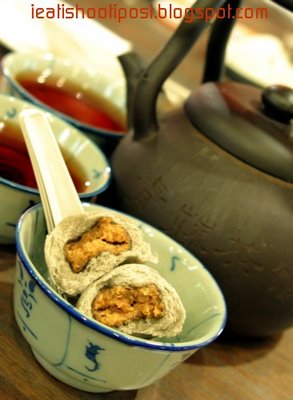 I've always maintained that the only thing better then finding really good food is finding really good food at really good prices.
Pao Today has only just been opened for a couple of months but is already attracting a big following with their stall at the World Food Fair. Instead of lining up at the fair, I decided to visit their stall at Marina Square instead. Ah, civilised dining!
Pao Today is owned by a Singaporean but the Dim Sum is the responsibility of a HongKong Chef. Like BreadTalk, this chef has taken the familiar Dim Sum menu and injected it with a bit of fun and ingenuity. Take for example, their signature sesame seed skin pau with peanut filling (pic above). Novel and tasty, the peanut is a mixture of peanut butter and ground peanuts wrapped in a unique black sesame flavoured pau skin.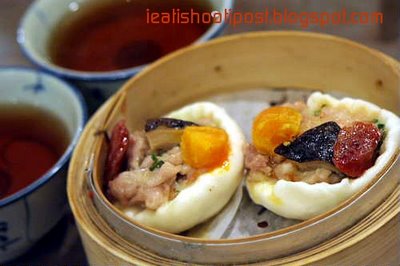 The Open Faced Buns above is another Dim Sum that I have not come across before. Its like eating claypot chicken but with pau skin instead of rice. ($2.50) They serve their special brewed tea in those teacups you see in the picture. ($1 – free refill)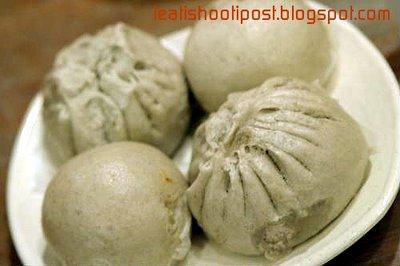 Their Signature Black Sesame Buns comes with 2 types of filling. Meat and peanut. The taste of black sesame really is unique and blends well with both the sweet and savoury versions. ($1.80 per pair)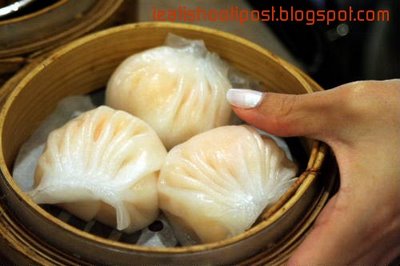 The portions are quite generous as seen by the size of their Har Kow. $3.50 for 3 pcs.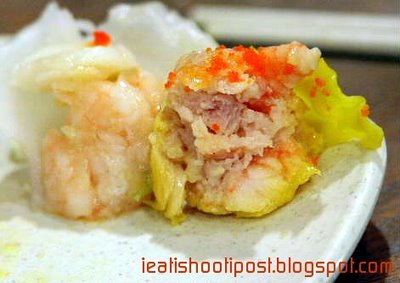 And the quality of the filling is also quite commendable. Their Scallop Har Kow is full of juicy fresh tasting prawns, while the Siew Mai has a generous portion of prawns as well as fish roe.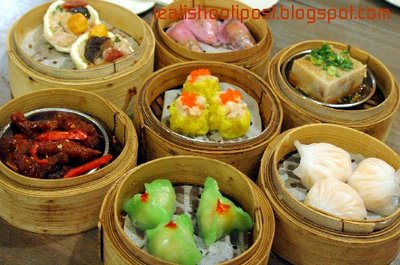 The chef has also come up with other novel items like the aloe vera skin dumplings (green ones) and the cabbage and mushroom dumplings (red ones). They have almost 30 different steamed items and they range from $1.80 – $3.50. The BBQ Pork Rice Rolls (Char Siew Cheong) 3 pieces for $2. I find the price very reasonable for the quality of the Dim Sum that we got!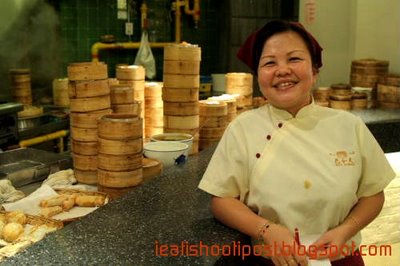 And I just have to tell you about the excellent service provided by Sandy (Above). When I told her I just want to sample each of everything, she just told me to take a seat and got all the Dim Sum for us, giving us a commentary on each one as she presented them. When you visit, go look for her and tell her the guy with the camera with mother and mother in law recommended her on his blog.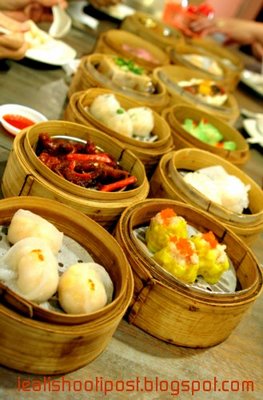 I was initially quite apprehensive about the bill at the end, seeing that Sandy was just dishing out the Dim Sums like it was an "all you can eat" kind of deal. The pic above was just our "first round". We managed to feed 5 adults and 2 kids for $52 including drinks and no +++. As Arnie would say "I'll be back"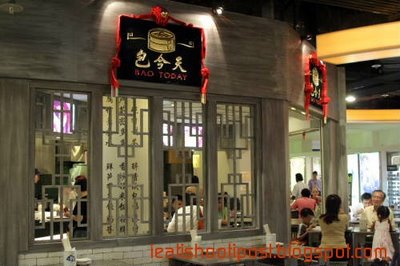 Conclusion
Great informal place to have really good Dim Sum at very reasonable prices!! That's got to be part of the Singapore Dream!
3.75/5 Good Dim Sum at very reasonable prices!
Postscript: Since the publication of this blog, people who have tried the dim sum have had mixed reactions to the dim sum. One person went to the shop at United Square and got really bad service and the bao was less then acceptable. Another feedback was that the dim sum itself though generous was not as tasty as the pics make it out to be. So please try for yourself and decide.
The ratings have been adjusted to reflect the feedback. This rest of the article remains unchanged.