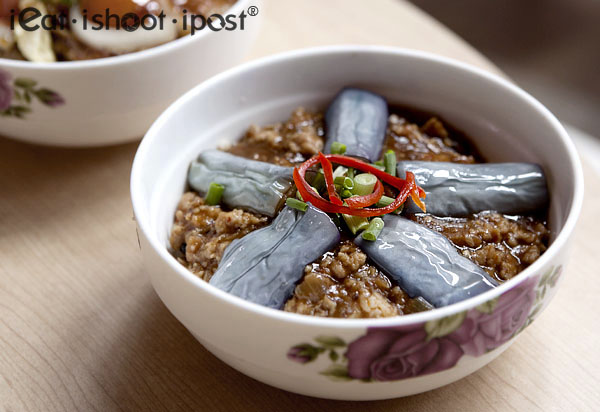 Eggplant with salted fish mince meat over egg fried rice $4
Our favourite HongKong Masterchef, Gen Shu is one of those rare Chefs who is able to achieve universal appeal. Ever since I blogged Gen Shu back in July last year, I have yet to hear of anyone complain about the food there. Usually when I recommend any stall, I would inevitably get people who write in to offer a differing opinion, but it has never happened with Gen Shu. The man is a culinary legend. Not only will he be able to cook every part of the pig, he can do it in a way which everyone would like and do it consistently.
Gen Shu gives you very little excuse to complain. Firstly, the food is very good value for money. For $4, you get a big bowl of fried rice topped with a generous portion of the dish of the day. It's not only cheap, it is very very delicious and it is also generous both in quality and quantity. The Brinjal stewed with minced pork and salted fish is one dish which I could just keep eating even when I am full. The balance of flavours is nearly perfect and it only begs for you to mix it with the rice and savour it. 4.75/5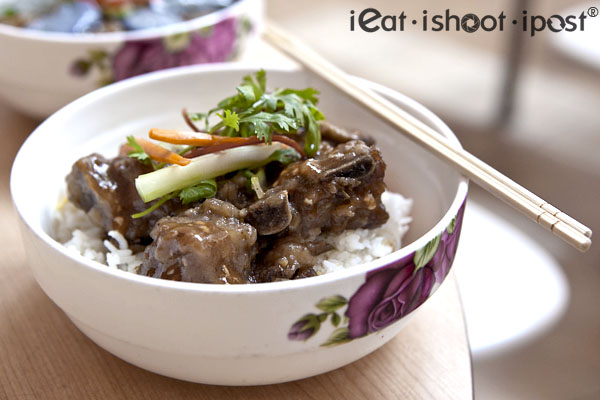 Stewed Pork Rib Rice $4
Gen Shu has a list of around 20 dishes which he will rotate on a daily basis. So it is a little like a jackpot, you never know what you are going to get on a given day. Another dish which is will make your eyes open wide is the Pork Ribs rice. The tender pork ribs were first deep fried and then stewed till it is falling off the bone in my mouth. The flavour was sublime and I just had to ask Gen Shu what was in it that gave it that wonderful taste. He told me that the secret was fermented bean curd together with other condiments. 4.5/5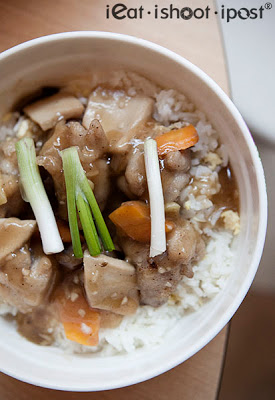 "Chicken Balls" with abalone calms $4
The other must try dish is the chicken with abalone clams which also had that eye popping quality about it. I don't know how to describe it but it was tender balls of chicken thigh meat flavoured with Brand's Essence of Seafood. (no, there is no such thing but you can imagine what it would taste like). 4.5/5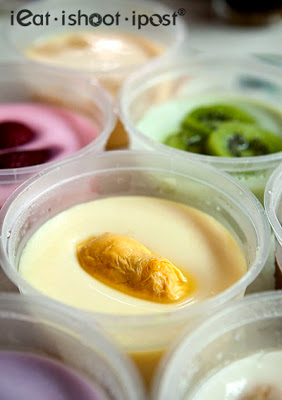 Durian Pudding $1.30
Just next to Gen Shu is a dessert stall where you can buy a refreshing dessert to finish off your meal. There are many flavours but the one which we all liked was the Durian and the Mango pudding. For $1.30, this is probably one of the cheapest mango pudding around and the Durian pudding even has a piece of Durian in it! Surprisingly, it is not too rich and it was an excellent way to finish a wonderful lunch.
4.25/5
Conclusion
Gen Shu is a legend who seems to be able to bring everything he cooks to a different level. It really is too bad that we can't get him to cook a banquet for us. Or perhaps we can? If you own a restaurant or a know of someone who does who would let Gen Shu run the kitchen for one special session, I will try to persuade him to come out of retirement to cook us a special makan session!
Special order for ieatishootipost readers:
Gen Shu has a list of 20 flavours with which he would feature one every day. We have tried quite a few of them and I have featured the best ones here. Gen Shu has agreed to offer these three dishes daily for the next week so that you can go down and try. After that, he will revert back to one dish per day. While you are there, don't forget that his soups and yam cakes are also very shiok!
You can read the last post on Gen Shu here.