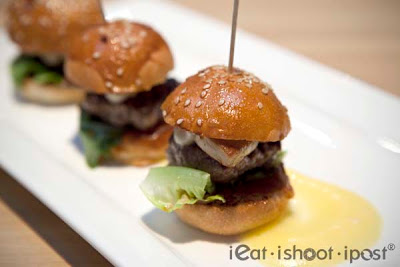 Wagyu Foie Burger $22+ (no service charge)
You all know Chef Tim right? He was the guy who has been helping me with the videos on how to cook fish and chips and different ways of cooking an egg. Those of you who have seen the videos will know that Tim is the type of guy who really goes into great details when it comes to cooking. He eats (literally), sleeps and dreams about food all the time. So, when you get a person like Tim and put him in a kitchen where he can get his hands on anything he wants, it usually means you are in for a treat. I have been wanting to organize a session where you can get the chance to try his dishes and I am glad that I have finally managed to work something out!
Chef Tim had recently taken up the post as Chef de Cuisine at the Garage and has attracted quite a flurry of excitement in the media. When he was planning his menu back in June, I told him that he MUST have a burger on the menu because I like burgers and I wanted to see what he kind of burger he would come up with. So this is what he created. A chopped Wagyu Rump pattie, topped with seared foie gras, glazed with homemade tomato ketchup (he hates the commercial version) on a homemade mini bun (he doesn't like to buy them). He doesn't spread butter on the toasted buns. That would be too simple. He makes it more elaborate by serving the burgers over Hollandaise sauce which serves as a dip for the burger. Needless to say, these are bitefuls to savour which were simply constructed but carefully made.
Sous Vide (pronounced soo veed) cooking is becoming quite fashionable now. Tim likes this form of cooking because he can really control the temperature precisely in order to get the texture of the meat just right. The Wagyu Rump is placed in a plastic bag, vacuum sealed and placed in a water bath at a controlled temperature for 2.5 hours. At the end of the process, the whole piece of meat would have cooked nice and medium rare all the way through (As you can see from the photo). Just before serving, he sears the meat to create that nice flavoursome crust (it's the Maillard reaction to be precise not caramelisation). But to just serve you this piece of perfectly cooked meat would be too easy. Over at one corner of the dish he hides a puck of braised oxtail, over the other corner is some cherry tomato chutney and interspersed in between are discs of potato confit and mushroom puree. It's like playing treasure hunt on a plate.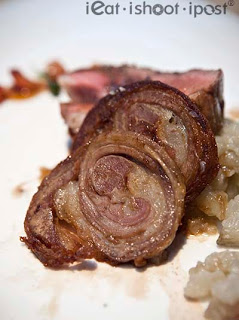 Lamb Rump (Lamb belly bacon shown in photo) $34+
It is not enough just to serve you a piece of lamb, even though it had been seared beautifully and quite frankly can be enjoyed on its own. The lamb rump was paired with rolls of lamb belly which reminded me of those rolled char siew you get at Ramen joints. The lamb belly has been salted, rolled and wrapped in clingwrap before being slow cooked in a water bath for 18 hours. They are then sliced thin and seared to create a crispy crust. It is served on a bed of Jerusalem artichoke ecresse which is basically a chunky puree of Jerusalem artichoke and a pea and tomato vinaigrette. The lamb belly bacon is a "must try" in my books.
Tim enjoys progressive cooking (ie he likes to play with his food), and experiments with changing the texture and appearance of common ingredients in order to give it that element of surprise. For dessert he showed us his "raspberries" which were raspberries served with tea spheres. He tells us that he used a reverse spherification process to create a semi-permeable membrane to encapsulate the tea so that when you put it in your mouth, it bursts like an egg yolk. This is topped with dehydrated croutons and a creme anglaise which has so many vanilla seeds that you can feel the grits between your teeth.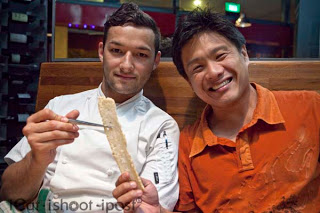 I haven't rated the dishes today because this post really isn't a review. It's just to let you know about what dishes to expect when you come for this special tasting session. For readers who have been watching our videos, this is your chance to get to meet Tim in person and let him introduce you to his idea of what food should taste like. I am confident (more like awed) with his culinary ability and I will let you rate his food instead.
Special Tasting Menu for ieatishootipost readers
Tim is looking forward to meeting you all, so he has agreed to host up to four tables (ie 8 diners every night from Sep 8th till Sep 11th. All you need to do is to make reservations at Garage under ieatishootipost and print out this post in order to enjoy one appetizer and two main courses for $85 nett (that's for 2 pax). Tim will come out to meet you and let you try some of his other experimental dishes on the house! Now that would be interesting don't you think?
Please note that seats are limited as he will only host 4 tables (8 diners) per night for four nights, so do make your reservations early!
The rest of the videos I made with Tim are found here.
This article was done as a media tasting event