Biei

We've made several trips to Furano in the past, but somehow I have always missed visiting the famous Shirogane Blue Pond at Biei.  This pond became an overnight sensation when it was adopted as the wallpaper for the  release of Apple's OS X Mountain Lion in 2012.  That completely transformed this once obscure little pond in Biei which now attracts droves of tourists to its "middle of nowhere"!
It may come as a surprise to you that the pond is actually man made although the blue color of the pond is entirely natural phenomenon.  The pond itself come into existence due to the building of a dam on the Biei river in order to prevent the lava flow from Mt Tokachi from reaching Biei town.  Through the confluence of several natural factors the blue pond was born!
Shirogane, 美瑛町 Blue Pond
Biei, Kamikawa District,
Hokkaido 071-0235, Japan
Map and details
The reason that we have made so many trips to Hokkaido is because of our local guide Adrienne Neo.  Adrienne, better known by her Japanese nickname "Adorin" was a journalist for Zao Bao before she decided to pack up and move to Hokkaido.  She's been living there for several years now and now works as a free lance tour guide.  Another good thing about Adrienne is that she is quite a foodie, so we always end up at some lovely little eatery which you are not likely going to see a tour bus parked outside!
On this trip, she brought us to a few more interesting eateries to add to my growing list of places to eat in Furano and Asahikawa.
Adrienne Neo Facebook
Whatsapp +818058392362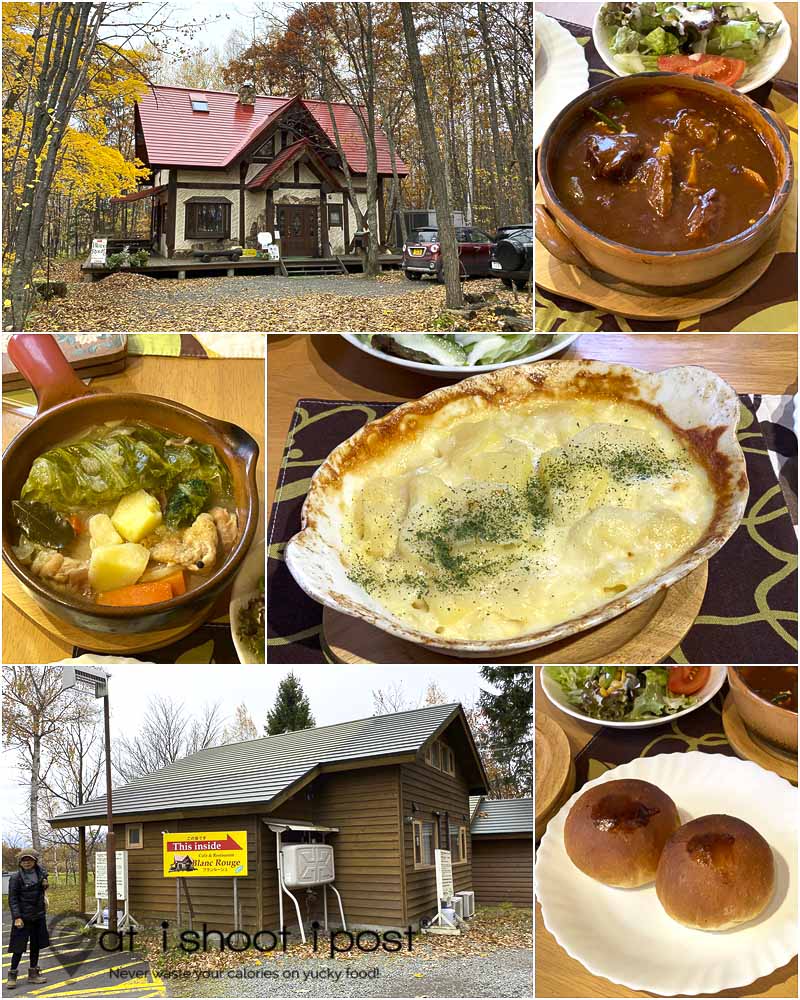 Hokkaido is like a mini Japanese version of a European countryside! We had lunch at this little cottage called Blanc Rouge which serves stews and freshly made breads using local ingredients. Biei is famous for their local potatoes and this is where they produce the famous Jagabee potato snacks!
The ladies loved the chicken and cabbage stew which is served together with freshly baked buns.  I was expecting the potato gratin to blow me away since we are in the middle of the potato farming region but unfortunately, there was no epiphany.
Blanc Rouge
Japan, 〒071-0200 Hokkaido, Kamikawa District,
Biei, Omura, 字)村山
Map and Details
Furano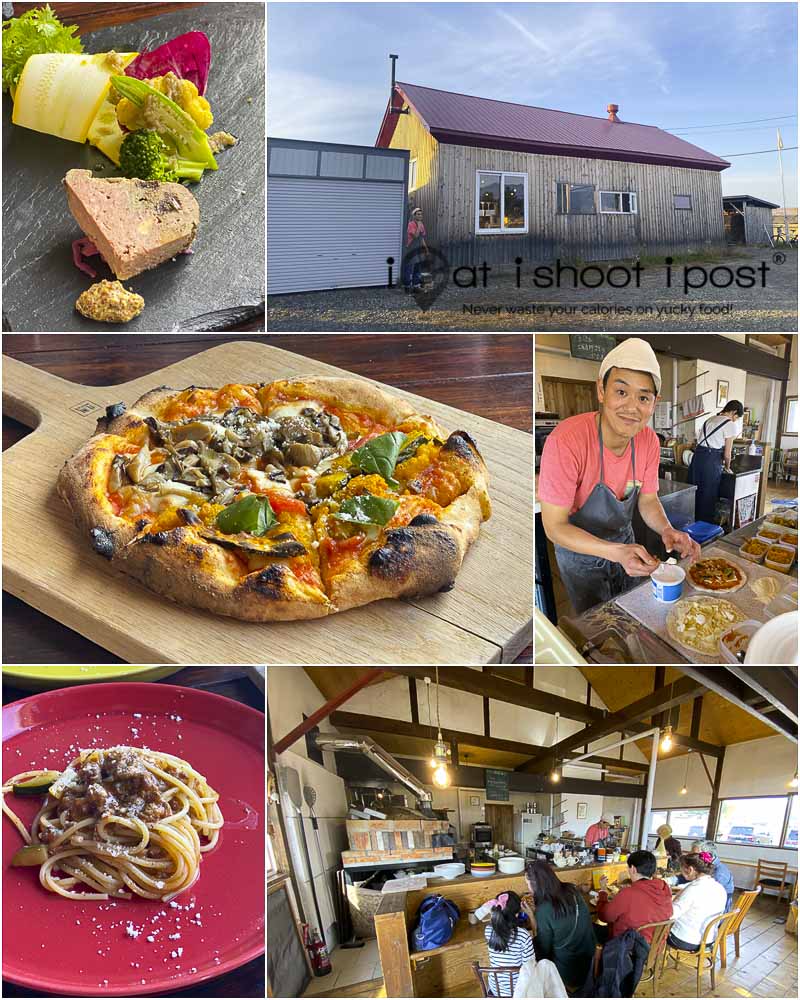 Cafe Tekuri  is a quaint little eatery located in a abandoned barn house which serves Italian food using local produce. The highlight is their pumpkin pizza (during pumpkin season) which uses four different pumpkins sourced from four different farms. According to the chef owner, the different pumpkins all have their unique characteristics which he wanted to showcase.  The pizzas are made with local Hokkaido wheat flour and baked in a wood fired oven which I am sure he built himself.  Aside from the pizzas, he also does starters, soups and pastas.
Tekuri means "Take your time", so when you are there, don't rush to finish your food in order to go to the next destination.  Take some time to slow things down a little and enjoy the beauty of nature!
Cafe Tekuri
Sorachi District, Nakafurano, 町東5線北13号
Japan, 〒071-0775 Hokkaido,
Map and Details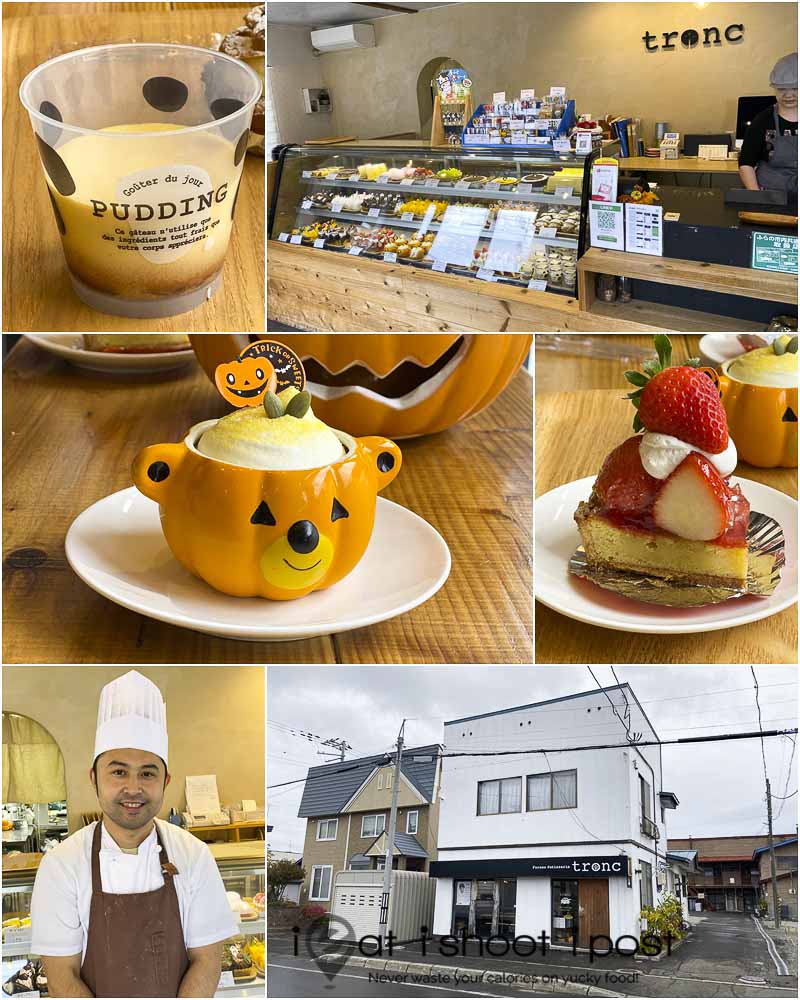 Here is yet another lovely little patissarie in Furano which uses local Furano milk, Hokkaido butter and local ingredients to make their pastries.  Their speciality is their pudding and choux cream but as you can see all the rest of the cakes are lovely too. Hokkaido is not a good place for those on a ketogenic diet!
Furano Patisserie Tronc
1-23 Saiwaicho, Furano, Hokkaido 076-0024, Japan
+81 167-56-7883 @ 富良野 ふらのパティスリー トロン
Map and Details
Asahikawa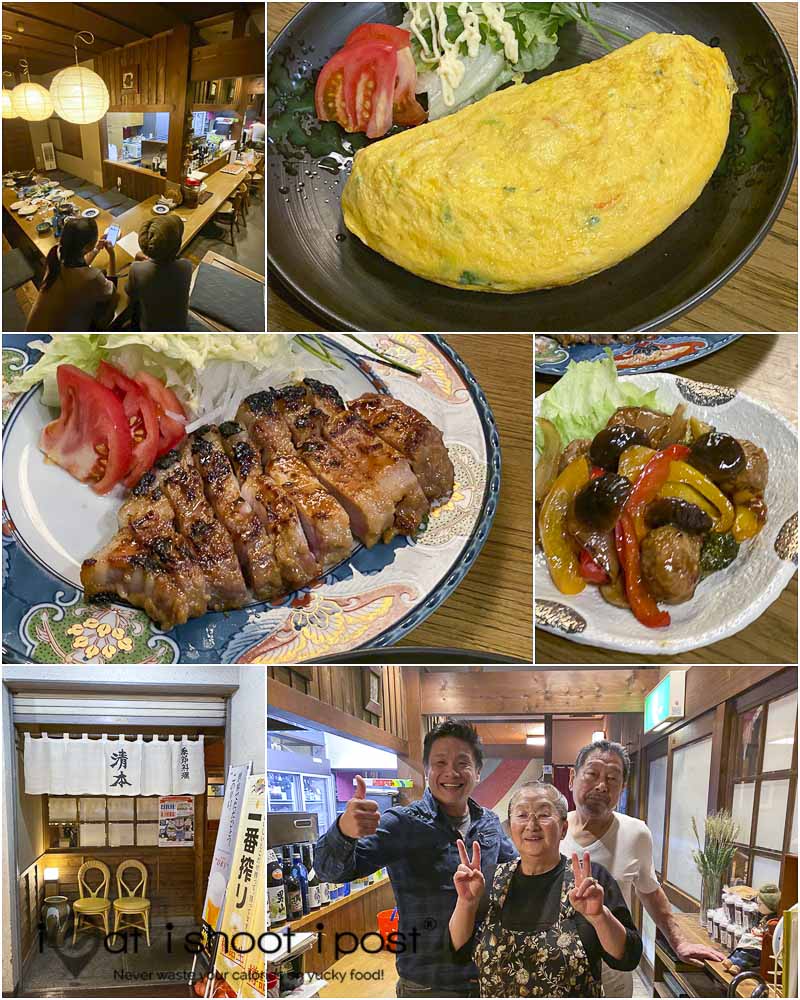 The miso pork at Kiyomoto is da bomb! I missed it the last time, but now I finally get to try it! They are also famous for crab omelette and hokke. This stall has been here for 62 years and the elderly couple here are super friendly! This is the one place I will always come back to in Asahikawa. http://bit.ly/ieatAsahikawa
Kiyomoto
8 Chome-1705 4 Jodori, Asahikawa, Hokkaido 070-0034, Japan
Map and Details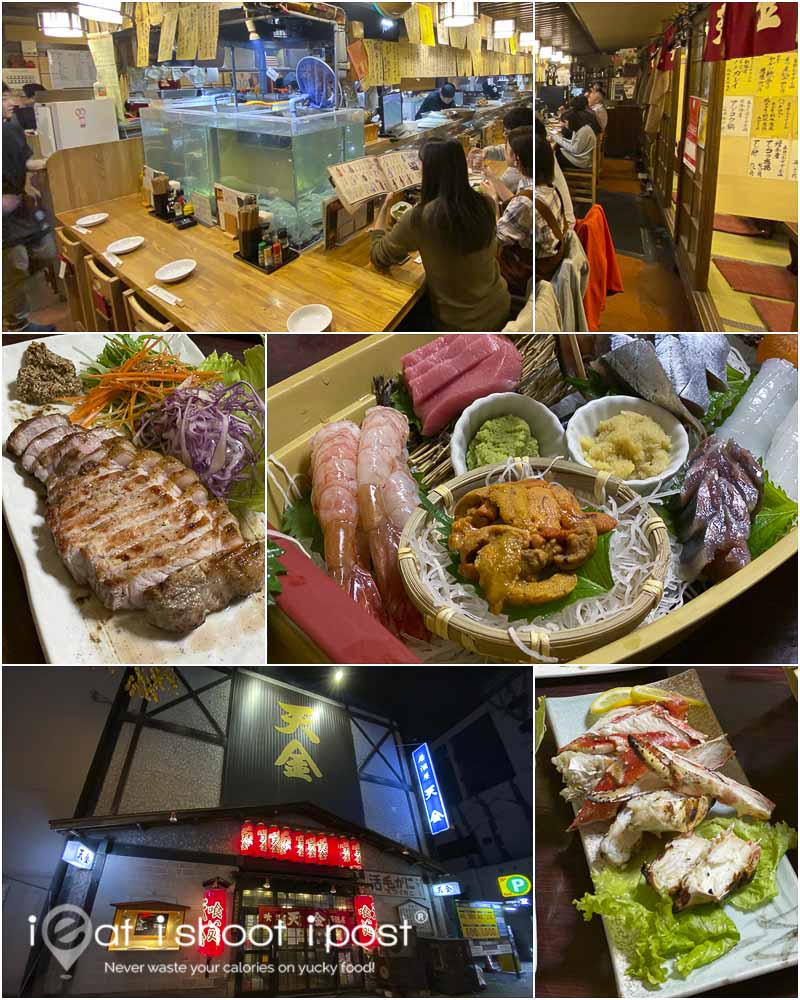 Another izakaya which is quite popular amongst the locals is Tenkin which is conveniently located at the heart of the Asahikawa city within walking distance of the train station.  The counters are lined with fish tanks with fresh seafood.  It is a good place if you have large party but lacks the convivial atmosphere of a smaller Izakaya. Our sushi is good but for pork, I would recommend Kiyomoto.
Tenkin
7 Chome 4 Jodori, Asahikawa, Hokkaido 070-0034, Japan
Map and Details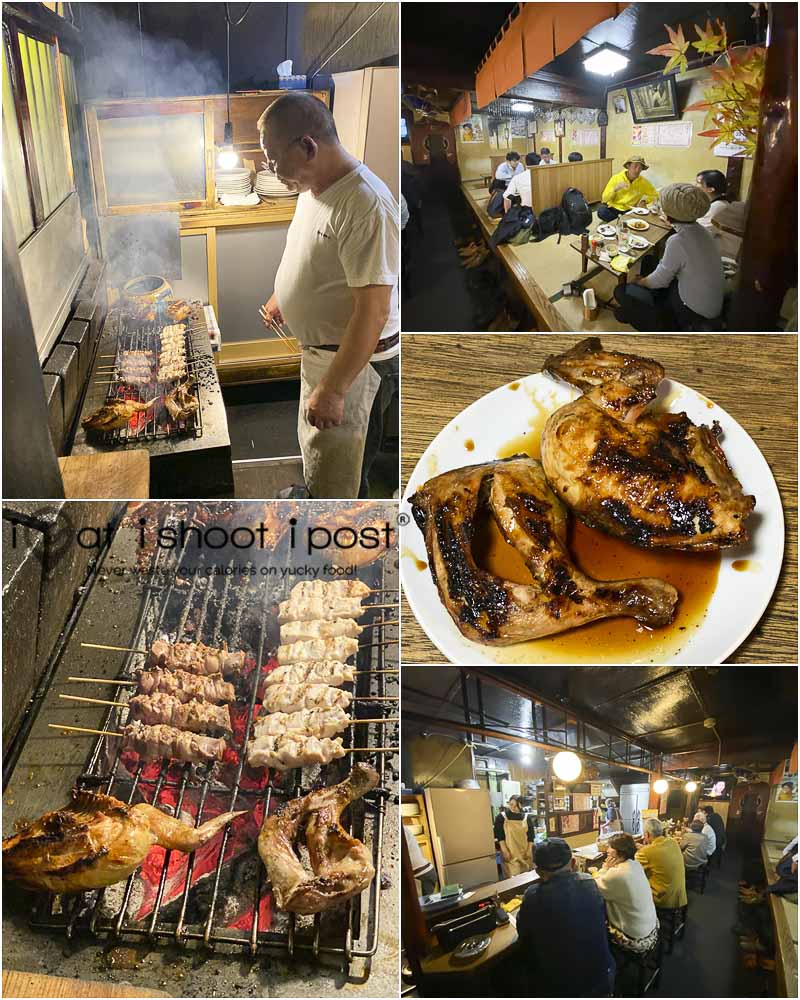 Yakitori is a big thing in Asahikawa and just a short walk from the train station is this particular food street said to be the oldest in Asahikawa.  Here is where you can find plenty of small eateries many of which serve Yakitori.  The one that is recommended by our food ranger was this particular one whose speciality is a charred half chicken.
Yoshiya Yakitori
7 Chome-右6 5 Jodori, Asahikawa, Hokkaido 070-0035, Japan
Map and Details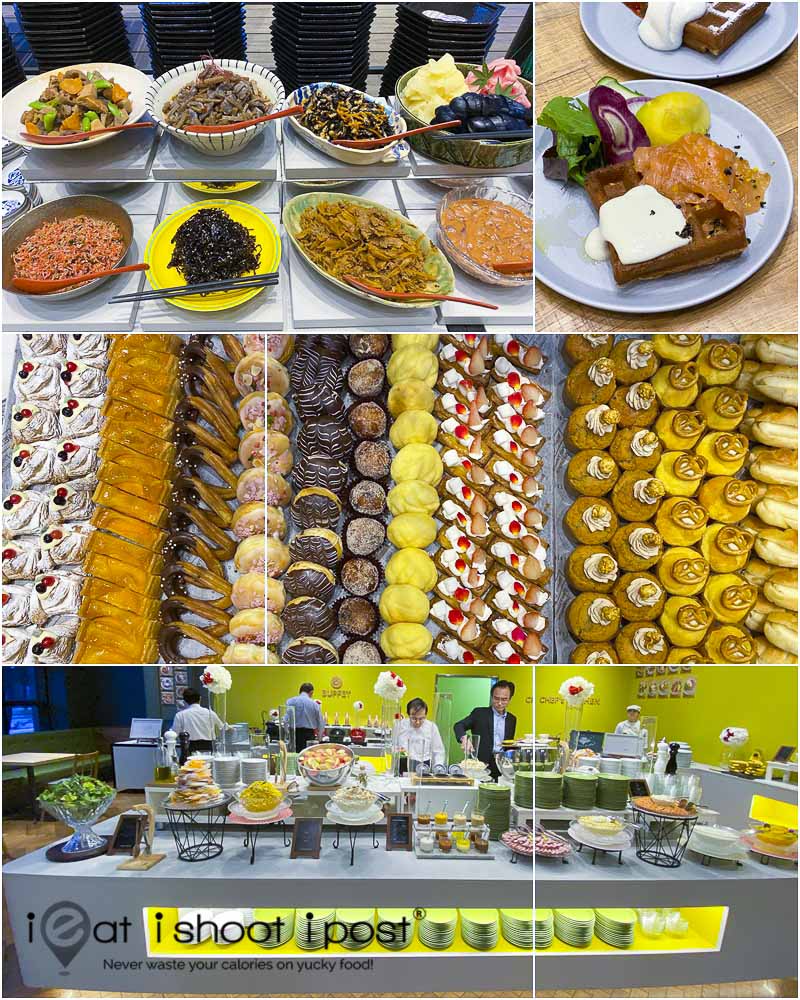 Located in the centre of Hokkaido, Asahikawa is the gateway to Furano and Biei.  It has it's own airport which is good alternative to Chitose if you are planning to explore central Hokkaido.
We stayed at Hoshino Resorts OMO7 hotel which had just undergone renovations recently.  It is a contemporary hotel targeted at tourists and is located near to the food street and train station.  They also provide a "Ranger" service where you can arrange for a someone to bring you around town for a food trail or to see the other local attractions.
The rooms are small (luggage bags under the bed, small) but brand new.  Their breakfast spread is very good and the highlight is their bread/pastry selection where they showcase a wide selection of cute little breads and pastries which will be a nightmare for those of you who are trying to cut back on carbs!
Hoshino Resorts OMO7 Asahikawa
星野リゾート OMO7 旭川
Map and Details
For more things to do and food to eat in Hokkaido, please checkout my other posts:
http://bit.ly/ieatFurano
http://bit.ly/ieatAsahikawa
http://bit.ly/ieatHigashikawa
http://bit.ly/ieatHakodate1
http://bit.ly/ieatHakodate2
http://bit.ly/HoshinoResorts
Disclosure
We were hosted by Hoshino Resorts OMO7