Hoshino Resorts Tomamu: Autumn Season Activities – ieatishootipost
Most ski resorts have only have one peak season but Hoshino Resorts Tomamu is blessed with two!
In the winter, it is surrounded by ski slopes with white powdery snow and is the ideal resort for families seeking a comfortable, laid back ski resort with good food and other activities for the kids like an ice village, banana boat rides and bob sleds.  Check out our winter adventure here: Hoshino Resorts Winter
Unkai Terrace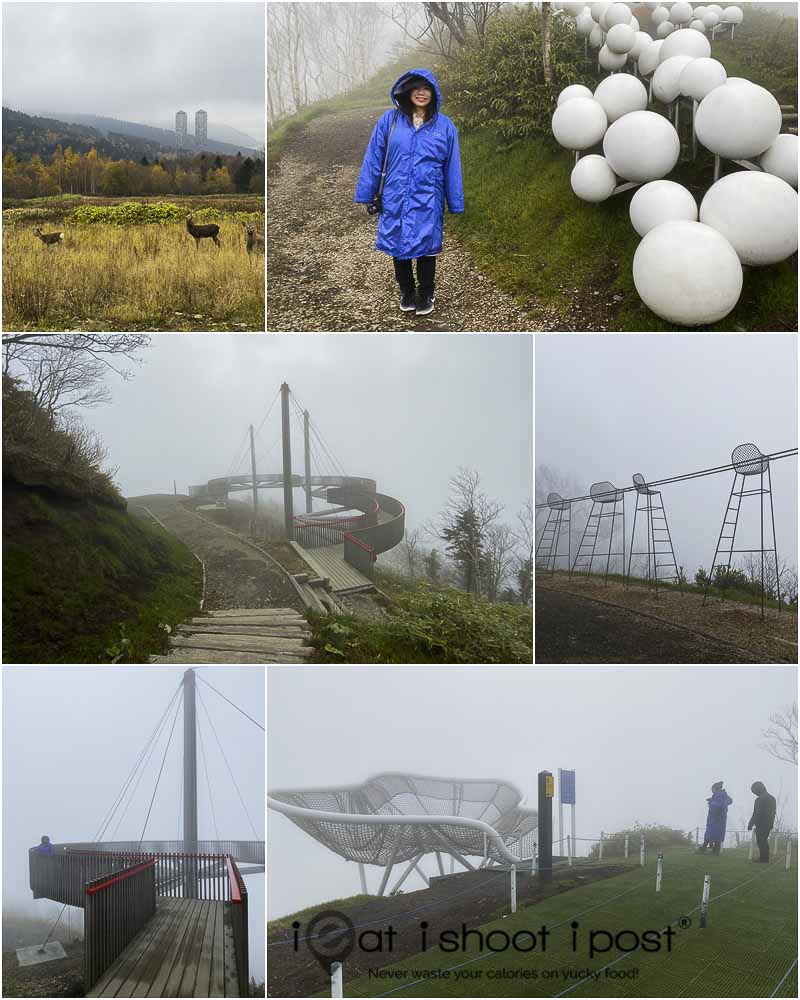 In the Summer and Autumn season, guests flock to the resort in order to experience the "Sea of Clouds" phenomenon at Unkai Terrace.  When the weather conditions are perfect, which is about 70% of the time in the Summer months, you get to see a sea of clouds blanketing the valley with the mountain peaks resembling islands in a vast ocean.  Unfortunately, for us, we went late in the season and all we experienced was very dense mist!
If you are going for the Unkai experience, make sure you plan to stay for a few days and you will likely be able to experience the awe inspiring scene when you can really say you are on cloud nine!
Farm Theme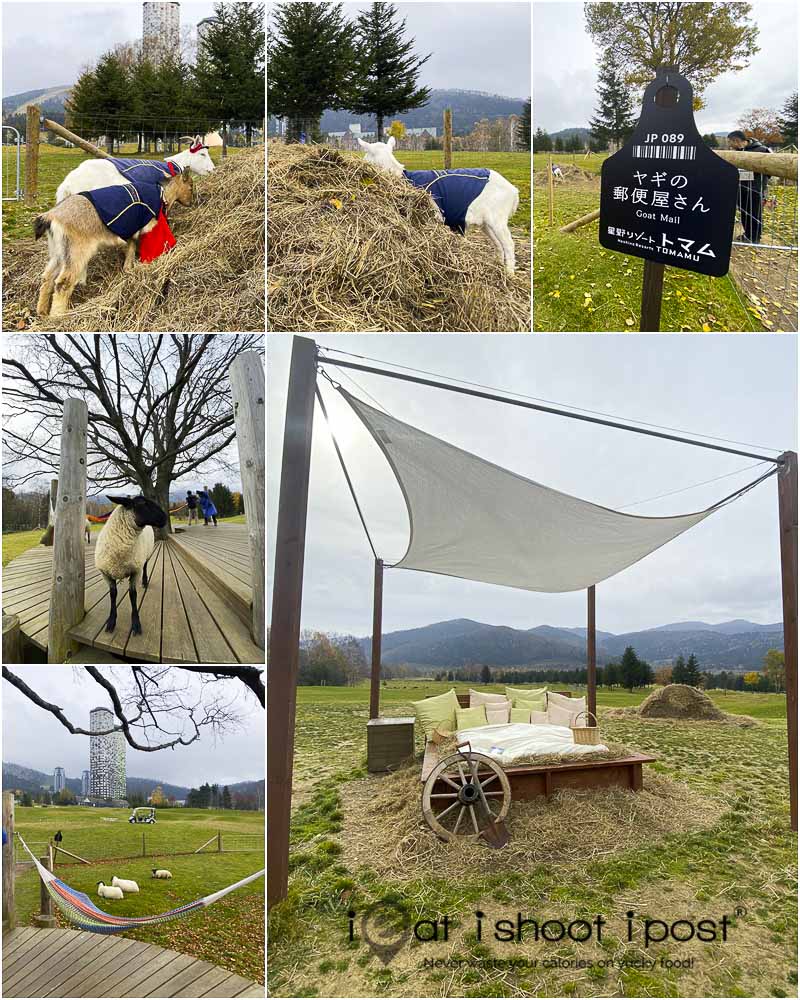 The resort has plenty of activities for the family in the Summer.  Aside from rafting, horseback riding and other activities, they have turned the resort grounds into a recreational farm where kids can play with goats and sheep and even sleep on a hay bed in the middle of the meadow!
The central region of Hokkaido is famous for its potatoes and October is the time of harvest, so the resort also hosts a potato festival where you can experience potato salads in a myriad of flavours!   I was told that by next season, they would have 100 different potato salads for you to try!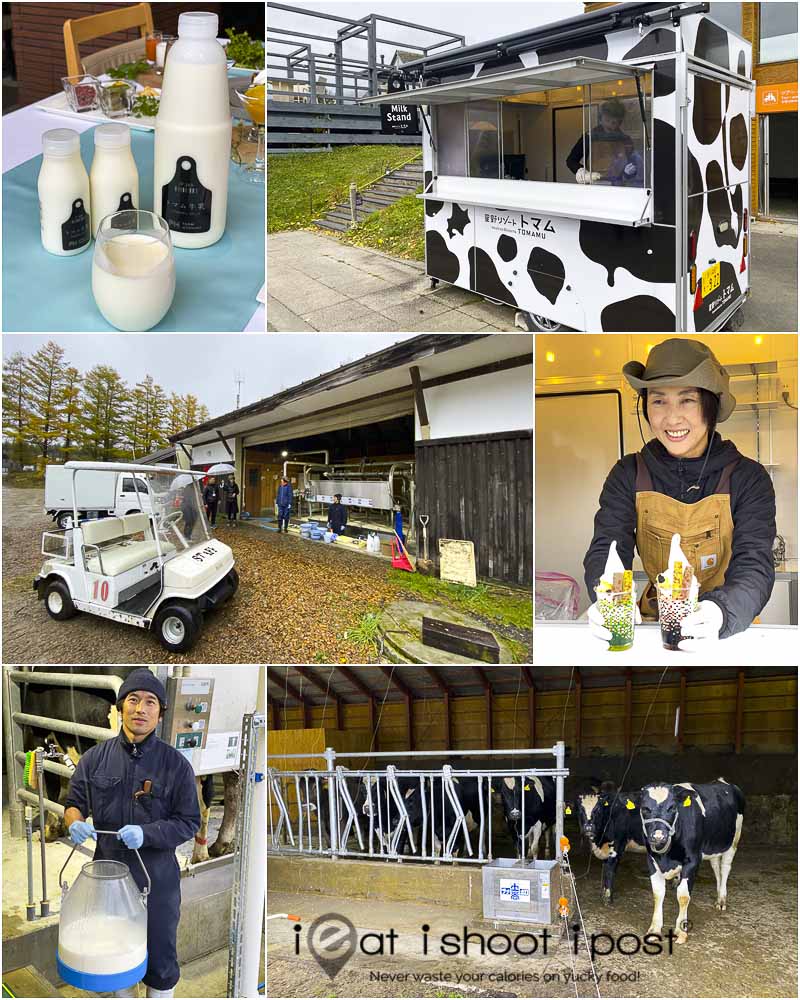 The resort is taking its farm theme quite seriously and have also been producing their own milk from their herd of dairy cattle.  The freshly squeezed milk is used in the restaurantsat the hotel and they are planning to also start producing their own cheese!
The resort has applied the typical Japanese quirkiness to their farm theme which is quite fun to experience.  I have observed that the Japanese tend to always go the "whole hog" when they do anything , so when they go skiing they would have a complete set of gear just for skiing, same goes for hiking, running etc.  In the same manner, when they got into dairy farming, they went out of their way to create pop up stores with black and white Holstein cattle design and complete with cow themed buggies!
Restaurants and Eateries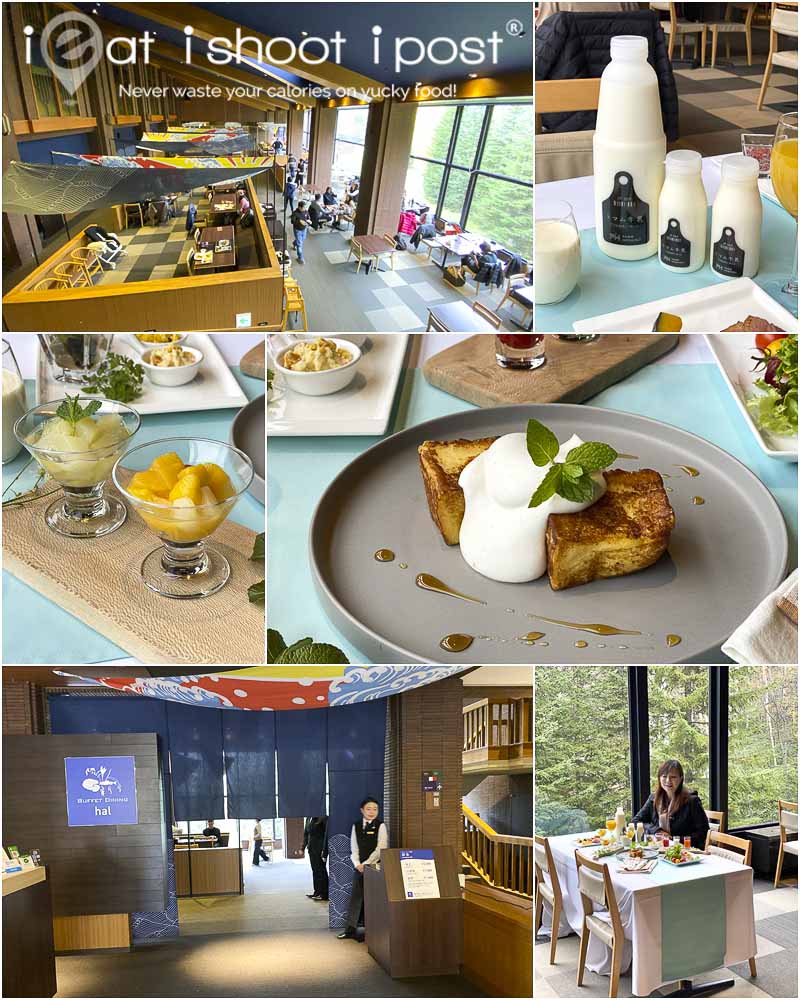 The food at Hoshino Resorts is very good overall.  They have a few in-house restaurants which serve buffet breakfast and dinner and they provide a very good spread of European as well as Japanese dishes.  The French Toast over at Hal is really good.  The bread is cut thick and is saturated with the egg custard!  Their farm fresh milk is available here as well as at their other place, Forest Restaurant Nininapuri.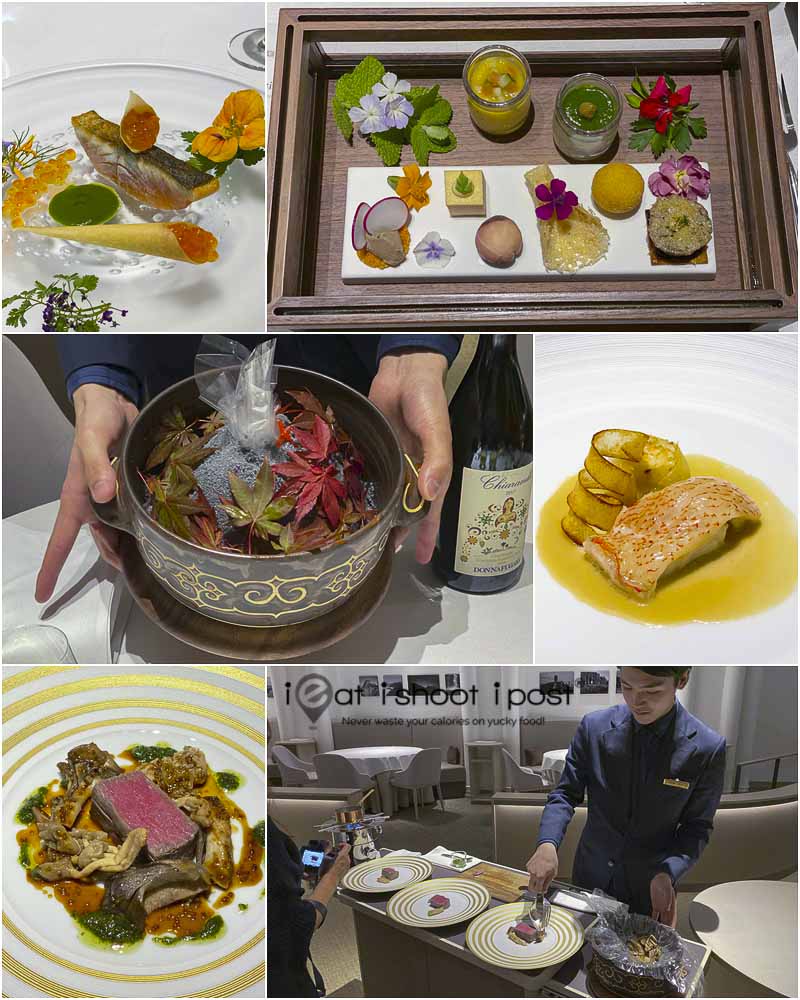 Otto Sette is a brand new fine dining restaurant that is owned and operated by the resort. I wasn't expecting very much from a resort restaurant in the off season but the meal completely exceeded our expectations.  The opening amuse bouche was a colorful treasure chest of 8 different small bites.  It was followed by course after course of creative dishes made with great local ingredients and with great finesse.  15,000Y for 8 courses.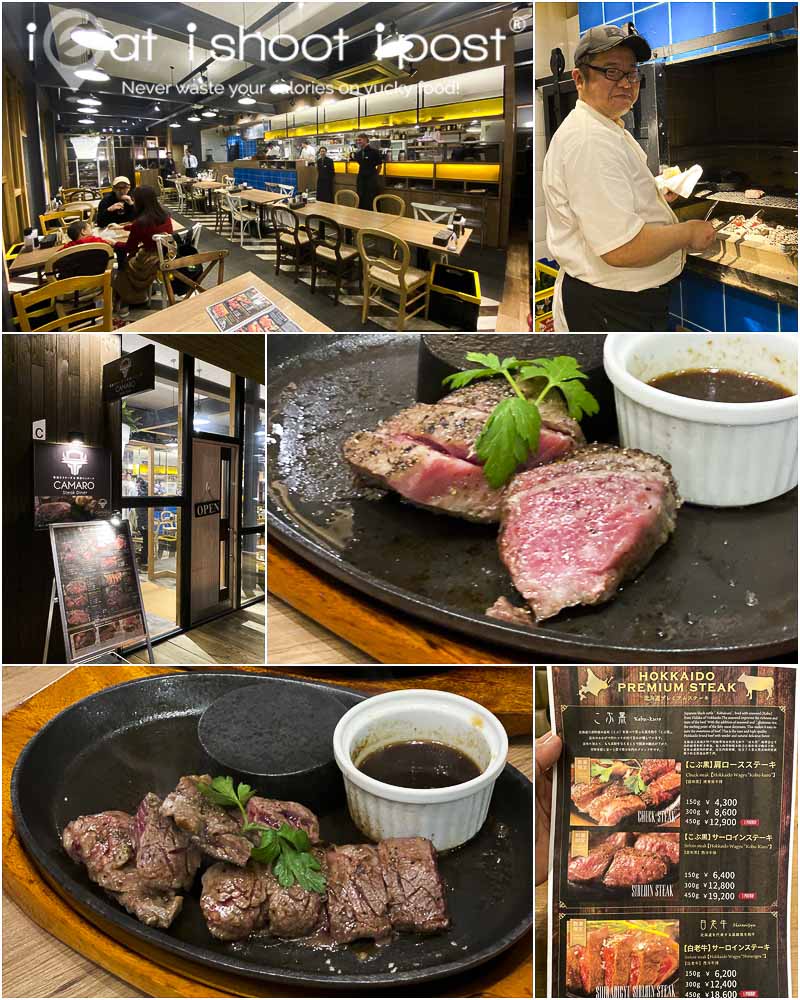 Hotalu street is a new devlopment within the resort grounds which features eight independent restaurants.
If you are hankering for some local Wagyu, then Steak Dining Camaro is the place to go!  We had some excellent Hokkaido Wagyu steaks there. The steaks here are grilled over charcoal and then served on a sizzling hot plate with a hot stone should you wish to further sear your steaks. The steaks were very well presented and the sides were very good!
We had the kombu kuro which Wagyu cattle which have been fed with kombu,  shiraoi and a Wagyu-Holstein cross. Of the three, the crowd favorite was the kombu kuro which had a bold umami flavour. 150g Kombu Kuro Striploin costs 6,400Y.  They also have more affordable alternatives like Australian skirt steaks as well as local Hokkaido deer meat.
Another place to check out is Soup Curry Garaku which serves Hokkaido style soup curry. Unlike the Japanese curry we are used to, Hokkaido style curry is more soupy.  The consistency is more like a Tom Yum soup rather than a thick curry.  A bit of spice does help to warm the belly on a cold day!
Bowl and Roll House Eni is the place to go if you really need to have a kaisen don to remind you that you are in Hokkaido! The food is not bad considering that you are in the mountains smack in the middle of Hokkaido!  Prices are also quite reasonable at 2800Y for a kaisen don. I would not recommend tempura dish as the batter is thick and doughy rather than crispy.
Chapel on the Water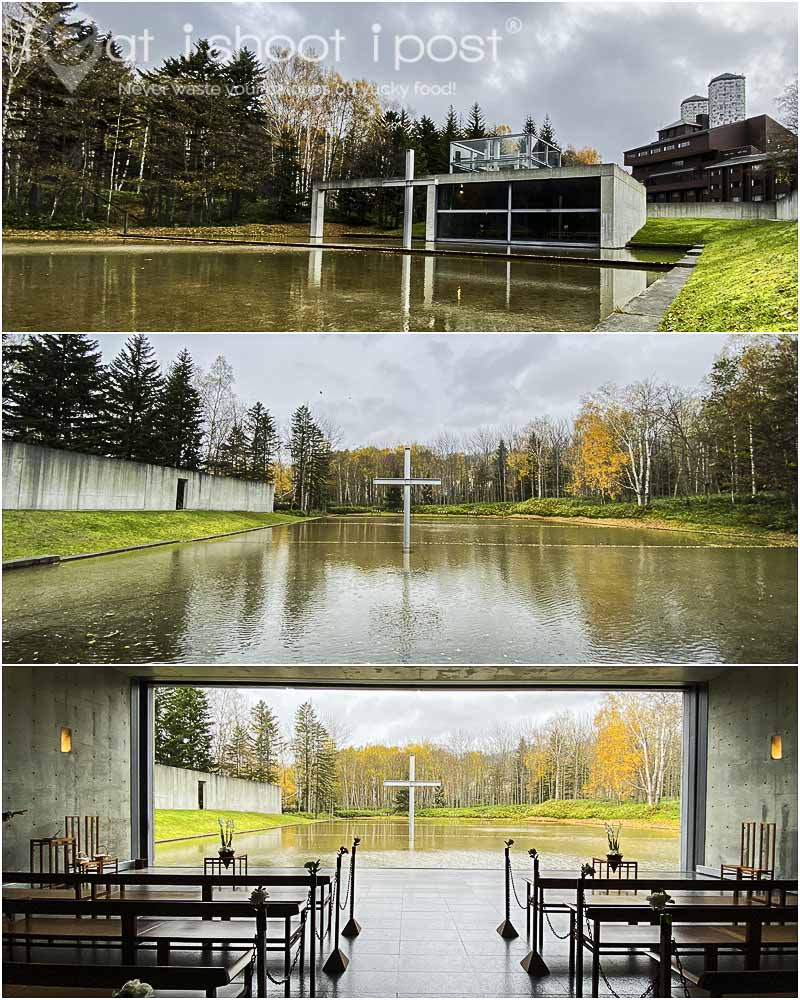 When we visited Chapel on the Water during our last trip in the winter and had to trek through 2 feet of snow to get to it.  This time round, we got to see it in the fall when colourful autumn foliage provides a beautiful backdrop for the sanctuary.
This is one of the architectural masterpieces of renown Japanese architect, Tadao Ando and is used mainly for wedding ceremonies.  The chapel is opened for viewing in the evenings only.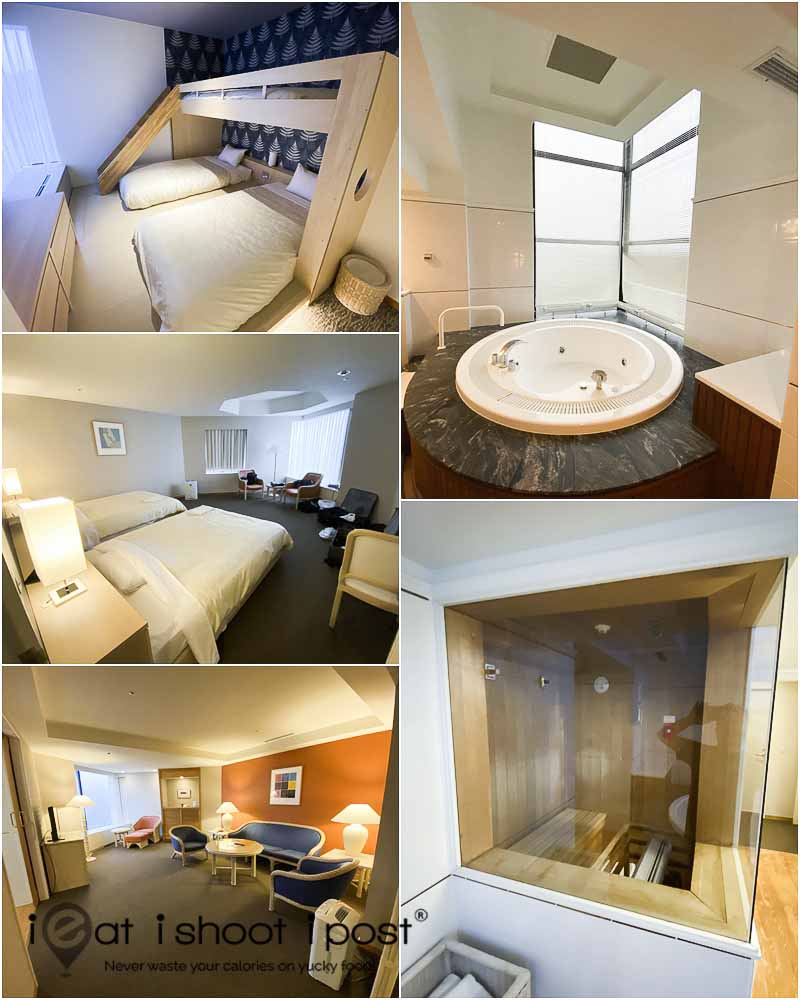 Conclusion
We've really enjoyed our stay at Hoshino Resorts Tomamu.  The food is good and although it is busy in the winter, it isn't overwhelming.  It's a great place for kids as they have lots of activities for them.  The new Hotalu street development adds eight independent eateries to the existing ones in the hotel which should provide lots of good food during your stay!
Check out our other Hokkaido trips:
http://bit.ly/ieatFurano
http://bit.ly/ieatAsahikawa
http://bit.ly/ieatHigashikawa
http://bit.ly/ieatHakodate1
http://bit.ly/ieatHakodate2
http://bit.ly/HoshinoResorts
Disclosure
Hosted by Hoshino Resorts Tomamu