Update 21 Dec 2020
This eatery is relaunching on 2nd Feb at 61 Tanjong Pagar Rd, Singapore 088482. Open for reservations only.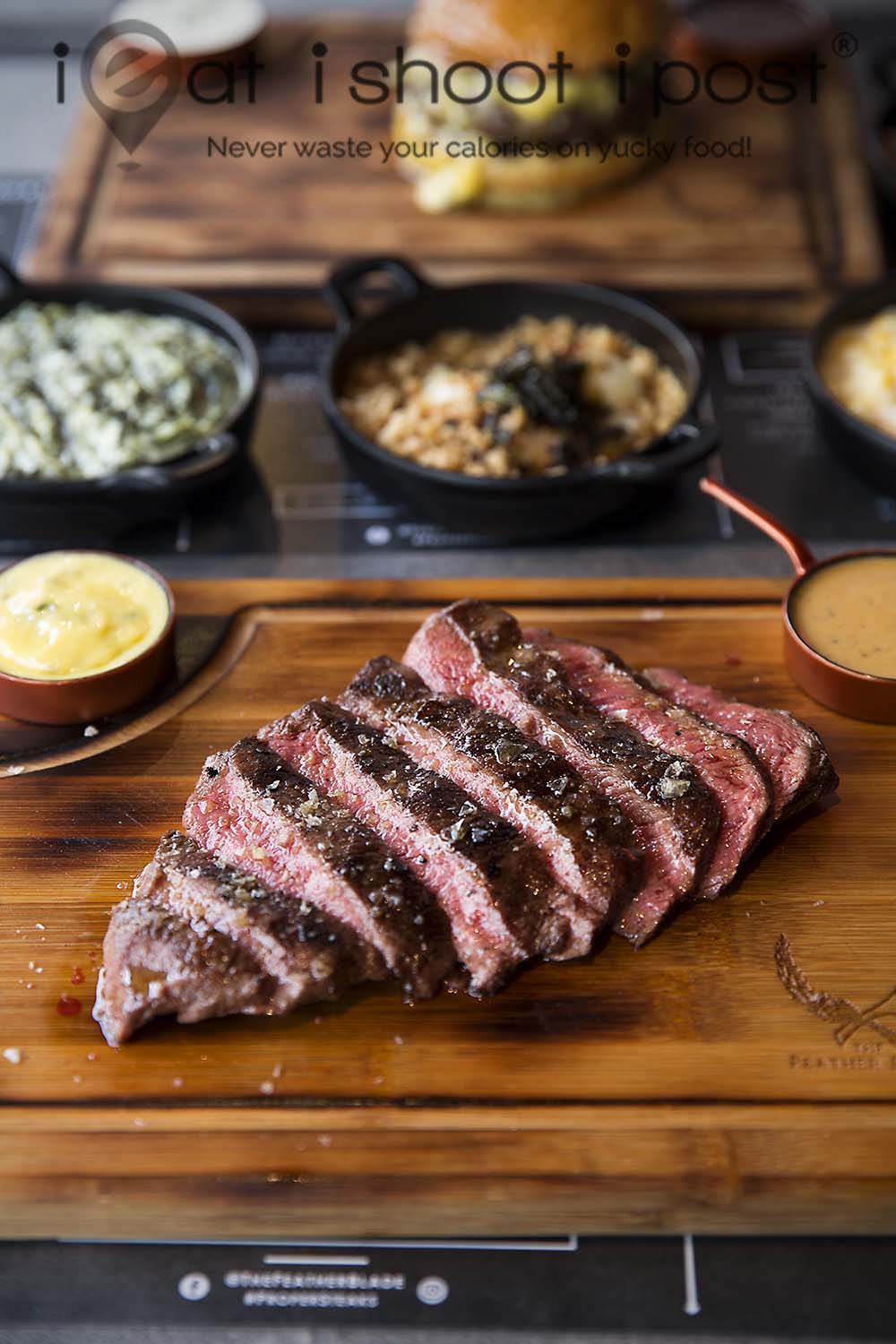 It takes a bit of guts to base your steakhouse on just one particular cut of meat, especially when there is only 5kg of it available per cow.  (cf Striploin 13.8kg).  But the Flat Iron Steak in the UK pioneered the concept which turn out to be a FLAT out success!
The idea is quite simple, take a cheaper, secondary cut of meat, make it into a delicious steak, present it on a rustic cutting board with a cute little cleaver, set it in a hip environment and sell it for £10.  Oh and don't forget to give away free steaks on your opening day!
The formula worked in the UK, and it seems to be working well in Singapore too!  The Feather Blade made a big spash on social media with their free wagyu steaks gig which attracted long snaking queues on their opening day! It really is a no brainer in social media marketing.  I mean, who doesn't like a free wagyu steak?  One can only wonder why there aren't a whole slew of other restaurants taking advantage of our penchant for a free meal?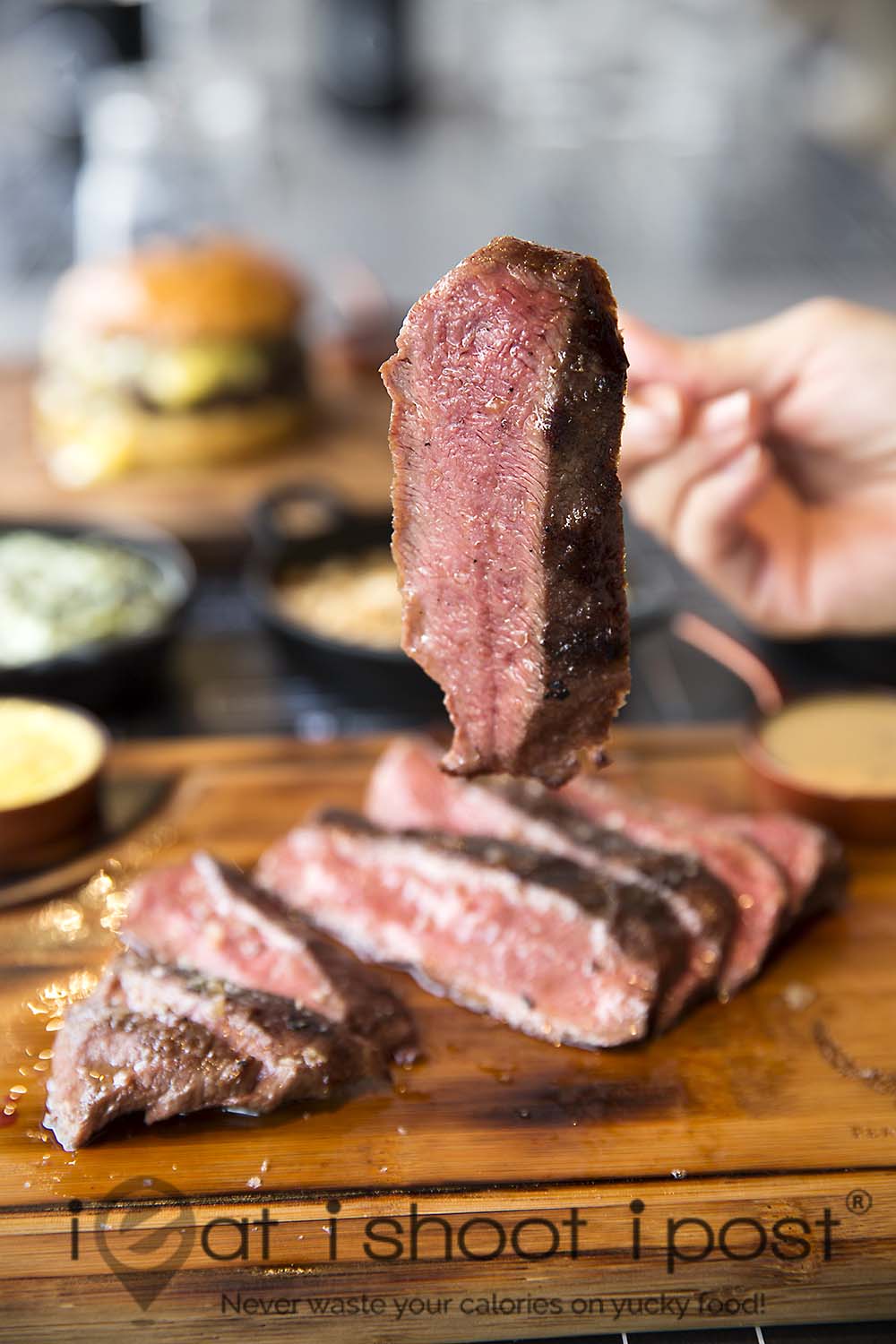 In case you are wondering, the "feather blade" is simply another name for the flat iron steak.  For years, it was considered a part of the chuck and it was either sold as oyster blade steak or turn into minced beef until some clever meat scientists came up with a new way of cutting it and coining a sexy name for it.
The steak is taken from the chuck primal and is located on the shoulder blade bone (infraspinatus muscle).  There is a tough connective tissue running through the middle of the muscle which made the cross section look like the quill of the feather, hence its name. Once this connective tissue is removed, what is traditionally thrown into the grinder becomes a tender and flavourful steak. Interestingly, the muscle itself is ranked 2nd in tenderness after the tenderloin (psoas major) so for years it's true potential was not fully realized.
Since its "discovery" over a decade ago, the flat iron steak has become a household name.  The good thing is that it is still considered a secondary cut, so the price is still lower than the prime cuts like tenderloin, striploin and ribeye.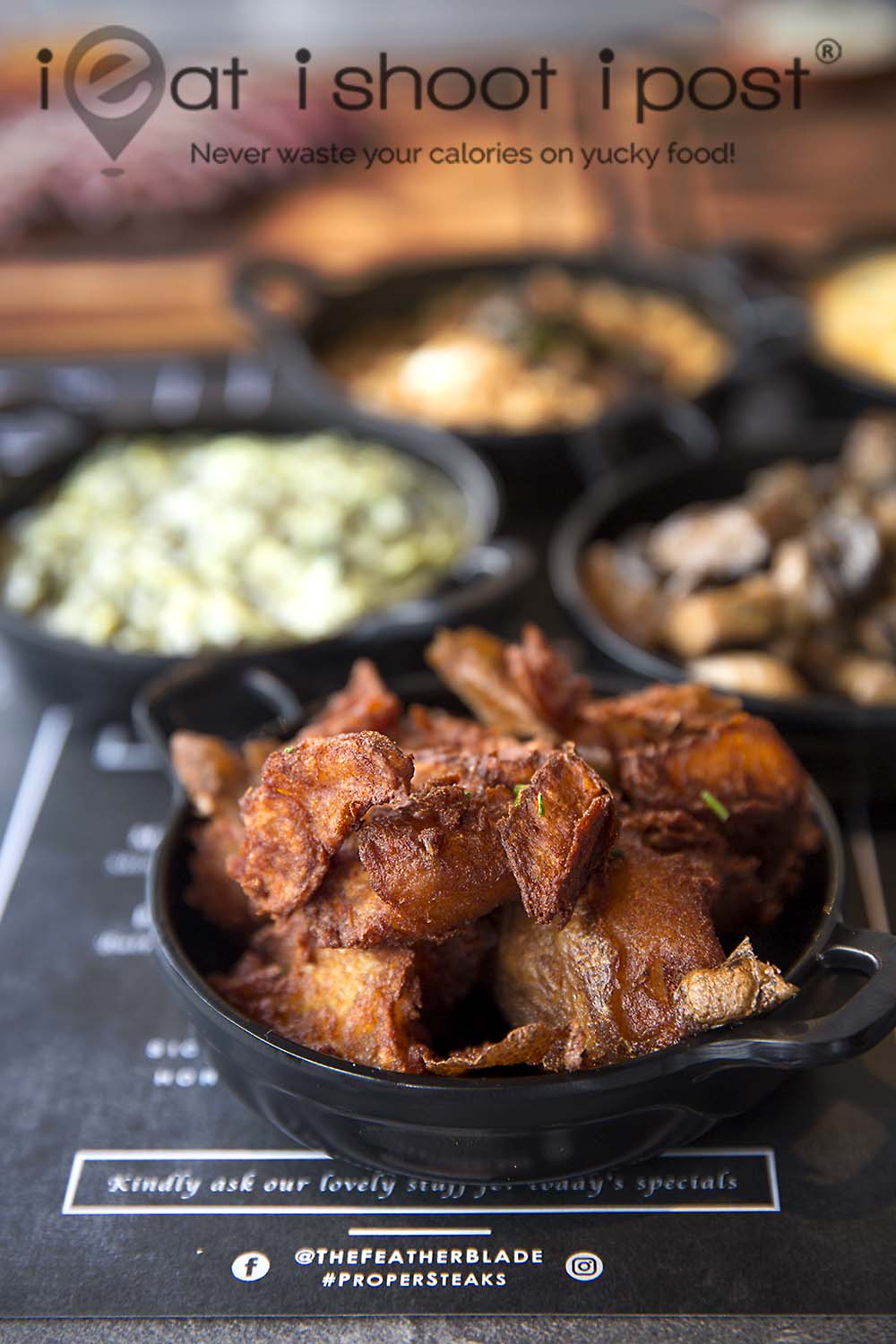 The steaks at Feather Blade are prepared by the sous vide method to ensure consistency in doneness.  Each steak is 200g and cost $21.  They are finished on the grill plate to sear the outside, sliced and presented on a wooden board.  This is a very good steak at this price, and it would be unfair to compare it with a well aged ribeye steak, which might cost $80.  However, I usually prefer my steaks to be cooked ala minute instead of being sous vide first, as I find the sous vide steaks less flavourful than those that are simply charred over a super hot charcoal. 4/5
The sides here are very good.  They are well executed and are on par with many top end steak houses.  I particularly liked the potatoes which are boiled, smashed and fried in beef tallow.  It would have been perfect with some sour cream and chives.  Their creamed spinach is also very good as they add parmagiano reggiano to give it that extra punch.  The sides are $7 each and the portions are good for one, so if you are dining with a friend and order two sides, the steak meal will come up to $28 which is pretty good for a steak meal with two sides.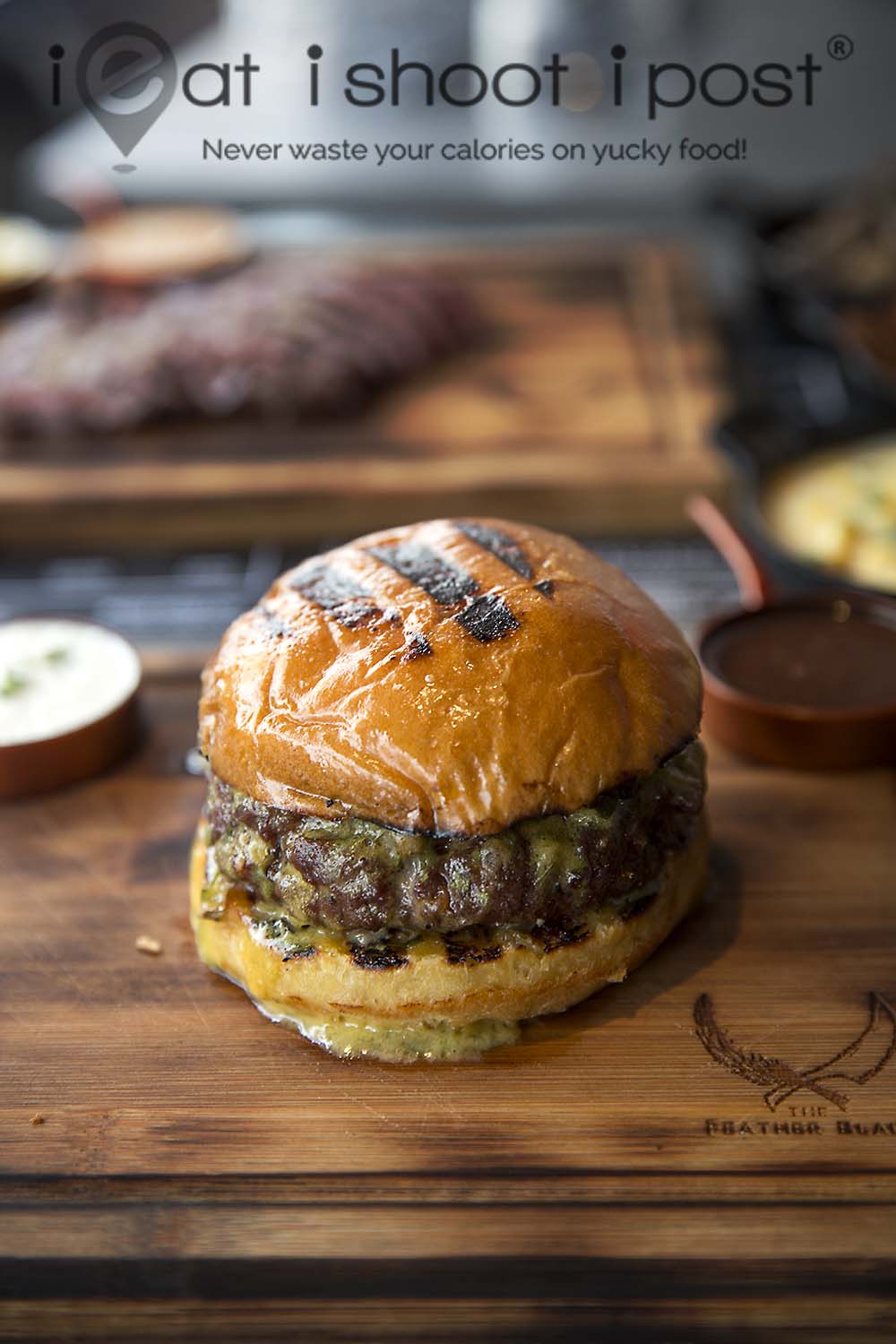 The trimmings of the flat iron steaks are made into burgers which are $21 each.  The patties are deep fried and served on soft buns with bearnaise sauce and shallots.  The burger is good but for $21 the steak would be much better value.
The founder of this place is a young enterpreneur, Sheen, 27, who worked part time at Flat Iron in the UK while pursuing his studies there.  He tells me that the focus of The Feather Blade is on secondary cuts so they also offer daily specials like picanha, bavette and chuck eye steaks.  His vision for the future is to be able to work with an overseas farm to import the meat directly.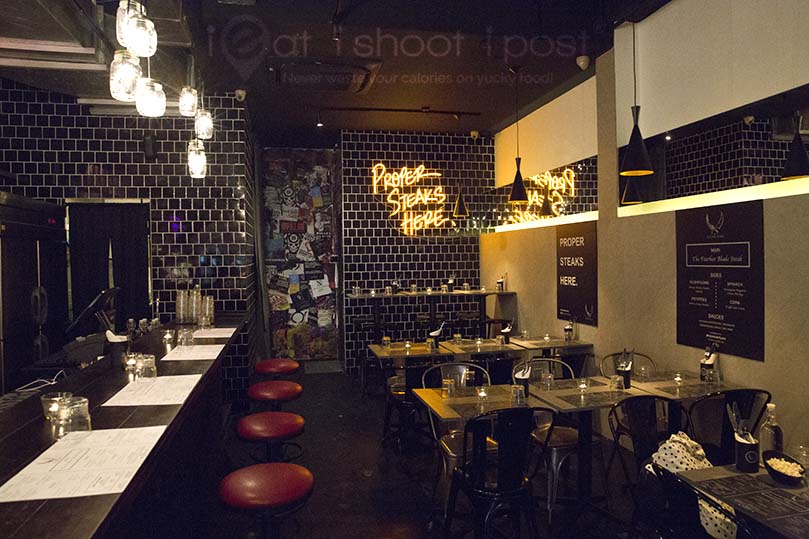 Conclusion
Secondary cuts like the flat iron steaks are definitely the way of the future.  Not only is it better for the environment, but it also offers consumers a wider spectrum of flavours and textures to choose from. With good steaks and great sides, The Feather Blade is one place I can recommend for a steak meal for around $30.