With Wahcow, Taukwa and Liverpool


"Bu Jian Tian" Charsiew
Our Kakis have been raving about Meng Kee Charsiew which Wahcow brought back from KL and were lamenting why we can't get Charsiew which is as good here. The main characteristic of Meng Kee's Charsiew is that it is really fatty and they managed to roast it till the fats just melts in your mouth, so you really get a great flavourful and tender Charsiew. But Singaporeans tend to be more health conscious, so many of the stalls here sell very lean Charsiew.

According to Wahcow, the lean charsiew from Meng Kee tasted as ordinary as the Charsiew we have here. So, he felt that if we could get someone here to roast a more marbled piece of pork, we might be able to have a delicious Charsiew without having travel all the way to KL.
I immdiately thought of Fatty Cheong and called him to see if he could do for us a no holds barred Charsiew using the best cut of pork that he could get his hands on.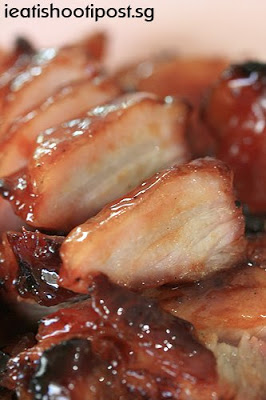 Closeup view of "Bu Jian Tian" cut
Now, Charsiew is not made from one specific part of the pig. It is not like Sio Bak (Roast Pork) where you have to use Belly Pork. So in order to have a really satisfying Char Siew experience, you need to know some basic pig anatomy.
Most Charsiew is made from Pork Shoulder which is the part just behind the neck. In Singapore this part of the meat is commonly known as Wu Hua Rou (five flower/pattern pork). But it is not so straightforward. For some people (especially the Cantonese), Wu Hua Rou actually refers to Belly Pork. Their explanation is that there are five layers of meat and fat in Belly Pork.
After searching through the internet and also talking to the local butchers here, I have come to the conclusion that Wu Hua Rou refers to Pork which has a significant amount of fat and can refer to belly, shoulder or collar. I think it is called five pattern not because there are five layers of meat and fat but because when you look at the cross section of the meat, the white of the fats vaguely resembles the ancient Chinese character "five".
At any rate, Pork Belly has more than five layers. There are three layers of muscle and three layers of fat plus the skin. So it is actually seven layers, not five. We Teochews refer to this cut as Sar Cham Bak (3 layer pork) which refers to the three layers of muscle. For students of anatomy, these refer to the external and internal oblique, and transversus abdominis muscles. Yes, our anatomy is quite similar to pigs and especially so if you eat a lot and don't excercise.
According to Fatty Cheong, the most prized Charsiew is from the "pig armpit" which is also known as "Bu Jian Tian" (Never sees the sky). Technically, this is the part between the shoulder and belly and so the meat is nicely layered like belly meat. The meat here is tender and springy at the same time and really full of flavour.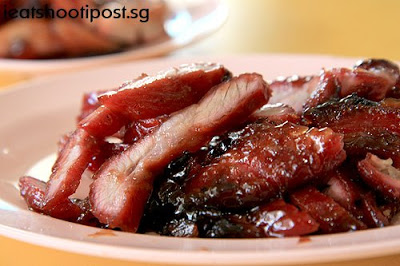 Pork Shoulder Charsiew
For those who are more health conscious, the pork shoulder is leaner, but it depends on how the meat is cut. Shoulder and collar have more fats than other parts of the pig, but depending on how it is cut, you will be able to get a lean piece of Charsiew. I find the lean cuts a little too dry, but for our resident metrosexual, Taukwa, this is his preferred cut for everyday eating, but he admits that the "Bu Jian Tian" is much tastier.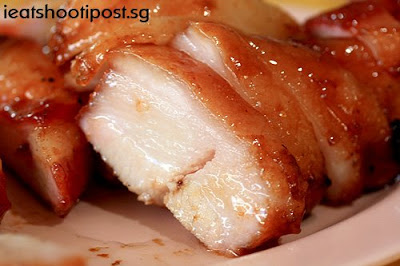 Really fatty Charsiew
It might be shocking, but there are some people who actually request for Charsiew which is essentially fats with a sliver of meat in it. According to Fatty Cheong, these tend to be men of the baby boomer generation. We all felt it was just too rich and not something we would dare to order again.
Fatty Cheong's "Bu Jian Tian" was excellent. I had almost the same level of excitement as when I ate my first piece of Meng Kee's Charsiew. There are two points of difference however. Fatty Cheong doesn't make his Charsiew as charred as Meng Kee's because most Singaporeans do not like to eat too much of the charred bits, and he uses Brazilian pork which he himself admits is not as great as Malaysian pork. Unfortunately, Malaysian pork is still banned in Singapore, so we won't be able to do a proper comparison. Meng Kee's scores a 4.75 for me and Fatty Cheong's scores a 4.6/5, but we all felt that it is still the best one we have come across in Singapore.
Oh btw, there has been discussions in our forum that there is a even better Charsiew which is a stone's throw away from Meng Kee's called Overseas Restaurant. If you are in KL, you might want to check it out.
Conclusion
Fatty's Cheong's "Bu Jian Tian" is best Charsiew we have had in Singapore so far. Unfortunately, the Charsiew across the border just has that little extra ommph that can't be found here.
For more pictures of Meng Kee Charsiew check out PChong's blog entry here.
*Eating excessive amounts of fat can be detrimental to your health especially if you suffer from chronic conditions such as high cholesterol and heart disease. So please eat in moderation and avoid altogether if you are under medical advise to avoid eating fats.