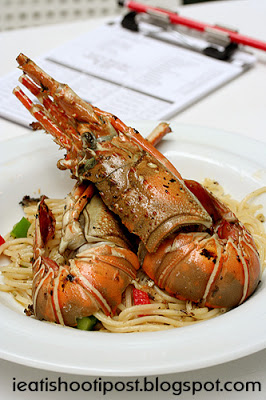 Lobster Aglio Olio $18.90 for set with soup and drink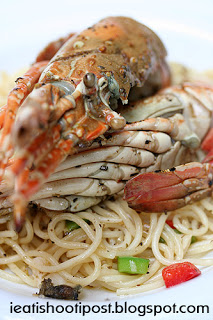 For those who prefer the Ang Mo version of Lobster Noodles, here is a cafe where you can find it!
I dropped into 18 Chefs one day for the baked rice only to be pleasantly surprised that Benny has started serving Lobster pasta as well! Good thing I brought along my camera that day. I can't resist taking some Lobster shots. Don't you agree they make the nicest pictures?
Now, you already know that Lobster Thermidor holds that special place in my heart so when I found out that Benny had some Lobsters in the premises, I could not resist but to ask Benny if he could make a Lobster Thermidor for me.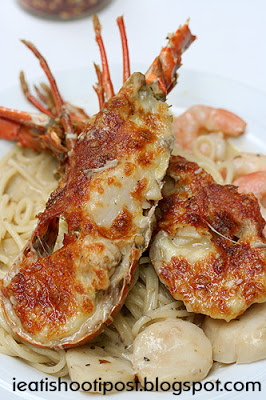 Lobster Mornay Pasta $18.90
I told Benny what I would really like is a pasta with a seafood cream sauce made by simmering the Lobster shell with scallops and prawns served with the Lobster Thermidor on top. "Can do or not?" I asked Benny. Benny gave me his usual "Severe" look and said with a note of confidence, "Sure, I can give it a try".
I think Grilled Cheese and Lobster is just one of those "sure win" combinations. The seafood infused bechemel sauce was scooped into the Lobster shell topped with cheese and grilled till nice and golden brown. I just love how the Cheese manages to absorb the Lobster taste from the shell. Too bad Benny didn't have a bit of Brandy and Gruyere Cheese as it would have given it that extra kick. Actually this dish should more correctly be called a Lobster Mornay than a Lobster Thermidor but I am not complaining. At $18.90, I would certainly be coming back for it quite regularly! 4.25/5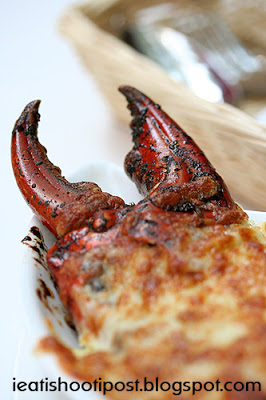 Baked Pepper Crab Fried Rice
For those who have been waiting for the Baked Chilli Crab and Pepper Crabs, Benny has confirmed that it will be on the menu on Wednesday nights starting from this month. You will have to call in advance to book it yah?
Conclusion
Found a place to get an affordable Lobster Mornay Pasta! Not quite as "Cheok" as a Lobster Thermidor can be, but "Cheok" enough for me to think about going back for another meal.