We are calling this year's durian degustation, "Durian Mobilization" because we are doing things just a little different.
We are going to have a durian picnic! We will meet at Telok Ayer CC, I will bring the durians and you will bring your own picnic accessories like newspapers, mats, stools, chairs, tables etc. This idea was inspired by last year's Diner on Blanc event where everyone came with their own tables and chairs. I thought we could do a similar concept, but Singapore Style! It's even more significant since its so close to National Day! We have booked the stage area behind the CC where there is concrete flooring and shelter, so really all you need is some newspapers and be prepared to sit on the floor. But knowing Kiasu Singaporeans, I think I can expect some people to come with portable table and chairs!
As usual, the durians will be served in courses and you will get to appreciate the different Durian Cultivars. Depending on the season, we should be getting D13, D101, Golden Phoenix, D24 and Mao Shan Wang. Perhaps XO, Black Pearl, Green Bamboo may be available as well.
As part of our social outreach, we will be donating the proceeds to the Prison's ministry where we are planning another Durian Degustation for the families of inmates to come together as a family over Durians!
Details
Date:10 Aug 2013
Venue: Telok Ayer CC – Hong Lim Park (Clarke Quay MRT)
Time: 7.30pm (Registration)
Price: $35
Kids below 6: Free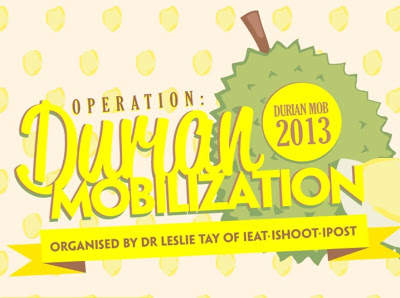 Tickets are available at our microsite: http://kindness.sg/durianmob2013/
This event is supported by the Singapore Kindness Movement