This stall is closed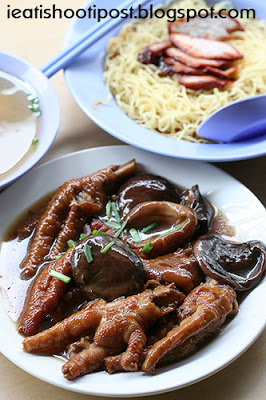 Braised Chicken Feet $3
Wanton Mee is a serious misnomer.
Just the other day I was talking to some passionate Hong Kong foodies about our Wanton Mee and all I got was a "Pfffff! You call this Wanton Mee? Yao Mo Gao Chor Ah? (Gotta be kidding right?)" I think I would have to agree. Unlike the Wanton Mee in Hong Kong where all you get are big juicy Wantons with noodles, Our Wanton Mee here is served with Char Siew, veggies are pathetically anorexic wantons where there is more skin than meat. So really, we shouldn't call our Wanton Mee, Wanton Mee since the Wanton is such a small part of the whole dish. Gon Lor (Dry Tossed) Mee would be a more accurate name in order to differentiate our version from the Hong Kong version.
Since we are on this topic, wouldn't it be great if some enterprising hawker would take on this idea and start dishing out ping pong sized Wantons? It will surely get the attention of the foodie community! Now if you know of someone who is interested to take on this idea or if you know of any stall already doing this, do let us know!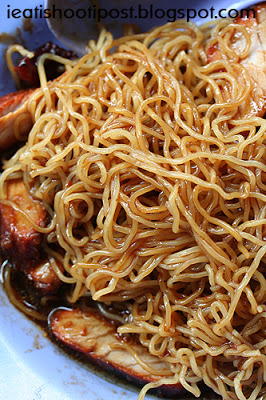 Wanton Mee $2-$3
This Wanton Mee was really a very pleasant surprise. For me the noodles and the sauce really hit the U-Spot (Umami Spot). The texture of the noodles was perfect and comes alive when you slurp and chew on it. The sauce had that extra something in it that made the difference between great and eye-opening "Phwa, Shiok!" (Yes there's lard) I have been continually thinking about eating this again the whole of this week! Now if this Wanton Mee had big, juicy Wantons and Char Siew that had a little more burnt bits and fats, then I would have found my Holy Grail. 4.6/5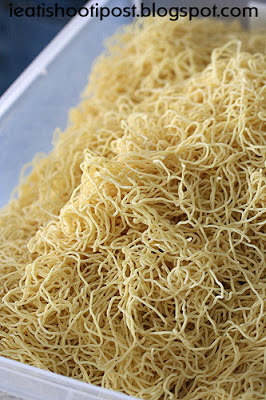 One of the secrets to the texture of the noodles aside from the fact that they use a specially ordered egg noodle is Da Jie's practice of actually loosening all of the noodles and allowing it to rest in a big box. If I were to open a Wanton Mee stall, this is definitely what I would do. Of course a lot has to do with the way the noodles are cooked as well. That one I still have to learn.
SCS Butter raves about the Chicken Feet here. The Chicken Feet are stewed till they are super soft and gelatinized, so you really get to slurp up the sticky gluey juices and it is literally "finger lickin good!" (both yours and the chicken's). A bit more kick with the sauce, (perhaps a little cut chilli and fermented black beans) might just make it so much more enjoyable. 4.25/5
Conclusion
Most enjoyable plate of Wanton Mee I have had in a long long time!
Now please remember my Ping Pong sized Wanton challenge. If you know of anyone who is game enough to serve up a Wanton Mee that would satisfy my Hong Kong foodie friends, please write in and let me know! The thing is there are $5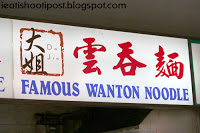 Recommended by SCS Butter and Tian Tian Chi