This stall is closed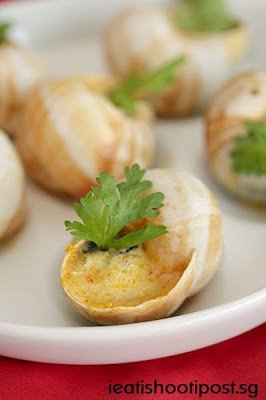 Escargot $8
Cilantro: Foie Gras hits the Heartlands! – ieatishootipost
When I first started the blog, I wrote about Astons and eBlackboard and how these eateries are bringing affordable western cuisines to the heartlands. I hinted then, that we will see more and more Restaurant Style Western Food stalls in our heartlands. And it came to pass that Singaporeans are now enjoying the likes of Botak Jones, Crazy Ang Moh and Astons in a coffeeshop environment.
Now we move on to the next level. Foie Gras and Escargot in our heartland coffeeshops.
Actually the development is inevitable. With the increase in rental and food prices, Singaporeans are finding it increasingly expensive to dine at restaurants and restaurants are finding the high rental prohibitive to their businesses. That was the case with Cilantro, who used to be a fine dining restaurant at Purvis Street which earned rave reviews from the media. When their landlords increased their rentals, they decided that instead of continuing to work hard to feed the landlords, they would bring fine dining cuisine to our heartlanders instead.
Notice I never said "fine dining" but rather "fine dining cuisine". This is because it is still to be seen if Singaporeans will pay higher prices to eat at coffeeshops even though the food is fine dining standards. Or put another way, is fine dining just about the food or is it also about the service and the ambiance? If we can judge from the experience of Botak Jones and Astons, I would say confidently that a large segment of Singaporeans will take to this type of cuisine at coffeeshops IF the price is right. We Singaporeans are practical and more importantly we are know a good bargain when we see one.
So what is a good bargain? How about Escargot for $8 and Foie Gras (Goose, not duck liver) at $15 without GST and service charge? I think I got your attention.
This is the 2nd time I am trying Cilantro. During my first visit 1 month ago at the Old Airport Road Food Centre, they were still undecided as to whether the heartlanders will be willing to pay a little more for fine dining. So I ended up eating their "not so fine dining" standard fare. It was good but I felt that it wasn't exciting enough to be blogged, so I encouraged them to really give Singaporeans the good stuff they used to serve at their restaurant. I really believe that Foie Gras in a coffeeshop would cause some excitement, especially with the ieatishootipost makan kakis.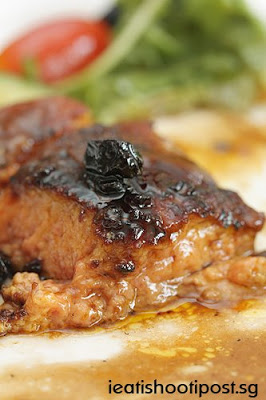 Foie Gras (Goose Liver) $15 (Special promo for ieatishootipost readers $12)
So here it is! $15 Foie Gras! And they are not cutting corners. They use Goose liver which have been marinated in Szechuan peppercorn and other spices, panfried till it is crisp outside and served with an excellent brown sauce reduction flavoured with truffle oil and topped with raisins which have been soaked in Black Vinegar and sweetened with rock suger.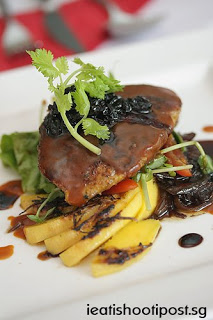 I am not kidding. This is the one of the best Foie Gras I have eaten and certainly the cheapest. The Foie Gras is super creamy and oh so umami. And the sweetened black raisins were an excellent complement for the savoury Foie Gras. For those of you who have not tried Foie Gras, this would be a great opportunity to be introduced to the dish. If you think that you would never like liver, just remember that Foie Gras does not taste anything like the liver you know. Trust me, it's the only liver I eat. 4.75/5
The escargot was surprisingly good. Everytime I had escargots before, I thought they tasted like a cross between a rubber band and salted fish. But this one was surprisingly tender and flavoured with a mild curried butter. Ok, I still don't really appreciate the taste of the escargots itself but I think as a whole they make for a tasty appetizer. 4/5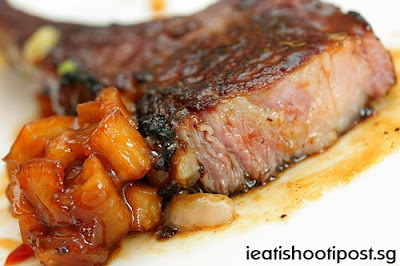 Lamb Rack $20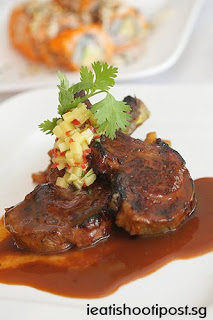 The other dish that tingled my tastebuds was the lamb rack. Lamb has a very strong flavour, so I usually like it with a sauce that is fruity and sweet. They use an excellent chilled NZ lamb rack here which has been marinated with lemon grass and other spices before grilling and served with a piquant brown sauce. Rather than causing fusion confusion, I thought the combination of Asian spices to the lamb rack was excellent. The lamb was really tender with that melt in your mouth quality about it. So good that I am still thinking about it. 4.5/5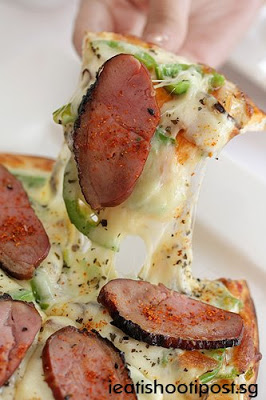 Smoked Duck Breast Pizza $6
One thing that was really good that I remember from my first visit was the Smoked Duck Breast. They actually marinate and smoke their own Duck and it is very good. The pizzas here will be great for the kids. I like the the chewy quality of the Mozarella they use here but I think the pre-baked crust needed a bit more tweaking. With the smoked duck pizza, I reckon a BBQ sauce like those served with Peking Duck would have made a better combination. 3.5/5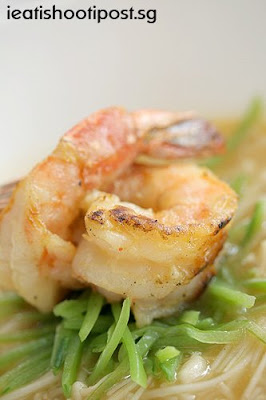 King Prawn Mee Sua
The Mee Sua was a little hard to figure out at first. I had really no reference point for this dish. It didn't come across as a Western dish with an Eastern influence or vice versa. To me it tasted a little like chicken broth with noodles.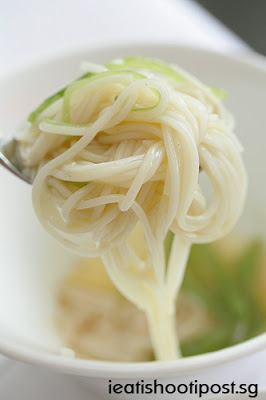 However, the one thing that I did appreciate was the Mee Sua. It wasn't powdery like the Mee Sua that I was accustomed to. Instead it had a very unique bite to it that I really grew to appreciate. It was then that I found out that they were using Japanese Mee Sua! That was a first for me and I really give it to the Japanese for being able to make Mee Sua that tasted better than all the Mee Sua that I have eaten before! If you are the sort that likes noodle soups and ramen, I think you will like this one. 4/5
Conclusion
Be a part of Singapore Culinary history and be one of the first to eat Foie Gras in a coffee shop! Whether or not Singaporeans will be willing to pay for fine dining in a coffeeshop remains to be seen. But I think that we will be seeing more fine dining in our coffeeshops in the near future.
Special Promo for ieatishootipost readers:
Go to the stall and mention the blog and pay $12 for the Foie Gras. This is the normal portion not a mini portion. But you guys Zi Dong a bit and buy some of their other stuff okay? There are limited portions of foie gras so it may be a good idea to call up first to reserve yours.
Update: 4 Sep 2008
Due to lack of supply, the Foie Gras promotion will cease on 15 Sep 2008
Update: 9 Oct 2008
They have revamped their menu, so these items are no longer available.
Disclaimer: This was an invited review.