Thanks to Spring Singapore and Nuffnang, I got the chance to hang up my stethoscope for a day and experience what it is like to be a Chef (Something I always wanted to do). With the Integrated Resorts just around the corner and Singapore positioning itself as the Centre for the Arts, I am happy to see that Spring Singapore is also trying to promote the Culinary Arts by showcasing the life of a Chef in Singapore. Just imagine if Singapore could become the regional centre for Gastronomy as well! Wouldn't that be great for Singaporean foodies? But in order for us to get there, we need creative and passionate people to make feeding other people their life's mission.
When I was approached to write this post, Aurum immediately came to mind. It was a place where I could write about "molecular gastronomy" and at the same time provide a role model for aspiring chefs by showcasing its Award Winning Team headed by Chef Edward Voon. Edward had worked his way to becoming a Chef by the age of 33 and has won enough medals to give him a neck ache. He was part of the The Singapore Culinary National Team who was crowned overall champions of the Salon Culinaire Mondial held in Basel, Switzerland in 2005. Not bad considering this prestigious competition, considered by many to be the culinary "Olympics". Imagine an island best known for its Chilli Crab and Chicken Rice beating the Europeans at their own cuisine! Now that is something every potential Singaporean chef-to-be can aspire to.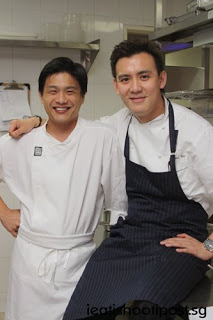 But before you start dreaming about all the glory, let me tell you first hand that a chef's life is not easy. But like everything else in life, passion and determination can overcome every obstacle. By the end of my day with Edward, I was exhausted even though he was pretty easy on me. I was expecting some sort of boot camp where I would be screamed at, and maybe scolded with some Hokkien expletives by a Singaporean version of Gordon Ramsey. But Edward turned out to be quite a nice guy and my introduction to the kitchen can be considered a "soft landing".
Aurum is the first restaurant in Singapore to experiment with "Molecular Gastronomy" a term made popular by Ferran Adria of El Bulli. With the popularity of this type of cuisine, it seemed only proper that the most wired, interconnected, High Definition TV capable, most modern this and that country with the world's tallest revolving observatory and the world's first night Grand Prix, should also have a restaurant showcasing what modern technology can do to food. Food is after all the number one thing that makes Singaporeans happy, so we must also have the most modern type of cuisine in order to be in the forefront of creating happiness.
My day started off with the all important job of cutting vegetables. I couldn't wait to apply my surgical skills onto the unsuspecting celery. Now, those of you who are familiar with French cuisine or have at least watch Ratatouille, will know that the French are very exacting in their vegetable cutting. No, this is not like your Aunty at the Hawker Centre chopping up garlic. Each cube of celery must the the same size and shape. Edward told me that this was the first step in the making of my lobster risotto dish.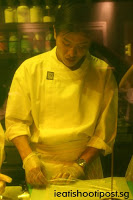 After passing my first test of being able to cut vegetables without the shedding of blood, I graduated to the more glamorous but back breaking work of wrapping wantons. Now, just so that they can charge you $10 per wanton, they have to make things a little more difficult by making wanton skin from olive oil and Parmesan cheese. This resulted in a wanton skin so delicate that it was extremely difficult to handle. I think I must have destroyed like 4 skins in order to get one right. All that work so that a diner can pop it into his mouth in one bite!
So the day went on with the laborious task of preparation without even the whiff of sizzling beef. I guess most laypersons like myself would not have realize the amount of preparation that had to be done before the fun bit can begin!
At any rate, I got to know the culinary team, each of whom were at different stages of their careers. Some of them are just starting out as Cook Grade 1, others were Chefs de partie and Sous Chefs. It may take anything from 5 to 20 years to eventually become a Chef depending on your ability. But if you are passionate about what you do and go hard at it, you could become a Chef by your early thirties like Edward. I was told that a top Chef in Singapore could earn anything from $10 – 20K which is quite decent. Like any professions, it is the cream of the crop that earn the big money, so you have to be good at what you do. But the advise from Edward to would be chefs is that you really do need to be passionate about food in order to do this job well because it is very hard work and oftentimes you don't get the recognition you deserve.
But on the other hand, passion and hard work can also fly you all round the world to taste all the wonderful exotic foods just like what Edward is doing this summer when he does a stint with Thomas Keller at the World renown French Laundry. Fly round the world eating the best food around…. now that is my dream!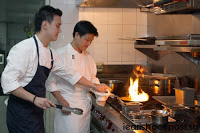 Anyway back to dinner where the fun really starts. As the diners started to roll in, the wonderful aroma of sizzing butter started to fill the air. I got to finally cook my risotto under the careful direction of Edward and even got to do some Wok Hei (Flambe if you prefer). Although the cooking really does take skill and experience to make sure you get it right, that's just the technical bit. The real challenge is what the Chef actually does by coming up with fresh ideas for new dishes. And the reward is when the patrons send word back to the kitchen that the dish was "Fantastic! Umami!". Which was exactly what happened when the foie gras hot pot was served. Imagine the smell in the kitchen with foie gras being fried in the butter and finished with "air of truffles". I knew it had to hit the umami button of some lucky diner outside!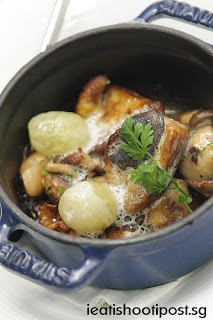 And so through each course, the chef would walk out to talk to the diners and back to the kitchen to cook the next dish, all the while pushing his team to perform at their peak. It was an adrenaline rush which left me exhausted by the end of the night. Exhausted but satisfied that at least someone out there enjoyed the wanton I made. That's just one wonton, imagine the amount of satisfaction on the part of the whole team!
So with Spring Singapore doing its bit to attract more talent into the Culinary Arts, I think we should be seeing further elevation of the Chef profession in Singapore. I don't see why Singapore can't be the Regional Centre for the Culinary Arts with a first class Culinary School like "Le Cordon Bleu" and an "El Bulli" style restaurant where our Chefs can do their research in a World Class Culinary Research Lab churning out novel dishes and techniques for transforming food. But in order to do that, we cannot always be relying on foreign talents. As with every other industry, Singapore must produce its own talents that are good enough to be in demand globally.
With events such as the World Gourmet Summit and the Singapore Food Festival, the Culinary Arts are really getting more recognition in recent years and I even read on the Singapore Chef Associations website that Michelin Guide has Singapore on its radar next. That means that we might be seeing some local "Michelin Star" Chefs soon! Now that would be an exciting development indeed. With all these things that happening, I think the future is indeed looking very bright for our aspiring Chefs.
This post was done in support of Spring Singapore's promotional drive to recruit people into the F&B Industry.