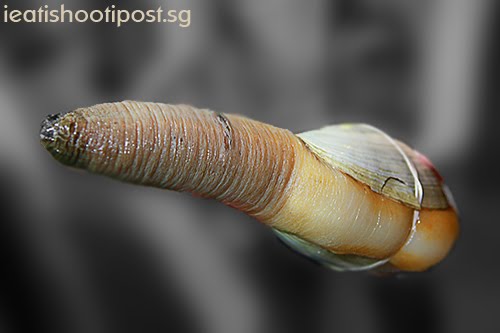 Live US Geoduck (pronounced "Gweeduck") special promo price $98 each
Chin Huat: Live Seafood: There's more to Seafood than just Sri Lankan Crabs – ieatishootipost
Geoduck is one of the most commonly mispronounced seafood in Singapore. This giant clam which is found in the waters of Canada is actually pronounced "Gweeduck" and has nothing to do with a duck. The Chinese call it a 象拔蚌, lit elephant trunk clam which I think is a more reasonable name. Predictably, with its phallic shape, many cultures around the world consider the Geoduck an aphrodisiac. Another interesting bit of trivia is that the Geoduck is one of the longest living organisms in the world and can live up to 160 years of age and grow to 2 metres in length. I guess the one we had must have been a juvenile Geoduck.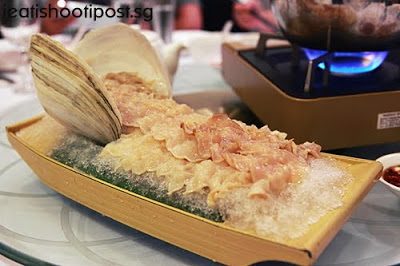 Geoduck is often served as a sashimi with wasabi and soy sauce. But for those who like their food cooked, the restaurant also provides a steamboat with a very nice herbal based broth that really brings out the natural sweetness of the Geoduck. For the uninitiated, Geoduck has a very crunchy texture, very much like eating woodear fungus but with a subtle seafood sweetness that would make you think of the cold waters of the northen Atlantic. I prefer to have mine quickly blanched in the soup. It's an excellent way to start a seafood meal. 4.25/5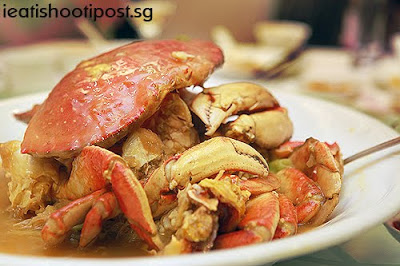 Dungeness Crab Bee Hoon
I think when you mention "crab", most Singaporeans will take it to mean Sri Lankan Mud Crabs which is probably the most popular species for our seafood table. There is of course the urban legend about why Sri Lankan crabs grow to so big. If you haven't heard about it, it goes something like this: Sri Lankan crabs are mud crabs that live in the riverbed and are basically savengers which means they eat all the rotting material at the bottom of the rivers. Now, there is the custom of throwing corpses into the river as part of the burial ritual which provide the crabs with the extra special protein that makes their claws grow to the size of your face. I think this sort of stuff is probably not true as most of our crabs would have come from a farm. But hey, I am sure it has turned some people off Sri Lankan crabs!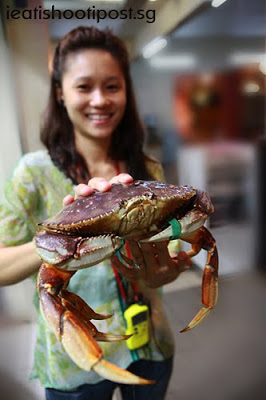 Lao Ban Niang Jr, Amy, with Dungeness Crabs $58/kg
Anyway, the crab we had that night was not the Sri Lankan Crab but the Dungeness Crab which grow in the pristine cold waters of the Northern Atlantic/Pacific Ocean. The last time I had Dungeness Crab was when I was in San Francisco and I remember them selling these ready boiled along the bay area. Because they come from the Ocean rather than the river, the taste is more delicate and sweet. If you are not careful, some mud crabs, like the Indonesian variety can taste a little muddy, which is why it is best served as Chilli or Black Pepper Crabs in order to mask the muddy flavour. With Dungeness Crabs, you get a fresh and sweet tasting crab which I personally feel should be eaten simply boiled so that you get to taste the real sweetness of the crab meat. The dish we had that night was a crab bee hoon which was also very good. With these crabs, the legs actually contain a lot of meat, but the claws are not as big as their Sri Lankan cousins and tend to be a bit dry. Overall, most of our kakis gave this dish 4.5/5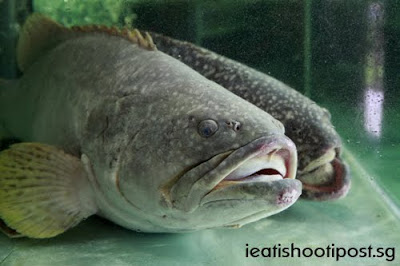 Our next dish was the braised Giant Grouper. When we walked past the tanks, we saw these massive giant groupers each the size of a pig and I wondered how they would serve the fish. I mean, the fish is live right? So logically, you would want to eat it fresh. It might be wierd but I can imagine the whole fish being steamed and served in a bathtub of soy sauce, ginger and shallots which would probably feed a whole wedding reception.
Obviously that is not going to happen.
If you want to try Giant Grouper, you really do need to eat it at a place where there is a good turnover. Over at Chin Huat, they sell two Giant Groupers over the weekend. They tell me that they have customers who like different parts of the fish. The head is so massive that one Grouper head is enough to make a few dishes! Other people like the belly and some specifically request for the tail.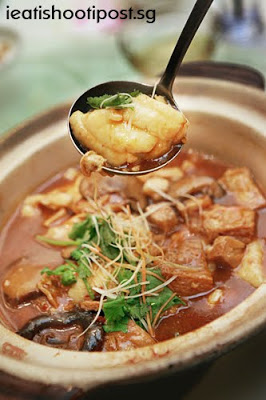 Braised Giant Grouper Fillet $30
We had Grouper fillet "Hong Sao" style where the meat was braised in a claypot with tofu, roast pork, mushrooms etc. I found the meat a bit tough and quite frankly even though the dish itself is very tasty and goes well with a bowl of rice, there really is no special reason why you need a Giant Grouper to make this dish. 3.75/5
But in all fairness, I think that this part of the Grouper is probably not the best bit. Perhaps if other parts of the fish were used, this would have been quite special. Maybe our Giant Grouper experts out there can enlighten us on which is the best part of the fish to eat?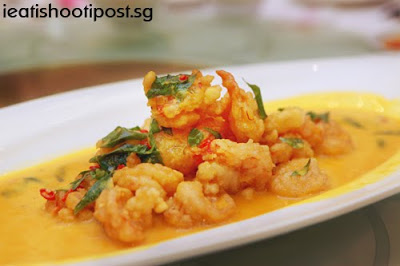 Golden Prawns $15 onwards
Although the chef was mum about what kind of flavour goes into the Golden Prawn dish, our kakis recognised it straightaway as Pumpkin Prawns. Well, most of us have already tasted the excellent Pumpkin Prawns at Siang Hee so this one was a dead giveaway. Now if you have not tasted the Pumpkin Prawns at Siang Hee, you might actually be pleasantly surprised by the Chin Huat version. But one can't help but compare. I thought the batter was a little too chewy when it should be more crispy and the gravy was a bit too watery when it could be thicker. The sauce was however excellent with the fried Man Tou. 3.75/5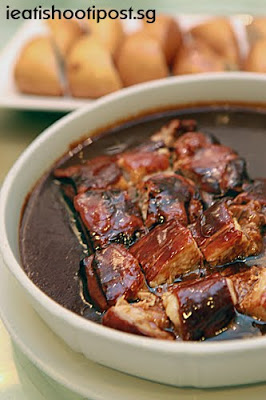 Dong Po Rou $16 onwards
We found that the servings at Chin Huat were quite generous and so by the fourth or fifth dish, we were already quite full. By the time the Dong Pou Rou (Briased Pork) hit the table, we were all quite stuffed already. The pork was impressive to look at but I found the sauce a little too sweet and it lacked that elusive "Ma Ling Braised Pork" flavour. The Man Tou were however very nice done. Not too oily and the crust was very thin. 3.5/5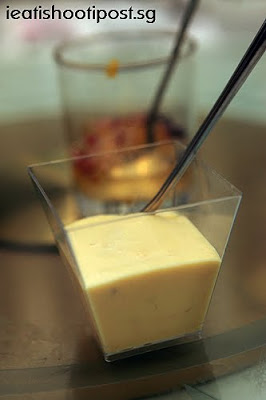 Durian Pudding $4
The Durian Pudding was a real surprise for many of the kakis. This tasted exactly like durian but the texture is nice and smooth without all the durian fibre. It was an excellent way to end the meal. 4.5/5
In case you have not heard the story, this Seafood Restaurant is currently run by a young couple who inherited the restaurant when the boss passed away under very strange circumstances. The story was reported in the news a few years ago when their father went missing for a few days. They eventually found him in an empty shophouse just a few doors away from their restaurant because their dog was seen barking frantically at the shophouse door. Since then, Amy and her husband, Jason had taken over the running of the restaurant. They recently renovated the whole place and is now a bright air conditioned restaurant with an Al Fresco area. However, they have still think of themselves as a HDB Cze Char like the old days and so the prices are not as expensive as those you find at other "live" Seafood places.
Conclusion
If like me, you have been eating just Sri Lankan Crabs then perhaps it is time to try something new. Ocean crabs like the Dungeness Crabs are very sweet and the flavour is "cleaner" than the usual Mud Crabs. I think as far as live Seafood goes, Chin Huat is pretty reasonable and Amy is a very nice host, so this is a great place to go if you are looking for your next seafood feast!
Postscript: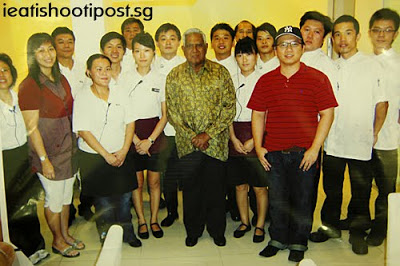 Guess who turned up for dinner the week after our visit? Now you might wonder what is the big deal about President Nathan visiting a particular restaurant. After all, he is the President, not Gordon Ramsey so what does he know about food? Well, from talking to people who know the President, he is quite a foodie and judging from the various restaurants he has dined at, I would say he really knows how to enjoy food. But more importantly, he always gets invited to dinner by his "Kah Kia" ie the ministers, perm secs etc. So naturally, they would want to make sure they bring him to somewhere good right?
To see the other President's Picks, please click here
ieatishootipost Special
Look for Amy and tell her you are an ieatishootipost reader and get a 10% discount!