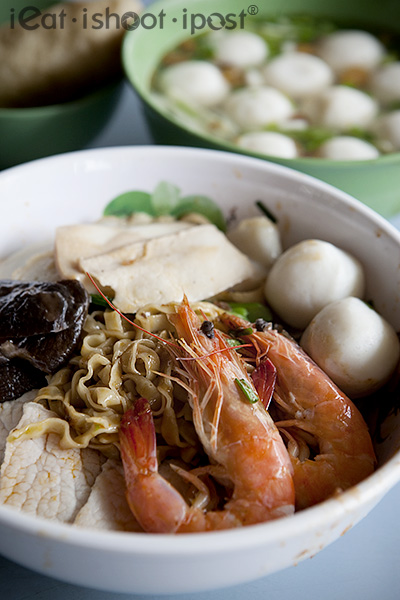 Mee Pok Tar (Special) $5, Fishball Soup extra $3
I have been blogging for 5 years now and have tasted my fair share of Mee Pok Tar. I don't know why it took me all this time to eventually try Chia Keng, but let me just say this; I have finally found a Mee Pok Tar that is one head above all the rest both in taste as well as the amount of passion going into preparing it. Now, taste might be subjective and what is superlative for me might only be great for you, so let's just consider this bowl of Mee Pok Tar based solely on objective points first.
Firstly, the man who has been selling this for the last 50 years or so is still very much making all the ingredients himself. His day starts at 2am in the morning, hand forming fishballs, then frying the pork lard and shallots, hand slicing the pork meat, cooking the mushrooms and making the fish cakes. He is quite particular about his mushrooms. With the $5 bowl, you will get one whole mushroom which is cooked to perfection. It is velverty smooth, tender and not chewy at all. The handcut pork, made from excellent quality pork loin is tender and sinew free and he would blanch small batches at a time and offer a few slices in each bowl. Even his prawns are served whole and are excellent quality prawns with a distinct sweetness about them. Then there is the sliced abalone which makes me really wonder how he can price the bowl at $5?
Next, let's talk about the sauce that goes into the bowl of noodles. Even if you don't normally take chilli, you have to have this bowl of noodles with the chilli sauce as it is packed with umami from dried prawns and fried solefish and it really is not overly spicy. He adds tomato ketchup to the mixture which gives the noodles a sweet and sour tang. Then a generous spoonful of his fried shallots and crispy pork lard mixture joins in the party. I know its sinful, but it's oh so good!
At some Mee Pok places, the noodles tend to be matted together and requires you to unravel the noodles and mix it with the sauce thouroughly. But here at Chia Keng, I can guarantee that your noodles will arrive perfectly sauced, al dente and separate. The uncle tells me that there really isn't any secret in the noodles. The secret lies in a big pot of super hot water which he keeps on an furious rolling boil. Each ball of noodles will get a first blanch, followed by cold water, then tested for firmness with his fingers before a final blanch before serving. Having done this for the last 50 years, his timing is as impeccable and so are his noodles.
Finally, most fish ball soups are made with just the water from whence the fish balls were floating in. But his soup is further sweetened with pork bones which are cooked overnight. Don't be mistaken, this soup is a clear soup as a fishball soup should be, not like those served with Bak Chor Mee, where the constant blanching of minced pork results in swirls of pork precipitates suspended in the broth from which one can contemplate the physics of Brownian motion.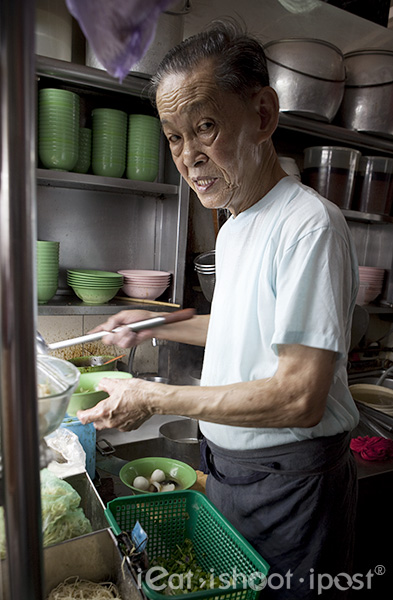 So, thus far I have only discussed what I have observed about my bowl of Mee Pok Tar. Let me now proceed to discuss how it affected me emotionally.
The ingredients are all very fresh and you can taste the care and attention given to each item. From the tender pork to the tender mushrooms they were all perfect. If there were one thing that I wasn't too happy about, it would have been that the fishballs were just a tad firm and not as soft as I would like. The noodles however were not to be overshadowed by the ingredients. I would have been happy eating the noodles with the chilli sauce alone. The spicy, savoury, sweet and tangy flavours are perfectly harmonized and the noodles carry the sauce so well that your palate filled with flavour with each bite. Just one friendly warning, you really feel a sense of dread when you see the last few strands of noodles at the bottom of the bowl, because it might be another 30 min wait if you wish to order another bowl! 4.75/5


Conclusion
I left the stall that day trying to think of another stall that can top this Mee Pok Tar experience and could come up with none. Mee Pok Tar really does not get better than this. The only bad news is that Mr Lee is 71 and only has 4 years left on his lease and has already decided to retire after that. His son, who helps him at the stall does not want to take over, so we all have only four years left to savour this bowl of Mee Pok Tar perfection.
Postscript:
In my conversation with Mr Lee, our venerable Teochew Ah Pek, I found out that Chia Keng was the name of the village where he first set up shop some 50 odd years ago. This place is located along Yio Chu Kang road opposite where the Serangoon stadium is now. Mr Lee also remembers the fried Hokkien Mee stall there which I believe refers to Chia Keng Hokkien Mee which is now at Chomp Chomp. There used to be a Royal Air Force Radio Receiving Station at Chia Keng, and one of the serviceman at that time, a New Zealander by the name of Mr David Lehrle took many photos of the base and the surrounding area in the 50's and posted them online before he died. This valuable photo archive can be found at http://www.freewebs.com/roverjag/. Our tribute to Mr Lehrle for his service to Singapore both as an RAF serviceman as well as for creating this photo archive!