With smart, iwatch_ueat and liverpool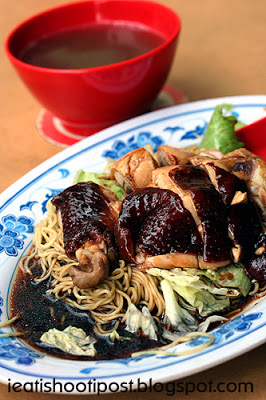 Once upon a time, there was a happy family operating a coffee shop along upper Cross Street. One sibling sold Soya Sauce Chicken Rice and the other sold Soya Sauce Chicken Noodles. One day something happened and they decided to go their separate ways. Big Sis won the tender to the original shop and stayed put. Little Bro rented a store a few shophouses down the street. So now there are 2 Soya Sauce Chicken Houses along Upper Cross Street. Hmmm, sound like a familiar kind of story?
For us foodies, the real question is which one should we patronise when we get there? Bro or Sis, Sis or Bro…. don't want to waste a good appetite and calories right? Only one way to find out and that's to try both.
We give Big Sis a go first. The Soya Sauce Chicken reminds me of what my mom used to make, ie it tastes very homecooked. The flavour is dominated by Dark Sauce and the chicken flesh was very firm to the bite almost bordering on chewy. The noodles were QQ and some makankakis actually felt that it was overly QQ (if there is there such a thing). Being such a well known establishment, my expectations were quite high. Unfortunately it did not meet up to my expectations that day. 3.75/5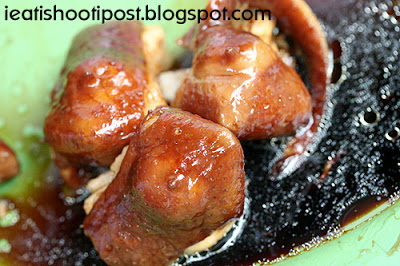 Our makanuncle, smart claims that those who really know how to eat chicken would know how to appreciate the Chicken Backside aka Bishop's Nose. (Looks more like the Bishop's Mitre Hat to me) So he got some complementary Coccyx to satisfy his desire for Chicken Bums. He seemed to enjoy it immensly.
Conclusion
It's going to upset supporters of Big Sis's Chew Kee, but it did not appeal that much to me or my fellow makankakis. Do bear in mind that taste is subjective and this stall has been around for a long time and many people do swear by this stall. So if you are a supporter please write in the comments and tell us why you like it so much!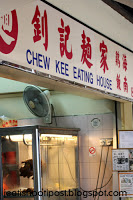 To read part 2 of this 2 parter, click HERE