With: AC Towkay & iwatch_ueat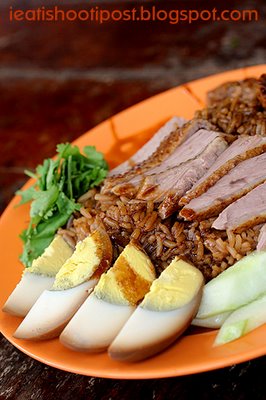 A good duck rice must have a good Lor (Gravy). As my mom would say "lose-win" is the Lor. Most of the time when I eat duck rice, I don't actually go for the duck meat as I would with chicken when I eat chicken rice. I usually go for the Tau Pok (Fried Bean Curd) and the Lor with the rice. And if they have braised peanuts, it's a bonus.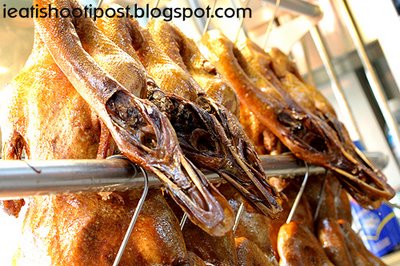 East Coast Lagoon Food Village seems hardly the place one would go for Braised Duck. To me the beach means Satay, Rojak, Hokkien Mee and Roti John. Braised Duck seems too melancholic for the beach. But hey, here was the store and there was a picture of Kim Ng and Fiona Xie eating the duck rice. Who am I to argue with the wonder twins?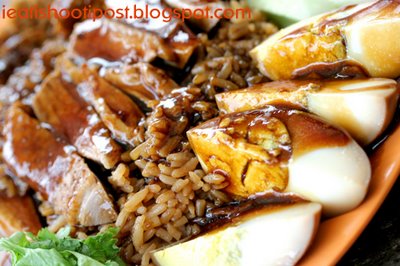 The Lor is very good and overall, I like it. Its the thick and sticky type which is a little sweet and the herbs are not overpowering. Actually, I have to admit I am not a duck rice fanatic, so this one is as good a duck rice as I ever ate. However, I don't think you'd drive all the way from Jurong to eat this, especially since they have branches elsewhere.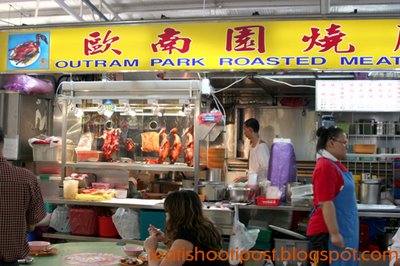 Conclusion A good duck rice, but as I already alluded to, when you come to East Coast at night, you just want to eat something that is grilled over charcoal or put on a banana leaf. Know what I mean? 4/5 Acknowledgement: Superfinefeline recommended this