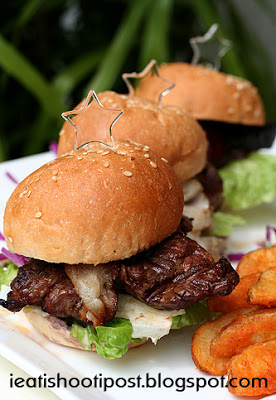 Burger Trio: $14.90
Now this is what I call a balanced meal. You have your Beef, your Pork and your Fish all on the one plate.
Cafe Oliv's Burger Trio is best for people who:
1. Can't make up their minds what to eat
2. Want their Burgers in manageable portions
3. Love to buy a dish to share with their friends
4. Prefer to taste different things rather than stuffing a hungry stomach
Three Burgers means three reviews, so here we go:
Starting with the Beef. This is 2 slices of tenderloin beef, with bacon, cheese and lettuce in a tennis ball sized bun. Though I love beef, tenderloin is not my favourite cut as it lacks a beefy flavour. But, I know lots of ladies who love it because it is tender and has less fat. Personally, I would prefer a nice thick hamburger pattie instead. 3.75/5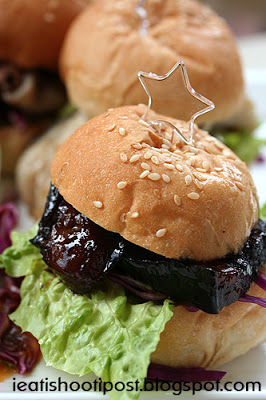 Kong Bak Burger
Next up is the Kong Bak. I actually quite like this one. The Kong Bak was braised till it is tender, well caramelised with just a hint of the five spices. The Kong Bak is much better than many of the Kong Bak from franchised Kong Bak Pau outlets. Worth spending some calories on this one. 4.25/5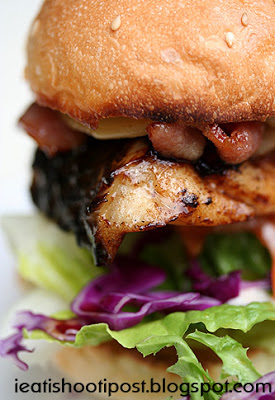 Black Cod with Shitake Mushrooms
I have left the best course for last. The Teriyaki Cod Fish with Shitake Mushrooms burger is worth the trip and I wouldn't mind having all three as Cod Fish burgers. They use Canadian Black Cod here so the flesh is oily and smooth and it was fried till there was a crust of caramel on the flesh. It was really juicy and the combination of the Shitake, Teriyaki sauce and salad really worked. Come to think of it, I wouldn't mind a full sized Cod Fish Burger! 4.5/5
Conclusion
The concept of the mini burger has been tried elsewhere but I think this is the first time that it has come in three different flavors. Personally it would have been perfect if they provided a juicy burger pattie instead of tenderloin, but I think the tenderloin would appeal to a lot of ladies out there.
Update 30 July 2012. This stall will cease operations on 12 August 2012