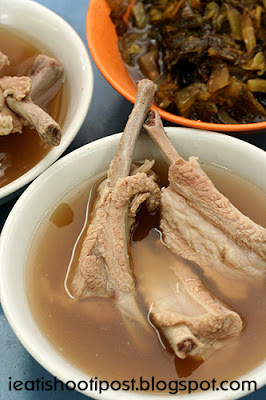 I think Bak Kut Teh really stands out amongst the hawker foods of Singapore in the amount of history and folklore that surrounds this simple dish. In my previous post I penned down Mr Frankie Gwee's version of the BKT story which invited some armchair historians to protest that BKT actually originated from the Klang Valley. Well, I think that that story came from a Wikipedia article which I think propagated several other articles.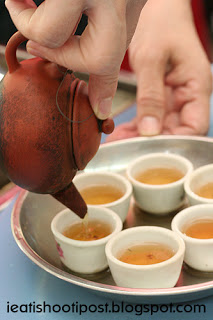 If you want to know what really happened, you just have to talk to people who have been there or at least are close to the actual events in History. Ah Peng, now in his 60's, is one such person.
He recalls how, when growing up in the 50's, Bak Kut Teh was sold primarily in two markets. One was in the Teochew enclave of Zhu Zai Chang (New Market) and the other in the Hokkien enclave of Tie Ba Sar in Beach Road. In those days the coolies came off the boats from Southern China and they had to join the Gangs (Hei Ser Hui) to be able to get work and a place to live.
I had initially thought that Bak Kut Teh in those days was food for the poor, so there must have been lots of pork bones with little meat. Not so, says Ah Peng. Bak Kut Teh then, as it is now, is a premium hawker dish. The Coolies needed energy to do their back breaking work so they needed a nutritious source of energy. What really surprised me was the fact that Coolies in those days were paid better than office workers. So they could actually pay the 70 cents for a bowl of BKT, 10 cents for the cup of tea and 10 cents for the bowl of rice. On top of that, some even splurge on a cup of rice wine after the whole meal, smacking their lips loudly as they finish the cup to show the world that they have indeed "arrived".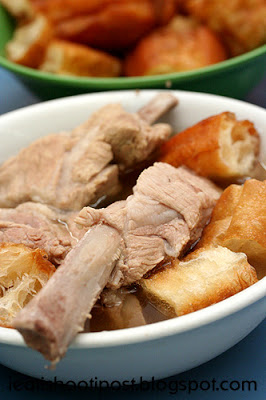 Ah Peng has been brewing BKT since 1978 and has changed location several times. Although he doesn't attract as much attention as Ng Ah Sio, he does get his fair share of celebrities. Amongst them is Chow Yuen Fatt, whom he described as a traditional Chinaman when it comes to eating. Mr Chow would have a bowl of rice firmly fixed in his left hand and would use his chopsticks to scoop the rice into his mouth, never putting the bowl of rice down until it is empty.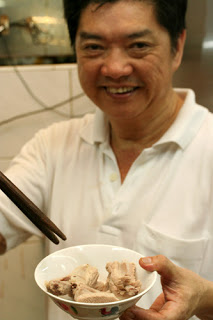 The Bak Kut Teh here is good for those who like their BKT soup less peppery. The soup is mild, sweet with only a slight hint of herbs. The pork ribs are tender and tasty as they use chilled pork instead of frozen pork. Really shiok with You Char Kway! 4.25/5
When asked about he thought of Klang style Bak Kut Teh, Ah Peng simply laughed and said that they use a lot of herbs including Tang Kuei which is traditionally used to boost women's reproductive health and to ease pre-menstrual syndrome. I had no rebuttal for that!
Another day, another Bak Kut Teh Story. I am really growing more and more confident that Bak Kut Teh is indeed part of our Singapore Story. Let's get it straight for the sake of posterity.
Update: 3 Sep 2008
Unfortunately, Ah Peng has closed the shop and am now in retirement.