This restaurant is closed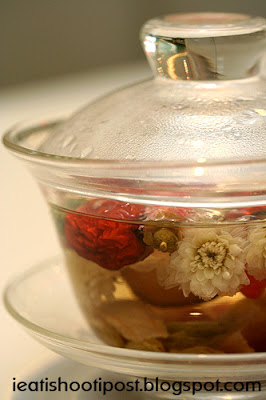 Grains 8 Treasure Tea Health Tea $5++
The words healthy and shiok seldom go together. Not in the context of Singapore Cuisine anyway. So when my friend, PowerAunty arranged for me to review this restaurant, I was expecting this blog to go under my "Healthier Stuff" label. But boy was I mistaken. I was unexpectedly delighted that the healthier stuff like the Fried Brown Rice was actually quite good, but even more delighted that they actually have a few less healthy stuff here that is quite shiok!
Guys, do you know what that means? It means that you can bring your pre-girlfriend, steady girlfriend, fiancee or wife here and they can enjoy the "healthier stuff" while you order some of the shiok shiok stuff!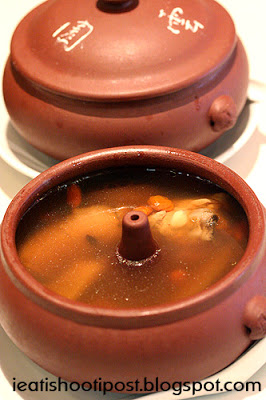 Chicken & Ginseng Clear Broth in Yunnan Steam Pot $5++
The most surprising thing about the Chicken & Ginseng Soup is that it is only $5 which is only slightly more expensive than your food court steam soup. The Broth was excellent and the Ginseng, being a stimulant, w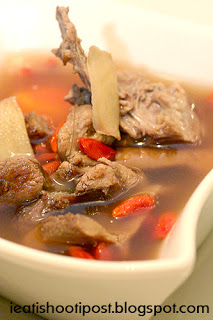 ill definitely give you a bit of pick up for a lazy afternoon. Incidentally, Ginseng can potentially raise blood pressure, so you should avoid this if you are suffer from hypertension. 4/5
I could not resist ordering the Tiger Beer Stewed Duck! (Pic right) See guys, I told you this is the place to bring your lady friends right? I never had Tiger Beer Soup before, so I just had to see what this is all about. The taste is so alien that I can't really decide if I like it or not. There is just no frame of reference. It does not taste like Tiger Beer, neither does it taste like Duck. I think this may be one of those tastes that grows on you after a while. Anyway, worth trying just so I can tell you I had it. 3.5/5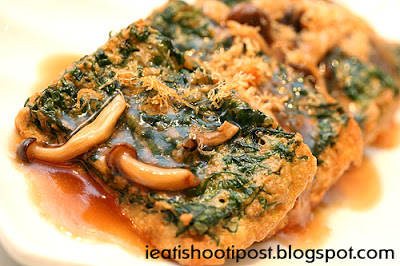 Spinach Tofu w Shimeiji Mushroom $ Dried Scallop $8++
They make their own tofu here daily from organic soy beans, so the quality and taste of this Spinach Tofu with Shimeiji Mushroom is excellent. The addition of spinach on top of the tofu gave it a bit of fibre as well as making it more attractive. The combination of the XO sauce with shredded scallop combined with the deep fried tofu skin had that extra something that resonated well with my taste buds. 4.5/5

Crispy Sea Perch $12
This has got to be my best fish discovery of the year. I am a guy who orders fish only when I feel that I need to lower my cholesterol levels. But I am raving about this one. The Sea Perch was excellent and I would go as far to say that I would trade a Sirloin Steak for it. (But not a Wagyu Ribeye!) The flesh was smooth, delicate and very tasty, very much like Black Cod but a bit lighter. For $12 you get quite a descent sized piece of fish and it is much better value for money then having the usual Cream Dory Fish and Chips at a restaurant. The reaction from everyone on the table was the typical Singaporean furrowing of the eyebrows, pursing of the lips and shaking of the head denoting "Phwa, how can something so good be so cheap?". The taste of the Sea Perch is so good, it really doesn't matter how you cook it. We also had the steamed version with Mushroom Sauce and the taste of the fish was just as distinctively delightful. Excellent and such good value that I am even bringing my in-laws here! (Joking lah! I love my in-laws) 4.75/5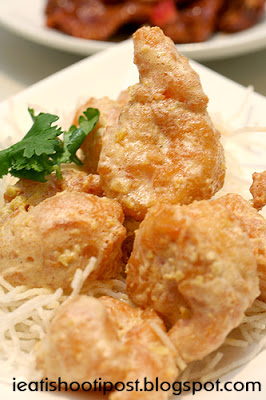 Crispy Golden Prawn with Salted Egg $12
The Crispy Golden Prawn with Salted Egg was also another of those dishes that we are going to order again when we bring our families back to eat. Don't kid yourself, there is no way this can be healthy for you, but you can just imagine just how savoury, creamed salted eggs can taste with crispy battered prawns can't you? 4/5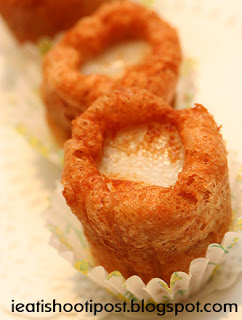 Grains is set up more like a "Kitchen" than a full fledged restaurant. Most of the tables are arranged for 4 persons though they do have a few large round tables to cater for family dinners. The good thing about this is that you get nice portions for 2 people which is excellent for a business lunch. Most of the dishes here are costs up to $12 although they do have a handful of special items like the Shark's Fin Soup which costs $30.
Most of the Dim Sum items here cost $3.50 to $4. We tried the Fresh Scallop with Mashed Yam Dumplings here which was excellent. The yam was smooth and what really delighted us was that beneath the scallop was a filling made from pork and mushrooms. It was like a Wu Kok with scallops. 4.5/5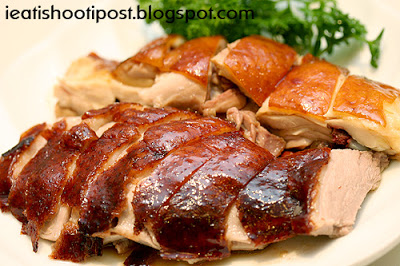 BBQ Duck and Soya Sauce Chicken Combination
The head chef here is a Hong Konger so you can expect the BBQ duck and Soy Sauce Chicken to be of a certain standard. I especially liked the soy sauce chicken here. They use Sakura Chicken which the manager, Terrence tells me is a "Chicken that is bred with a Japanese techniques in Malaysia". The flesh was succulent and tasty and it was heavenly with the ginger and shallot dip. 4.5/5
Now before I get your expectations too high, let me just say that there were two items that were really not quite up to standard that day. Both were deep fried items which were over-fried such that the meat was dry. The Pork Ribs with Champagne and Roast Chicken with Grains sauce were too dry although the sauces were great. Might be a case of oversight that day.
Conclusion
This is one of those restaurants that I walk away wanting to come back because there are certain items I want my family to try and it is easy on the wallet at the same time.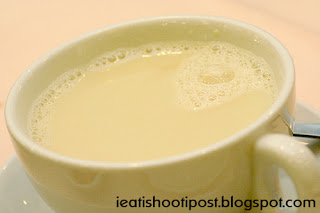 There is just one more gem that I need to let you know about and it is the Organic Soy Bean Milk. This is the best Soy Bean Milk I have tasted. It's thick and rich and its one Soy Bean drink with enough kick. Don't gulp it all down, sip it slowly and savor the rich nutty taste of the Soy Bean. If all the other Soy Milk are Long Blacks, this would be an Expresso!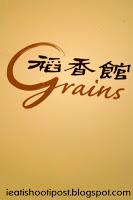 Disclosure: PowerAunty made the arrangements with the manager to review the restaurant. The food was provided free of charge.