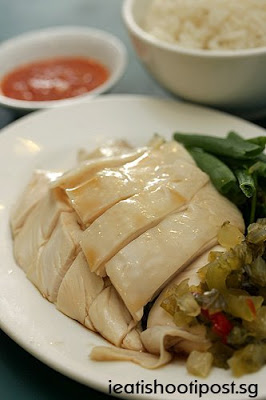 It is human nature to side with the underdog. So when it comes to chicken rice, not many people would go with the big players like Boon Tong Kee, citing that they are too commercial, lacks the personal touch etc etc.
With over 20 chicken rice stalls already blogged, this site would really not be complete without one of Singapore's largest chain of chicken rice stalls. So it was only a matter of time before I blogged BTK. I have had this chicken rice several times already before I started by blogging, but never really thought much of it. (Didn't analyse food as much then as I do nowadays) However, on the insistence of Holydrummer who swears by this chicken rice (the East Coast branch), I decided to blog it sooner rather than the later.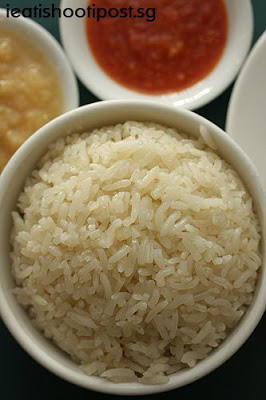 The overall experience was surprisingly good. BTK was able to put a whole chicken rice package together that resulted in satisfying chicken rice experience. From the rice to the chicken to the chilli sauce, I thought that even though not one item actually stood out, they were all competent and worked well in harmony. The several items that I really appreicated though were the pickles that come with the chicken. Though not traditional served with chicken rice, I thought they added a little bit of a zing to the whole experience and I especially enjoyed it. The other item was the minced ginger which they provided. It was also a little on the sweet side and very fragrant. One of the best ginger sauces that I have come across. 4.5/5
Conclusion
So there you have it, I am surprised that I actually enjoyed it so much. Maybe its because I usually like things a little on the sweet side and so the pickles and ginger did it for me. I am sure there are going to be lots of supporters and detractors of this chain. Whatever it may be, one thing is quite safe to say. If you have overseas visitors and want to introduce them to chicken rice, BTK is a good place to consider since you are assured of reasonably good chicken rice in a modern and clean environment. It's a "soft landing" to test their level of tolerance before bringing them to the hardcore, roadside, eat with your fingers, "D" rated type stalls.