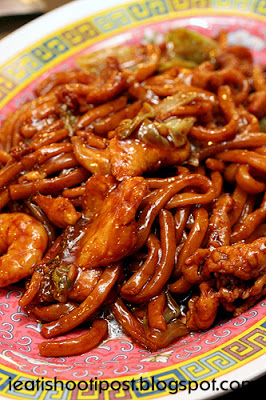 $4.80 minimum order
I have been driving past this newly opened Cze Char which occupies a whole corner coffeeshop right beside Sungei Bedok for several weeks now. I don't really know how to explain it, but the place has got a romantic kampong charm about it despite the modern decor. The problem is that everytime I drove past, the place does not seem to be "happening". So being a kiasu Singaporean and not wanting to waste any calories and money, I would drive past it to have supper at Simpang Bedok instead.
But one night I decided to avoid the bustling crowds at Simpang Bedok and decided to drop in to check out this place. I imagined that even if the food was not great, eating supper beside the canal could be quite nice.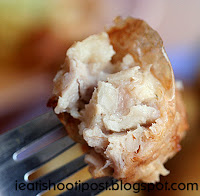 I am glad I did or else I would have missed one of the best KL Hokkien Mee that I have eaten in Singapore. If you have been reading the blog for a while, you would probably know how often I lament about not being able to eat a good KL Hokkien Mee in Singapore. Well, I must say that even if this KL Hokkien Mee cannot beat the one in KL, it certainly is a worthy substitute.
What I liked about this Hokkien Mee that sets it apart from the rest is their use of thick round Hokkien Noodles which have an excellent texture and bite to it. The shape of the Hokkien Mee enables you to really slurp it unlike the commoner thin flat variety. The sauce is gooey and shiok and, of prime importance, they have really fresh and crispy, "burst in your mouth" pork lard. Ohhhh…. my current favourite KL Hokkien Mee! 4.5/5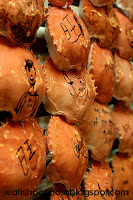 Conclusion
Great kampung ambiance and a memorable KL Hokkien Mee. I will be going back to try the rest of their Cze Char menu. Stay tuned.
Word of caution: Prices of the Hor Fun start from $4 and this KL HKM starts from $4.80. So not your regular priced Cze Char. Bit in between a regular Cze Char and a Seafood Restaurant