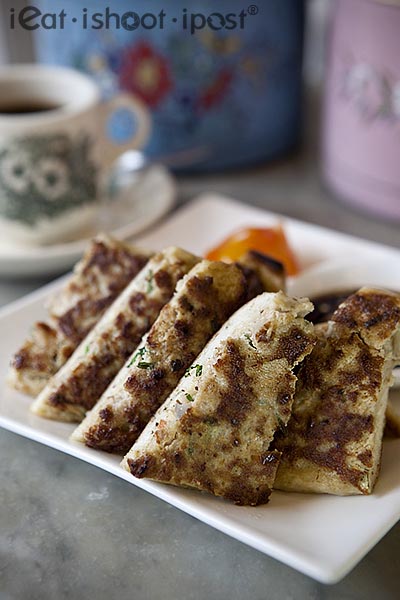 I have wanted to try Roti Babi ever since I read about it in our forum. The most famous place for this dish of bread stuffed with pork is at a Cze Char called Yut Kee in KL which is on my list of places to visit one day. So when I heard about this little eatery in Joo Chiat serving Roti Babi, I had to rush down to see just what the hooha is all about!
Roti Babi was one of those foods that resulted from the Colonization of Malaya. Said to be a dish first served by Nonyas, Roti Babi it is essentially a souped up version of the British fried bread. The Nonyas had many business dealings with the British in the old days and so adapted this dish which they must have eaten during their business meetings. Whiles the British simply fry the bread in bacon fat, the Nonya added a layer of minced pork and caramelized onions on top of the toast before deep frying the bread. It was the Hainanese who who later made it available to the masses when they opened restaurants like Yut Kee in KL or Prince Coffee House to serve the foods that they were used to prepare for the Nonyas and the British when they were working as cookboys in their households.
Betel Box, The Living Bistro, is one of those quirky little places run by enthusiasts with a personal mission. In this case, the owner, Tony Tan (Now you know why our President is officially known as President Tony Tan Keng Yam) happens to be a heritage buff who is a member of the Singapore Heritage Society. He started a little backpacker hostel atop a Karaoke Bar in Joo Chiat a few years ago charging $20 per night for a bed with breakfast. When the Bar owners got evicted, he took the opportunity to take over the premises and made it into a restaurant cum museum of sorts. His idea was to bring back some of the disappearing cuisines of our Colonial past.
Now, I haven't had the chance to eat Roti Babi before, but compared with the photos of the Roti Babi in Yut Kee, the version here is a little different. Instead of being stuffed with the pork filling and deep fried, ciabatta bread is topped with the meat and pan fried instead. (This is considered a modernized version, I guess) Served with a traditional dip of Worchestershire sauce and chopped Chilli Padi, it's actually quite an addictive snack! 4/5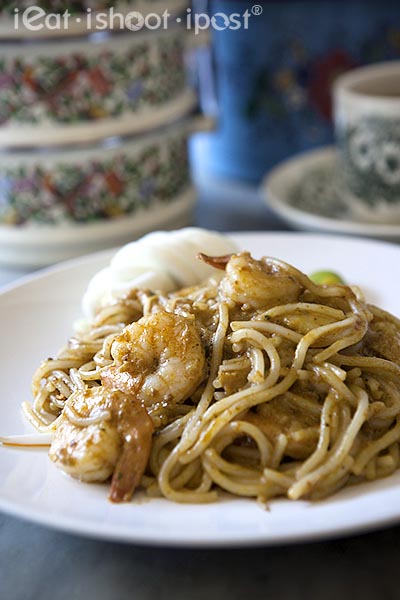 Helming the kitchen is veteran Chef, Uncle Ben who is an experienced Nonya, Eurasian Chef who used to cook at Casa Bom Vento. One of his signature dishes is the Laksa Goreng which is essentially a dried form of the familiar curry laksa. You can also think of it as a Laksa flavoured Hokkien Mee. The Kakis all liked the dish and its certainly worth a trip to try it if you enjoy Laksa. 4.25/5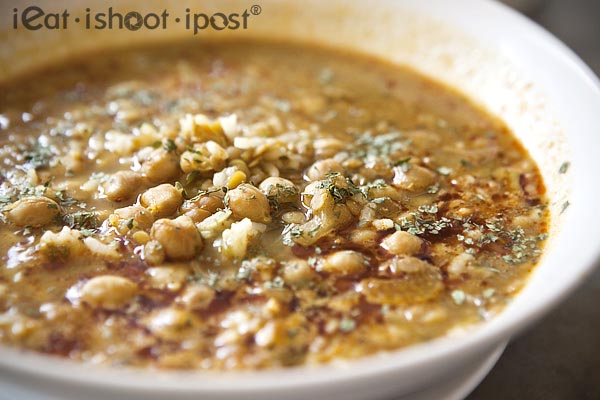 Another dish that is iconic of the British Colonial era is Mulligatawny Soup. Essentially a dish from Madras, (modern day Chennai), Mulligatawny is Tamil for pepper soup. This used to be a vegetarian dish which the Brahmins ate but eventually got modified for the British palate. Again, I am not old enough to remember the days when this dish was enjoying the limelight. I was told that some of the old British clubs like Cricket Club and Tanglin Club would still have this on their menu. So, without a gold standard to compare with, I can only tell you that it tastes like a mild, watery curry in which some chickpeas and rice has been added. Good for the experience so that you know what Mulligatawny soup is all about. 3.5/5
Conclusion
If you enjoy "Indie" restaurants with a bit of character and a bit of heritage, then this little hole-in-the-wall would be of interest to you. The food is more like a modern take on the traditional foods and it's not just British Colonial dishes, there's a mishmash of other stuff like the Nonya burger and Kong Bak Pau which we didn't try. The western dishes are pretty much your standard fare if you are looking for fish and chips and steaks.
This was a media invited review