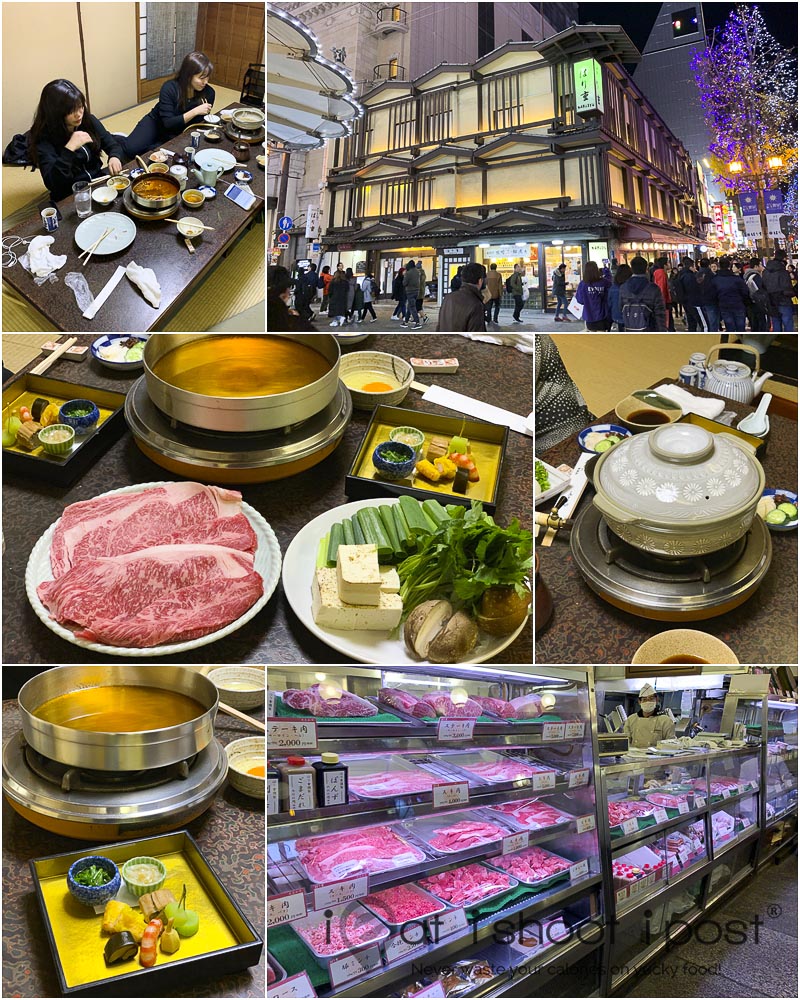 Here is a list of some of the places we visited during our family trip to Osaka and Kyoto last December.  It wasn't a dedicated food trip so I didn't get to eat all the stuff I would have wanted to, but there were a few good places that I can recommend.  For a more exhaustive list, you can consult Hungry in Osaka,  the guidebook which I used for my trip. It's written by a local colleague of mine, Dr Eka Wong, who spent months eating his way across Japan.
One of the places which he recommeded in Osaka was Harijyu which turns 100 this year.  This is one of those old school places where the food are served by ladies in kimonos and you dine on tatami mats.  The quality and amount of meat provided was very good.  Unlike a lot of other restaurants in the area which tout that they serve "Kobe" beef, this place doesn't do that.  They just give you nicely marbled beef, and enough of it for a meal.  (approx 150g) There is also a butchery on the ground floor so that you can see the types of  beef that are on sale.
The shabu shabu/sukiyaki sets starts from 7000 yen and the price increases with the amount of marbling in the beef.  We went for the 9000 yen set. The marbling was about A3 which was good enough for me.  They do have A5 beef but you have to pay quite a bit more for it.  It's a lot like Asakusa Imahan in Tokyo and definitely a place I'd go back to when I visit Osaka again.
Haryju Dotonburi
Map and info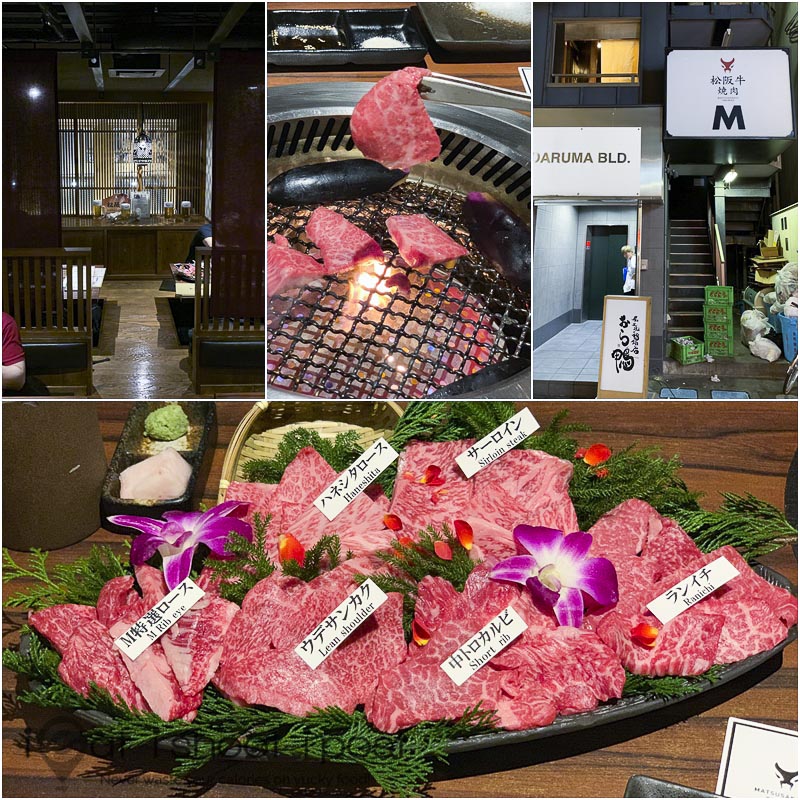 We stayed in the Dotonburi area which is where all the action is in Osaka.  Here is where you find the famous "Glico man", plenty of shopping and plenty of restaurants.  In other words, it's a tourist trap. But, if you have only a few days to spare in Osaka, this is a good place to stay.
The city of Kobe is less than an hour's train ride away, and so a lot of restaurants try to capitalize on the famous Kobe beef brand to entice tourists into their restaurants. The demand for Kobe beef is very high and the supply is limited.  So if a restaurant says it is serving Kobe beef at a ridiculously low price, there must be a catch somewhere. I didn't manage to find a place that serves authentic Kobe beef at a good price, except for the butcheries at Kuromon market where you can buy a steak and have it pan grilled and eaten on the spot. I happened to meet a fellow Singaporean at one of these stalls who recommended Matsuzakagyu, a yakiniku place that sells matsuzaka beef.  Matsuzaka beef is the other famous wagyu brand in Japan which I managed to eat in Tokyo a few years ago.
We had a nice yakiniku meal there for 25600 yen for the four pax and got about 12 slices of beef each.  The set had a good mix of marbled and lean cuts but we did have to order a few more ala carte dishes to satisfy our need for meat.  The meat was good but it didn't blow me away like my experience at Steakhouse Satou. (This place was about half the price, though) This restaurant is already quite well known amongst Singaporeans and given the price we paid, it was not bad.  However, my gut feel is that there must be some hidden gem somewhere else that would better satisfy the Singaporean credo for "cheap and good"!
Matsuzakagyu Yakiniku
Map and Info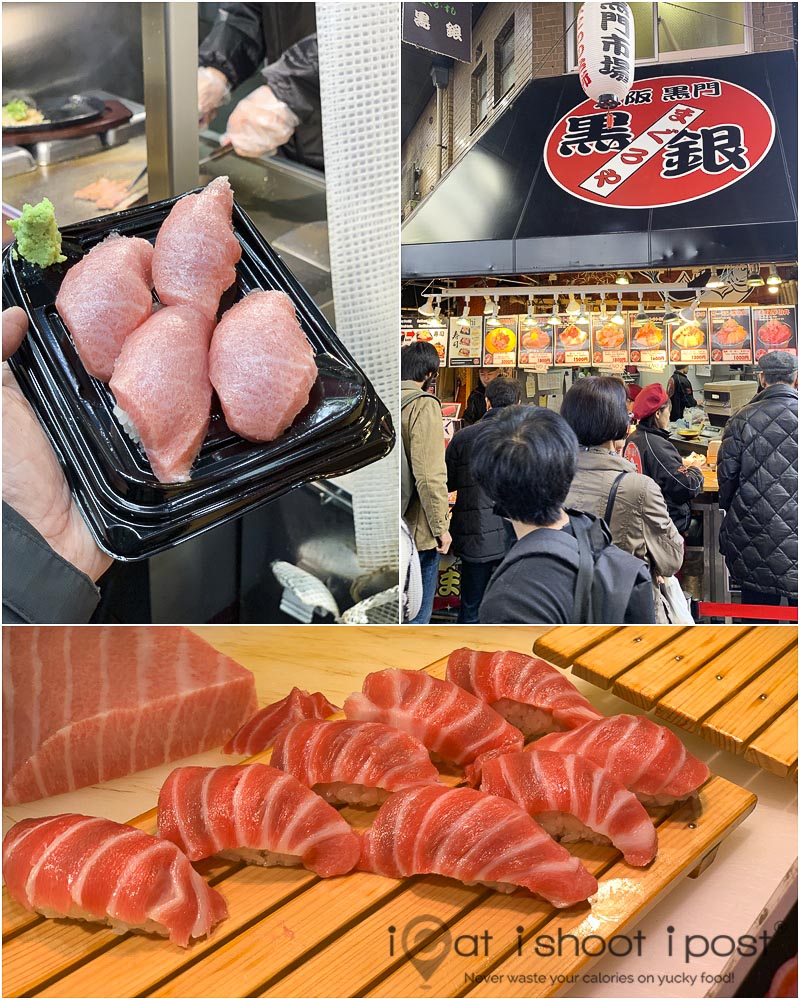 The Kuromon Ichiba market is a great place to go hunting for food and ingredients.  It isn't a wholesale fish market like Tsukiji but more like a shopping street with different stalls selling fresh produce. Here is where you can buy crabs, beef,  scallops etc and get them to grill it on the spot.  The one place which you should head to if you are looking for tuna is Kurokin.  They have a counter in front where they sell kama toro sushi which was very good.  We paid something like 3000 yen for four very generous slices of bluefin tuna that was cut from the belly portion close to the neck.  This is the part of the otoro where there are no sinews so the whole piece just melts in the mouth!
Kurogin Tuna Store
Map and  info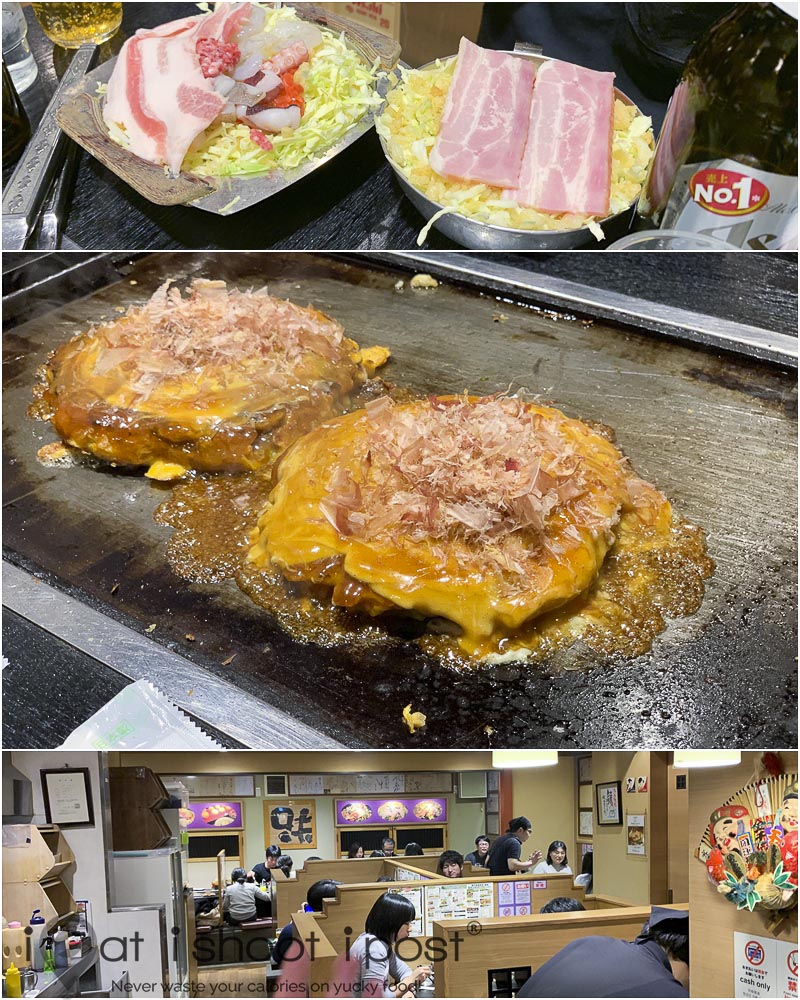 One of the dishes that defines Osaka is okonomiyaki.  We tried a few while we were in Japan and quite enjoyed the one at Ajinoya.  It is one of those places that is already quite well known amongst the locals and features frequently on lists of places to go for this dish.  I found the sauce to be quite special.  I liked it so much that I bought a bottle home!   Go during off peak periods as there is always a queue outside during meal times.
Ajinoya
Map and info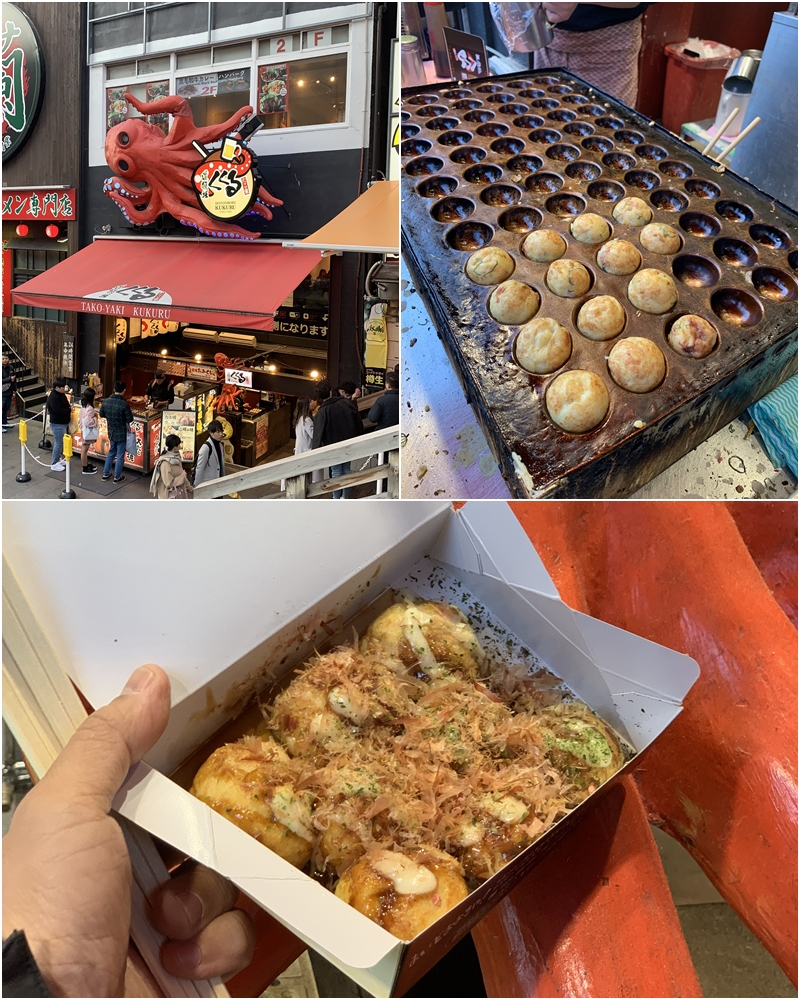 The other defining dish of Osaka is takoyaki.  These snacks can be found everywhere.  We tried these at a few stalls but quite frankly they all tasted almost the same to me.  So, I can't say I found one that I can recommend.  My guidebook recommended Kukuru but while I was there the stall next to it had a longer queue. I tried both, but I don't think I prefer one over the other.  Some of our fans were recommended Creo-Ru which I didn't get to try.
Kukuru
Map and Info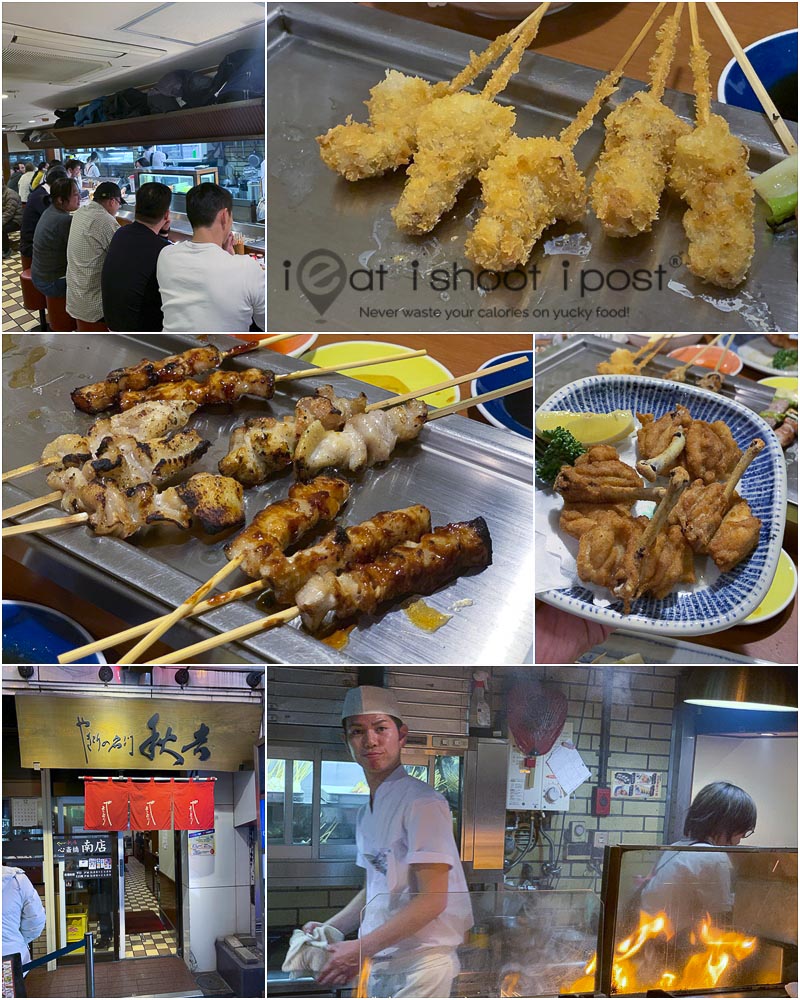 Next to Ajinoya is this place for yakitori which is pretty decent.  We were looking for a place for yakitori and found it on google maps.  The prices are reasonable and service is good.  It isn't one of those places that is so specialised that the chicken is sourced from special farms and the chef insists on grilling everything himself but more like a laid back Izakaya.  Prices are reasonable.
Yakitori no meimon Akiyoshi Shinsaibashiminami
Map and Info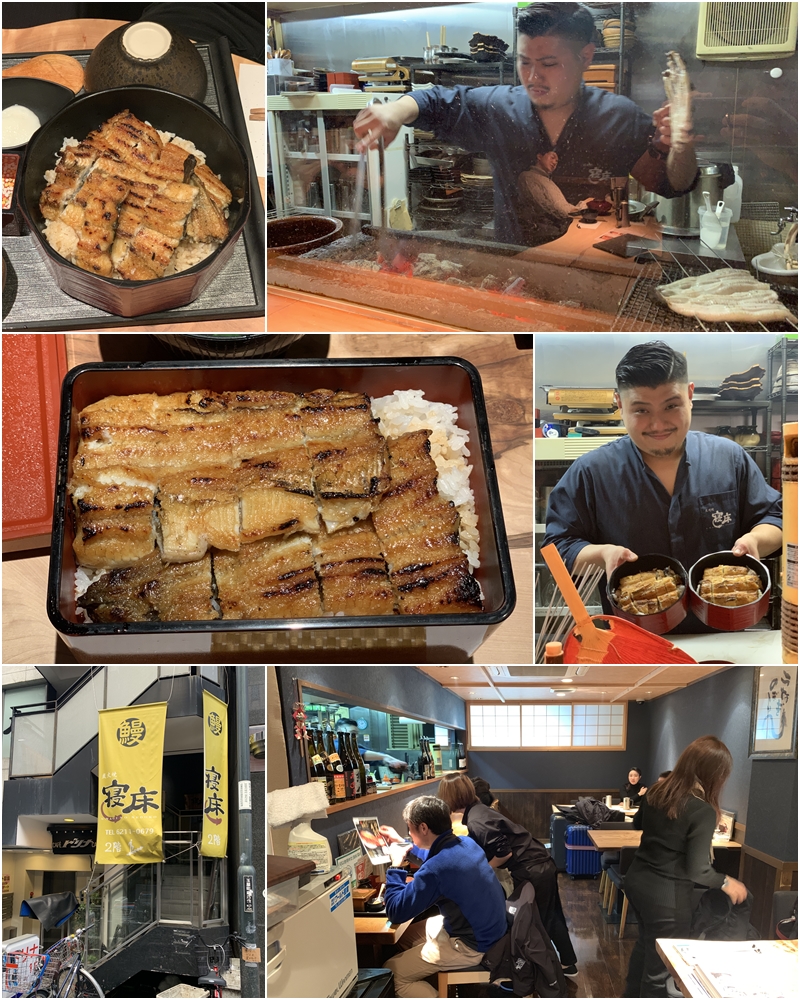 We had our best unagi meal at this place which is located about 5 mins from  Don Quixote in Dotonburi.  The eels were particularly fat especially if you go for the "special" sets which costs around $50.  To prove their freshness, the waitress brought out the live eels for us to inspect before their heads got impaled.  At dinner time, you can order a set of five skewers with eel and other vegetables like burdock root which go very well with  sake.  They open quite late, so its a good place to place for one last food stop before bed!
Sumibiyaki Unagi no Nedoko
炭火焼鰻 寝床
Map and Info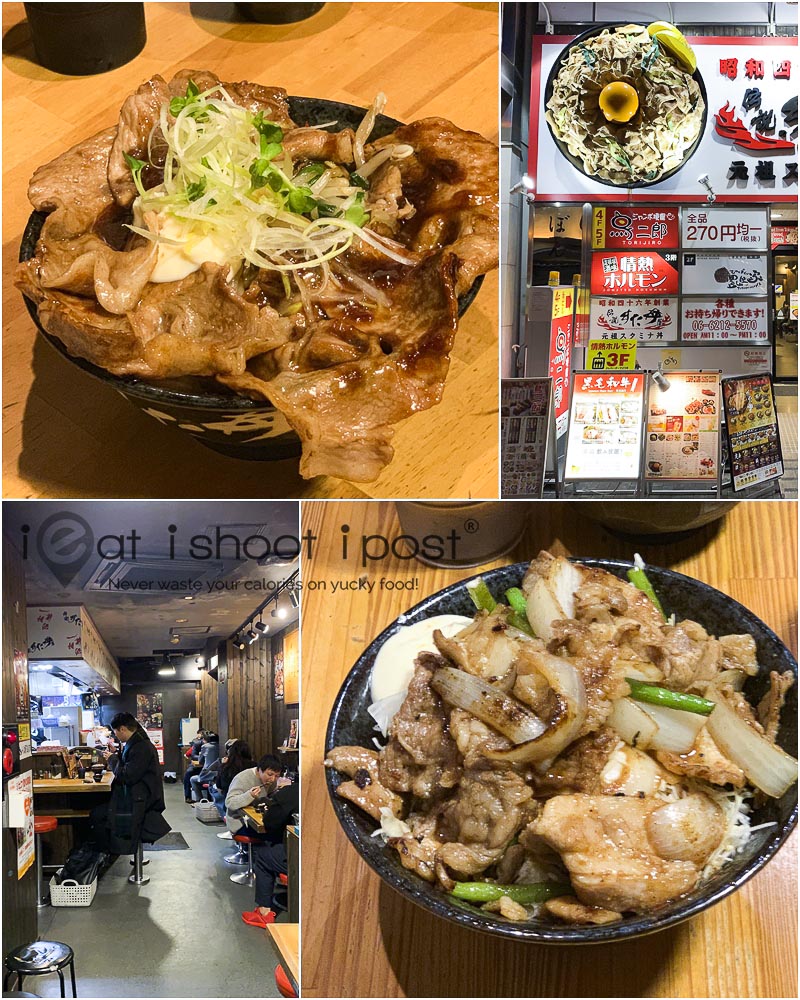 I would recommend Sutadonya for a tasty and filling meal for less than 1000 yen.  The "suta" don (The Japanese way of pronouncing "star" don) is a bowl of rice topped with pork and raw egg.  Besides pork they also have other meats like beef and innards.   They also have a HUGE sutadon for 1600 yen which can probably feed two or three people which would have made a nice instagram photo.  The stall is easy to find as there is a big 3D bowl of sutadon on its signboard.
Densetsu no Sutadonya Dotonbori
伝説のすた丼屋 道頓堀店
Map and Info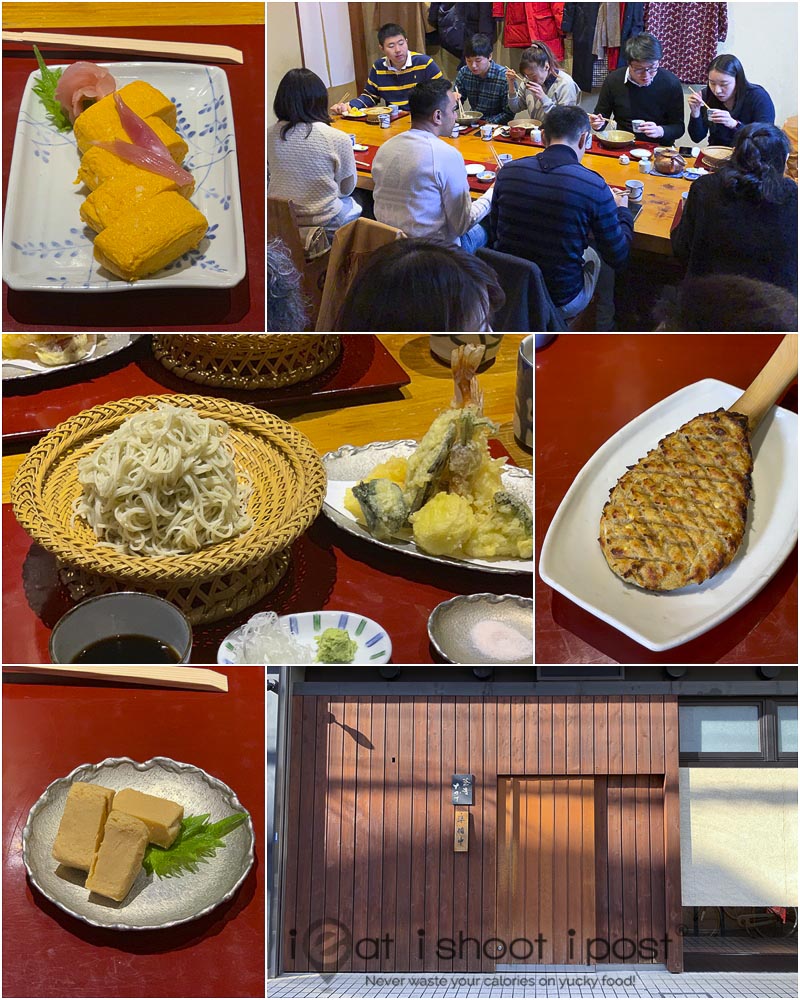 This little family run one Michelin star eatery is a definitely worth a visit if you are in Osaka.  They make their soba by hand daily at the restaurant and they are thinner than many other places I have been to.  I would recommend their tempura soba set which costs 2200 yen as well as some of their side dishes like the miso marinated tofu, pickled ayu fish and grilled miso paste. The tempura crust is thin and light and is done so well that there is hardly any oil on the absorbant paper.
The lady who runs the place is very hospitable and I was told she is even taking English lessons so that she can better serve her foreign guests.  The place is very small and essentially there is one large communal table which sits about 10 and a small room in the corner that sits 4.  The restaurant opens at 11.30am and my advise is to be kiasu and get there at least 30mins before they open.  We were first in line that day and managed to sit in the private room! Soon after we were seated, the place was packed with people sitting on a bench in the dining room waiting for a seat! If there is one place which I will definitely go back to again when I am in Osaka, this will be it.
Takama Soba
蕎麦 たかま
Map and Info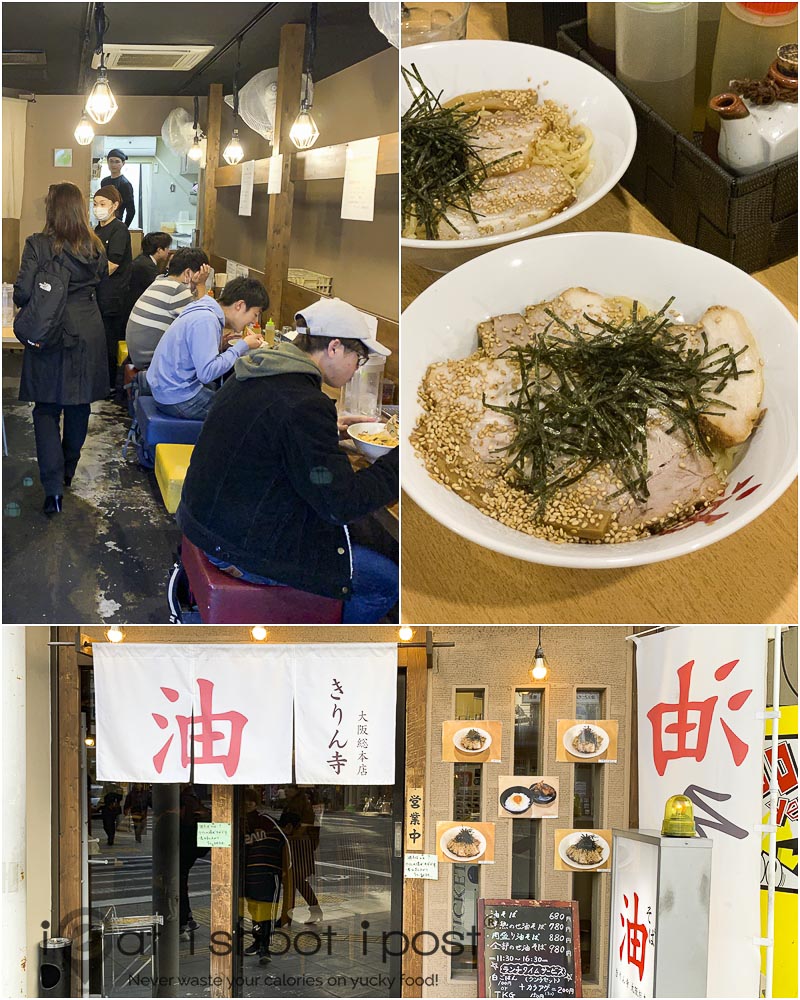 Instead of the usual soup ramen this place sells abura ramen ie oil ramen.  Essentially, it is the dry version of ramen, a bit like our gonlou meen.  The noodles are nice and chewy and the char siew and sesame seeds complement it very well.  Not mindblowing, but enjoyable.
Kirinji Osaka Sohonten
きりん寺 大阪総本店
Map and Info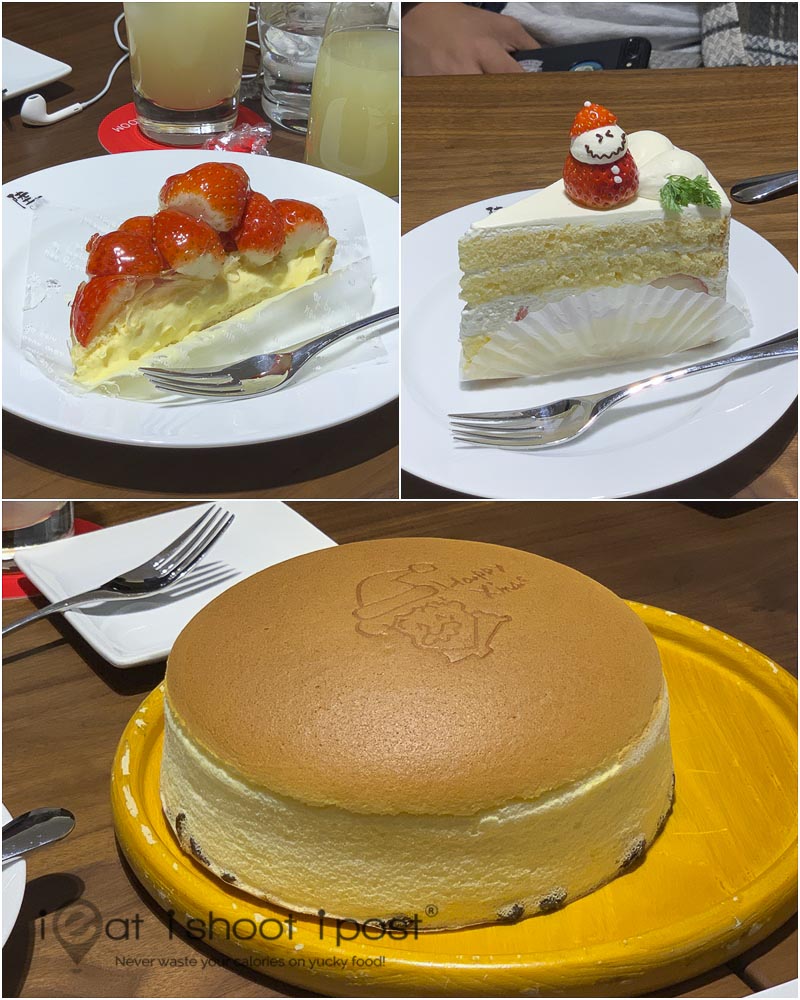 You probably have eaten these Japanese souffle cheesecakes in Singapore before but the big difference when you eat these in Japan is that they serve you the whole cake piping hot from the oven!  Almost every table has one of these cakes and there was even one guy who finished one whole cake by himself!  Definitely a cafe you should add to your itinerary!
Mental note to myself:
Next time I bake my Japanese souffle cheesecake, I am going to serve it straight out of the oven!
Rikuro-ojisan no cafe
Map and Info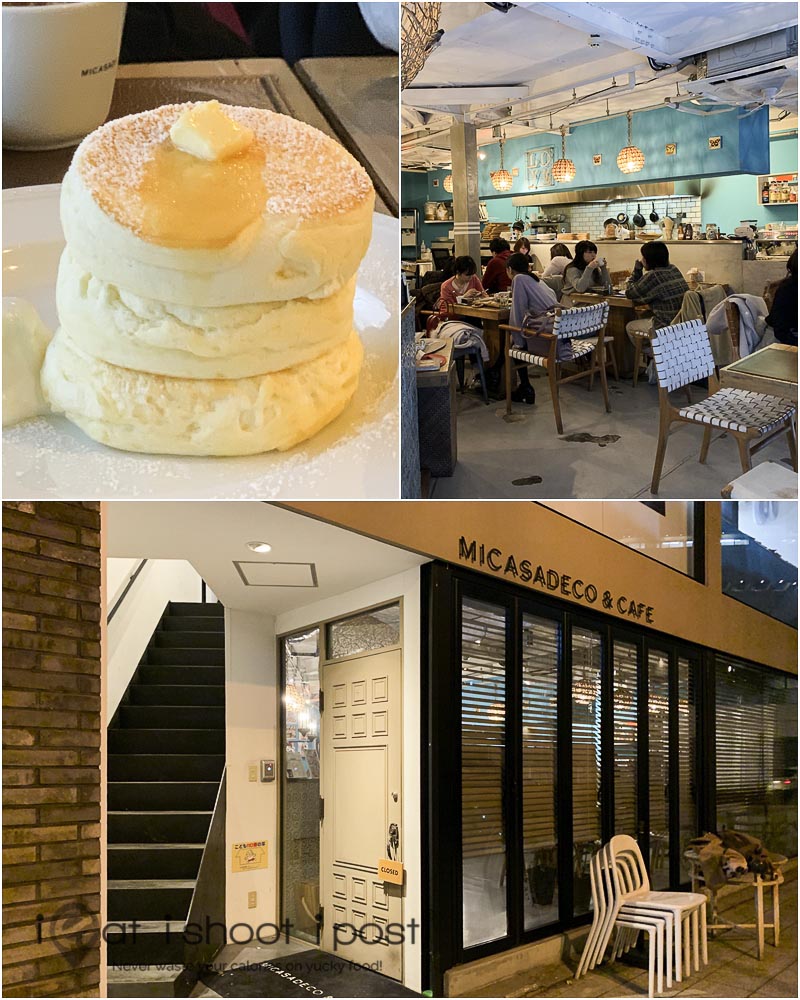 Another cafe worth visiting is this place which specializes in souffle ricotta pancakes.  They are really light and fluffy.  The day before, we tried those from ELK, but between the two this one is lighter and fluffier. Do note that they close by 5pm.
Micasadeco&Cafe
Map and Info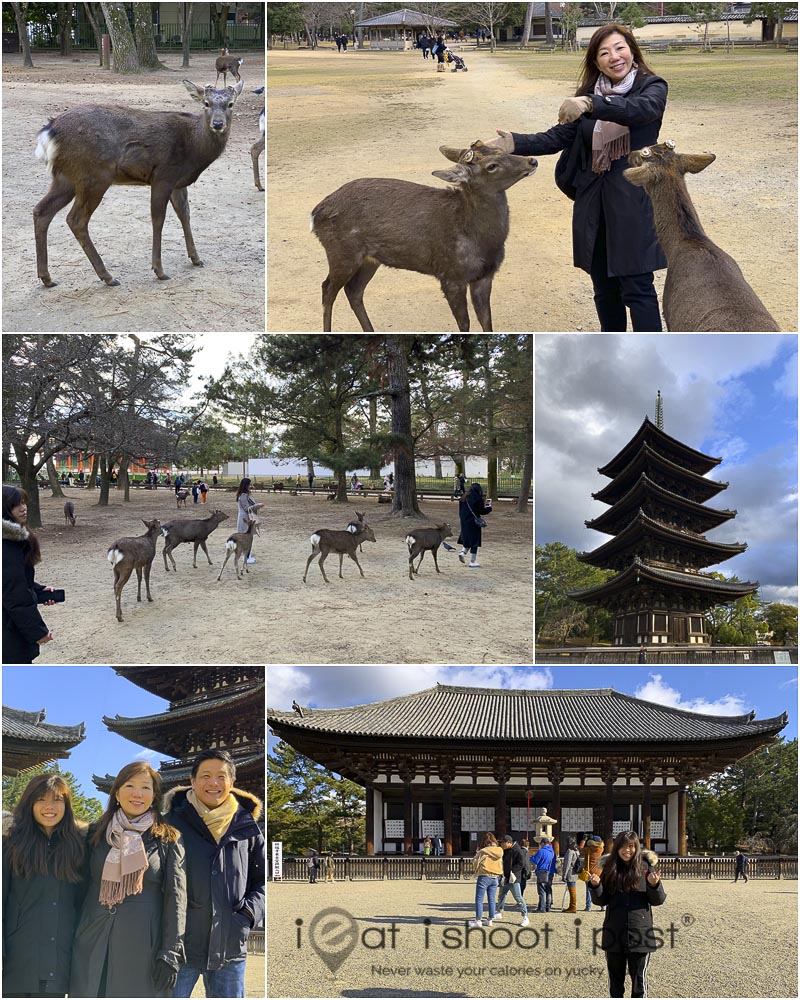 Nara Park is well worth a visit if you have an extra day in Osaka.  It is an hour by train from Dotonburi and the highlight there are the free roaming deers which you can feed with wafers that are on sale at the park.  We didn't actually have it on our itinerary but we are glad we had an extra day to make the trip there!
Nara Park
Map and Info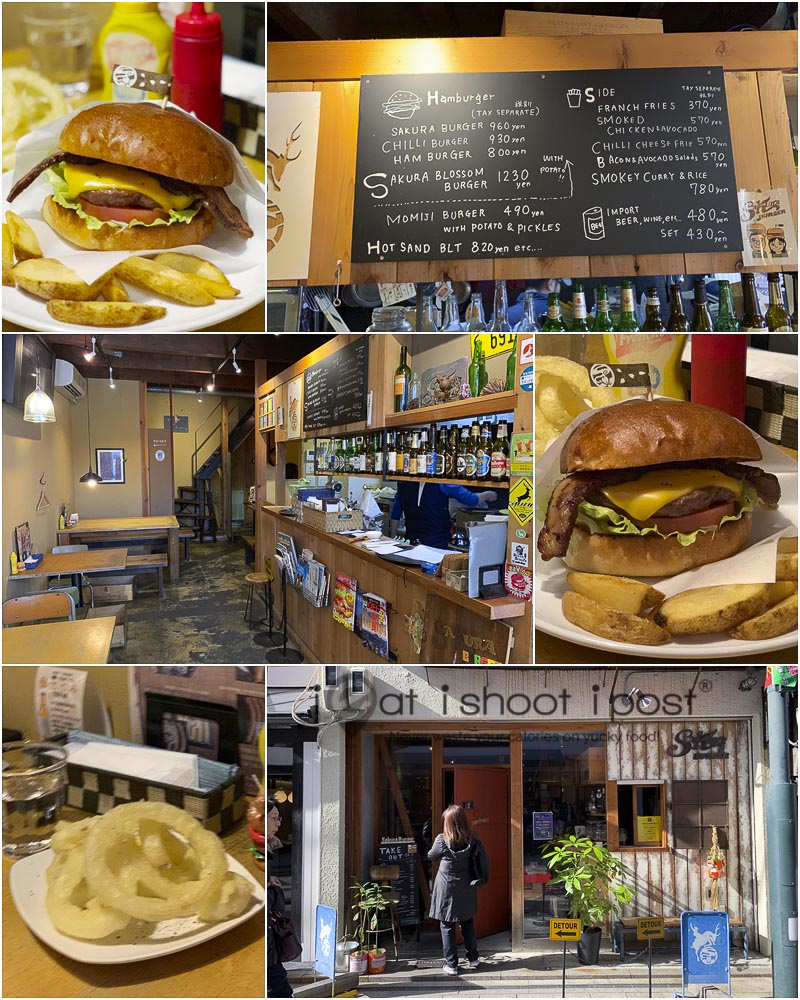 After a week of Japanese food, the kids were ecstatic when I suggested we have burgers for lunch when we got to Nara.  This little burger joint makes pretty decent burgers.  They cure their own bacon and make their own tomato sauce.  The burger patties are made from Austrlian beef and the chef would smoke them over binchotan (Oakwood charcoal) before searing them on a hot plate to give it a nice crust.  The pattie was nice and smokey but a tad small for the large bun.  Worth trying if you are after some decent burgers.
Sakura Burger
Map and Info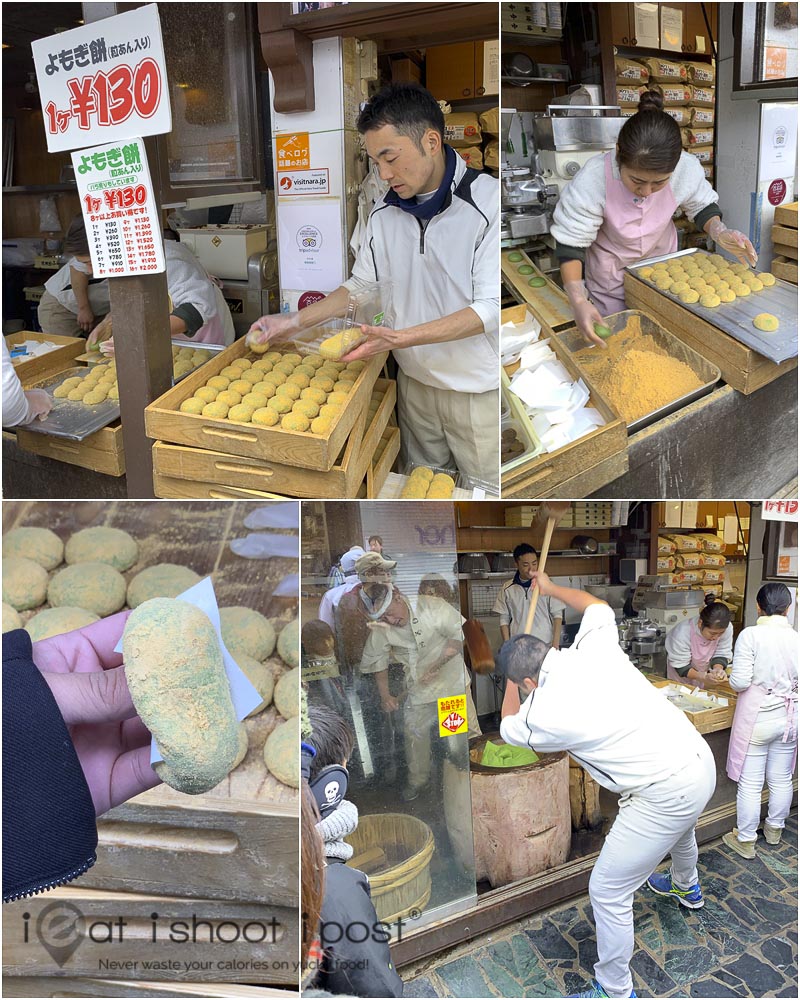 This place that makes mochi is quite an internet sensation and you might have come across their video at some time.   They do demos every 15 mins or so and there is always a crowd gathered outside the stall to see the mochi men pounding and slapping the mochi into submission at breakneck speed.  The mochi is very good too!
Nakatanidou Mochi
中谷堂
Map and Info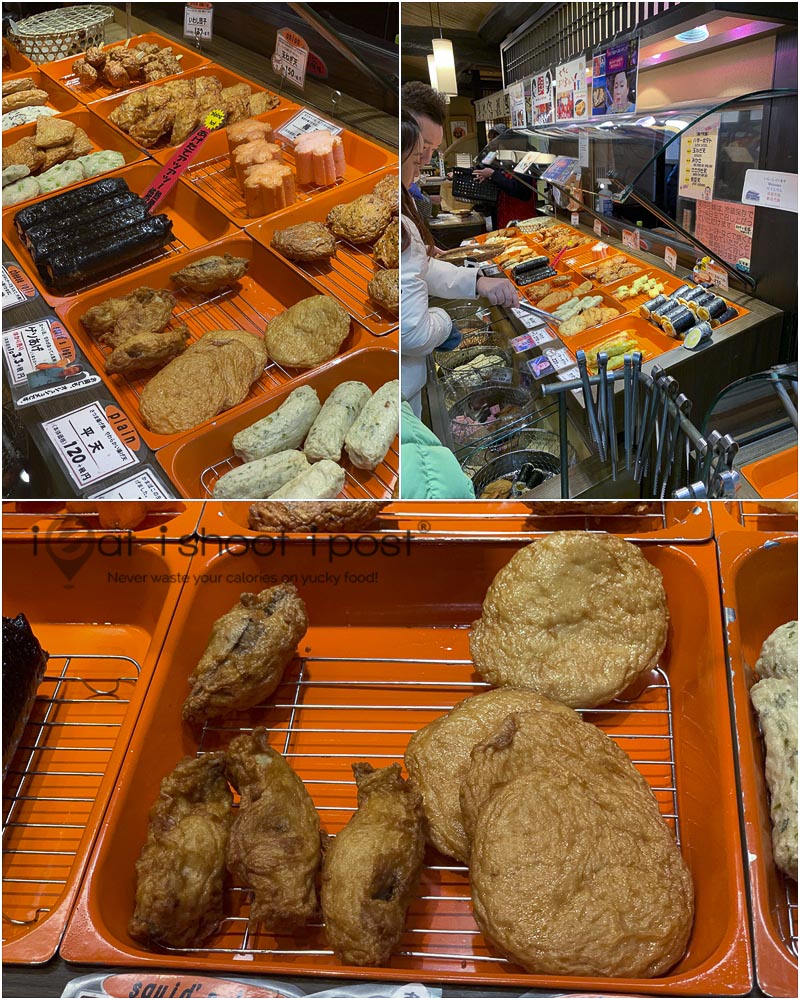 Just a short walk from Nakatanidou is this shop which makes fish cakes on the premises.  I always have a soft spot for these snacks and I had to stop to buy some.  Worth getting a few try.
Satsuma shop
【さつま揚げ】 ㈲ 魚万商店 もちいどの本店
Map and Info