With ieatjr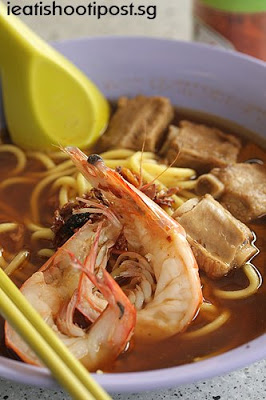 This is reportedly the most successful hawker in Singapore with monthly sales of $139,200 or at least that is what Mr Lee declared in last year's newspaper report. So what is it that makes a hawker so successful? Your first response might be that the food must be out of this world. But in my experience that is not always the case. Other factors like location, ease of parking, service and price also have a big part to play.
The prawn noodle here is of course of a certain standard or else they wouldn't be as successful as they are. However, if you compare their taste with that of the stalls which also originated from the patriach, Mr Lee, viz Jalan Sultan and Joo Chiat Prawn Noodle, you would agree with me that the taste of the soup is quite similar. So the fact that this particular stall is doing so much better than the other two begs the question, why?
I haven't been back here for almost a year I think and I have to admit that my latest visit left much to be desired. Firstly the price of a bowl of Prawn noodle has gone up. The smallest bowl now is $5.50. And for that price you are only getting one measly little prawn (split in half) and some pork ribs. The soup was still ok, though not as shiok as I remembered. Both Amagada and I have eaten here quite a few times and this latest visit was the most disappointing. 3.75/5 Hopefully this is a once off and they are not letting their success affect their standards.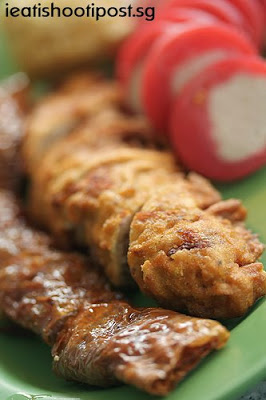 Ngor Hiang seems to always go hand in hand with prawn noodles. This stall is located within the same restaurant and is operated by another relative. Most of the items are still handmade and some of the items like yam fritters and the lup cheong are quite good. The pork Ngoh Hiang was quite average though. This stall doesn't really need to be outstanding to do well since they just ride on the success of the prawn noodle. 4/5
Conclusion
Probably the most famous prawn noodle around but quite disappointed that the quality seems to have faltered. With the price increase, they are also one of the most expensive around now but that doesn't seem to have affected their business much. As I alluded to earlier, there are several factors involved in the success of any eatery and taste is but one of those factors.