Once in a while I find myself doubting my own tastebuds. This happens when I visit a stall that is highly recommended by many people but come away feeling that I must have gone on a day when the chef has decided to take the day off.
I have waitied for a very long time to eat at Ban Leong Wah Hoe Seafood. I have been warned that this place can get so crowded that you have to wait for a while before being able to get a seat. This place is also very highly recommended by our facebook fans and word has it that their Har Cheong Gai (prawn paste chicken) is one of the best around.
So, I guess I must have come to the restaurant expecting the best Har Cheong Gai only to find myself wondering what the fuss was all about. The Har Cheong Gai wasn't bad, it just wasn't the best ever Har Cheong Gai I have tasted. The batter was thick and slightly chewy rather than brittle and super crisp and the Prawn Paste flavour did not seem to have seeped into the meat. 4/5
The mee sua was good but again not mindblowing. I guess we don't get to eat mee sua very often and I always associate mee sua with grannies without teeth. You know the kind of mee sua soup where the mee sua has been boiled till it is like baby food. So eating fried mee sua is a bit of a novelty, especially when it comes with deep fried quail eggs. Tastes a bit like fried Hong Kong Mee, except I think I had tastier Hong Kong Mee before, so I felt the Mee Sua could be better since almost every table at the restaurant ordered a plate of it. 4/5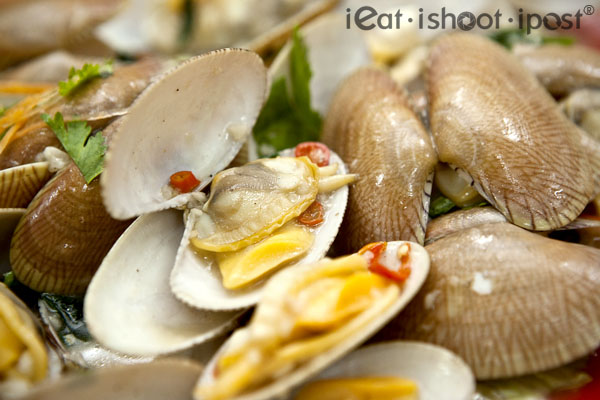 La La $10
After the first two dishes I decided that I should give them another chance, so I walked around and saw lots of people ordering their La La, so I decided to go for it as well. Ok, this is getting a little repetitive but again it wasn't something you would drive all the way to Upper Thomson to eat, know what I mean? The La La seem to lack a level of sweetness and the sauce lacked the oommmph I was looking for. 4/5
Conclusion
This stall has many fans and you probably have to try it yourself to see if you agree with them. But as for me, it is not somewhere I would bring overseas friends to to show off Cze Char cuisine. However, I did not try their chilli crab and pepper crabs that night which seems to be quite popular amongst their patrons. So are you a fan of Ban Leong Wah, let me know what I missed!