If I mention the words "Chicken Pie" to you, what image would you have in your mind? I think for guys in my generation, they might just imagine the round domed pies which we used to be able to get in most bakeries thirty years ago. Nowadays, chicken pies come in all sorts of shapes and sizes, so Gen Yers might not even know of these iconic ones. Yes, to me, this is THE Chicken Pie and I have been looking around for it for the longest time.
So when I found out about Balmoral Bakery, I just had to go get my Chicken Pie fix. Balmoral Bakery was previously located in Holland Village before they relocated to Sunset Way. They are basically still selling the same stuff that they have been selling for the last 40 years. There was a time when pastries in Singapore were an interpretation of what you can get overseas, unlike nowadays where globalization means that we actually get the real deal. So we are talking about cakes using butter cream instead of fresh cream and custard puffs that are filled with custard that has hardly any cream or eggs in it. For me, these are comfort food which I grew up eating. Of course I welcome the fresh cream cakes and the luscious cream puffs filled with fresh cream and laced with real vanilla seeds, but these classic favourites are great in their own right.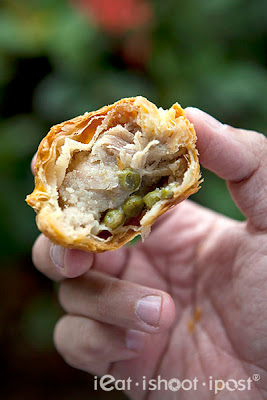 A bite into the chicken pie and I felt as if I was transported back to a time when I was still wearing blue shorts and a white shirt, walking around Toa Payoh Central with my school bag. Those were the days when school bags were small red and black checkered luggage bags rather than the ubiquitous haversacks nowadays. I still remember these chicken pies being sold in a small warmer placed on top of the cold display shelves for the cakes. The taste of the pies are pretty much what I remember, except that I thought they used to be bigger. (Perhaps my hands were just smaller then). The lady boss there assures me that they have been using the same molds for the chicken pies since 1965 and even the baker is still the same one as well. The filling is just as I remembered, mushed up potatoes, carrots and peas and that tasty chunky chicken pieces, all packed into a buttery puff pastry. Yumm! 4.5/5 (Okay it was probably 4.25 for taste and another .25 for nostalgia)
The surprising item that day were actually the samosas. These are probably the tastiest ones that I have eaten in recent memory. The filling has a savoury taste which I can't put my finger on which is very addictive. It has a little curry in it but not too spicy. The only drawback is that if you don't get them fresh out of the fryer, the skin tends to get chewy. Other than that, these are a must try item! 4.5/5
They have both Chicken and Beef Curry Puffs here. I tried only the Beef Curry Puff that day but it was not what I had hoped for. The beef filling was a mushy paste which lacked that beefy flavour and texture of minced beef. 3.5/5
The other signature item at the bakery is the Custard Puffs. Technically, custard is supposed to be a cooked milk and egg mixture. But you also have custard that is made from custard powder and in fact nowadays, you can even find instant custard mix made from carrageenan that doesn't even require any heat to thicken. Just add water and stir to get custard! These custard puffs are designed for our tropical weather and can be left on the table without refrigeration for hours unlike the fresh custard variety. They are the ones that we all grew up with. Yes the vanilla is artificial but it is still no less tasty, combined with the excellent choux pastry which is tender and moist, this old school custard puffs are a real afternoon tea treat. 4.25/5
Conclusion
We are spoilt for choice when it comes to pastries nowadays and the latest, greatest ones from Japan and Europe are of course of better quality and finer workmanship. But there is still a place for bakeries like Balmoral. They serve to remind us that what we used to find tasty is still tasty even though it has gone out of fashion. Who knows, there may come a time when butter cream cakes would become fashionable again!