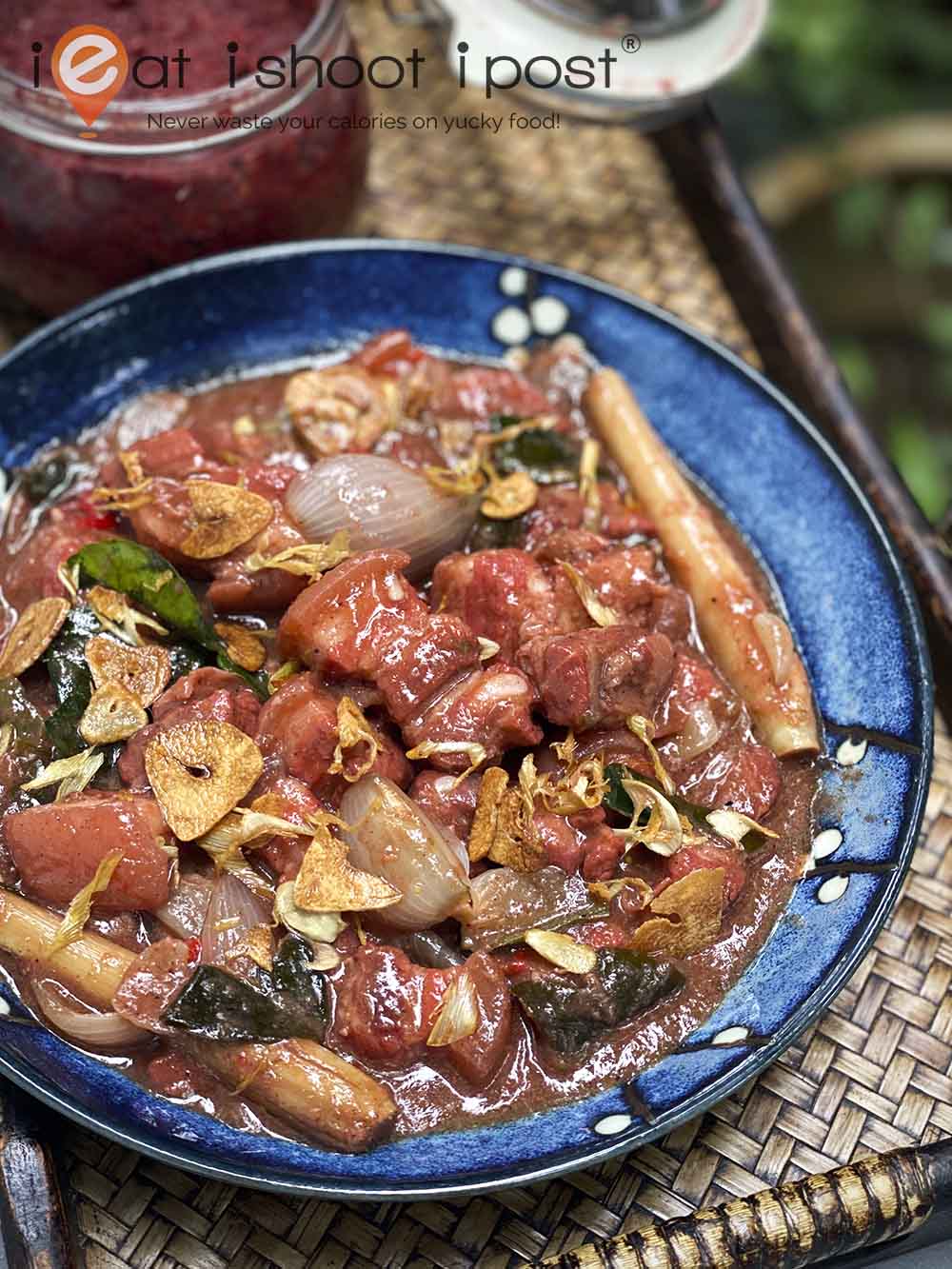 Babi Tohay is one Nonya dish you don't often see at the restaurants. I first tasted it at Peramakan many years ago and then most recently at Mama Jac's Kitchenette. It's one of the most moreish pork belly dishes ever and every time I eat it, I am left wondering why it isn't more readily available?
It's a seasonal dish which is made with fresh krill which used to be more readily available.  My wife Lisa still remembers going with her dad to the East Coast to buy them off the fishing boats! Because they are highly perishable, they need to be preserved by salting.  In Hong Kong, they are
salted and made into shrimp paste
 which we use here to make
har cheong gai
.
The Peranakans preserve the krill aka
gerago
by adding red yeast rice, white rice and salt.  The
tohay
paste is left anywhere from 5 days to three months depending on whose recipe you are following! This recipe is adapted from Lloyd Matthew Tan's book,
Daily Nonya Dishes
. It isn't actually difficult to cook.  The challenge is only in the procurement of the krill and making the
tohay
paste.In case you are unable to find fresh krill, you may use bottled 
cinchalok
as a substitute. This is essentially krill which has been fermented with rice.This dish is so delicious and unique that it would be a shame if it disappeared from our tables!  So do give it try and join the
Babi Tohay
appreciation club!
Tohay Paste Ingredients Fresh Krill (udang gerago) 200g Salt 25g Raw rice 90g Red Yeast Rice 15g Brandy 1 Tbsp Method 1.  Wash Krill and drain excess water 2.  Wash rice and leave to sun dry 3.  Wash red yeast rice and leave to sun dry 4.  Pan toast rice till light brown in color and grind to powder 5.  Pan toast the red yeast rice for 1 min and grind to powder 6.  Add salt to krill and grind to paste. 7.  Mix krill, raw rice, red yeast rice and brandy together 8.  Place tohay  paste in a glass jar and leave in a cool dark place for 5 days. Babi Tohay Ingredients Pork belly 1 kg Lemongrass 8 + 2 stalks Garlic 6 + 2 cloves Red Chillies 8 Green Chillies 8 Red Onions (medium) 8 Kaffir Lime Leaves 20 (tear leaves from stem) Tohay paste 8 Tbsp Brandy 2 Tbsp Pork stock 500ml (or water) Method 1.  Dice pork belly into 1 x 0.5 inch pieces and season with 1 Tbsp white pepper. Leave for 30mins then wash and drain excess water 2.  Slice 2 lemongrass and 2 cloves of garlic thinly. 3.  Bruise the rest of the lemon grass (bottom part) 4.  Slice the rest of the garlic 5.  Cut red onions into quarters 6.  Deseed red and green chillies and slice into inch pieces 7.  Heat 4 Tbsp oil and gently fry garlic slices till golden brown.  Set aside as garnish 8.  Gently fry thinly sliced lemongrass till golden brown and set aside as garnish 9.  Add bruised lemongrass to oil and pan fry till fragrant. 10.  Add garlic and fry till slightly brown. 11.  Add tohay paste to pan.  Add brandy and stir fry.  Then mix in lemongrass and garlic. 12.  Add pork to tohay paste and mix to coat pork with paste. 13.  Add pork stock, kaffir lime leaves and bring to simmer and cook for 45mins 14.  In a separate pan, saute red onions till slightly wilted. Set aside 15.  Saute red and green chillies till slightly charred.  Set aside 16.  Add half the red onions and chillies and cook for another 30mins 17.  Add the rest of the red onions and chillies and simmer for a further 10mins. 18.  Garnish with garlic Recipe Steps in Photos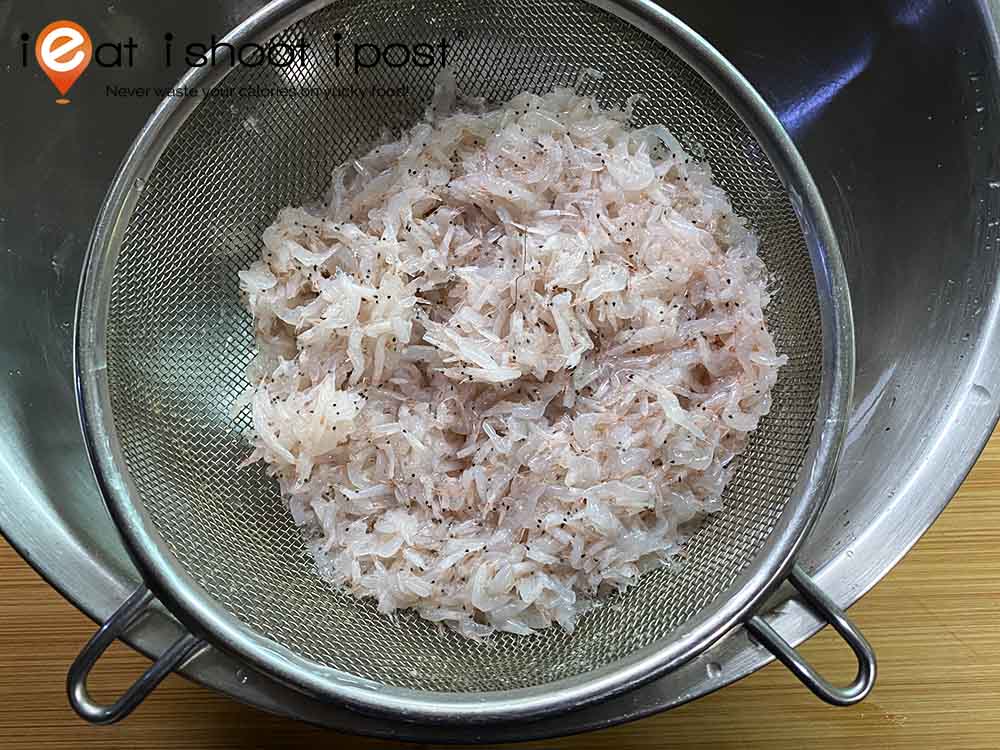 Wash and drain krill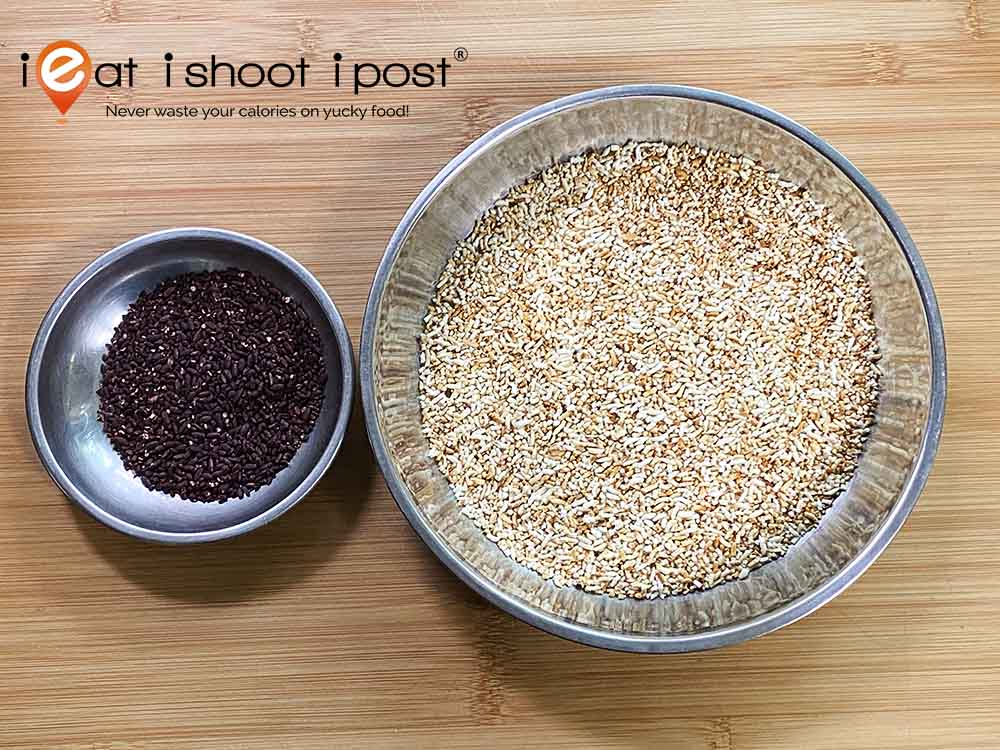 Pan toasted raw rice and red yeast rice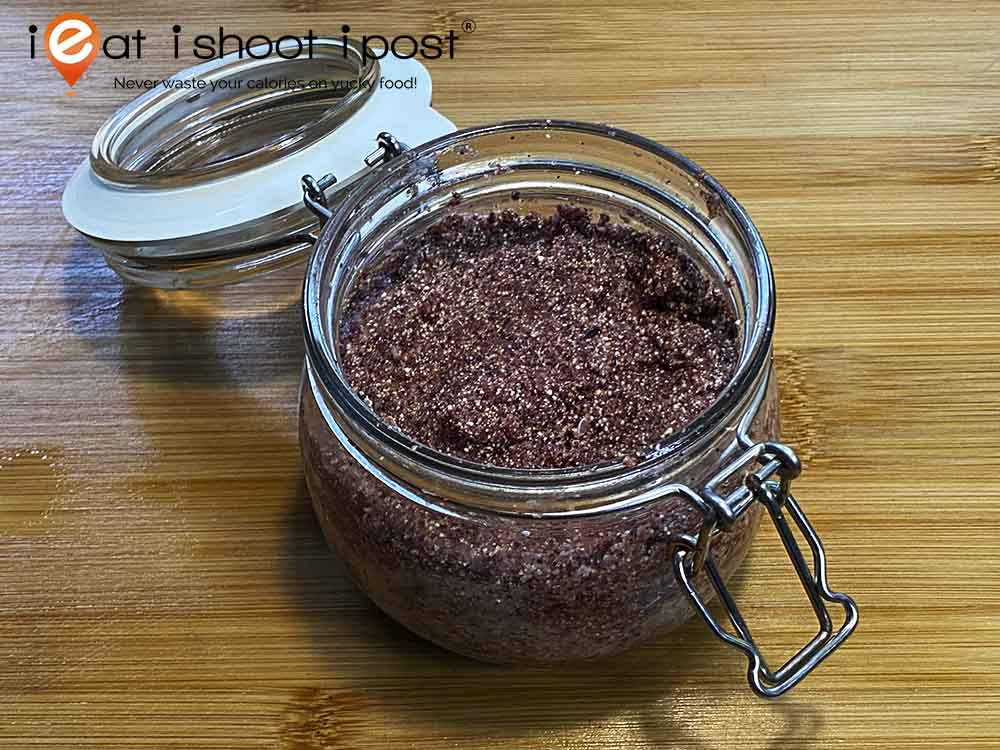 Tohay paste on Day 1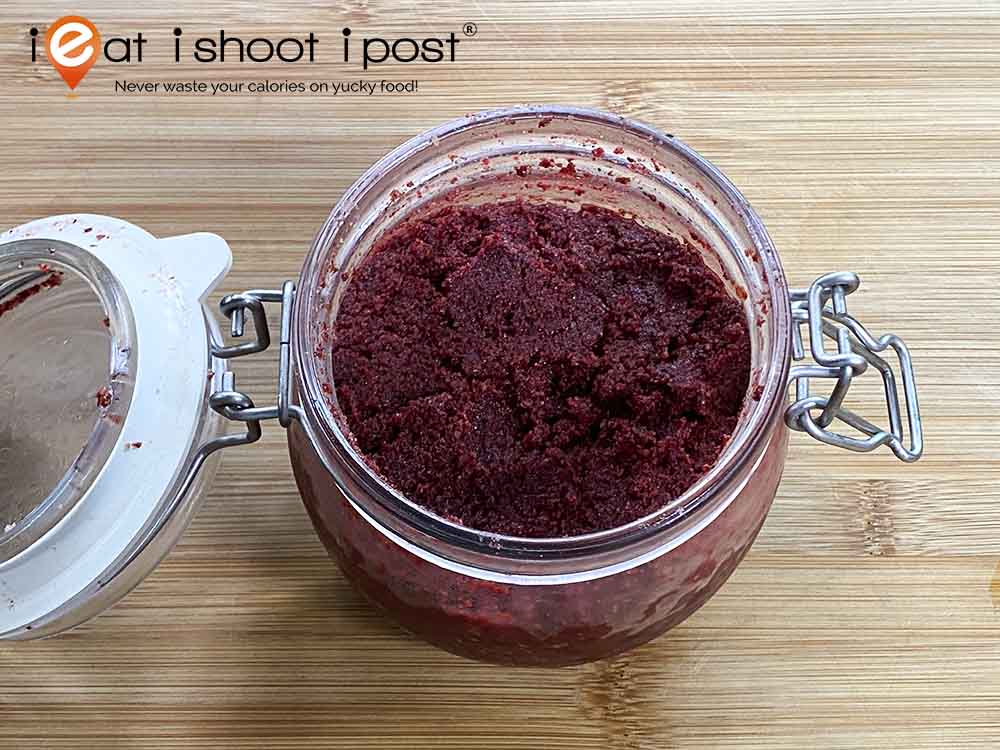 Tohay paste on day 5.  I have left it on the kitchen counter for 1 month and it didn't turn mouldy or go bad.  The salt in the recipe preserves the krill from spoilage.
Sliced garlic and lemongrass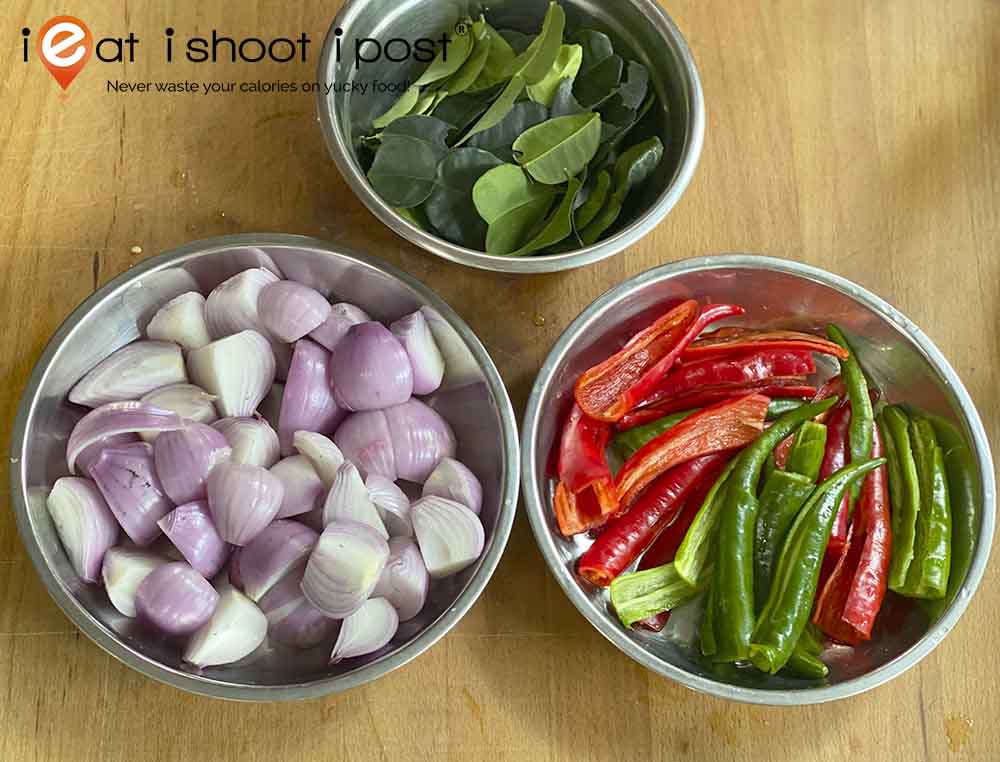 Kaffir lime leaves, shallots and chillies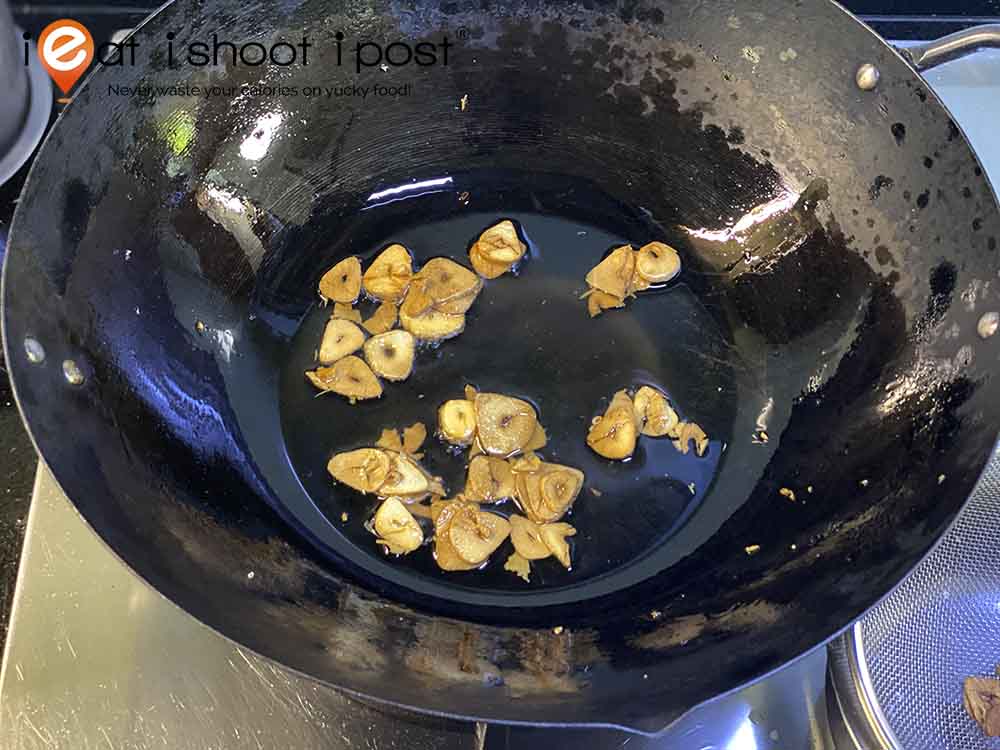 Saute garlic and set aside for garnish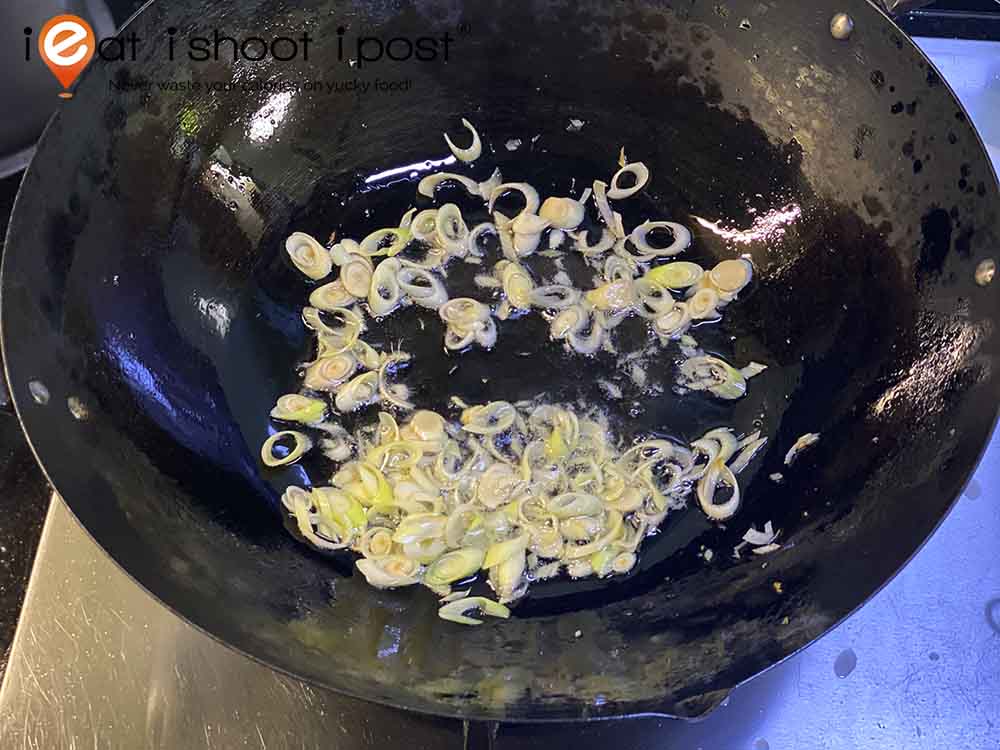 Saute lemongrass and set aside for garnish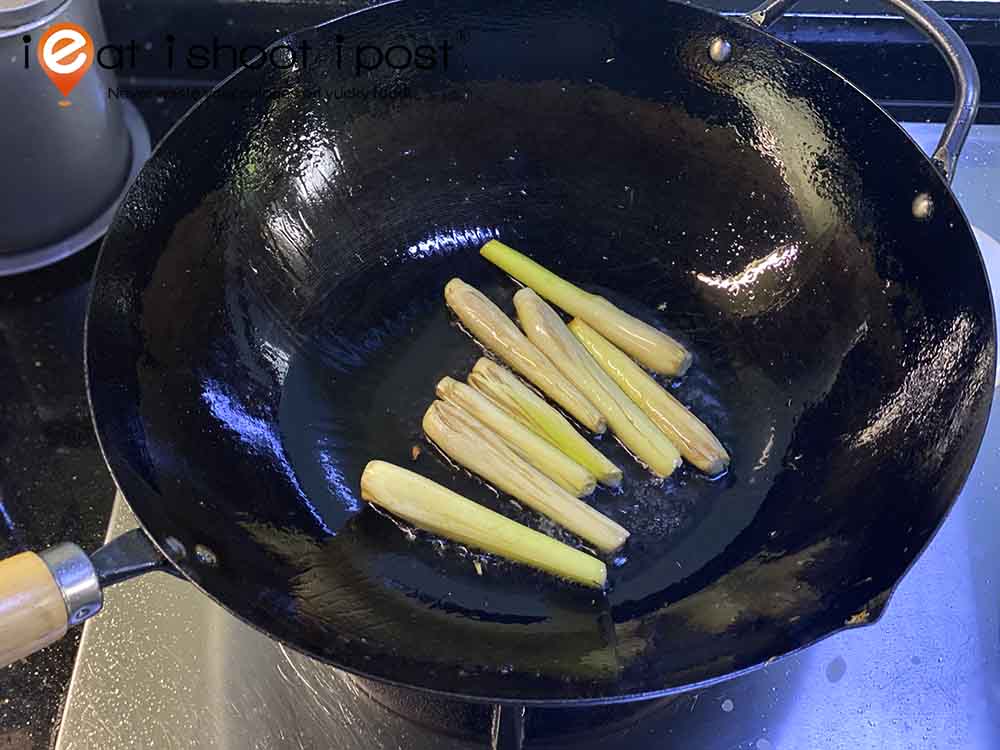 Saute lemongrass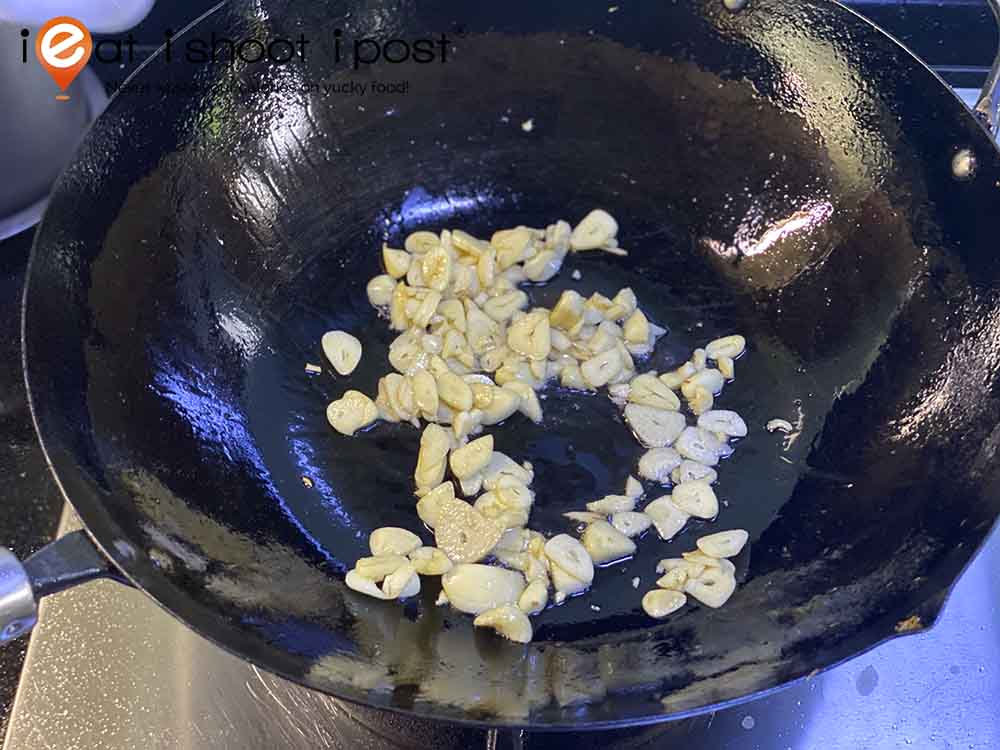 Saute garlic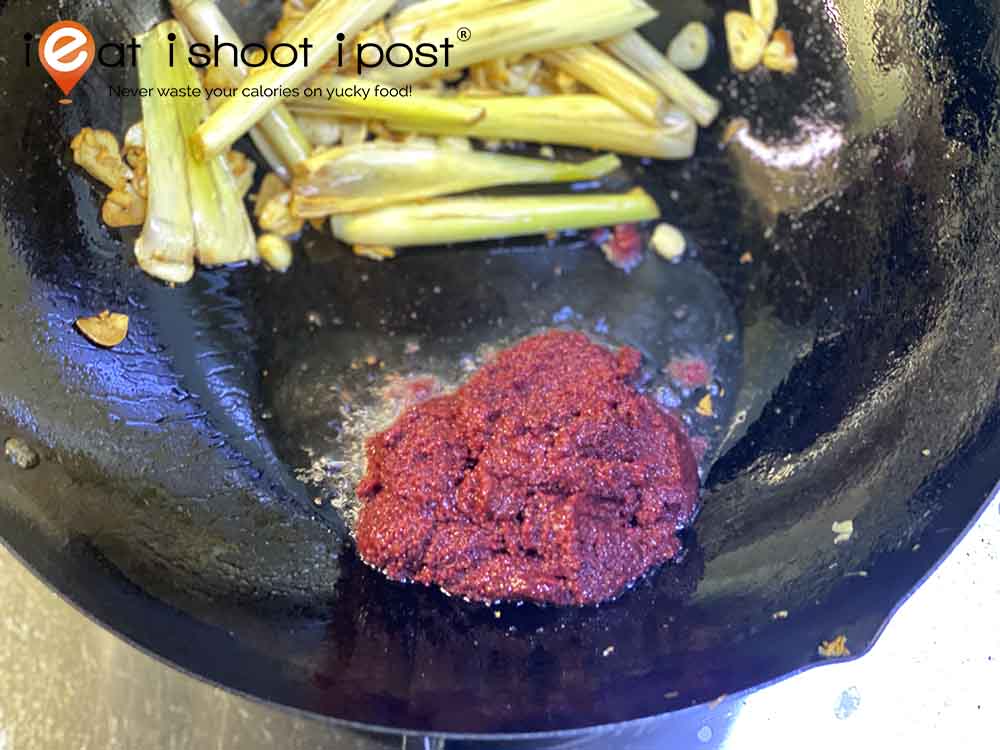 Pan fry tohay paste till fragrant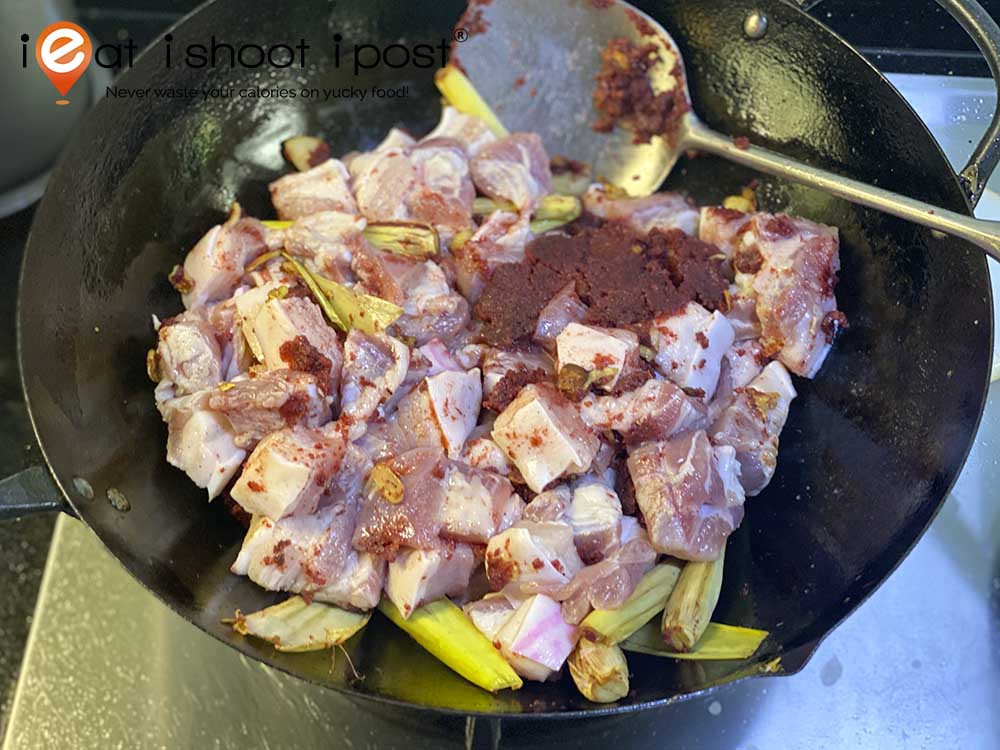 Add pork belly and mix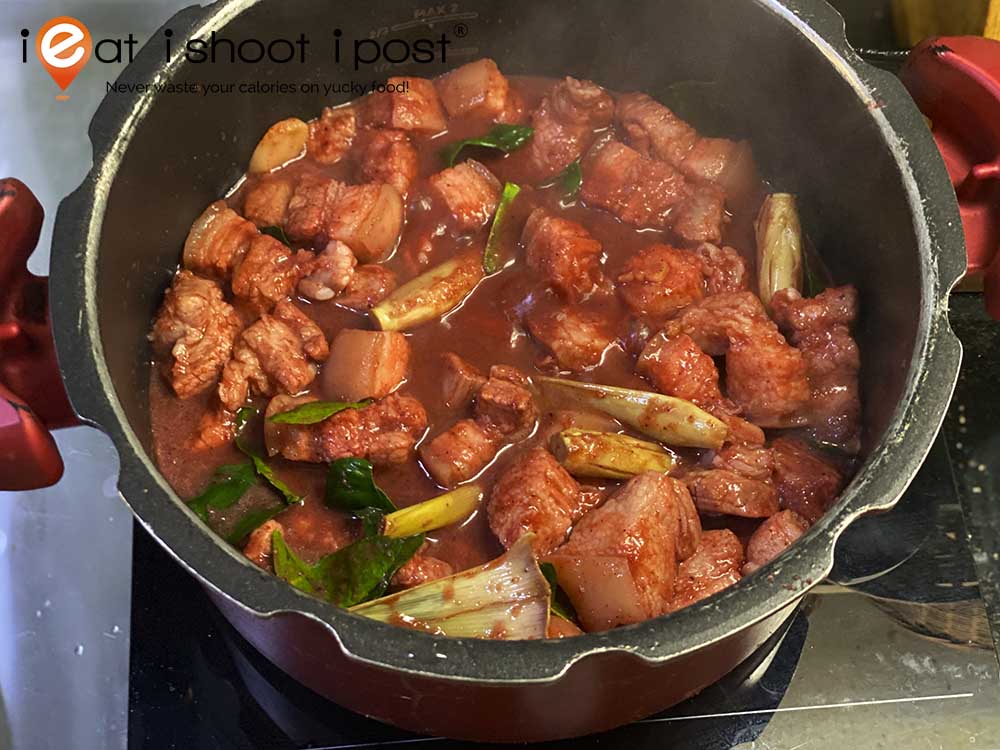 Add pork stock and simmer for 45 mins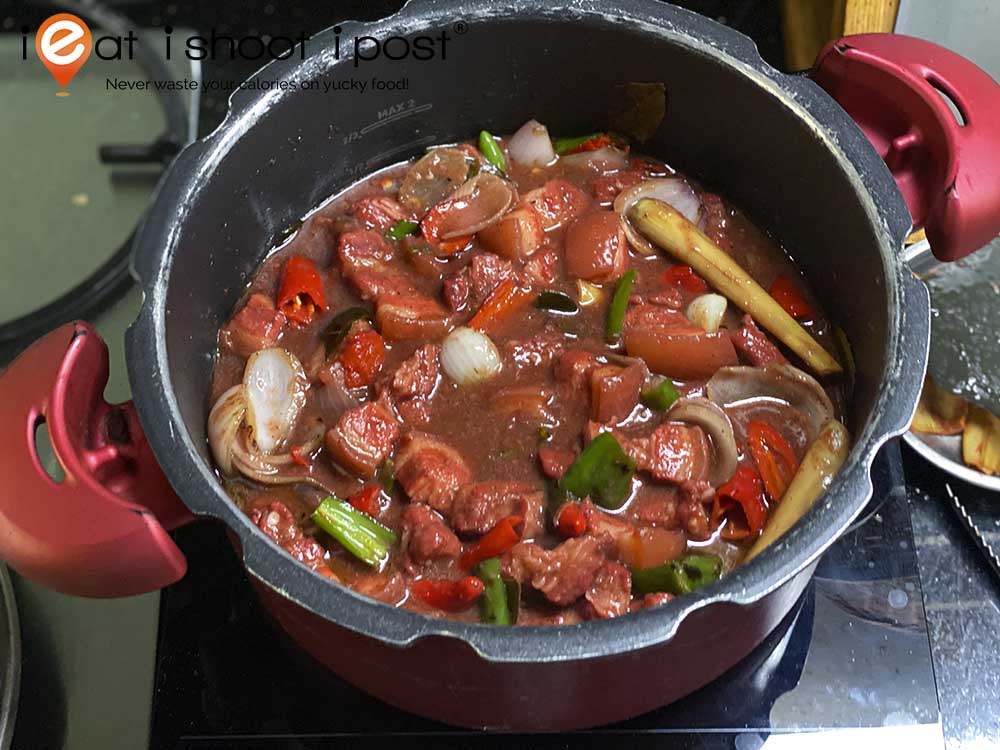 Add sauteed onions and chilli and simmer till pork is tender