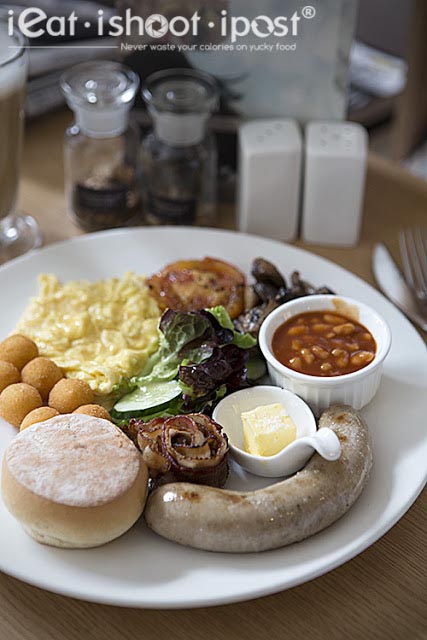 I woke up one morning and had this massive craving for a nice big English Breakfast. You know, eggs, bacon, sausages, toast with butter and jam and a nice pot of tea. It's the kind of breakfast that you eat when you are on holidays at a resort in Thailand or Australia where breakfast is part of the package.
Anyway, I was lying in bed wondering where I can go to satisfy this craving. But aside from the food itself, I wanted to find a place that is laid back. The last thing I wanted was to have to drive into town and eat this at a shopping centre or hotel. I wanted to find a place that is less busy and more homey where I can sip my cup of tea while reading the papers. And of course, like any true blue Singaporean, its gotta be good value too!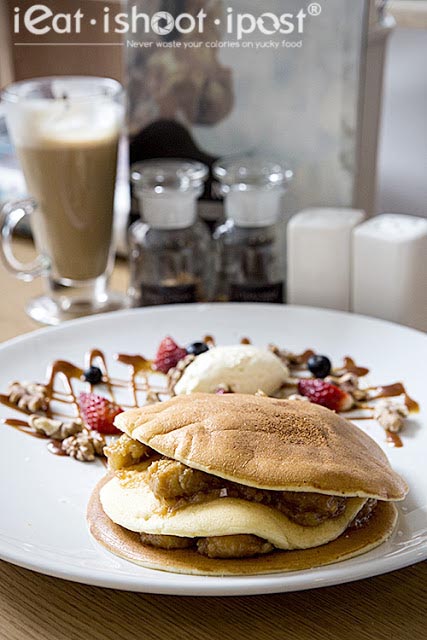 I am glad to report that I found just the place hidden in the second storey of a row of shophouses in Serangoon Gardens! The Arbite Breakfast was almost exactly what I was looking for. It came with a nice bockwurst sausage which had been nicely flame grilled, cripsy bacon and baked beans. All it was missing was two slices of thick toast. Instead, I was given a small bread roll which was good but not has satisfying. The other item which I would have liked to switch for were the pommes noisettes. If they had some nice sauteed potatoes, I would surely be in breakfast heaven. 4.25/5
My son opted for the Sea Salt Caramel Banana Pancakes which were nicely presented. The pancakes were nice and fluffy and the caramelized bananas were a nice touch. I just needed to ask for some maple syrup as I found it a tad on the dry side and I love my pancakes drenched in syrup. 4.25/5
Arbite is run by chef owner Marc Wee whom I realize I actually met before many years ago when I blogged about Foo House. Having worked at Michelangelo's for 7 years before, he was telling me that aside from the All-Day-Breakfast, he also does some pretty interesting pastas. Judging from the standard of the breakfast, I think I might give his pastas a try sometime in the future.
Conclusion
I was very happy to find somewhere which I go for a nice English style breakfast. The next time I go, I know exactly how to modify the arbite breakfast set to my needs. The food and price is good, the only complain I have is that they only open at 11am on the weekends, so if you are already awake and hungry by 9am, you still have to wait 2 hours before you can get your first bite!