Review with Feieats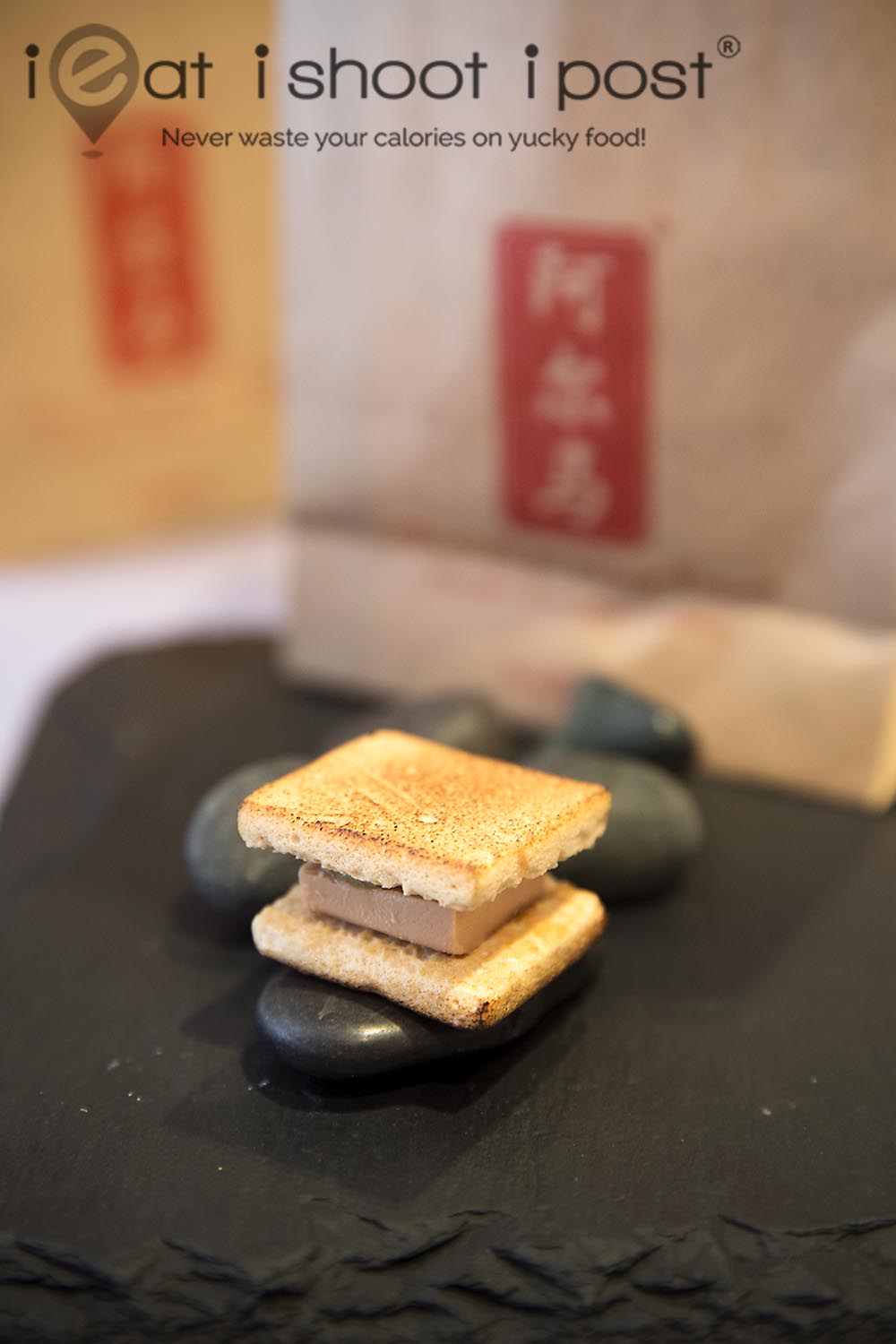 Nestled in Singapore's Goodwood Park Hotel on Scotts Road is Alma by Juan Amador, who managed to maintain their One-Michelin star rating for three consecutive years since its debut in 2016.   No doubt, we had high expectations when we were invited to experience their new 3rd anniversary dinner menu.   We came away with mixed feelings.  The meal had a very promising start but failed to hit the crescendo at the end.
Our meal started with their signature Potato bread and a series of bite-size snacks that hit all the right notes.   The Strawberry, Black Olive (crispy kale and tomato salad on an olive chip) and Amaebi (King Crab Tom Yum jam topped with Yogurt Parfait) tantalised the taste buds with their rich medley of flavours and textures.  The most fun and delicious was the Foie Gras snack which was presented in a brown paper bag (aka Kaya toast takeaway).  The buttery piece of smoked-eel flavoured foie grais sandwiched between two small coffee toasts was delightful.  I only wished there was a second piece in the bag.
We were presented with the crisp and refreshing Chateau Haut Pougnan Sauvignon, Bordeaux 2016 ($16++ per glass, $63++ per bottle) which was an excellent palate opener.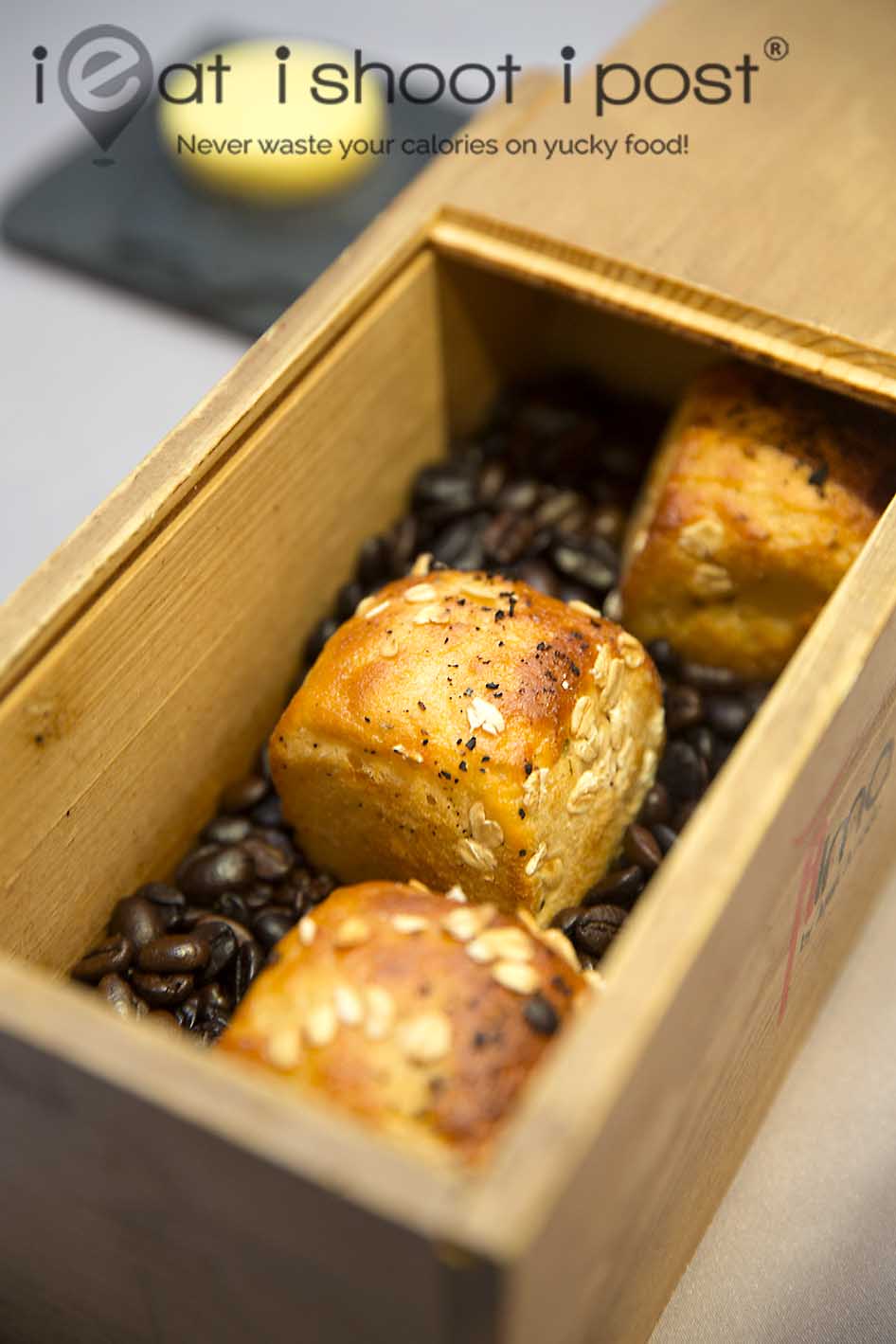 I am a bread lover, so my interest was piqued right at the start with the signature "bread basket".   Chef Haikal Johari's Potato Bread which is first steamed then baked to ensure a crisp exterior and a pillowy soft and moist centre.  It was excellent.  I like how the aroma of fresh bread and coffee filled the air when the box was opened at the table. 4.5/5
To accompany the starters, we had the Domaine de L'Hortus Chardonnay Blend, France 2013 ($20++ per glass, $98++ per bottle) it was a nice transition in body and depth from the white Bordeaux.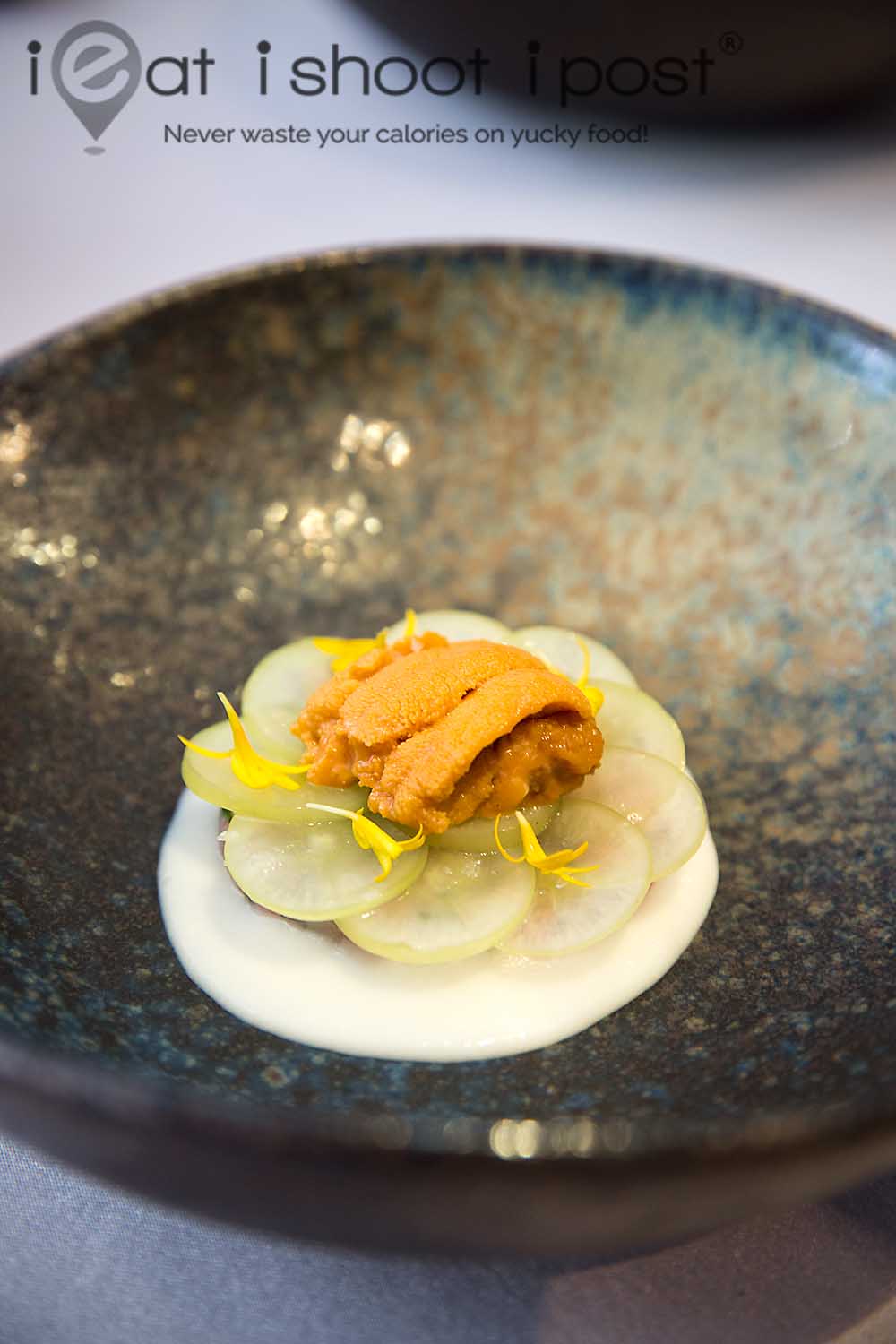 Our first course was the Okayama Muscat Grape which was sliced paper thin and topped with sweet Hokkaido Uni.  Hidden underneath was a creamy Bluefin Chutoro tartare complemented with a Yuzu Kosho sorbet seasoned Mayonnaise sauce. It was hard to appreciate the delicate flavour of the Muscat grapes as the palate was dominated by the Uni and Chutoro.  3.5/5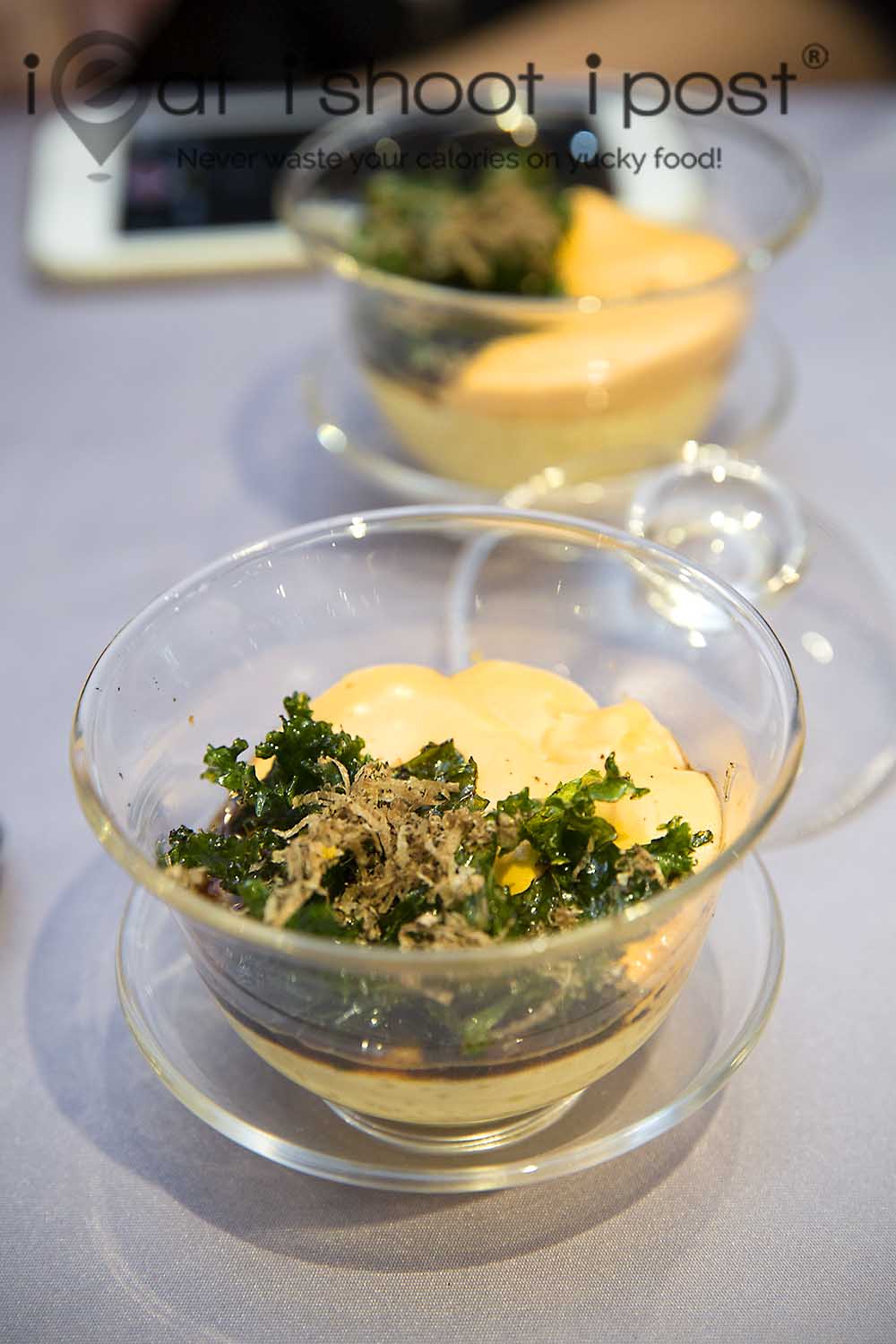 Our next course was the Muirgen Oyster.   This chawanmushi was presented in a see through chinese tea cup.  It was made of a layer of Irish oyster blended with botan ebi on top of a layer of creamy sauce Choron spiked with uni and truffle.  The crispy fried Kale provided a nice contrast to the custard.   I would have liked to see the oyster to take center-stage rather than playing a supporting role, especially since I had done an in-depth write up on oysters recently. 3.5/5  Click here to read my "oyster files".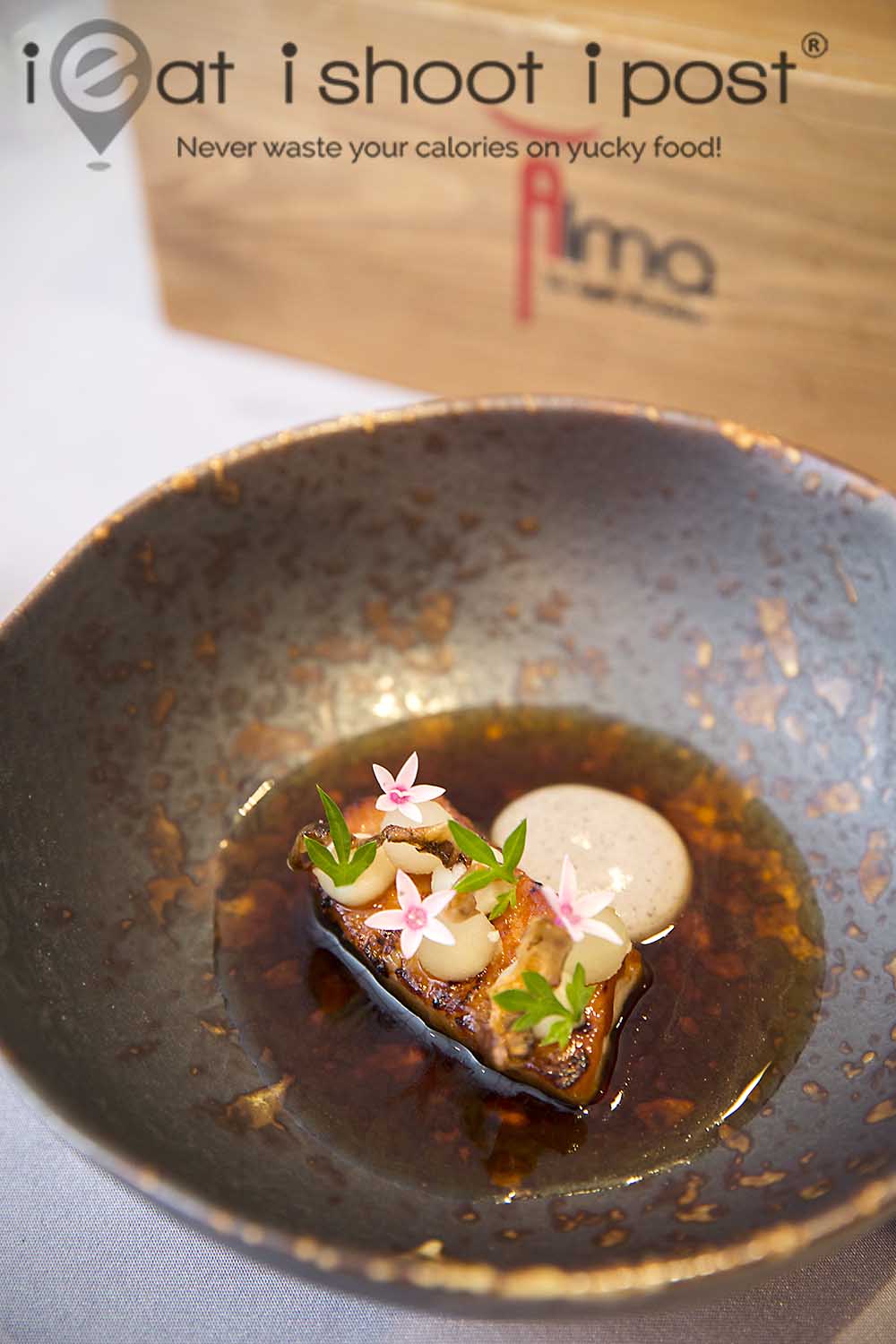 For the first main, we were presented the Iberico Pork Jowl.  We both have developed a special affiinity for this porcine delicacy ever since  we visited Extremadura in Spain to see black pig in its natural habitat (dehesa) .
The pork jowl was first sous-vide then glazed with aka miso and grilled over binchotan to produce a delightful smoky, crisp crust.  It certainly did not disappoint.  The pork reduction and Jerusalem artichoke & apple puree was a perfect complement for it. 4/5
Final wine pairing for the meal was the Great Flyte Cabernet Sauvignon, California 2013  ($14++ per glass, $53++ per bottle) which was easy on the tannins and exuded aromas of dark cherry and mild hints of spice.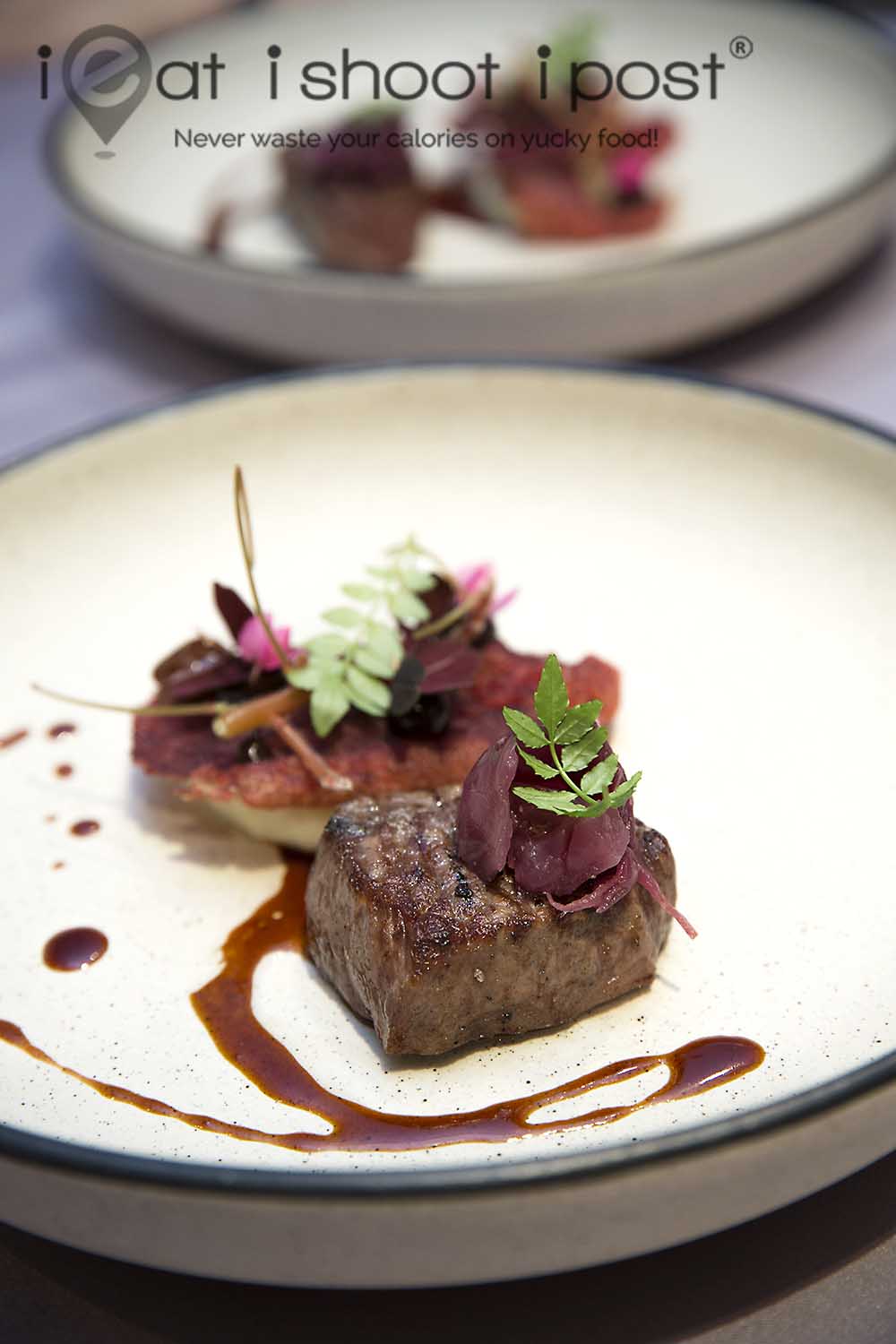 Our second main – the Ohmi Beef lived up to it's reputation.  The thick wine and beetroot reduction, along with the horseradish potato side made every bite of this Japanese Waygu even more  delectable.   My only complaint was that it was all over before you could really get into it! We all know that the portions in fine dining are small but they still need to be of an adequate size to get you to a stage where you can actually experience the dish enough to form an impression! Know what I mean?  4.25/5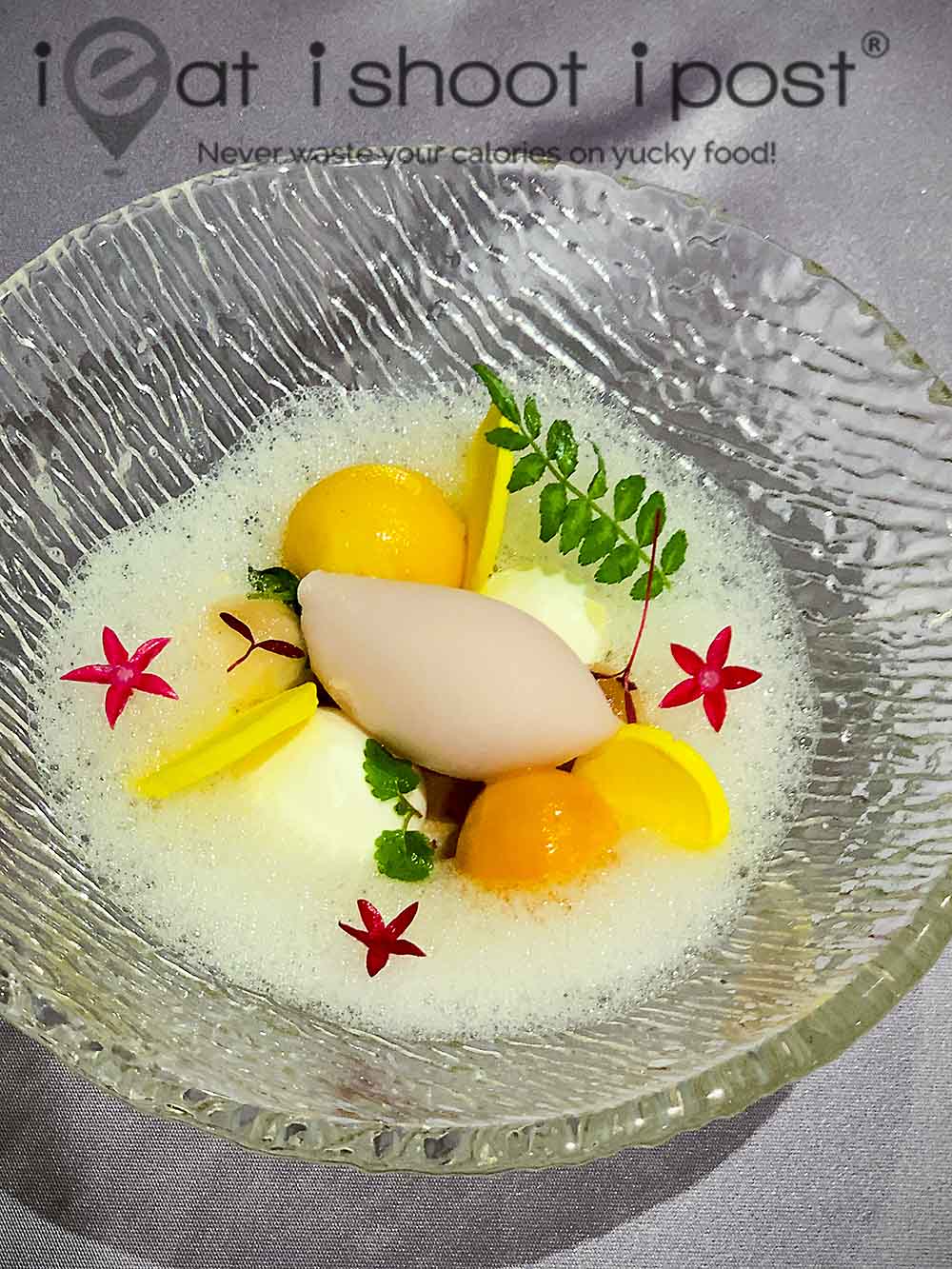 The Mango dessert of mango creameux, meringue , gooseberry, Yogurt with Myoga (Japanese Ginger) and calamansi foam provides a nice citrusy finish that helped cut through all the rich foods we had in the earlier courses. 4/5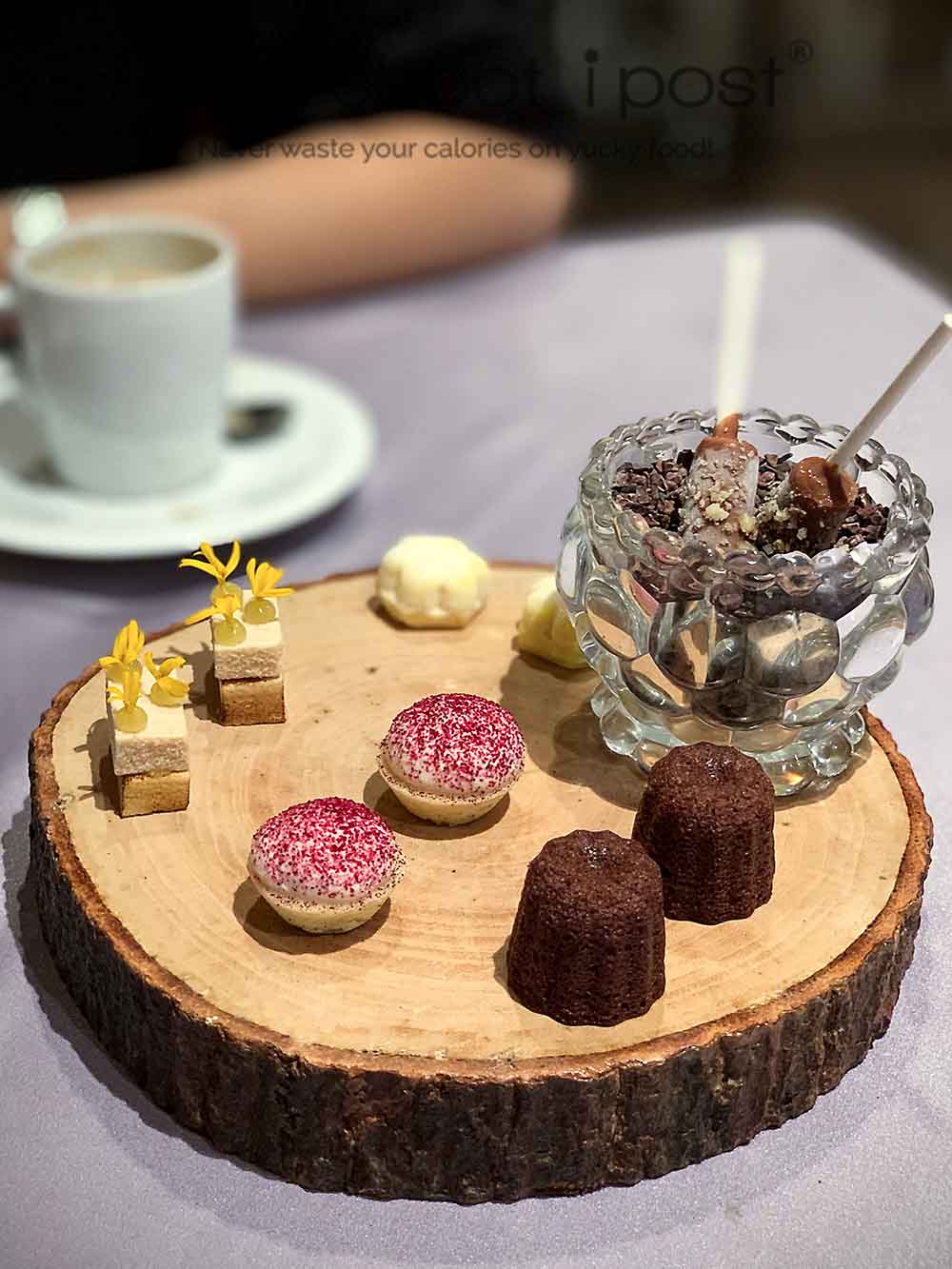 The  entire meal came to beautiful finale with Alma's visually appealing and tasty Petit Fours  which I thoroughly enjoyed; much like the snacks that kicked off the meal.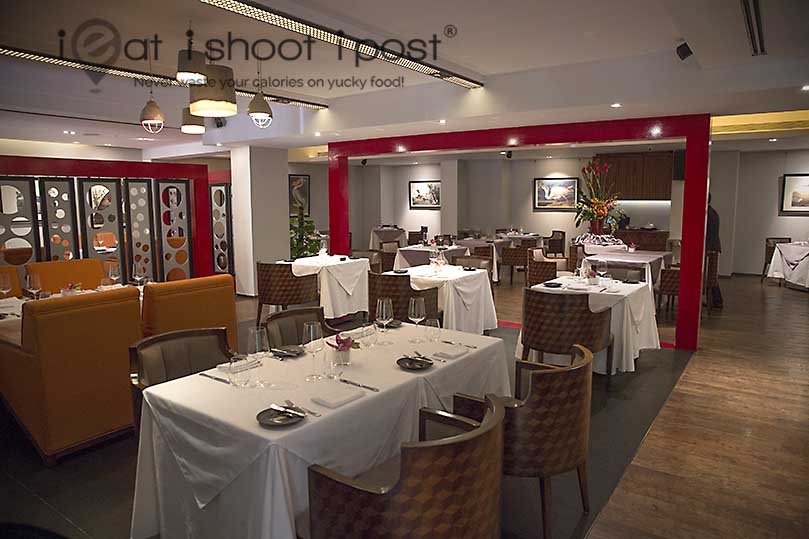 I can't say we were super impressed with the decor. The use of garish orange and red colours seems a little out of place for a fine dining establishment and the whole place looks a little dated.  The entrance to the dining area showcases a wine cellar with an extensive collection of over 450 wine labels around the world.  A majority of the wine are from the USA as Alma is one of Singapore's largest American wine importers.
Conclusion:
One can't help but admire the courage and tenacity of Chef Haikal who was still recovering from a motorbike accident that left him paralysed from waist down when he lead the restaurant to its first Michelin star. I like how he tries to infuse Asian (mostly Japanese) flavours and cooking styles to classic European cuisine.  This is commendable but invariably risky as it does take some education to understand new flavour pairings.
It is good to see Chef Juan Amador give free reign of the menu to his head chef.  But one has to wonder how much of "Juan Amador" do you get to experience at the restaurant that bears his name?
The price tag for dining at this Michelin star restaurant that is set in a charming old world hotel, is pretty reasonable.  The new dinner menus come in 4-course ($117++), 6-course ($158++) and 8-course ($197++) with wine pairing add-ons at $38++, $58++ and $68++ respectively.   The delightful snacks were complimentary and not considered as part of the courses which is quite a bonus!
Thanks for reading and do check out  the other Michelin star eateries that we've reviewed thus far!
Disclosure
This was a media tasting.  That means the food was provided with no obligations and no fee was paid for the review.